A Restorer's Story 1962 S2 Bentley Saloon
As With Many Vehicles, One Task Led to Another.
ATTACHED IS THE history of our 1962 S2 Bentley Saloon #B103DV. We were introduced to the Bentley brand by a friend who owned a 1958 S1 Bentley Saloon. After picking us up for dinner in it, I commented that it was a rather different vehicle. He said he knew of a 1962 S2 Bentley that was available locally, so we decided to look at it.
Understand that the car was meant to be for my relaxation and to be a stress reliever. That was October 2000.
The vehicle turned out to have had less than a stellar past…to the point that I even contemplated purchasing it and re-selling it to a recycler. It had been purchased in 1984 in Chicago and driven to Cape Cod, Massachusetts. There it resided in a garage with several inches of dust, dirt and debris on it.
In addition to two flat tires, a moldy interior and a frozen and cracked battery, it had provided housing for several mice.
Still, we successfully negotiated a price for the Bentley, installed a couple of tires and had AAA haul it home. Then, we thought about what to do next.
Getting to Work
This starts our experience with our 1962 S2 Bentley Saloon.
I pulled the spark plugs, sprayed in WD-40 every day for a week, and changed the engine oil and fuel. The right rear frame rail (battery location) was completely rusted away.
After installing a fresh battery,tomy surprise, it started. Even more amazing was the fact that the automatic transmission worked. Of course, the brakes were frozen.
Aiming for a Bentley"Driver"
Since we only wanted a local driver and were not going to take it to specialized shows and/or judging, it was decided to "keep it for a while."
At this point in time, I had yet to learn oftheRolls-RoyceOwnersClub.My only reference was monthly magazines.
I had a right rear frame rail stub end fabricated locally. I welded it in and rebuilt the rusted battery framework. Next I gutted the interior, including the headliner. By then we had joined the RR owners club. (Rolls-Royce purchased Bentley Motors Limited in 1931 and it now belongs to the Volkswagen Group.)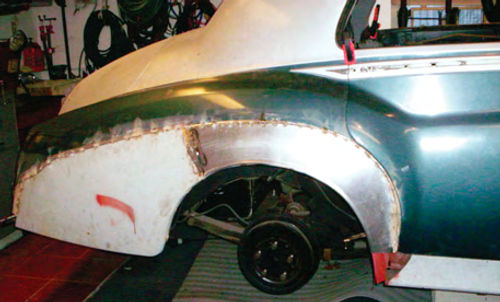 My wife and I went to an R-R club function in Maine and, of course, vehicle information was passed around. I mentioned my need for a "complete" interior and was told that the leather in my car could be softened and re-dyed.
I was able to soften the leather and redye everything except the front seat. It seems that the previous owner had repaired some missing stitching with Krazy Glue.
I located some visually identical leather and an old-time upholstery shop in upper New York. They did an excellent job of duplicating the original front seat including installation of the cover.
A 10-Month Headliner Job
The headliner came from a vendor in California. I had never done a headliner installation, but figured if R-R could do it, so could I. It took me at least 10 months on and off to finally get it to where I was happy.
Next, I tackled the brakes. I went to one of the R-R club-sponsored classes by Ralph Curzon. This was an enlightening experience and worth the time invested. I also purchased the club videotapes on this subject. I then completely rebuilt the brake system. All of the above took me over 3 1 ⁄2 years.
Let's Do the Exterior, Too
In fall of 2006, we decided that we liked the Bentley enough to invest the time, effort and funds into doing the exterior. The Bentley originally was Mason Black with Silver. We decided to take the vehicle back to bare metal and repaint. (The body shop later told us that the vehicle had also been repaired/repainted with teal three times.) I decided I would do all the panel replacement and have a professional body shop do the final preparation and paint.
Once I got into that part of the project, I often questioned my decision. Bentleys were never designed for salt, sand, rain, ice, abuse, etc. I found a rusted off left-hand front body mount, an LH kick panel, etc., all of which was replaced. I ended up replacing both rocker panels, and entire rear quarters below the hemline. The panels came from The Panel Shop in Stratford, Connecticut (thepanelshop.net).
An Opportunity for the Heater Core
I took advantage of having the fenders off the vehicle to service the heater core. That is the only way to correctly service that component. Ours had been replaced with some unknown unit which did not match any service manual pictures or even fit correctly in the heater box. I had a core custom made by Cecil Radiator in Starr, Maryland ( ).
Enlisting the Help of Some Pros
After finishing all of the rough bodywork, welding, fitting, etc., I literally wrapped the Bentley up and took it to Triple X Customs, Inc. ( )in Sterling Heights, Michigan.
Triple X Customs took six months to complete their part of the restoration.
While the Bentley was in Michigan, I tackled re-chroming the hubcaps. I chose Akron Tool and Die in nearby Akron, Ohio (akrontool.com), to source this work. In addition, Akron Toolis a great source for manufacturing any widgets you might need. If you can draw it, they can make it or even reverse engineer it if necessary.
Our Show Debut
My wife Sharon and I then turned to the process of re-assembling the vehicle and the addition of three safety items: retractable seat belts, a third brake light (in the rear window) and four-way flashers. Our goal was to have the Bentley in the Hyannis, Massachusetts, 2010 Father's Day car The front seat leather was the only leather in the car that couldn't be softened, dyed and used again. So, it was replaced. show…and we made it.
Engine Work in Process
At one point I considered swapping out the Bentley's original engine for a new 350 V-8 and visited a shop that specializes in that type of work. The man there was a real craftsman, but the cost for a new 350, transmission and brakes was 25K+. So, I decided to have a second look at the existing engine.
I pulled the heads over the winter. It had eight worn brass intake guides, three bad valves and the heads were not surfaced correctly. Due to the poor surfacing, there was a small coolant leak from a water passage into the #3 cylinder. I had always seen some mist in the exhaust, but thought it was condensation.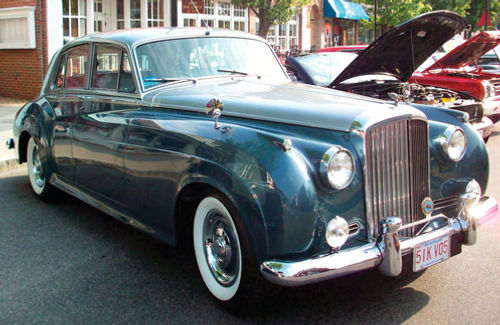 The final cost (using used valves) was about $2400 and I still need to address an oil pressure problem. I installed a mechanical gauge at the oil filter (tee'd off the sending unit). Using 20W50, I have about 35 psi cold and 6 psi hot. I can get aftermarket rod bearings(about $900), but mains,seals, oil pump rebuild, etc. are another $5K+. Problem is, like surgery, once you open it up you have to be willing to spend the time and money.
Still,I would like to find someone that would do the engine for advertisement of the irservices.R-Rand Bentley owners usually have BIG money. I am one of the few club members that have only one vehicle.
Truly Enjoying the DIY Aspect
Just so you know, I am a mechanical engineer, not a welder, bodywork specialist or a certified mechanic, but I have found the do-it-yourself involvement in this project very satisfying. I studied the problems, took lots of pictures, planned the process and sought information. Also, and I'm sure you've heard this before but it's true, club members are an excellent source of information.