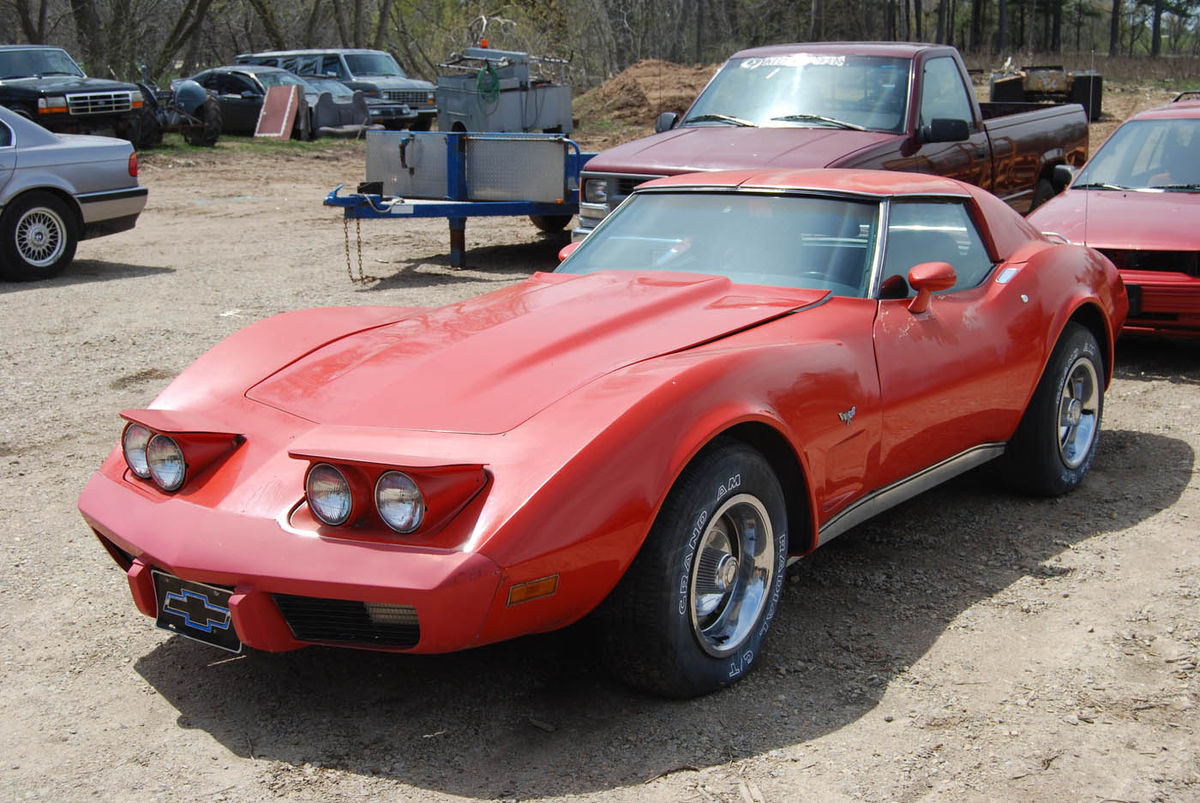 A Young Mechanic On a Tight Budget Has Plans to Turn a Neglected '77 Vette Into a Nice Driver. Let's Drop By As She Gets Started.
A few months ago while interviewing one of the female stars of a cable TV show about women fixing cars we asked what she did on the program. Her reply was: "We put aftermarket parts on cars." There's nothing wrong with that, but it makes us wonder why they don't do cable TV shows about real woman mechanics like Heidi Schaffer, a young technician who actually turns wrenches and repairs vehicles.
Heidi restores cars, too. She and her dad are working on a 1931 PierceArrow that an uncle left to them. Heidi also has a dream of getting another car collector's 1917 Oakland touring car going and then driving the antique across Wisconsin to celebrate the car's 100th birthday next year.
Along with all that, Heidi has a third car project underway…she's in the middle of the low-bucks restoration of a 1977 Corvette.
Her College Studies Led to the Corvette
Heidi took part in the automotive technology program at Fox Valley Technical College in Appleton, Wisconsin, and while there Dave Sarna, an instructor at the time, recognized that she had a special talent for fixing cars and a passion for classic automobiles. Sarna—a bit of an enthusiast himself— decided to encourage Heidi as much as he could. Coincidentally, a few years earlier he had gotten a very good deal on an abused 1977 Corvette that had been repossessed by a bank.
Sarna did not have a great deal of money invested in the orange Corvette and he didn't have a lot of time to work on the car. So he decided to sell it to Heidi and let her restore the Vette. The car badly needed to be cleaned up and then there was bodywork and mechanical work to be done as well.
Working With the New and the Vintage
Sarna introduced us to Heidi when we were working on a Mercury Cougar with a blown engine. After a Ford specialist rebuilt the engine, Sarna and Heidi helped with the installation. Heidi has one unique advantage over many male mechanics—she has small hands that can get into tight places. Stuffing a big-block V-8 into a tiny Cougar was not an easy job, but Heidi's hands were a gigantic help in getting some hard-toreach bolts fastened.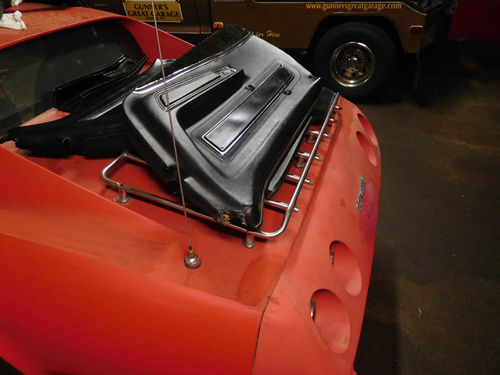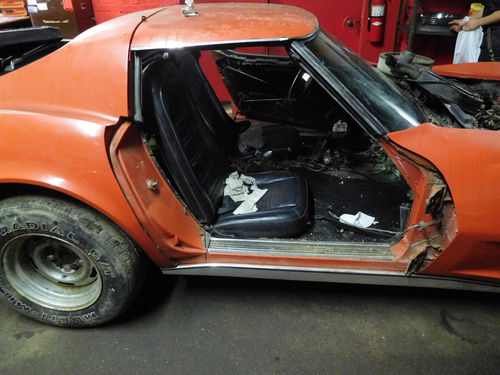 At the time of the Cougar project, Heidi was finishing up classes at Fox Valley Technical College. She eventually graduated from the school and took a job as a technician at Little Wolf Automotive in Manawa, Wisconsin. Owner Scott Bickley says Heidi does a great job fixing modern cars.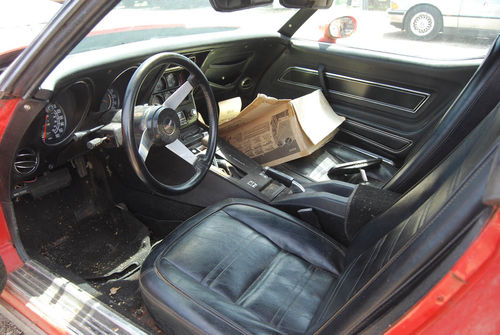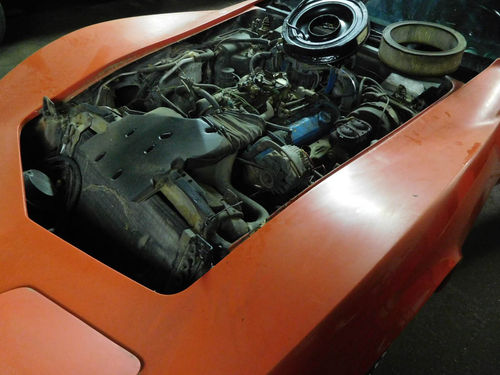 However, Sarna knew that Heidi's heart was really into fixing the Corvette he had sold her. So he came up with a plan for her to get low-cost rent in our shop (Gunner's Great Garage, also in Manawa) where she'd have a place to work.
About the Car…
The Corvette is a Corvette Orange T-top coupe with only 59,000 miles on it. It's powered by a 350-cid 180-hp V-8.
A well-known Corvette dealer named Valley Corvette sold the car but it was not given good care after that and it spent a decade just sitting and deteriorating. Parts were removed and piled up inside the car. Varmints had obviously gotten under the hood and inside the vehicle. The paint was faded and dirty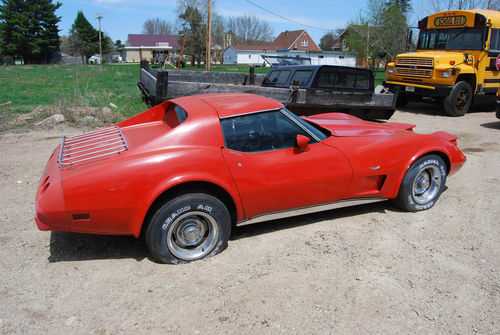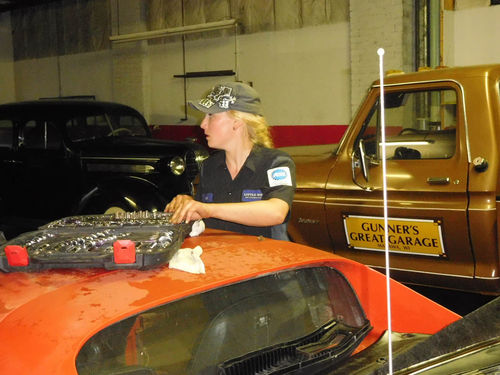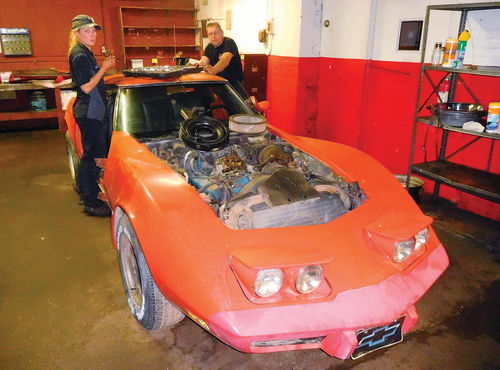 Heidi is now storing the car at the Gunner's Great Garage annex in Waupaca, Wisconsin, and is spending some nights and weekends working on it. She is buying new and used parts as she can afford them on a young mechanic's entry-level salary and doing all of the work on the car by herself, except when she needs an extra pair of hands to do jobs such as lifting a heavy door off the car.
Two Mentors for the Project
Sarna—a former National Guardsman who served in both Iraq and Afghanistan maintaining military vehicles and doing political work— is supervising Heidi's project like a drill sergeant. As she works, he gives her advice such as "If you want to be a mechanic you won't get rich. Get a bank job if you like money. If you fix cars, your reward will be the good feelings you get from restoring a car."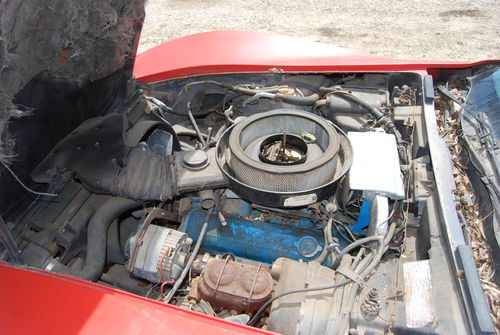 Sarna's mentoring is definitely not the scripted type you see on cable TV shows.
Tim Buttles—whose Volkswagen woodie was featured in the July issue of Auto Restorer ("Tim & His Timber Wagen")—has offered to help Heidi with the bodywork her car needs. Like Sarna, Buttles is retired but is not going to do the work for her. Heidi will do the hands-on phase, as Buttles teaches her what he knows about body and paint projects.
So far, Heidi has cleaned the car, disassembled parts of the interior, done some work on the tires and wheels and removed the passenger side door that needed bodywork. Plans call for her to replace the car's 350 V-8 with a better one and doing whatever else she can afford on a tight budget.
And we will be following the project as it moves along. Why wouldn't we? It's better than watching an automotive reality TV show!