She Won Her 1970 Ford Torino In A Raffle 47 Years Ago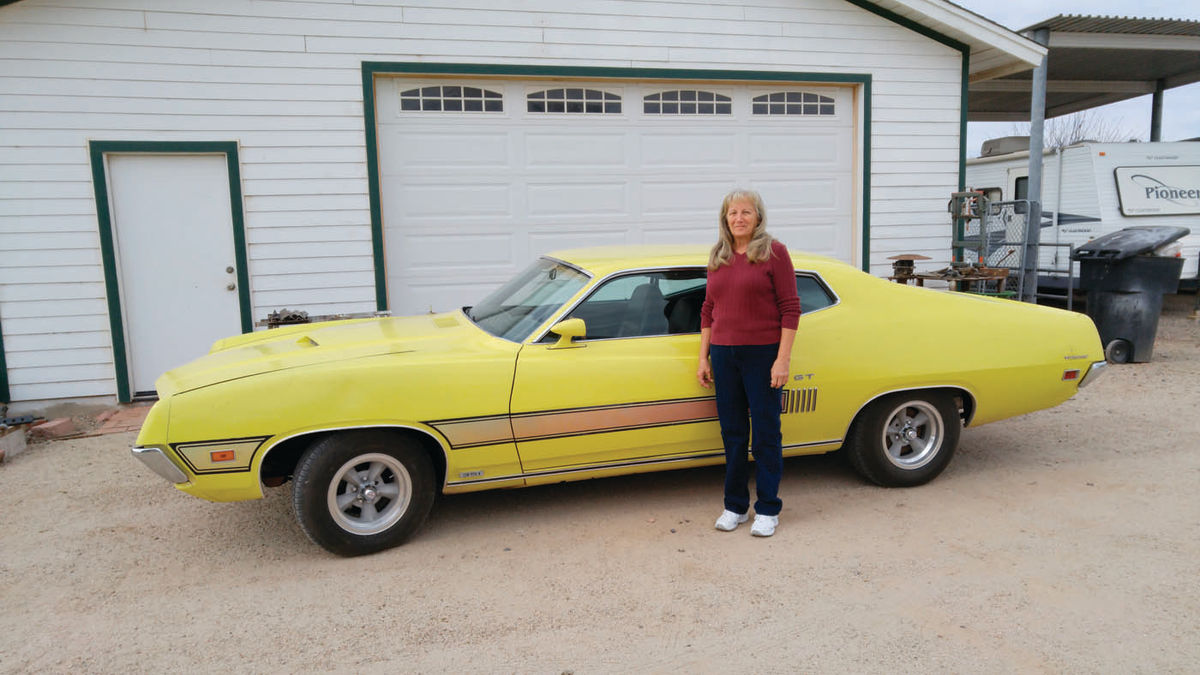 With Passing Time the Car Developed Some Problems and Was Put Into Storage. But Now It's Back on the Road and Being Enjoyed Again.
In 1969 Sears decided to raffle off a dozen new Fords as an attention-getting promotion for its stores. The cars in the drawing were 12 identical 1970 Ford Torino GT high-performance vehicles. All of the Torinos were Bright Yellow with reflective laser stripes. They were equipped with high-performance 351 Cleveland 4-V engines, 4-speed close ratio transmissions with Hurst shifter packages, bucket seats, tachometers, front disc brakes, a heavy duty suspension and air conditioning.
The cars were given away in separate drawings by Sears in December 1969. On December 9 Ruth Spain (now Hill) was awarded one of the 12 cars at the Paul Clark Ford Dealership in Yuma, Arizona. The local Yuma Sun newspaper covered the event and included a photo of a beaming Ruth standing next to her new car and holding her first daughter, Sherri.
The car was Ruth's pride and joy and you can imagine how cool it was to actually win a brand-new Torino GT when she was only 19 years old. The excitement of the moment was something she would never forget.
Ruth's husband, Charles, was stationed at the Marine Air Base in Yuma and the Torino became the family car for several years. She has many fond memories of her and Charles taking trips, along with the everyday activities such as driving their daughters to school, games, practices, etc. All of the girls have fond memories of the car as they were growing up.
The Ford Encounters Some Aging Conditions… and Its Engine Is Pulled
In 1983 the car developed minor engine problems and Charles had intended to rebuild the engine, so he pulled the motor out of the car. But with the passage of time and a growing family, they had purchased other vehicles and Charles found himself occupied with working on other cars and keeping them running for their teenage daughters.
As it happened, Charles never got back to the Torino…he passed away suddenly in 2000. He and Ruth had been married for 33 years.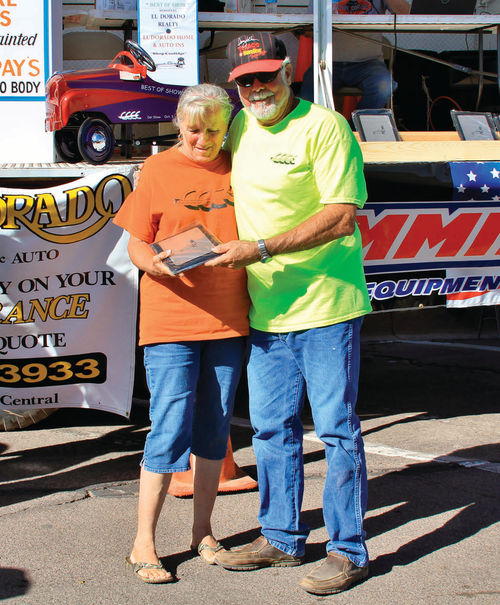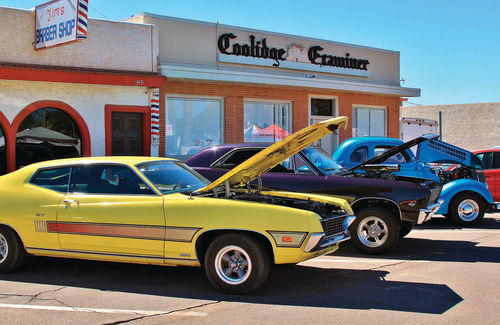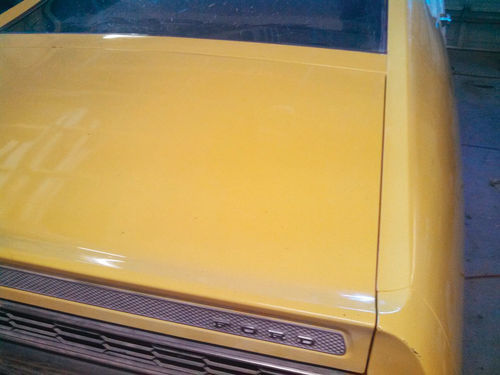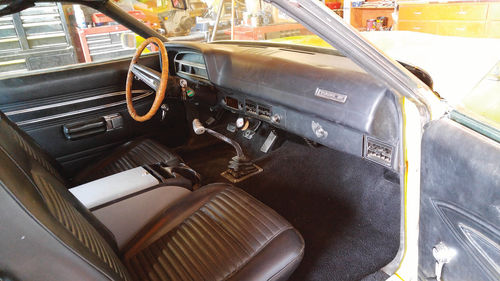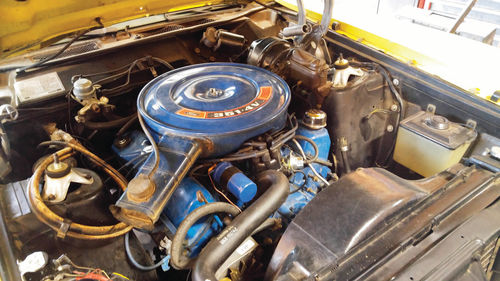 Waiting In Storage
The Torino remained in Ruth's garage for more than three decades, from 1983 until 2015, with all of the original parts still there although with many components out of the car and on shelves, in boxes and in various places in the garage and in the trunk, etc. The odometer was stopped at 141,560 miles. (Actually, it read 41,560 as it only has five digits.)
In 2011 Ruth and I were married. We had known each other for years and I had been friends with two of her brothers in high school, but Ruth and I had never dated. Instead, we had both married and raised families of our own and rarely saw each other over the next 40 or so years. Then, after 42 years of marriage, my wife passed away in 2010.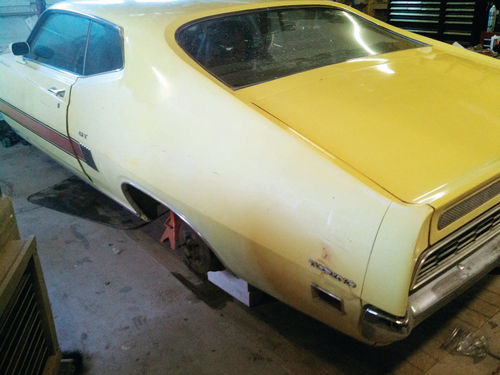 Time to Get the Ford Back on the Road
When Ruth and I got married, I made it a goal to rebuild the Torino for her and bring back the excitement and nostalgia of that car.
I had built, rebuilt and/or restored a number of cars and that has been a hobby of mine for many years. Last year we finally had the time and money necessary to rebuild the Torino.
I started with stripping everything from under the hood and cleaning and recoating the engine compartment and putting everything back in its place. I rebuilt the power steering and brake components and installed a new battery, regulator, hoses, vacuum lines, etc.
I had the original 351 engine bored and balanced, installed new stock-compression (11:1) pistons, along with rings, bearings and a high-volume oil pump. I had a machine shop renew the original heads to stock specs. The only thing I added that was not kept stock was a little heftier cam. Nearly everything is the original part that came on the car, even the radiator shroud and air cleaner housing are the originals.
The interior was all-original although the front seats and carpet were worn so I replaced them with factory reproductions. The dash, door panels and all rubber moldings are original and still in great condition. The window mechanisms and door latches are still tight and work like they should.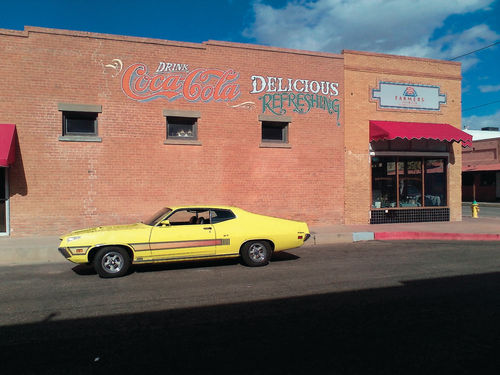 This Car Harbored Some Very Pleasant Surprises
I was very surprised when I pulled the carpet and trunk padding. Once we vacuumed and cleaned a little bit, we saw that the floorboards were in excellent condition. There were no signs of rust anywhere and the original paint was still covering the metal. The interior really cleaned up nice.
The car had never been wrecked and being a true Arizona car it had no signs of rust. As noted, it still has the original paint, and that led to another surprise.
The exterior yellow paint had appeared to be very faded with age. Then one day I was just messing around and I took some regular polishing compound and started rubbing on the trunk lid…and voila! The faded yellow brightened and popped right back out! I had the same results with the entire car, and that's the way it is today.
Given that the original paint came out so good and we haven't been able to find a close-enough replacement for the laser stripes, for the time being we feel better just leaving the exterior the way it is, totally original. For us, there's also an added value to an original unrestored car of that vintage.
Now we have everything back together and running again and Ruth is really happy savoring the memories of the old days in her Torino. By the way, it really runs and sounds good…and it catches attention wherever we go.
I'm also very pleased to add that Ruth won a first-place trophy in the first car show we entered last October—in the Survivor class. Not too bad, I'd say.
What Became of the Other Raffle Cars?
Now that our Torino is back in service, it would be interesting to know if any of the other identical cars from the raffle are still in existence today. I would like to find out if anyone has knowledge of any of these cars. Maybe we could have a Torino raffle reunion.