My Family's 1974 Ford F-100
After reading the article on the 1974 Javelin in your December issue, I'd like to share another story of "One That Did Not Get Away." On September 29, 1973, a dentist, his wife and family purchased a new 1974 Ford F-100 at Earnhardt Ford in Chandler, Arizona, a Phoenix suburb. The truck had a few goodies on it, including a 4-speed transmission, power steering, power brakes, a radio, A/C, heavy-duty suspension and side moldings. The most impressive feature, however, was its unusual green color (#3 Village Green).
I believe the window sticker price of the Ford truck was around $4250.
I am the oldest son in that family and was 16 years old with my driver's license at the time. To my surprise my dad allowed my brother and me to drive our new truck to our home in Phoenix. It had six miles on the odometer.
Through the years, the truck was used mainly as a working vehicle, hauling motorcycles to the desert, transporting garden goodies, including an orange tree, and driving kids back and forth to school.
After high school, I became the owner of the truck, which then had approximately 17,000 miles on the odometer. It became my means of transportation after high school and throughout my years at Northern Arizona University.
The Truck Becomes a Road- Tripping Camper
In 1983 I purchased a Kamp King Coach cab-over camper and moved to the State of Washington. During those years in Washington, many road trips were taken to various places within the Northwest including camping at the beaches, mountains and deserts.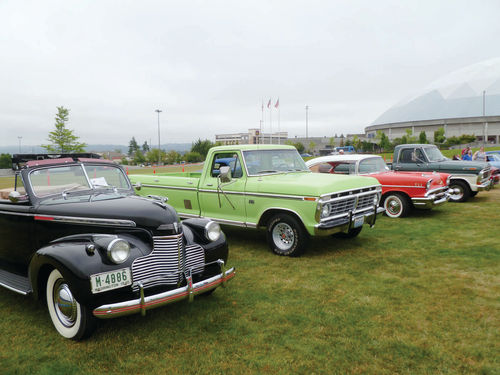 It Was Time to Restore or Replace
In 1987 I rekindled an old flame from high school and returned to Arizona with
my truck and camper. The truck had a lot of wear and tear from constant usage and was in dire need of restoration. It had over 200,000 miles on the 360 V-8 and a wrist pin knock.
In addition, by that time lots of people were asking, "Isn't it time for a new truck?" However, I had never even considered that option. Even though the side panels and floor pans were rusted out and overall the truck looked pretty bad, it deserved the restoration.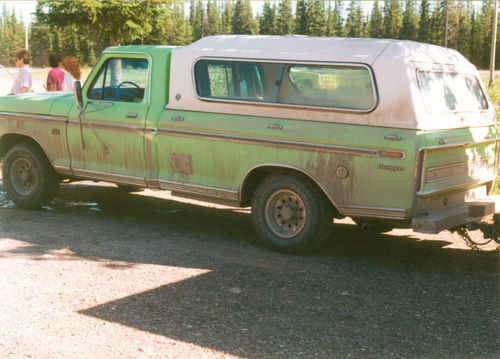 Stubborn as I am, the engine was pulled, sent to a local machine shop, and then reinstalled. Running better, but still looking old, I was back to driving it full time. The restoration of the sheet metal would have to wait until later.
Back to Washington, With the Truck...and a Family
By the summer of 1988, I was married to my high school flame and had a wonderful eight-year-old stepdaughter as well. Then a job opportunity took us back to Tacoma, Washington.
Of course the truck remained in the family.
This Time, a More Thorough Restoration Project
In 1992, my cousin and I decided to do a restoration of the truck. The bed received new side panels and rust patches were made to the cab and floor pans. The painting of the bed was done, but the cab would have to wait until after the summer season and our road trip to Mt. Rushmore.
By fall, it was back in the garage, disassembled and ready for completion of the restoration. The choice of color was a repaint of Ford's factory color #3, Village Green. The restoration was completed by spring of 1993 and ready for our upcoming road trip through the Yukon and into Alaska.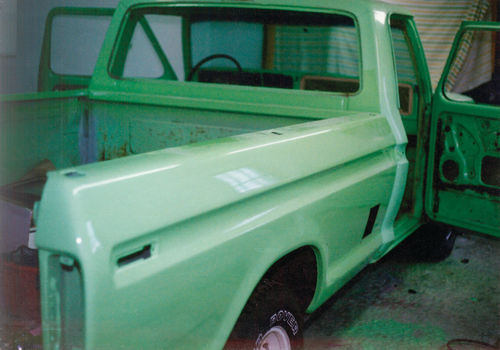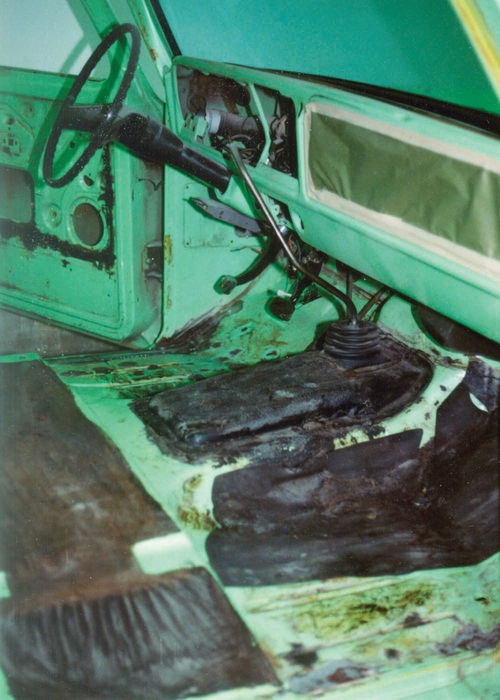 A 390 V-8 Replaces the 360
Because the 360 engine was showing signs of need (due to some poor machine work that previously had been done) a re-ringed 390 was installed. We then took the truck on a month-long road trip through Canada and into Alaska, pulling a 26-foot travel trailer. Two other rigs traveled with us, but we were the only vehicle that didn't incur any breakdowns.
The odometer rolled 300,000 miles while driving the ALCAN Highway into Canada and Alaska.
The Rebuilt 360 Goes Back In
During the years that followed the Alaska visit, many more trips were taken throughout the United States. However, the truck was only driven during fair weather conditions while at home.
In 2005, the 390 was showing signs of wear. I decided to take the previous 360 to Bud's Machine & Engine Shop for rebuild No. 2. The 360 was reinstalled at 364,000 miles. To date, this engine continues to perform well.
In 2010, the truck odometer rolled 400,000 miles while hauling a motorcycle and a quad (four-wheeled ATV), and pulling our 26-foot travel trailer. This occurred while going over Snoqualmie Pass and across the Cascade Mountains, traveling to our annual campout with friends and family in Eastern Washington.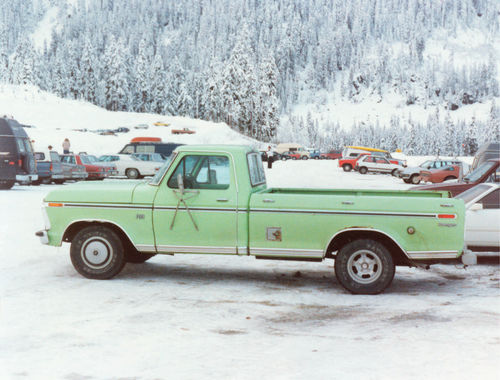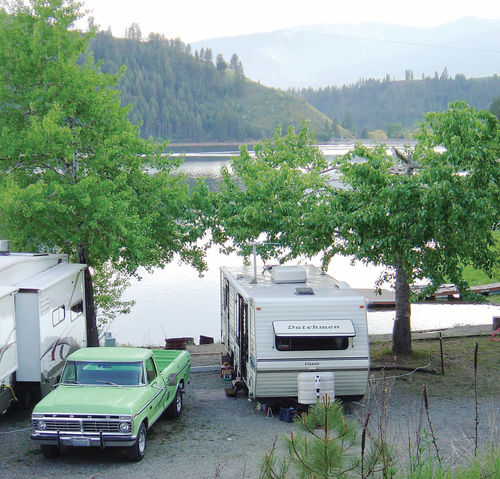 A Show Truck With a History and a Future
In 2014, the truck was entered in the LeMay (America's Car Museum) Show N Shine event in Tacoma. Even though our neighbor's car (a red '57 Chevy Bel Air) got the People's Choice award, the event was worth it.
When I think back over the decades with my F-100, I would guess that there probably are not too many people that can say they have driven the same truck since high school, college, throughout their full working career, and into retirement.
We plan to continue driving the truck, pulling our trailer to various parts of the United States, including Florida and the East Coast. The truck odometer now has more than 470,000 miles on it. I still enjoy driving it and like the attention it generates wherever we travel.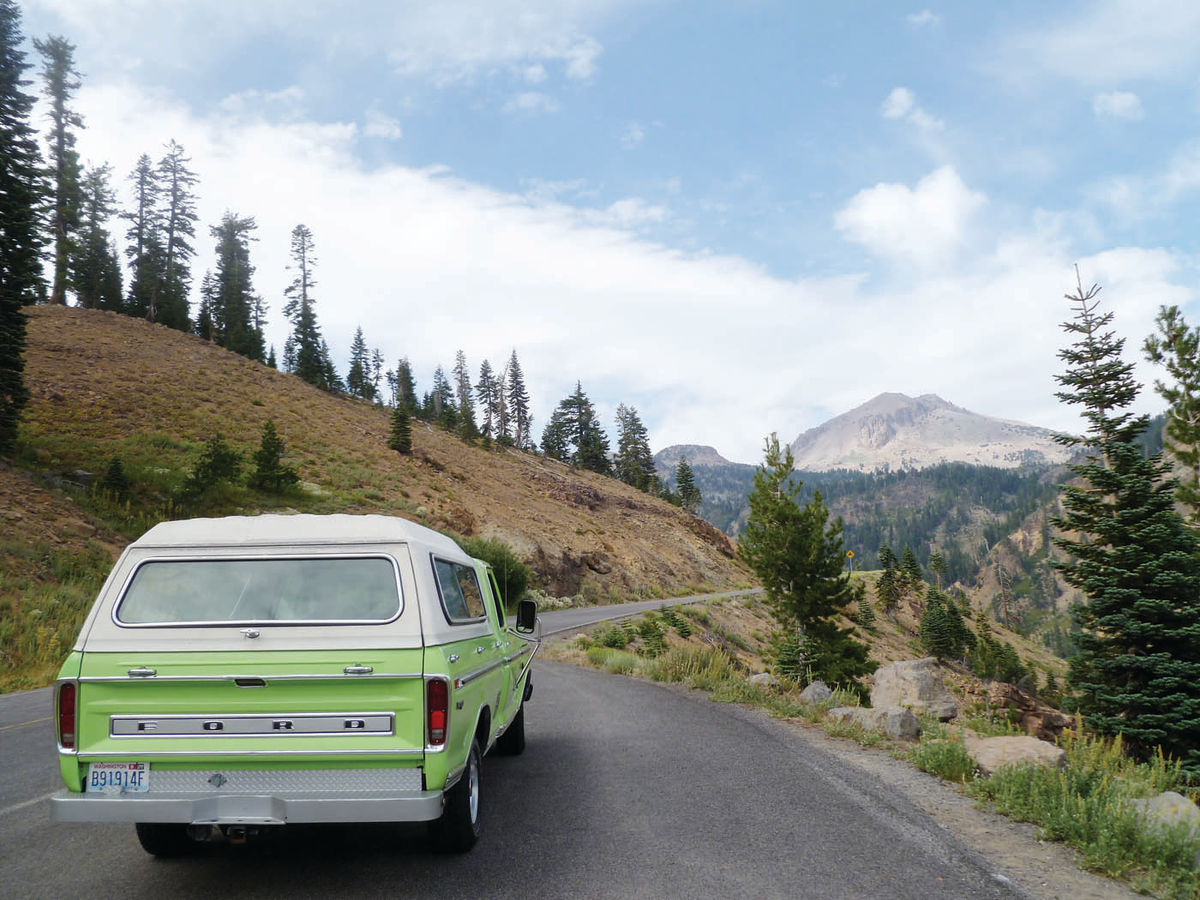 Now, About That Photo Placement...
There have been times when my wife has wondered whether or not the picture of the truck occupies the front or back section of my wallet. I just tell her that the wallet has two ends and she always occupies the other one.