Volkswagon Bug made of Timber
Tim Buttles is known by his hobby buddies as a talented guy who can build great rides for not much money in a small garage next to his home in Ogdensburg, Wisconsin. The builds that he does in this little structure prove that you don't need lots of pricey equipment to make an eye- catching car that enthusiasts love.
He has constructed many cars (as well motorcycles and airplanes) and at least once a year, usually during the long Wisconsin winter, Tim builds something. His projects have ranged from the $91 rebuild of a '49 Plymouth flathead six to the fabrication of a three-wheeled motorcycle that looks like a miniature jet plane. We're going to tell you about Tim's latest creation—a chopped-top New Beetle that he bought for little money and turned into a "surf woodie" with a tiny investment, a good dose of creativity and a lot of elbow grease.
Overall, the cost of what Tim calls his "Timber Wagen" was quite reasonable. He bought the car for $400 and figures he now has a total of $1150 into it. When you look at the pictures on these pages, you might find that hard to believe.
A Tight-Fisted Guy With a Variety of Projects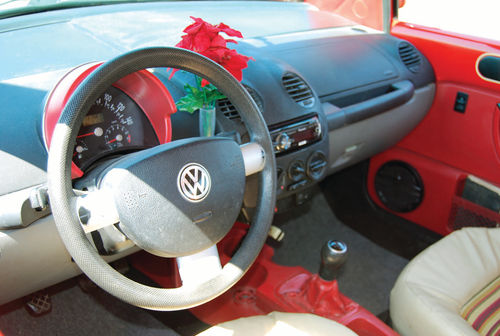 Buttles has never gotten into "working for the man." He has not had a 9-to-5 job for as long as anyone who knows him can remember. He usually spends his days tinkering in his shop, going to flea markets, chasing down bargains he sees in classified ads or riding around seeking garage sale treasures.
Tim never spent a dime to get what a nickel could buy. He even goes to old car shows late in the day to try to avoid admission charges. Once he got caught hopping a fence to see a show at a tech school in Green Bay. "What are you doing?" a show official called out. "You know!" Tim grinned back. "Yes," said the man with a laugh. "But this is a free show!"
Tim enjoys telling that story and others like it, but listeners never know whether he's serious or if they are being put on. Tim, you see, tries not to take life too seriously. A self-taught skilled body man, he once painted a rusty Hudson hulk bright red with a white top and parked it on his lawn with the hood propped open and a dummy dressed as a farmer leaning into the engine bay. Several tourists stopped to try to help the farmer fix his old-fashioned car—or to talk him out of it.
Buttles found a man from "out East" who had to have the Hudson, even after Tim told him the car was virtually worthless. Even before it was picked up by the new owner, Tim was working on another "lawn ornament" to replace it. This time his project involved building his own version of the "Beverly Hillbillies" TV car from rusty old car parts and other junk he had "just laying around" his garage.
Tim also likes to construct what you might call automotive sculptures that include actual parts of cars and trucks. His latest Disney-like diorama is the front end of an old farm truck that appears to be coming out of an old concrete silo in one corner of his property. Motorists driving by Tim's place are often seen goose-necking to get a better look at his old car props.
Doing Good Work In Close Quarters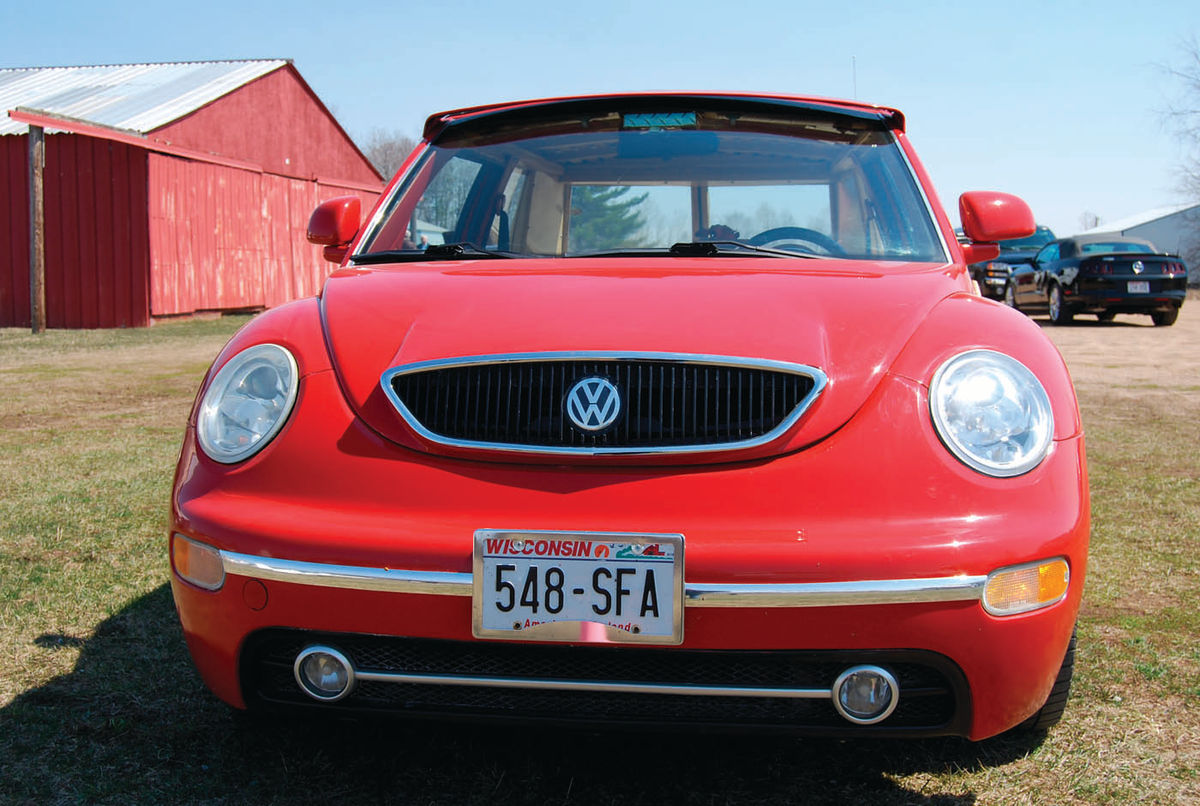 Tim is an expert at wet sanding and buffing out old paint to make cars look great without re-spraying them. He can fix stuff that professional mechanics give up on and get broken machines running again for a fraction of what car dealers charge. He knows how to fix broken electrical windings or replace a frayed old piece of wiring. And he works his magic in a wooden garage that is 35 feet wide and just a tad longer (40 ft.) than it's wide.
The building has two doors in front. The door on the "house" side of the garage leads to Tim's front shop. He also has a back shop where he handles the dirtier aspects of vehicle restoration and building, and has equipment like a parts washer and press. Also on the house side, in the front, is an office measuring about 6 by 6 feet that has a large front window. It somewhat resembles an old filling station. An antique gas pump near the Beverly Hillbillies' car reinforces the office's gas station appearance.
The office contains white shelves that Tim picked up at a rummage sale or perhaps when this or that Wisconsin village was having a free trash pickup day. Tim usually isn't fussy about where he finds his treasures. In fact, he often doesn't remember the exact source of a particular item. On one shelf there's an old King Motor Tester that may or may not work and may or may not be valuable. There are real and reproduction car and airplane toys, authentic old cans of Heet and Mobil Oil, a 1929 Pontiac Indianhead radiator ornament and a jar that once held oil that could be used in both outboard motors and chain saws.
A Collection of Tools From a Variety of Places
Tim's taste in automobiles runs the gamut, but he does have a partiality to "orphan" cars like Hudsons, Studebakers and AMCs.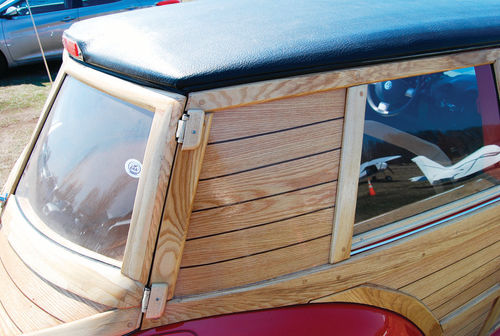 His skills with air-cooled Volkswagen engines are legendary and in the case of one Super Beetle, he also crafted a giant key that he stuck to the engine lid for a toy car look.
The shop in Tim's garage is large enough to hold a couple of vehicles. It has a concrete floor that shows scars and "droppings" of his many hands-on projects. Old cabinets and bedroom dressers are arranged around the room so that they support pressboard and plywood panels serving as work surfaces. Makeshift shelves sitting on homemade wooden struts hold paint, lacquer thinner, oil, wax, STP and axle grease. Other shelves hold power hand tools like a grinder, a drill, an impact hammer, a D-A sander and a cut-off wheel. There are gas cans and coffee cans and cans of body filler. A drill press and a bench grinder sit on the counters. The back room holds a parts washer, a welder and an air compressor. On the floor is a professional-type tire-balancing machine.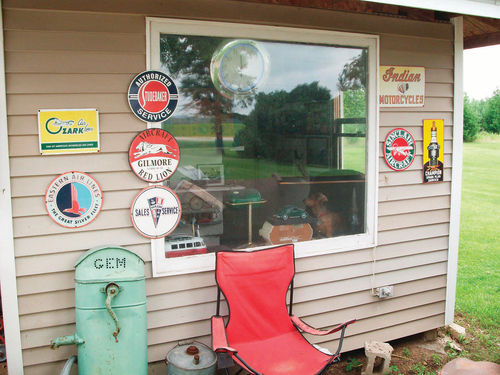 Tim's tools come from auctions, liquidation sales and the Goodwill store. He rarely orders catalog merchandise, though he does buy new tools at swap meets that he can "actually touch in the flesh." His tools get oiled and treated with care, but there's not a lot of sense in cleaning them up, since they're just going to get filthy again.
The worktable in Tim's shop is certainly uncommon—it's an antique hospital bed made of cast iron with scrollwork legs. According to Tim, it can hold up the weight of an axle or an engine and he can crank what's ever on it up or down to a convenient working height.
Tim's toolbox holds an amazing collection of wrenches, sockets, screwdrivers, hammers and other hand tools that he picked up here and there. Dollar tables at swap meets are one source of such implements and free tools are even better. Unlike the shiny offerings in the advertising circulars, Tim's tools have an almost uniform grease-black color. "Keeps them from rusting and helps them slide on nuts and bolts better," he explained.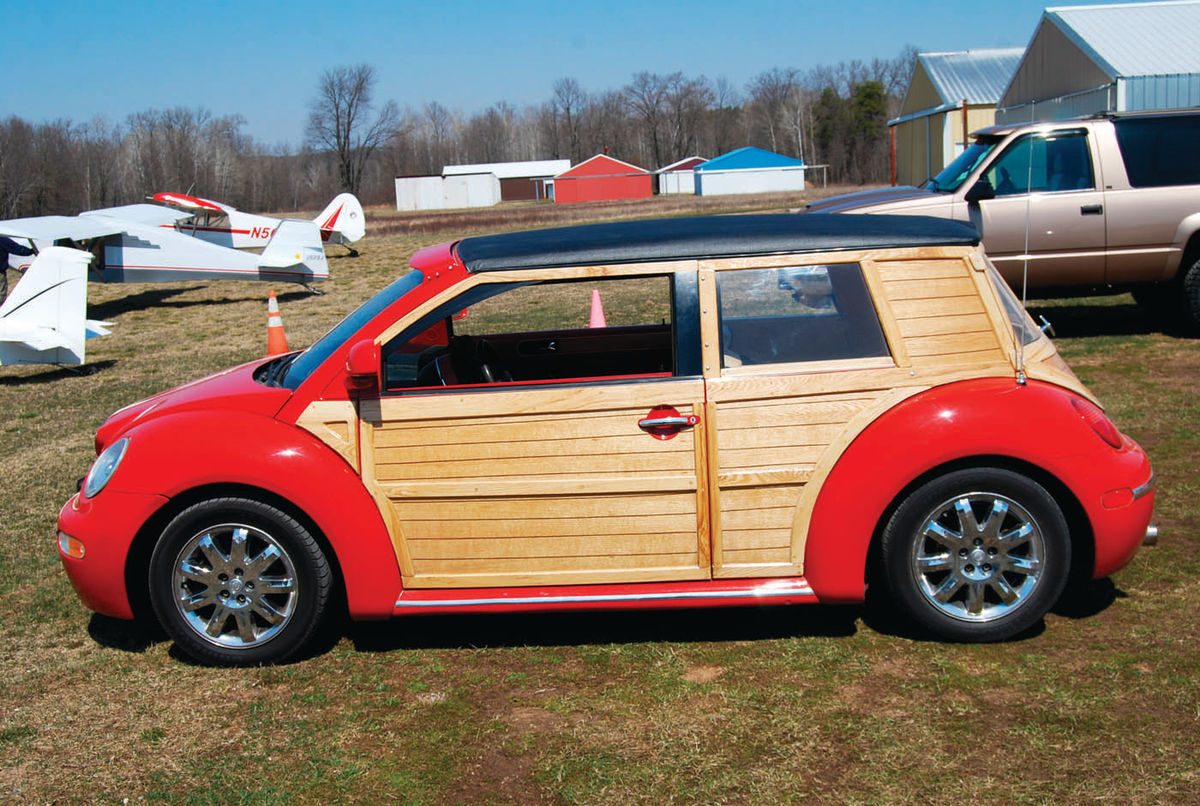 About That VW...
As noted above, the latest creation Tim has turned out is his Timber Wagen. "My kid bought it to fix up and sell," Buttles explained. "He found out it had all kinds of things wrong with it and told me it was going to the junkyard. I told him I'd give him $400 for it."
The car's roof was damaged, according to Buttles. Furthermore, "the doors were kicked in, the knobs were broken off the seat adjuster and the window things, but it had a good engine and no rust, even though it was a Wisconsin car; no rust! The fenders were plastic and they weren't dented.
"I decided to make it into a woodie; because wood is cheap."
He also made extensive repairs to the hood. "They gave me a grille at the gas station in Waupaca," he said. "So when I hacked off part of the roof, I used it for fill-in metal and fabricated the hood."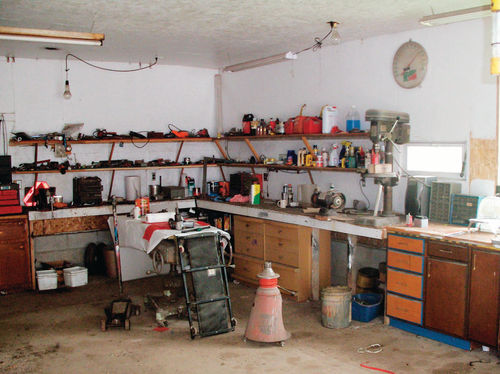 Tim figures he worked on the car for 20 hours per week for four months. "You know, it pays the same as watching TV," he joked. (Tim did admit that he likes watching TV shows that feature metal fabrication. "I like the shows as long as the people in them don't fight," he added.)
Tim has a good idea how much the car will cost to own. "I had to register it and I had to insure it," he pointed out. "The wood for the body cost about 150 bucks and the vinyl top was another 50 bucks."
The car originally was what Tim calls "Ugly Silver." So, he said, "I got some cheap paint from (the local paint rep for an auto parts chain) for $100. The tires are used, but pretty good. The wheels are off a PT Cruiser; they look pretty good and they were only $20 each."
Buttles also bought some inexpensive stick-on chrome. "Then, I spent about 30 bucks on the seat upholstery," he said. "So, I figure I'm into it for $1150. It's not
a show car. It won't win any awards and it's not old enough to put in car shows. But when I drive it, people do turn around and look at it." One man viewing the car thought it was a factory model. "I never saw that version before," he told us.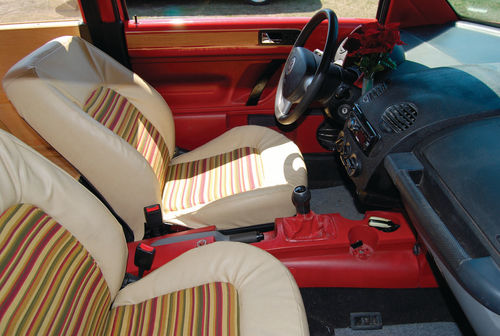 Tim has a pretty good eye for design, so he sketched the car out on a piece of paper and came up with the idea of lowering it so it appears to be longer than it is. "I liked the idea that I could chop it a full three inches without cutting the windshield," Buttles explained.
Now that the work has been completed, Tim plans on keeping his Timber Wagen as a driver. However, when it comes to his vehicles, he remains more of a businessman than a collector in his outlook.
"If someone comes along who wants to buy it for a good price, I'll sell it," he stated. "Then I'll buy another one because they can be so cheap."