When a Car's Been Raced, You Can Expect to Find Modifications. This Owner's Considering the Mods, Changing Some and Driving the Car as the Project Proceeds.
A friend of a friend, a salvage yard operator with a plan—and maybe a bank robbery—each played a part in leading Mark Wanchisen to his 1967 Shelby GT350. But those are just the high points of the story.
The Shelby was sold new at StarkHickey Ford in Royal Oak, Michigan, and somehow found its way to Interstate Auto Parts, a salvage yard in Tioga Center, New York. Wanchisen said that Interstate's then-owner, Richard Cassidy, apparently bought the car at an auction in about 1971 with no intention of parting it out or scrapping it.
"My understanding is that he bought this car and a '68 GT 500KR fastback that had had a major front-end collision," he said. "He put them in his yard and they sat there for many years. He was going to restore one—make one out of two—and my friend, Steve Siegel, wound up pulling the car out."
That alone suggests that Cassidy saw the cars as more than mere inventory for his business and he wasn't the only one who felt that way. Wanchisen explained that Siegel, who worked at an automotive repair chain's Johnson City, New York, shop was very much into Mustangs. His boss at the shop was a General Motors man who drove a Yenko Camaro and thus had little interest in owning a Ford product.
"He knew Steve was into Mustangs and he told him about them," Wanchisen said, "so he and his brother drove out there. They looked at the cars, they tried to buy them and it was no dice. Nothing was going to happen, so as the years clicked off, many other people found out about them. They were trying to buy them and Richard Cassidy was sitting on these things. He wasn't going to sell them."
And few would blame Cassidy for holding them.
Part of the Compact Movement
For perspective, let's step back to when The Big Three entered the compact market in 1960 with variety in its offerings.
GM's entry was the Corvair from Chevrolet and by any measure, its aircooled rear-mounted six made it the most interesting. It gradually swung away from being an economy compact to become an enthusiasts' car.
On the other hand, Chrysler's Valiant, like Ford's Falcon and Mercury's Comet that were identical under the skin, were everyday American cars in everything but size. Sixes—up front and water cooled—powered them and the most unusual feature among the three was the Valiant's engine that was slanted to one side and known logically enough as the Slant Six.
The first-generation Detroit compacts were at minimum entirely successful designs, but it was the Falcon that quickly proved just how right the Big Three could be when they got serious.
Robert S. McNamara, Ford Division General Manager and later Ford's president, had shepherded the Falcon through its development and the car reflected his love of the practical. That matched drivers' tastes so well that Ford sold nearly 436,000 Falcons in the first year.
The Falcon went on after McNamara left Ford and its sedan and wagon were soon joined by a two-door hardtop and a convertible. A V-8 became optional in 1963, but by then Lee Iacocca had become general manager of the Ford Division and he was working on getting something more out of the Falcon when he determined that a sporty car aimed at young people could provide practicality. Anyone who'd reached that conclusion would have decided that a new car really shouldn't look like a Falcon and Iacocca made sure that the Mustang had an identity all its own. Limiting it to a coupe and convertible guaranteed that the longhood-short-deck proportions would be uncompromised and all but ruled out the possibility that a Mustang could be perceived as an economy car when it was introduced on April 17, 1964.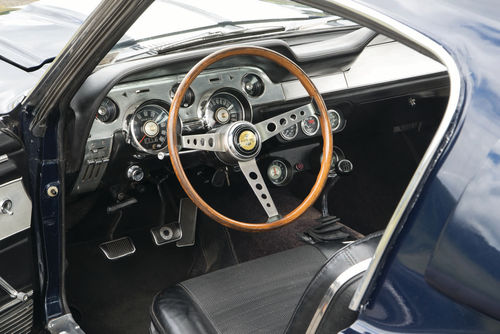 Shelby Gets Involved
Ford walked a fine line as it promoted the sporty aspect by offering the optional 260 and four-speed while being careful not to overlook the base 170 and the room and trunk space for four. It was, after all, "the car designed to be designed by you" and the approach worked.
For 1965, Ford added the fastback, the GT package and a 271-horsepower 289 as an option. But more was going on as Carroll Shelby—already known for Ford performance thanks to his Ford-powered Cobras—began to work magic on the Mustang. In 1965, that meant giving the 289 a significant bump to 306 horsepower, providing better suspension, stronger brakes and a more rugged rear axle to create his GT350.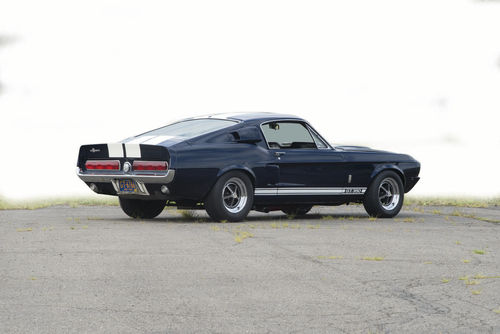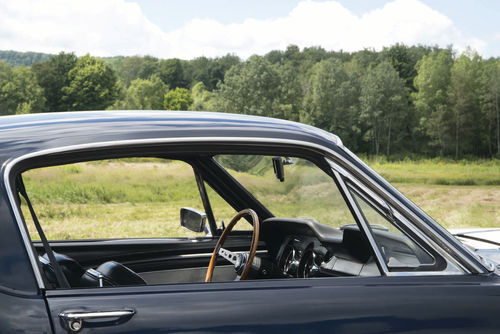 The Mustang's 1967 changes carried over to the Shelby and in addition to the new 428-powered GT500, the GT350 returned. Shelby improvements included "massive disc front and air-cooled rear drum brakes, Shelby-modified suspension for 30% less cornering roll" in addition to a roll bar and "true G.T. features" such as "unique Shelby styling, luxury interior with bucket seats, complete instrumentation, wood rim steering wheel, folding rear seat."
A Car With a Dark Secret?
The "true G.T. features" mentioned above probably had little to do with what might be the explanation for the Shelby's presence at Interstate. The story—and every vehicle needs a story—is that it was stolen, served as the getaway car after a bank robbery and then was dumped in the Hudson River.
"And that's when Richard Cassidy gets it from an auction," Wanchisen said. "I don't know if the police impounded it. I don't know if any of that's even true. That's all I can tell you."
It certainly could be true, as when Siegel bought the car from the yard, he found obvious body damage from cables used to drag the Shelby. It seems unlikely that Cassidy would have allowed it to be handled so carelessly, given that he not only had planned to restore the car, but also cared enough about it that as his health began to fail, he wanted to ensure its future.
That was in 1982 and Siegel's brother, Bruce, was working at a repair shop in Endwell, New York. The owner knew Cassidy and hearing about the Shelbys that were now for sale, he called him.
"(He) said 'hey, I've got a young man down here working for me,'" Wanchisen recalled. "'I understand you've got two Shelbys in your yard and my young mechanic friend here who's just a kid would be very interested in buying those.'"
Unlike the brothers' earlier venture to the yard when their efforts failed, this time the owner was ready to sell and the deal offered was that the brothers would have to buy both cars for $600 apiece. Even in 1982, Wanchisen said, that was a bargain and the brothers lost no time in renting a trailer to haul the cars home. Unfortunately, both cars had lost parts in spite of Cassidy's earlier plan and only the one that would become the feature car was restored. It could have been worse, but it was not an easy restoration.
"The car was all ratted out," Wanchisen said. "It had Ford quarter panels put back on it, coupe quarter panels, so they only go up halfway. They're not the fastback quarters. They cut them down low and nothing was rusty on the car. It wasn't due to rust, it was just dents everywhere."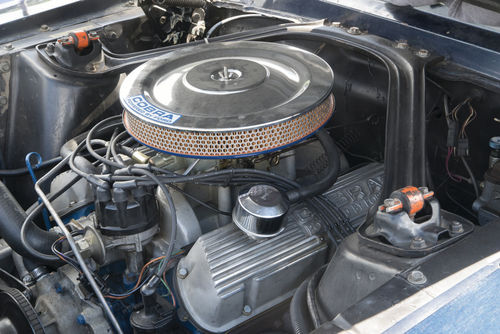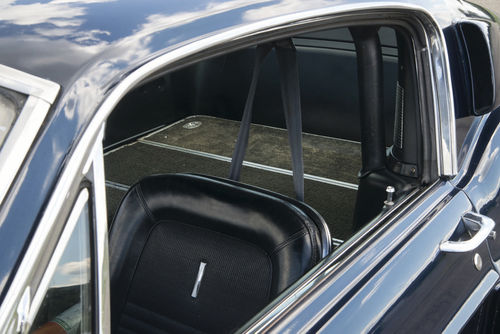 The floor and frame are original, he said, since they were neither badly rusted nor seriously damaged from accidents, but faded plaques that Steve Siegel found on the dashboard and the hydraulic clutch showed a racing past and that explained the fiberglass fenders.
New old stock replacement fenders from Ford were installed, as were one door and one door skin. In place of its original 289, Siegel installed a 427 and the Shelby went back to the track.
The Shelby Changes Hands
"Steve autocrossed the car locally at Shangri-La Motor Speedway when that was running up there in Tioga Center," Wanchisen said. "He took it to the track events at the Shelby Club and then eventually he sold it at SAAC-12."
SAAC-12 was the Shelby American Automobile Club's 1987 convention in Charlotte, North Carolina, and Siegel probably hadn't been planning to sell the car there.
"That's when he blew the 427 up," Wanchisen explained. "He sold that car at SAAC-12, right at the show. He pulled the motor out—what was left of the motor after it blew—and pieced that out as souvenirs for people. He was just giving people bits and pieces of the block. He sold the chassis the next day."
The new owner proceeded to set up the Shelby for racing and did so without taking shortcuts.
"It's all pro quality," Wanchisen said. "This is no amateur stuff under there. Look at the welding and it's like a stack of dimes. This is not some guy in the back of the garage, this is serious stuff.
He told me 'oh, when I did the car over, it was on a rotisserie.' It was upside down when he was doing the welding. He was not on his back; he was doing it from above.
"It was done right for a racecar. From 50 feet away, the car looks great, but any Shelby guy who knows these cars will immediately say 'well, this car's a roach.' It's not a roach, it's just (modified)."
Finding Its Current Home
By about 2000, Wanchisen said, the Shelby was again sold with no engine.
"He's the guy who put in the motor and tranny out of a '66 Mustang GT," Wanchisen said. "It's a real 289 hi-po and the engine and the tranny match. It's a matching VIN between the two and they ended up going in the car and that's what's in there today. It's pretty tame. And he's the guy I got it from. I put those valve covers on it. They're off of a '65 or '66 Shelby. Those are not correct for '67."
The previous owner's racing brakes were still on the car when Wanchisen bought it in the spring of 2013 and since they had no provision for an emergency brake, he decided to renew the entire system.
"I went through all the brakes," he said, "and completely rebuilt everything, every inch of it all new, and I reconverted back to drums in the rear. I didn't want to run disc brakes. I didn't want any of that because I wanted to run emergency brake cables. I just wanted to go back to what it was. If I decide that I want to put disc brakes back in, I'll get disc brakes at some point in time with emergency brake provisions like the modern stuff. If I decide to do that, but I'm happy with the car the way it is…
"In order to put the drum brakes back on, you've got to put the backing plates back onto the axles. You have to put them behind the wheel bearings, so I pulled the axles. When I pulled the axles, the right rear wheel bearing just about disintegrated. It was gone, there was nothing left of it, so I wound up changing both of those. I pressed out the old ones and pressed in the new ones and I put the emergency brake system back into the car."
Since the car had been raced, there were air ducts that had helped to cool the brakes and he removed them as well. Similarly, he wound up rebuilding the shifter.
"A shifter is supposed to self-center," he said, "and that's what the trunions and the springs do. There was none of that. You could just touch it and it would go to the side. You'd try to find the gate and it was all goofy. I can tell you that car is a well-sorted car now. For a '60s vintage car, drive it and that car handles well."
That's because of the racing modifications on top of the Shelby modifications to the Mustang underneath, but there's additional work to be done.
Keeping It On the Road
"I'm more into the drivability of that car," Wanchisen explained. "When I say 'well-sorted,' I want everything tip-top. The brakes are tip-top. There's nothing malfunctioning, it's just that they're at the performance level of what they were. I want to get that (improved) and there are companies that'll make stealthy stuff. One thing I don't want to do is change the ratio of things on the outside, like I don't want to go to anything more than what those wheels are."
He said he might swap a five-speed transmission in place of the factory four-speed because with the Shelby's 3.89 rear, he keeps speeds reasonable. The added gear would also improve gas mileage.
"I could go farther between the ethanol-free gas stations," he said.
With the four-speed, it's a concern on a trip, but that doesn't present a problem locally since ethanol-free fuel is available fairly close to his Vestal, New York, home. One of the attendants at that gas station always comments on the Shelby since he sees it on a fairly regular basis and that's not a lot different from how Wanchisen first learned about the car. He saw it on the road in his area when Siegel owned it.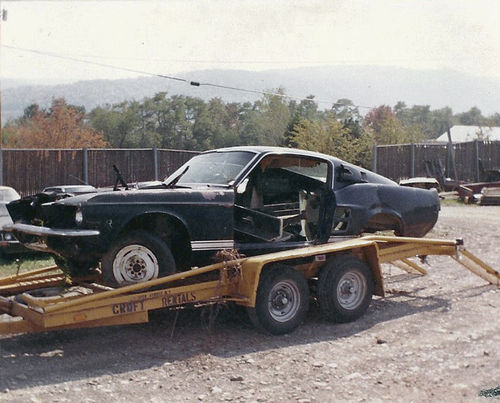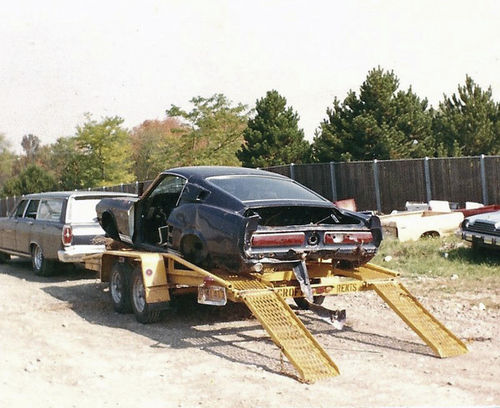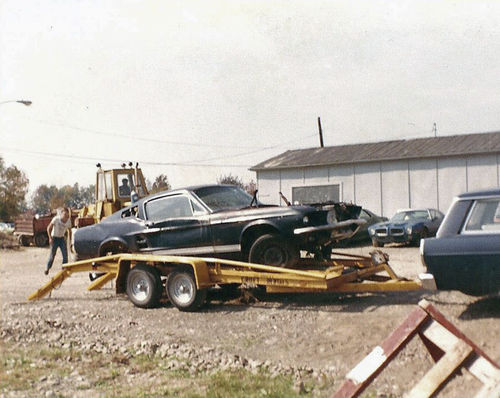 "When I bought it," he said, "it looked just like it does now. The body is the same. That's the original paint that Steve Siegel and his brother Bruce put on that from when they first pulled it out of the junkyard. That's 1982 vintage paint on the car."
The Shelby did have a front bumper when it came out of the yard, he said, but much of the time when he saw it on the road, the bumper was missing. That memory is a big part of the reason that the car looks as it does today.
"I have a bumper and I took the bumper off," Wanchisen said. "The grille I took off because it was completely mangled. I could buy a reproduction grille, not a problem. When I got the car, it had a front bumper and it was like 'that doesn't look right to me. It doesn't look ratty enough. That bumper's coming off,' so I pulled the bumper off."
It's Become a Rolling Restoration
"Ratty" might be too strong a word, as his position is that a new bumper would look out of place on a car that's not perfect and Wanchisen admits that his Shelby isn't perfect. It's going to look that way for a long time since his plan is to drive it while carrying out a long-term rolling restoration. He's protected the stone-chipped lower body with Boeshield until he sands the areas down and primers them, but the repaint for the entire car will still be a long way off even then.
Most importantly, since this is his fourth Shelby and he's had just as many Mustangs, he has enough experience to prioritize the steps in the feature car's eventual restoration. He also has some perspective on Shelbys in general and no illusions about his car.
"On a '67 Shelby," he explained, "it all depends. Do you want a driver like this one or do you want one that's going to hold its value?"
Paying an expert to look over a Shelby under consideration, he said, will generate a list of everything that's wrong with the car and a rough guess on the cost to correct it.
"That car right there?" he asked. "He'd be like 'avoid, avoid, avoid' if you want a real car that's a good example of a Shelby.' That's not a good example of a Shelby.
"It's probably the best example you're going to see of what not to buy. I'm not kidding. I know how those guys think and I know how I think. They know the cars that you can drive. This isn't really even a good driver because it was a racecar for a while and that's the problem with it. It's been modified so much that the weld seams are all goofed up."
He doesn't care because he likes the car and won't sell it, but he recommended that someone thinking about buying a Shelby like his look for a good older restoration or, if possible, a decent original. The older restoration is likely to be more easily found and more affordable, a combination that translates to a car that can be driven and enjoyed without constant worry. Wanchisen uses his Shelby precisely that way.
"The driver involvement puts a smile on your face," he said. "You sit in that seat and if you look at the seat, it's kind of blown out, but it's like sitting on an old saddle on an old horse. You get in there and you immediately recognize it. You're like 'this is where I want to sit. I don't want to sit anywhere else.' That's basically it. It's like riding an old horse. It's just a great car."
Whether a buyer takes that approach or decides to hunt down a restorable example, he said, expertise is available through the Shelby club, but something to keep in mind while searching for just the right car is the fact that much of what applies to the far more common Mustang applies to a Shelby, particularly when it comes to the body. In short, Wanchisen said, they rust and he provided several examples of likely problem areas.
"Floorpans, torqueboxes, the cowls go all the time," he said. "The cowls are bad, notorious, not on top, but when the water goes through the grille, the floor of the cowl rots and then it goes onto the floorpan and it takes the floorpan."
The lower fenders and quarter panels rust, he said, and if the rocker panels are showing damage, the car probably has serious problems elsewhere, too. He said that nearly every Mustang with rust will have rot at the tops of the shock towers along the fender aprons since those points collect debris and that holds moisture.
"That's the first thing that's going to rust," he said. "Before your floors go, before the cowl goes, before the quarters fall off, you're going to get those four standard bubbles. They've been fixed on that car because that car had the bubbles."
A Long-Standing Relationship
Whether it's an older restoration, a good original, a perfect example or a restorable one, finding the right Shelby shouldn't be impossible. It probably won't be inexpensive and it probably won't have the importance that's part of Wanchisen's car.
"I love this particular one," he observed. "There's a connection with this car not because it's a Shelby, but because this car, this actual car, I've just known it for most of my life. So it's that connection that's the reason I want this specific one over a fully restored one."