Feature Restoration 1953 Mercury Monterey
Mercury Is About to Take Its Place In Automotive History. Let's Revisit a Time When It Was a Viable Brand.
Editor's note:Ford Motor Co.'s decision to eliminate its Mercury brand by the end of this year prompted us to put the spotlight on two examples of the breed that have caught the attention of automotive enthusiasts. The '53 Monterey convertible seen here provides a sporty experience in a sophisticated package while the '72 Cougar XR-7 convertible on page 18 demonstrated that it was possible to blend luxury and comfort with high-performance capabilities. If there's a vintage Mercury in your garage, why not send us some photos and tell us, and fellow Auto Restorer readers, about your special car.
DURING THE LATE 1930s, Ford Motor Company found itself with a $500 price gap between its most expensive Ford and its cheapest Lincoln which meant the company had a medium-price market to fill. Pontiac, Oldsmobile, Dodge, DeSoto, Hudson and Studebaker Already had such entries. The decision to add the Mercury division to Ford Motor Co. was the right one as approximately 150,000 of the inaugural 1939-40 models were sold. Sales went up from there during the '40s and '50s.
Throughout most of its existence, Mercury was viewed as an upscale Ford because of the way it was marketed. The exception was during 1949 through 1951, when the Mercury moved up to being a "junior" Lincoln. Then, for '52, the all new Mercury was again marketed as a more luxurious Ford. In fact, its body shell was shared with Ford.
The 1952-54 Mercury Were Essentially alike in terms of styling, but with the expected trim differences per year model. And just as was found at General Motors, Mercury's designers drew inspiration from the new jet aircraft of the era. Another Styling trend was getting the cars to at least appear lower and longer. Still, the new Mercury was nearly five inches shorter, three inches narrower, and about 100 pounds lighter than the Lincoln-like 1949-51 models.
"Frenched" headlights (appearing molded into the body instead of being a separate part), a massive bumper/grille combination with a center bar wrapping around the front fenders, air inlets above and below the center bar along with "teeth" resembling those of the 1950 Buick dominated the frontal view of the 1953 Mercury. Hardtops and sedans got a wraparound rear windshield. Swept forward taillights blended into the rear bumper.
The 1953 Mercurys were divided into two series: Custom and the upscale Monterey. A Custom could be had as a two-door hardtop, two-door sedan or as a four-door sedan; the station wagons in six- and eight-passenger variants offered in this series the prior model year were dropped for '53, but moved up to the Monterey series. The pricier Monterey was offered in five body styles—two door hardtop, convertible, a four-door sedan as well as the two wagons.
Sales of the 1953 Mercurys totaled 305,863; the 40-millionth Ford Motor Co. automobile, a red Monterey convertible, was among them. However, Mercury production for the model year was only about 25 percent of the Ford volume, thus making them a bit scarce today.
The Mercury You See Here
Though our featured 1953 Mercury Monterey convertible is wearing its original shadeof Siren Red, it's not the 40-millionth FoMoCo automobile mentioned above, a car which found its way into the Imperial Palace Museum collection in Las Vegas. In fact, when the featured car was acquired in 1995, it had been repainted black by its original owner.
Current and second owner, Merritt Johnson of Longview, Texas, began a search for a 1953 Mercury two-door hardtop or convertible by running an advertisement in hobby publications in late 1994. Soon thereafter, a Pennsylvania man replied to the ad and provided a photo of his car.
Merritt began talking with the seller who later sent a video cassette showing the Mercury in great detail. Finally, in May a deal was reached. Although Merritt wound up towing his car back to Texas, upon arrival at the seller's residence he realized he could have driven the car instead of hauling it.
Once home, he performed some routine maintenance, installed a set of wide whites, and drove the car periodically for the next nine years.
With the passage of time, indications of rust began appearing in the car's rockers and lower quarters, so the Mercury came in off the streets and in 2004 a body-off frame restoration was begun. That work resulted in a score of 940 points in the 2008 Early V-8 Club Concours, narrowly missing the club's Dear born Award by 10 points. However, the score was enough for a first place award.
Undergoing Some Concours Judging
The standards for the Dearborn Award are rigorous to say the least and they have a lot to do with the vehicle's originality. A perfect score is seldom achieved in this competition because there are times when a reproduction or well-preserved component simply is not available. That is the case with the rubber trunk mat used in the 1953 Mercurys. Merritt's car lost four points for that "flaw" alone. The rules will accept an appropriately modified Ford mat (pieced together to fit), though.
Another tough item to obtain is a set of headlights without the three adjustment tabs; those were not on headlights in 1953. Obtaining a working set of original FoMoCo script units is a somewhat expensive proposition. Merritt will have the tabs ground off of his lights. This cost Merritt six points—three tabs per light or one point per tab. Those two deviations total 10 points and were enough to keep the Merc from qualifying for the club's top award.
Incidentally, another eight points were lost due to the incorrect finish on the eight spark plugs; the portion where a wrench socket fits is supposed to be black oxide instead of cadmium plated. Merritt Will use gun bluing to change the finish to black. He believes what he has changed (such as installing the proper stainless steel valve caps)since the 2008 event, though, would now result in a score of about 980 points.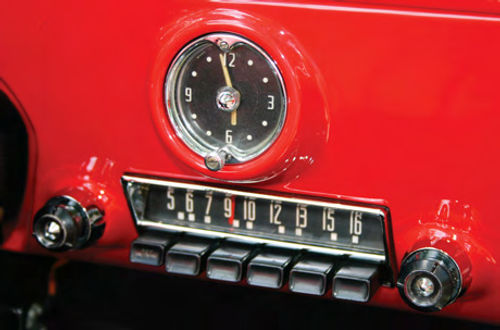 Engines and Transmissions
The 1953 model year was the final one in which the flathead V-8, in use since 1932, would be standard for Mercurys and optional in Fords. The modernized Y-block, appearing first in the 1952 Lincolns, replaced it for '54. Mercury originally was scheduled to get the Y-Block with Lincoln. However, the war in Korea created a metals shortage and Ford Motor couldn't produce enough machinery to include the new engine in the Mercury line until the 1954 model year.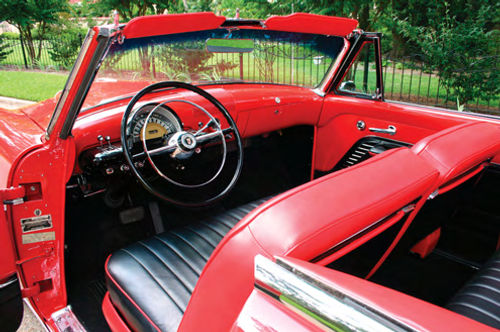 Ford's long-lived flathead has been well-documented in terms of rebuilding and modification, but one point worthy of note is that none of the 1952-53 Mercurys came from the factory with a dual exhaust setup. The same is true of the 1952-53 Fords, though in their case a dual exhaust kit was offered for dealer installation. Why the difference? Fords were equipped with a manual choke while the Mercurys used an automatic unit. The design of the Mercury's right side exhaust manifold with its associated thermostatically-controlled heat riser system made a dual exhaust impractical though not impossible.
Therefore, Flathead Mercs fitted with a dual exhaust system can lose points at judged shows.
1953 Mercury Monterey
GENERAL
Front-engine, rear-drive, convertible
ENGINE
Type Flathead V-8
Displacement 255.4cu.in.
Borexstroke 3.19in.x4.00in.
Compression ratio (:1) 7.2
Carburetor Holley 2-bbl.
Power 125hp@3800rpm
Torque 211lb.-ft.@2200rpm
DRIVETRAIN
Transmission Merc-O-Matic Automatic
SUSPENSION & BRAKES
Front Kingpins, coil springs, stabilizer bar
Rear Live axle, leaf springs
Brakes(f/r) Power-assisted drum/drum
STEERING
Power-assisted worm and roller gear
MEASUREMENTS
Wheelbase 118in.
Length 202.2 in.
Height 62.2 in.
Width 74in.
Track(f/r) 58/56in.
Weight 3585 lb.
Tire Size 7.60x15
Another point worth mentioning is that the Mercury Flathead had a larger displacement (255.4 cid) than that of the Ford (239.8 cid), hence the higher horsepower rating (125 at 3800 rpm vs. 110 at 3800 rpm). The greater displacement was the result of a quarter-inch increase in the stroke of the Mercury engine. Compression ratios for the two were identical at 7.2:1.Both the Custom series and the Monterey came equipped with the 125 hp engine.
The Holley carburetor was revised slightly for '53 and a newly designed air cleaner sat atop it.
One minor, yet interesting, point is that the 1954 Canadian Mercurys continued to be equipped with the flathead (as well as the kingpin front suspension).
Transmission choices numbered three. A three-speed manual was standard issue, but an overdrive (Touch-O-Matic) could be had as could an automatic (Mercomatic Drive). The overdrive was a planetary type with manual lock-out and accelerator-activated downshift designed by Borg-Warner. Merc-O-Matic Drive was an air-cooled, torque converter type three-speed transmission with planetary gears though later in the '50s the Merc-O Matic became water-cooled.
Suspension, Steering and Brakes
The 1953 model year also marked the last use of kingpins in the front suspension of the Mercury (as well as Ford). Ball joints debuted the following year. Leaf springs were in back.
Merritt replaced almost all of the suspension during the restoration; only the front coil springs were judged as being worthy of reinstalling. Leaf springs, which can be re-arched, were replaced. All of the suspension components were acquired through Kanter Auto Products.
The steering system included a worm and roller gear with equal-length tie rods.
"Duo-servo" hydraulic drum brakes were at all four wheels, and starting in April 1953 power brakes (a General Motors' design, incidentally) became available. There were two types of brake systems—one was a factory setup and the other was installed by the dealer. The latter setup was mounted on the left inner fender. Our feature car has the factory-installed power brakes.
Sheet Metal and Trim
Most body panels among the 1952 to 1954 Mercury models will interchange though there are some important exceptions and expect the mounting hole pattern for year/model-specific trim to differ. Hoods and front fenders are the same for 1952-1954. That's basically the same for front door shells, but these differed by body style. Rear doors on four-door models were revised each year. Also, door hinges were redesigned for 1953; they were for the new "Two-Stop" doors which allowed the doors to have a half open position in tight parking places. Deck lids were identical for 1953 and 1954. Quarter panels were altered a bit for each of these three model years.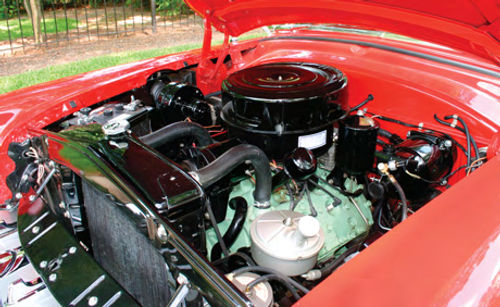 Reproduction rocker panels are the only body components currently available. To obtain quarters or other body components, you'll have to look for a good parts car (or cars).
Since these Mercurys were not produced in as great a quantity as the lower priced Fords, you may find that adapting the individual Ford floor panels to replace rusted sections of a Mercury project a more practical alternative. However, if an entire floor—tunnel and all—has to be replaced, combining sections from two sets would be necessary as just one from the smaller Ford would not fit. Mercury had a three-inch longer wheelbase and a 4.4-inch longer body, but that should not prevent adapting individual pans from a Ford because the two shared their basic body design. In the case of our featured Merc, the floors were in excellent condition; a good parts car supplied the needed lower quarter panels and wheel wells.
The hood ornament and the stainless steel hood "wing" assembly were shared for 1952 and 1953. Small detail changes differentiate the 1952 and 1953 bumper/grille combo, though the Dagmar bumper guards remained unaltered. The deck lid handle and medallion were the same for 1953 and 1954. Side trim updates readily identify each of the 1952 to 1954 models. The lower-level Custom not unexpectedly had a bit less décor; rocker panel moldings (standard on Monterey) were not included on this series.These were the same for 1953-54.
Taillight Housings—uniqueforthe 1953 model—are very difficult to locate in good condition. These die cast components can be seriously pitted after five-and-a-half decades, so expect to pay a high price to have deteriorated ones re-plated, but don't expect to find any NOS replacements.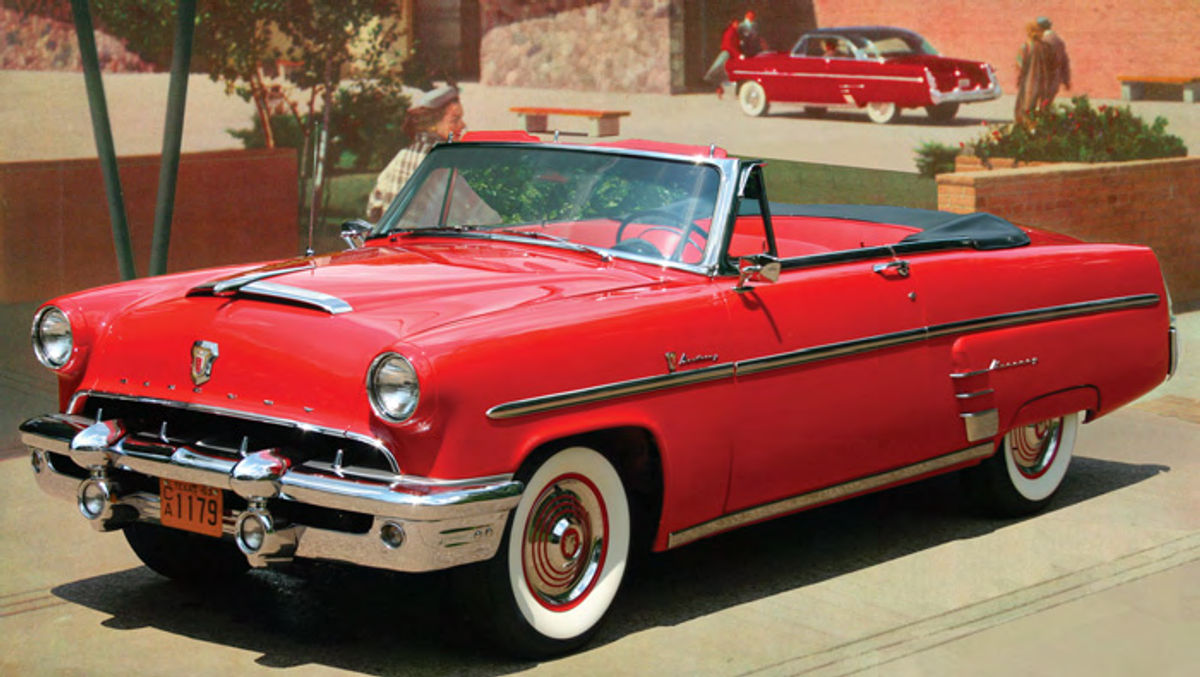 Going Inside
There were 30 interior trims available for 1953 Mercurys. Among them were seven all-cloth options (two were solid colors), eight vinyl choices (one solid color), 10 two-tone vinyl and cloth combinations, and five extra-cost leather selections for the two-door hardtops and convertible.
If you are trying to restore a car to its original scheme, the trim code on the data plate is the starting point for determining the right color and material. Hopefully, there will be enough of the original material remaining to use as a reference. Sometimes, one can be fortunate in regard to upholstery. The vinyl used at that time was very durable and you can find one of these Mercs in a salvage yard with good vinyl upholstery. Of course, cleaning, re-stitching, and new padding will be necessary in that situation.
Our featured Mercury convertible is fitted with replacement red-and-black vinyl like the original equipment. The factory-installed material, while intact, was in need of replacement.
Options and Accessories
Extra-cost equipment could add a significant percentage to the base price of a 1953 Mercury. A Monterey convertible was much more likely to be loaded with options than a four-door sedan and certainly more so than any Custom. The reasoning for this simple—those with the money to spend on a convertible were more likely to be able to afford optional equipment. Those opting for the four-door sedan—a more family oriented car—were more likely to be interested in saving some money. The buyer of a Custom was clearly trying to get a little luxury on a low budget.
The list of extra-cost choices for the 1953 Mercury included an automatic transmission, power steering, power brakes, power windows, power seat (two- and four-way offered), two-tone paint, and a radio.
And despite its somewhat upscale placement in the market, factory air conditioning was not available on the 1952- 54 Mercurys. That convenience did not arrive until 1956.
Resources
Clubs
Early V-8 Club of America
P.O. Box 1715, Maple Grove, MN 55311 efv8.org
International Mercury Owners
Association (IMOA)
P.O. Box 1245, Northbrook, IL 60065-1245
Parts
Classic Auto Parts (formerly Obsolete
Ford Parts)
8701 South Interstate 35, Oklahoma City, OK 73149
Curry Ford Parts
88School St. Manchester, CT 06040
; Fax:
Dennis Carpenter
4140 Concord Parkway South, Concord, NC 28027
Kanter Auto Products
76 Monroe St. Boonton, NJ 07005
SMS Auto Fabrics
350 South Redwood St. Canby, OR 97013