Feature Restoration 1954 Hudson Hornet Special
It May Be a "Toned-Down" Version of a NASCAR Champ, Still……It's the Last of a Breed & a Dependable Driver, Too.
AS IT TURNED out, that $100 exchanged for a 1954 Hudson Hornet Special some four decades ago really was money well spent.
"My first car was a '40 Ford," recalled Ron Doviak of Mount Cobb, Pennsylvania. "I had that and then I went off to college. I didn't consider it an antique because this was still 1959, 1960… After college, I was in graduate school and I kept following the car stuff and by then, I couldn't afford a Ford anymore.
"I don't know exactly what made me switch over to Hudson. Maybe it was because my father's friend had one that I liked. I was just thinking 'what kind of old car could I get?'
"So I followed up a couple of leads at different times and they never went anywhere—either the cars were too bad or too expensive—and at one point, I came across an ad. It was very simple, 'a '54 coupe, needs two or three tires and a window-winding mechanism; drive it home, $150.' I called the guy, a member of the (Hudson Essex Terraplane Club), and I went up to see him.
"He had a couple of cars, but this one was a coupe and so that made it a little different. I bought it for $100 and he towed it to my house for another $10 and that was it."
Living the Garaged Life
That was in January of 1969 and that extra $10 was money well spent, too; it got the Hudson about 40 miles to Doviak's home, which was then in Cliffside Park, New Jersey.
Once delivered, the Hornet went straight into the garage and like the decision to buy it in the first place, taking up garage space with an un-drivable 15- year-old car might have been a baffling move as well. In fact, Doviak remembers that not everyone was in tune with his automotive choices.
"It was bad-looking, Algerian Blue with some dents and who-knows-what," he recalled, "so I put it in the garage. I had a Saab at that time and I lived in a house with my grandfather. My wife and I lived upstairs and Pop lived downstairs. He was a big Polish guy with a deep, Polish accent. I put the car in the garage and the next morning he said 'Ronny, what's that junk in the garage?' So I said 'it's a Hudson, Pop. I'm going to restore it' and he said 'ah, junk. Why you leave good car out?'"
It was a reasonable question, but if the Saab had to move out to make room for a car whose condition seemed questionable, a step-down Hudson was a good choice for a replacement.
An Uncommon Corporate Beginning
The Hudson name first appeared in connection with an automobile in 1909 and that's an important distinction since to that point "Hudson" had had nothing to do with anything mechanical.
Unlike so many others, Joseph L. Hudson's name didn't end up on a car because he was an inventor, a tinkerer or a mechanical engineer; he was the owner of the biggest department store in Detroit and thus had the necessary money. Roy Chapin, Sr.,Roscoe Jackson, George Dunham and Howard Coffin were experienced in the automobile business, however, and with Hudson and several others, they established the Hudson Motor Car Company in February 1909. (As the story goes, Hudson wasn't too keen on the idea of getting into the automotive business but his niece was married to Jackson and some family pressure was brought to bear on the department store magnate to become an investor.)
It's doubtful that anyone knows precisely how many would-be automakers came and went before World War I, but Hudson was able to advertise in 1910 that "four thousand Hudson Cars were delivered from June 1909 to June 1910."
Available as a roadster and a touring, the initial Hudson used a 199-cubic-inch four producing 20 horsepower driving through a three-speed selective transmission. With two-wheel mechanical brakes and shaft-drive, it wasn't revolutionary, but the company pointed to mechanical features and figures in observing that comparably priced cars—$900 to $1200— were in some way "inferior to the Hudson. Neither are they as roomy and comfortable nor as refined as the Hudson."
By 1913, the four-cylinder engine had grown to 280 cubic inches and 37 horsepower, but that was far from being the big news as Hudson that year introduced its first six, a 54-horsepower 421. The six was a hit and almost instantly pushed the four-cylinder cars out of the catalog; Hudson built nothing but sixes from 1914 through 1929. It switched to an 80-horsepower 214-cubic-inch eight in its 1930 Great Eight.
Hudson was still building its straight eight in 1948, but a six had returned to the line in 1935 and it was about to become a part of automotive legend when it was teamed with the post-war Hudson. For '48, Hudson introduced a dramatic new design that was low-slung and sleek, a style that was dubbed the "Step Down" Hudson because, well, you had to step down to enter the car. Consider, for instance, a 1949 ad which bragged that the Hudson with its step-down design "has the lowest center of gravity in any American car! That means the most surenessin handling, the most safety!"
Ironically, the Hudson six, like the eight, was a flathead and in 1949, the overhead revolution was starting. Hudson seemed poised to be left behind. After all, its engines were anything but cutting-edge technology and along with other manufacturers 'flatheads and straight eights seemed almost quaint when Cadillac and Oldsmobile unveiled their modern overhead-valve V-8s that year.
Other manufacturers' V-8s followed, but what happened next is an almost perfect example of the meaning of "unlikely" as Hudson chose to focus on its sixes, beginning with the 1951 introduction of the 308 in the new Hornet. (The Hudson straight eight would be gone after 1952.)
Hudson quietly offered performance components for the 145-horsepower flathead six and was rewarded for its trouble with 12 NASCAR Grand National victories that year. Things got better for Hudson in 1952 with 27 Grand National wins and others in AAA contests. Dual carburetors became available as Twin-H Power and then in 1953, Hudson pulled out what amounted to a secret weapon for the 308, its 7-X package which most estimates place at 200 to 210 horsepower. Twenty-two NASCAR wins were the result in 1953 and 17 others followed in 1954, but despite that amount of success, Hudson had a problem.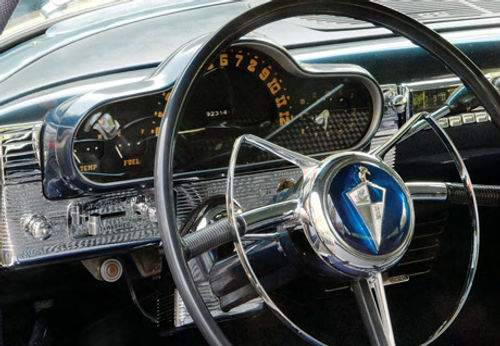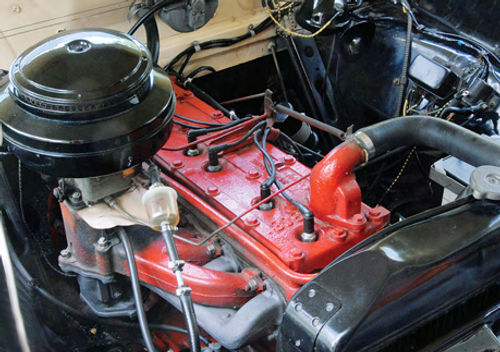 Hey, That Hudson Looks Like a Nash
Unfortunately, the Step Down design that was so wildly successful on the track was both difficult and costly to update. In its time, a few years was long enough for any design to be on the market and the Step Down that had once seemed so radically fresh did not age gracefully. Even 1954's redesign based on the smaller, notch-bodied Hudson Jet that was introduced in 1953 didn't disguise the 1948 body well enough. Hudson sold 51,000 cars for the 1954 model year; just three years earlier, that figure had been 132,000.
The message was there and although Hudson was losing money, it had not been oblivious. A merger with Nash Kelvinator approved in January 1954 was completed the following May, when the new American Motors began operation. Nash came out ahead in the deal and although the Step Down was long overdue for replacement, its 1955 successor was based on a Nash and looked it, even though much more than mere badge engineering had taken place. There was nothing wrong with the company's approach as the Nash was certainly a good car, but a Nash was not a Hudson. The 308 survived the merger complete with Twin-H Power and was back in the all-new Hornet, even though it now took a back seat to the Hornet V-8. For true Hudson fans,the fact that a V-8 had finally arrived would probably have been welcome news if the engine hadn't been a Packard 320. Again, it was a good engine, but a Packard wasn't a Hudson either. With Nash, Hudson held on for two more years before American Motors dropped both names and focused on Ramblers.
1954 Hudson Hornet Special
GENERAL
Front-engine,rear-drive, club coupe
ENGINE
Type Flathead, inline six
Displacement 308 cu.in.
Bore x stroke 3.81 in. x 4.5 in.
Compression ratio (:1) 7.5
Carburetor Single-barrel
Power 160 hp@3800rpm
Torque 264 lb.-ft.@1800rpm
DRIVETRAIN
Transmission Three-speed manual,overdrive
SUSPENSION & BRAKES
Front Independent, coil springs
Rear Live axle, leaf springs
Brakes (f/r) Drum/drum
STEERING
Worm and roller
MEASUREMENTS
Wheelbase 124in.
Length 209in.
Width 77.6 in.
Height 61.9 in.
Track (f/r) 58.5/55 in.
Weight 3508 lb.
Tire Size 7.10 x 15 in.
Last of a Breed
Doviak's 1954 Hornet Special had been an odd fit as it appeared near the end of the Step Down's run. Hudson had advertised its "new low price for the national champion" and didn't try to hide its heritage as it pointed to the Special's "low center of gravity."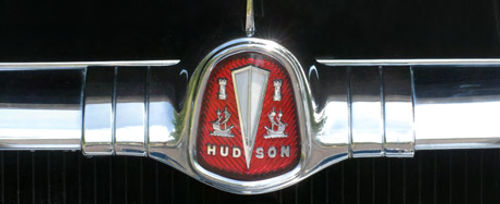 "The Hornet Special was a different model from the Hornet," Doviak explained. "It was a toned-down model at the end of the model year and it has a lot of the trim from the Wasp, so that interiors the same interior as you'd find in a Wasp. They were just trying to save some money and bring down the price."
He chose it from the cars the seller had available when he went shopping because as a Special coupe, it was unusual. In 1969, though, it really was just an older used car.
"It was bad-looking," Doviak admitted, "and I remember the neighborhood kids making fun of me, but I always had that car.
"And then there was a period where things got too busy and out of hand. I had a garage in an alley and at first, it cost me $10 a month and then it was $15 a month, but the car was always there. It was always inside, so whenever I had some money, I sort of put it together and that was it.
"I would drive it, not regularly, but on occasion. It was good enough for local stuff and then it started to smoke through the breather. Things got tired."
By the mid-1970s, the engine needed a rebuild and the Hudson went to a shop that primarily built street rods.
The owner had never worked on a Hudson and the project went on for a year, during which time Doviak's car achieved its first 15 minutes of fame when a high-performance magazine covered a meet at the shop.
"When the magazine came out," he said, "there's my bad-looking Hudson amidst all these street rods. There it is,sitting there, probably with the nose up high because the engine was out of it.
"But he did a good job. It's still running, it was never redone, it doesn't burn oil. It's been an amazingly reliable car. No matter what else I've owned, this one's always running. It starts when it shouldn't start. It could sit for a year and the battery still holds. I don't know why. It's one of those cars."
Time to Choose
It almost didn't work out that way, as he bought a 1942 Hudson Commodore while the Special's engine was being rebuilt. And while the Special might have been running great when he got it back, it still looked bad and he had spent his money to buy the Commodore. Then he bought a house built in 1865 and needed funds to work on it.
"The solution to that," he said, "was to sell the '42,so that meant I had to fix the '54."
He'd been building skills by helping out at a body shop and felt confident enough to tackle the body and paint it.It was, after all, a car that looked rough but was less than 15 years old when it ended its working days and was therefore at least solid.
The parts that he'd been accumulating while driving the Commodore to Hudson meets and other events now went on the Special and he said that nearly every piece of trim on it is either new old stock or original. Once completed, it went to Hudson meets frequently, traveling as far as Virginia and Ohio to do so. It also made annual trips to Hershey, but Doviak said that when he returned from there in 2006, he accepted that the car was again looking tired. It had been spot repaired after some minor damage to the trunk and the hood had been repainted while it was being adjusted for fit, so Doviak went to the body shop that had done that work and asked the owner to address the car's problem areas.
"I said 'look, would you just touch up these things?" Doviak recalled "'It's cracked here, it's cracked there.' The shop owner always had this quiet voice and he said 'hell, Ron, why don't we paint the whole car?' So I said 'if we're going to do that, the bodywork was never really perfectly straight. Do what has to be done.'
"It was damaged. It was scraped along the side like somebody had gotten too close to the garage. But the car never had much rust."
It was not, however, rust-free and not long after he'd purchased it, Doviak was making a fiberglass patch to repair an inner fender.
"My father said 'why don't you bring it down to the shop? We'll get you some metal.' This was a shipbuilding place. Everything was big. My father was the foreman, so he calls some guy over and he's got a torch that cuts boilerplate. Somehow, they welded in this piece without warping everything and years later when we opened it up when the fender got replaced, (the bodyman)said 'you know, he did a damn good job.' It had held up for years and years."
Rebuilding It Correctly
With the bodywork done (at the shop, not the shipyard) and the Hudson repainted—the same Coronation Cream that Doviak had chosen when he repainted it from its original Algerian Blue—he took on the task of putting the car back together. The interior that had been removed was a mixture of original pieces and inexpensive replacements, which inspired him to replace it correctly and as it generally does during restorations, one thing led to another.
"While I did that," he said, "it was time to put a new clutch in because the clutch had always chattered. I tried to fix it once and it still chattered, so this time we did it right. We took everything apart and resurfaced the flywheel. We redid the pressure plate, everything, but the key was the fingers. The clutch is nice and smooth, the way a good cork clutch is. We did that and lots of other small things that needed attention."
The Special shows about 92,000 miles, some 30,000 more than it did when he bought it, and as he said, it's been a reliable road car. Still, there have been the rare exceptions such as the vapor lock while in traffic at Hershey that called for a tow, followed by a rearranging of the fuel line.
Doviak said that he's owned it for so long that he doesn't really feel that he's driving an old car and so he doesn't worry about it. Combined with more-than-ample performance and the handling about which Hudson rightfully boasted, that makes a Step Down seem like a potentially good match for someone who isn't interested in trailering an antique car, but how difficult is it to find one?
"Easy," Doviak said, "absolutely. If you want one, we'll have it tomorrow. I know of a good number around at probably reasonable prices, I know of a Wasp, a really nice Wasp, a good-running car that doesn't look half-bad. I don't know what he'd want for it, but it's there, a car that could be bought."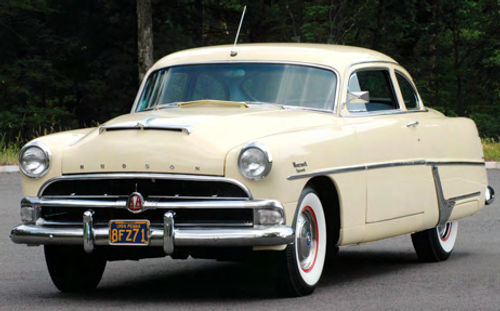 Keep In Mind They're Unibodies
As unibody cars, rust is a big consideration on Step Downs, particularly in a stressed area that provides strength to the overall structure, and an example from nearly anywhere but a desert warrants a careful and thorough pre-purchase inspection. Still, Doviak said that Step Downs aren't extremely prone to the problem. With the exceptions of floors and the sections inside of the rocker panels and above the rear axle, all of which are known rust points, most of the damage should be fairly obvious in areas such as the wheel wells, door bottoms and the lower fenders and quarter panels. New old stock trim pieces, he said, are now difficult to find and that translates to the expense of replating, the work of buffing or both.
Mechanically, the new sis mostly good as he said that tune-up and maintenance parts are generally available over the counter and if not, then from specialized vendors. The cork clutch might give some restorers pause or push them toward a Hydra-matic-equipped car, but Doviak said that the technology is simple and mostly trouble-free. The secret? Hudson Clutch Oil and it's still available.
"They do make a reproduction clutch oil," Doviak said. "The club sells it, so clutch oil's not a problem."
When operating correctly, the cork clutch makes for incredibly smooth driving and that's a good fit to the rest of the car. The lack of power steering means it won't drive as easily as a later vehicle, but a Step Down is a great choice for a long trip.
"I always wonder how a small person would park the car," Doviak said. "The tank-slit windows, you sit down pretty low in the seat and it takes a good amount of muscle. But once it's moving, it's very responsive and very light to steer. Again, it's familiarity. It's the one car that I've had for my whole life."
There's also the entertainment factor as those without a strong interest in cars wonder about it or mistake it for something a bit more widely known.
"They say 'who makes Hudson?'" Doviak laughed. "Some Hudson guys even have little decals that say: 'This is not a Mercury.'"
Naturally, a Step Down is nowhere near obscure enough that no one recognizes it.
"The people who come up when you park the car at a show," Doviak said, "they're older guys. Fifty's young, I think, and the guys in their 60s and 70s come and they talk.'I had a Hudson, great car.'"
Doviak understands that. It was an extraordinary car in its time, he said, and it remains a good, reliable car that today is appreciated by those who know it. There've been other vehicles in his garage, of course, and not just the Commodore mentioned earlier. Some are still around, some have moved on and Doviak's Hornet Special has seen them come and go.
"This Hudson," he observed, "has always been the one. When anything is going on, I can take the Hudson. It's that kind of car and I always know that I'll get where I'm going."