1955 Studebaker Speedster
This Speedster Was Living a Life of Trailers & Trophies... But Now the Road's Under "Suzy's" Tires Once Again.
I WAS A teenager in 1955 and vividly remember the new Studebakers of that year. So, a little personal history is in order to set the stage for the story of my Studebaker President Speedster.
I was 15, my best friend was 18 and he had a shiny new '55 Chevy which we street raced every night, as kids in the '50s were wont to do.
But no matter how capably we drove or how hard we tried, there was a Studebaker Speedster that consistently beat us. Through the intervening years I flirted with MGs, Austin-Healeys, Hudsons, Chevys and Mopars, but always the idea of a "Speedster" lurked back in the lizard part of my brain.
Then, about 12 years ago, the hidden urge was again triggered when I saw a 3- tone green Speedster at a show south of Syracuse, New York.
As I'm sure you're well aware, any car guy knows that the wacky yearning for a specific automobile is inherently nuts but impossible to ignore. And sooner or later, the right car will just follow you home. So it should come as no surprise that after a few weeks of unsuccessfully trying to fight off this urge, I gave in to it. In 1997, I placed an ad in a hobby publication that read simply, "Wanted: a Speedster in good-to excellent condition."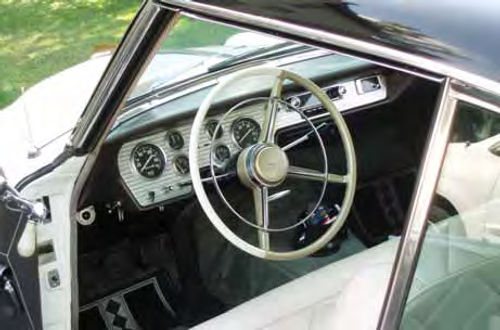 I know, I know, some people say it's really stupid to advertise that way. You're essentially saying, "I want this so bad that I'm seeking you out." It's akin to knocking on the door of a house and asking if they would please sell it to you.
As luck would have it, my ads were never answered but, but (you should start to feel the suspense building here), a Speedster found me.
There Was a Friend of a Friend…
In a conversation about my search with a long-time Antique Auto Club of America (AACA) and Studebaker Drivers Club (SDC) Studebaker fan, he told me of a friend of his in Maryland that had just decided to sell his Speedster and hadn't yet advertised it.
What followed was a fitful series of letters and phone calls about the car. The gentleman selling the car didn't understand me any better than I understood him. I would ask about how it drove on tour and he would talk about the roomful of trophies the car had won. I asked about spare parts and he said the mechanics had always found whatever he needed.
When I went to inspect the Speedster, I could see that it was a very good, well maintained vehicle that he had restored to a high standard. It had the elegant, tritone black-and-white color combination that was used in most of Studebaker's ads. A plus for me is that it was a three pedal car with electric overdrive, very rare for a high-end car back in the day. By 1955, the Borg-Warner unit was fully developed, utilizing a speed governor that usually was set at between 28 and 38 mph. When the preset speed was reached, all the driver had to do was lift his foot and a relay closed, sending current to a solenoid mounted on the trans mission. The solenoid pawl advanced and locked the tranny into overdrive. It works quietly and effectively to drop the rpm by about 17%. The downside is that engine braking goes away so a driver has to realize that he is freewheeling and stopping distances lengthen. The overdrive shares a sump with the transmission and works in all gears as long as you reach the preset governor speed which effectively made it practical in second or third gear. The OD transmission, teamed with the 185 hp, 259 cid V-8 is a spirited ride that easily runs with modern traffic. That's important for me as all of my cars are driven. I'm just not much of a show person, I like to take part in tours and cruises and enjoy driving my factory hot-rod.
1955 Studebaker Speedster
GENERAL
Front-engine, rear-drive, coupe
ENGINE
Type Overhead-valve V-8
Displacement 259.2 cu. in.
Bore x stroke 3.56 in. x 3.25 in.
Compression ratio (:1) 7.5
Carburetor Four-barrel
Power 185 hp @ 4500 rpm
Torque 258 @ 2800 rpm
DRIVETRAIN
Transmission Three-speed manual w/overdrive
SUSPENSION & BRAKES
Front Independent, coil springs
Rear Live axle, leaf springs
Brakes (f/r) Drums/drums
STEERING
Recirculating ball
MEASUREMENTS
Wheelbase 120.5 in.
Length 206.3 in.
Height 60 in.
Width 70.4 in.
Track (f/r) 56.7/55.7 in.
Weight 3225 lb.
Tire size 7.10 x 15
Fuel tank 18 gal.
By nightfall, the Speedster was mine.
Well-Maintained & Well-Rested
I knew from the car's paperwork that I was the fourth owner and the car had never been rusty and, in fact, had spent 19 years in dry, permanent storage. The professional restoration undertaken by the third owner in 1989 was meticulous and required zero rust repair.
Like I said earlier, it had been immediately obvious that the Speedster's third owner and I had very different views regarding the best ways to enjoy a vintage vehicle. As it turned out, the car had acquired less than 200 miles while being trailered for eight years to AACA, SDC and concours events all over the country. Its award list is long and varied and it looked as if it were new.
So you can understand the seller's state of shock when he learned that I intended to actually drive the car home rather than trailer it.
Rolling Once Again…and Noticed
Driving my "new" Speedster home was my first exposure to the scary part of owning an unusual car. People pass waving, honking and gesturing while crowding into my lane. In a way, traveling in a Speedster is like arriving at a party in the company of a Hollywood celebrity—no one ignores you, or at least no one ignores your companion.
All the while, it went down the road at Interstate speeds without a whimper; I like to think that the Speedster was happier cruising the highway than being trailered to our destination like cargo.
A Rare Studebaker Sports Car
The car was built in February 1955 in South Bend, Indiana, and was one of 2215 Speedsters manufactured. The standard shift, electric overdrive on my car was optioned on only 151 Speedsters and it's likely only 10 or so presently survive.
Studebaker's 259 cid engine was designed in 1951 and on the Speedster it boasted 185 hp with four-barrel carburetor. Independent road tests by enthusiast magazines of the day clocked her at 125 mph and 0-to-60 in 9.4 seconds. This was heady stuff in 1955 on bias ply tires. The 160 mph speedometer and 8000 rpm tachometer were wildly optimistic but the Speedster certainly lived up to its "Factory Hot-Rod" design goal.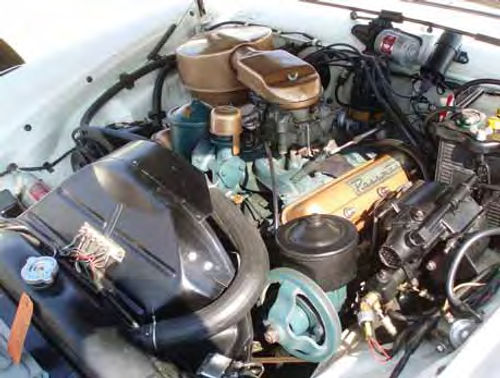 Speedsters left the South Bend facility fully optioned as Studebaker tried to shake off the prevalent view that their cars were plain and cheap. All Speedsters had pleated leather upholstery and an engine-turned dashboard with a full complement of gauges. It's interesting that the car has no glove box; I wonder if the engineers simply ran out of design time.
The Studebaker Speedster was originally conceived as a show car but quickly moved into limited production as a hightrim level President Hardtop Coupe. It built on the market strength of the famous Loewy coupe design that was introduced in 1953, and its impressive array of standard equipment included dual rear view mirrors, a dual exhaust, a stainless steel roof band, "wire wheel" covers, the above-mentioned "race car type" gauges, chrome-plated windshield and rear window garnish moldings, pile carpeting and interior leather trim.
This car, which originally was delivered to Coggins Motors in Charlottesville, Virginia, had a suggested retail price of $3197.69 and carried a bottom line of $3688.28 thanks to a list of options that included power steering ($100), power brakes ($32.50), tinted glass ($22), 8-tube Stratoline radio ($86.39), lighter ($3.65), parking brake warning light ($3.80), gas door guard ($1.75), windshield washers ($6.85) and white sidewall tires ($28.25).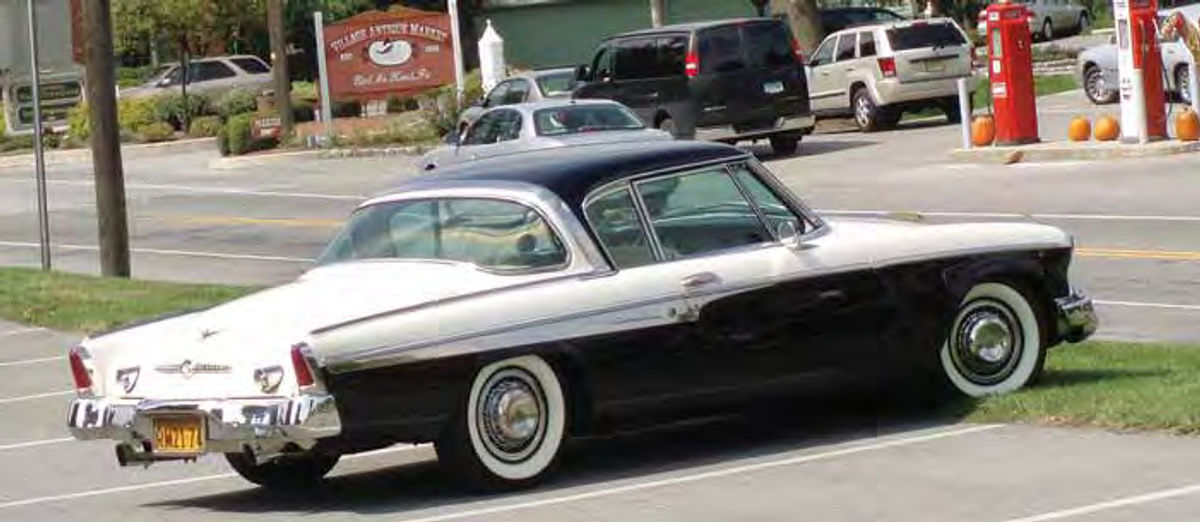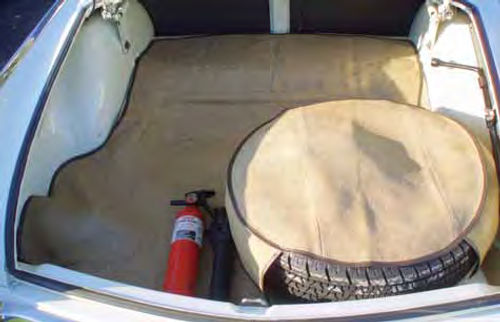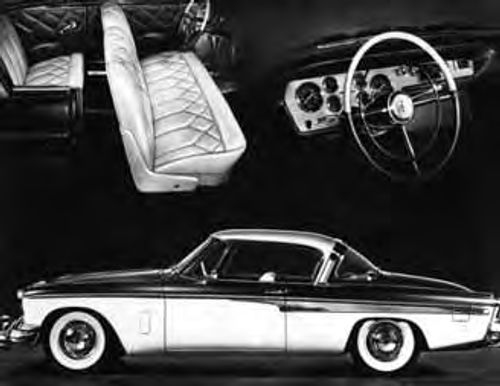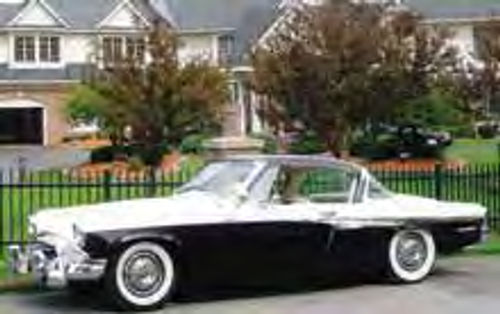 One can easily surmise that Studebaker management was using this car as an entry in the growing sports car market of the mid-1950s, presenting competition for cars such as the Corvette and Thunderbird. In fact, the Speedster's price sticker referred to Studebaker as "the largest builder of sports cars in America."
One Very Short-Lived Model
The Speedster name had been used on a famous Auburn during the Depression and, ironically, was also being used by Porsche in 1955. Studebaker's move to name their 1956 sport coupes "Hawks," made their Speedster a one year model.
A Half-Century Old and Still Going Strong
Last year my wife and I drove the little Speedster to Lancaster, Pennsylvania, for the Studebaker International meet. It was a hoot to see over a thousand Studebakers in one place. My elegant little coupe scored a first place among its peers almost 20 years after its restoration. (I might add that the Studebaker Drivers Club and its online forum have been invaluable whenever we want to speak "Studebaker.")
Our Speedster, who we've named "Suzy," now resides permanently in Rochester, New York, and enjoys the many AACA tours, cruise nights and hot rod shows in our Upstate area. It's also become my wife Joanne's favorite collectable, which is a "Good wife, happy life" kind of bonus.
And whenever we take Suzy out, she still manages to stand out in the sea of cars. We live in an age of sameness, so different can be unusual…and different is nice.
At 54, Suzy Studebaker's rear sags a bit and she could certainly use a small bit of cosmetic work (who couldn't), but now as she commingles with hot rods and classics I like to think that she's feeling young once again. And for us, it's fun watching people smile at our Speedster's flirty, swoopy, lithe lines.