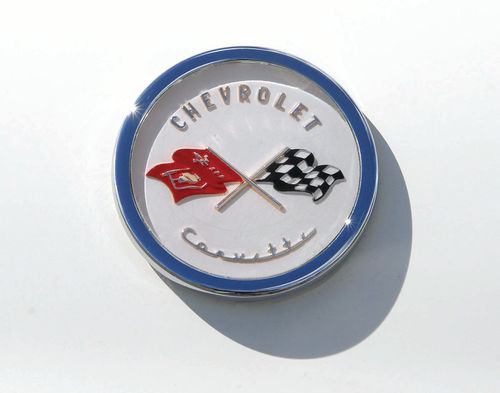 It Came Close to Being One of the Last Corvettes Ever Built. Makes You Wonder Why It was Used to Haul Awnings.
MOST COLLECTORS HAVE come across full-size cars that spent their sunset years converted to trucks or at least working as trucks, something that's rarely happened to Corvettes. Rarely, of course, is not the same as never.
"The second owner of the car had an awning business," said Joe Nasser, whose 1954 Corvette is featured here. "As luck would have it, he decided to use this car in the summer and put the awnings in the passenger seat. Sometimes it was the pipes, sometimes it was the cloth awning itself and in the trunk, I was told, he'd put all of the hold-downs and ropes and whatever he needed. He'd tie (everything) to the car and then hop in."
Describing an early Corvette as "large" is a stretch, so how did the owner actually squeeze everything into it?
"Either flat or straight up," Nasser continued. "He'd put it on the seat and it'd be sticking several feet out of the car and he would deliver the awnings. So he used it in the awning business and then at night, as the legend goes, he took it down to The Woodlands, which was a nightclub, for whatever excitement was still left with the car, minus the awnings."
Nasser said he's heard the story of his car and the awnings from plenty of collectors in northeastern Pennsylvania's Scranton/Wilkes-Barre area. That makes sense, considering that the Corvette has never left the region—Nasser lives in Throop and its previous owners each lived within about a 30-minute drive— but the part that makes almost no sense has to do with how long the Corvette was being used as a delivery truck.
"I was told," Nasser said, "throughout the '60s and '70s."
It's hard to imagine that the car's significance was going unrecognized in the 1970s. It had, after all, been among the first modern sports cars from American automakers and although few people could have foreseen it in the early 1950s, it would be by far the most successful.
The Draw of Sports Performance
Sports cars have been around since almost the beginnings of the automobile age, although perhaps "sporting cars" is a better description for some of the earliest examples. Pope-Toledo called its 30- horsepower Type VIII of 1905 "the quiet mile-a-minute car" and promised that "every Pope-Toledo is tested to do a mile in one minute flat before leaving the factory." Thomas advertised in 1908 that its Flyer was the "winner of hundreds of contests of speed, hill-climbing, reliability, and endurance (and) has more records than any American car."
Even then, the manufacturers were figuring out that few drivers really wanted dull cars; one might buy a very basic and practical sedan, but he aspired to own something that promised a little more fun.
The connection between speed, sportiness and sales was solidly established by the 1930s, and manufacturers were taking it seriously. Auburn launched its 12-cylinder speedster in 1932 and four years later, General Motors put its might behind what amounted to an early muscle car, the Buick Century. By borrowing the 120-horsepower eight from Buick's large Series 90 Limited and dropping it into the 20-inch-shorter Series 60, it placed the 100-miles-per-hour mark within honest reach.
The promise of performance and the sense of exclusivity remained powerful selling points after World War II, but then the automakers didn't need selling points when production of civilian vehicles resumed and people lined up to replace cars worn out during the war. However, the sellers' market gradually evaporated and when it did, performance regained its importance.
Cadillac and Oldsmobile changed engine design forever in 1949 by introducing oversquare, overhead-valve V-8s that did everything better than those they replaced. Meanwhile, Chevrolet was about to create a revolution of its own that had nothing to do with a V-8, at least in the beginning.
Visions of an American Sports Machine
GM's head of design, Harley Earl, loved dream cars and the company showed them off to give the public a look at what the future might hold. But 1951 brought the start of something different as Earl also appreciated sports cars and began thinking about an American model that GM could build.
The MG and others were trickling into the United States from overseas, with many of the earliest ones brought back by American servicemen returning from WWII. And little by little, these uncommon cars were building a loyal following.
Earl began quietly with a small staff under the nicely misleading "Project Opel" name. Chevrolet newcomer Bob McLean put his lack of preconceived ideas to work on the chassis; he started at the rear and moved forward, positioned the engine farther to the rear for better weight-distribution and used an open driveshaft. Similarly, Earl broke tradition by going with fiberglass for the body because it was the most efficient way to get the car done in a short amount of time. A deadline might not have been so critical had the plan not called for displaying the Corvette at the January 1953 Motorama. (There's a photo of that Motorama Corvette on page 5.)
Looking back from today's vantage point, the real surprise seems to be that the Motorama car would not have a modern V-8 under its hood.
As mentioned above, the era of the short-stroke V-8 was already underway by the time "Project Opel" was coming together, but Chevy's first V-8 entry was still a few years in the future and it thus had no choice but to drop its 235-cubic inch overhead-valve six into the Corvette. The 235 by then was proven and in its basic form generated 105 horsepower. But with improvements including a better cam, higher compression and a three carb setup providing a hint of the exotic, it was good for 150. For comparison, that was more than a contemporary Ford V8 produced in standard tune.
It's not that unusual today to hear comments that the early Corvettes are interesting (or beautiful, nicely styled, cool, etc.)…"but they were only sixes."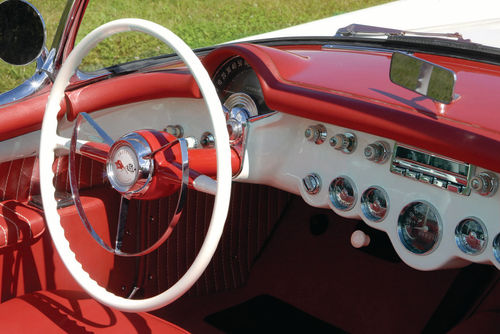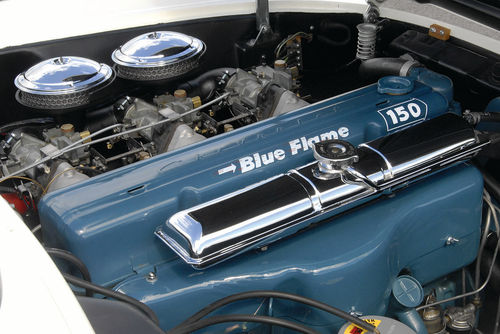 However, a six in an early-1950s sports car wasn't an automatic reason to dismiss it, as Jaguar's XK-120 and Mercedes' 300 SL both used sixes. Furthermore, the MG T series is one of the classic sports cars from that era and it used not an eight or a six, but a four. But most importantly, the six didn't seem to much matter to those who saw the Motorama car. They were taken by the smooth, low lines of Earl's design and its soft curves as well as two features effectively required by the Detroit of the time, a wraparound windshield and a flashy grille. Wire mesh protected the deep-set headlights and small, round bullet taillights extended in pods at the beltline. It looked like nothing else on the road, the public loved it and Chevrolet decided to build it.
A Rush to the Marketplace
The first car was completed on June 30, 1953 in Flint, Michigan, and it barely differed from the Motorama car. The problem, though, was that GM hadn't been thinking seriously of placing the Corvette in production and was forced to deal with some challenges.
The image of a high-speed assembly line turning out a non-stop flow of perfect cars was far from the reality of building the first Corvettes. The fiberglass body was complicated and required much hand-labor on a small dedicated line, so just 315 Corvettes were produced for 1953. Chevy got the system functioning much more smoothly for 1954 and was able to build 3640 examples.
1954 Chevrolet Corvette
GENERAL
Front-engine, rear-drive, roadster
ENGINE
Type Overhead valve inline six
Displacement 235 cu. in.
Bore x stroke 3.56 in. x 3.95 in.
Compression ratio (:1) 8
Carburetion Three Carter sidedrafts
Power 150 hp @ 4200 rpm
Torque 223 lb.-ft. @ 2400 rpm
DRIVETRAIN
Transmission Two-speed automatic
Final drive ratio (:1) 3.55
STEERING
Saginaw recirculating ball
SUSPENSION & BRAKES
Front Independent, coil springs
Rear Live axle, leaf springs
Brakes (f/r) Drum/drum
MEASUREMENTS
Wheelbase 102 in.
Length 167 in.
Width 72.2 in.
Height 51.3 in.
Weight 2850 lb.
Track (f/r) 57/59 in.
Tire size 6.70x15
Almost identical to the original, the '54 Corvettes continued with the side curtains, six-cylinder engine and the two speed Powerglide automatic, a transmission which many people felt did not belong in a "sporty" vehicle. Sales were disappointing with about 1500 cars left at year's end and, as the story goes, GM gave some thought to dropping its Chevy sports car as a failed experiment. But then the competitive threat of the soon-to-arrive 1955 Thunderbird two seater with a standard equipment V-8 gave the Corvette a new lease on life and additional attention from GM management. For '55, that meant the additions of a 265-cubic-inch V-8 and a three-speed manual transmission. That wasn't enough, however, and sales fell to fewer than 700.
But then 1956 brought a restyled version of the V-8 three-speed Corvette now with roll-up glass windows, external door handles, forward-thrusting front fenders with uncovered chrome-rimmed headlights, concave side body coves with chrome trim and sloping rear fenders with integrated taillights. It also brought production of 3467 cars and the Corvette was on its way to a long and mostly happy life.
Despite Some Quirks, It's Still a Chevy
One rarely noted aspect of the early Corvette's personality is that it could function as an everyday car if its owner accepted such eccentricities as the side curtains and the lack of outside door handles. At a time when many other sports cars had a reputation for reliability problems as well as difficulty and expense in obtaining parts and service, the Corvette had a tremendous advantage. As a Chevrolet, it was dependable and when something went wrong, dealers who could service it were everywhere.
That might explain how the feature car ended up in the awning business. Still, its utility is in retrospect surprising—very surprising—and it surely played a big role in the feature Corvette's survival. But that wasn't the only odd turn that worked to the car's long-term benefit. Nasser and his wife, Carol, bought the Corvette in 2004 after a friend mentioned that it was for sale at a reasonable price. Nasser's thinking was that as a 1954 model rather than a 1953, driving it occasionally was not out of the question. The bonus was that his interest in history led him to discoveries about the car's past.
The car was sold new by Roy Stauffer Chevrolet in nearby West Pittston, Pennsylvania, but only after it had been the centerpiece at several sales events in the region. One of Nasser's long-time friends introduced him to someone who as a teenager had known Stauffer and his family when the Corvette was new.
"He'd heard about this sports car," Nasser explained, "and so he got to see it.
"Roy Stauffer told him 'my son will take you for a ride in the car. We happen to be having a showcase for the car up in Clark's Summit and it's going to be on a Saturday, so you get to go for a ride up to Clark's Summit.'"
The ride was to another dealership, where the Corvette was rolled into the showroom to great fanfare, but no one was interested enough to buy it and so the car went back to Stauffer's dealership. The teenager got to go along on that ride, too, and obviously, Stauffer eventually sold the car. More recently, Nasser met someone who had known the first owner and put him in touch with the awning installer who became the second, but he added that the Corvette had long been something of a mystery in the area.
"I happened to run into one of these people at one of the car shows," Nasser recalled. "I'd taken my '63 (Corvette) down there and I saw this '54 Corvette, a blue one. I went over and introduced myself and started to talk to the man and I said 'do you know that there used to be a '54 Corvette in this area? A white one that originally was in this area back in the '50s.' He said 'oh, I tried to buy that car.'" The blue one he did buy, though, provided help in the restoration of Nasser's Corvette.
"I ended up taking my car to a body shop," Nasser explained, "and the car needed a lot of help. The car was smashed, as you'll find on cars with that many miles. In order to get a mold, I thankfully had access to (the blue one) because I struck up this friendship, so that car became the mold for the entire nose with the exception of the headlight bucket on the driver's side. The entire nose had to be remade. It was that bad. There was PC-7, which is an epoxy. There was a fiberglass spatula, there was cardboard. (The spatula probably) was stuck and they couldn't get it off, so they just covered it over. Believe me, when I bought the car, it looked good from afar, but far from good."
It Had Been Modified
The Corvette ran well enough to start and it was complete, he said, but there are qualifiers.
"When I say 'complete,'" he explained, "it appeared to have every correct part that you would expect on the car, but the car was converted to a stick and then reconverted back before I bought the car. When you looked down at the brake pedal, you could see where they welded an extension piece for the clutch. I had to get that off and restore it back to original."
It had also been converted from a sixto an eight-volt electrical system, so that needed to be undone, but correction was only one step, considering the extent of the restoration. Nasser said that the only components not rebuilt or replaced are the rear end, speedometer, tachometer and wiper motor.
"But I did have a complete car," he said, "there's no doubt about that. The original motor, the head, carburetors, everything. (The Powerglide) is the original one. They put it back into the car, but they didn't put the neutral safety switch and some other parts in."
To be safe, the transmission was rebuilt, as was everything from the suspension and steering box to the water pump, but the engine needed not much more than hardened valve seats, several lifters and carburetor-rebuilds. Even before he restored it, the Corvette was no stranger to rebuilt components thanks to its second owner's philosophy of not throwing away money needlessly.
"If somebody wants to know how a car with 97,000 miles can still retain virtually all of its original parts," Nasser explained, "it's because the gentleman— with a Depression-era mentality—continued and continued and continued to rebuild everything on the car and didn't allow any of the original parts to leave the car. Internally, they were rebuilt, but with the original parts, it was cheaper than buying new parts. He was not going to buy new parts for that car, absolutely not. That starter was not getting replaced on that car."
There's more, though, as the same owner had a friend whose identical Corvette had been converted to a dragster. Its trim and other unnecessary components had been set aside and many gradually found their way to the feature car before Nasser owned it.
"He didn't have any use for the trim," Nasser said. "He didn't have any use for a lot of those parts and as he was repairing the car and the corner was smashed or this was broken or that was broken, whatever little doodads needed to be taken care of on the car, he had all of the trim and he'd keep putting it on.
"The car was never hit hard. I was told it was (damaged) mostly going in and out of the garage; they took off corners and banged into things and bumped into the walls, bumped into the garage doors. Once the bodyman started working on it, he said 'Joe, even though we're repairing things, it's all superficial.' The car did not have frame damage; the car was not extensively hammered. It took a lot of bumps, but rather than shopping carts, it was the garage."
Not a Beginner's Project
The rebuilt components and replacement trim that came with the car go well beyond a lucky break. Nasser understands that and his advice to anyone thinking about restoring a similar car focuses on two major related points, namely completeness and research.
"The head on the engine?" he asked. "A minimum of $5000; they pay as much as $10,000 to get the head because of the three side draft carbs. They don't exist."
That's an extreme example, but far from the only one, as he rattled off a list ranging from breathtakingly expensive hubcaps to unavailable sockets for the front turn signals. The tradeoff on the positive side is that trim is mostly available, but costly, and nearly everything to make the car run is out there, but with the catch that it might not be the Corvette-correct part. Whether a car running on a stop-gap part that does no harm other than being incorrect is better than a car that's not running for want of the correct part is a personal decision, but thanks to the popularity of Corvettes, information and expertise to help with such decisions are in good supply. That's at least as important to someone thinking about restoring a very early Corvette, but is that even a practical dream?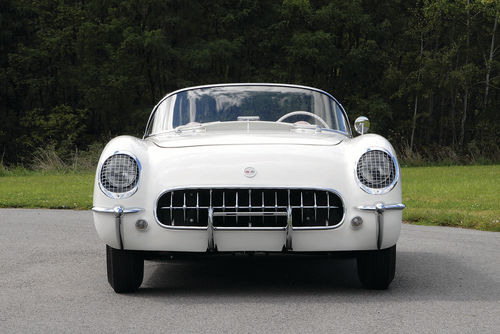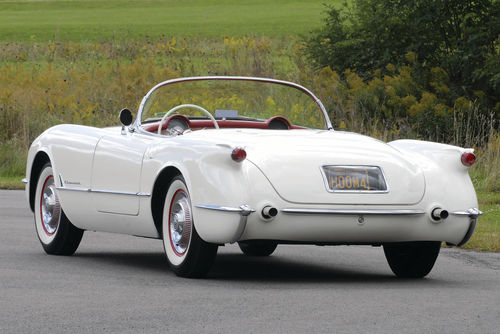 "It's going to be a very difficult task," Nasser warned, "and realistically, probably not. There are people restoring, but they're people with extensive collections. This isn't their one and only restoration project. It's not the car to restore if it's your first time around and it's going to be your one and only."
Like using the incorrect part or holding out for the real thing, restoring a 1954 Corvette comes down to one individual's decision made—ideally—with as much information as possible in hand. If the decision is to go ahead, then the owner needs a long-term plan for the restoration and beyond. With the feature car's restoration effectively completed late last year, Nasser and his wife are ready for the "beyond" phase with their Corvette.
"She's always had an interest in a convertible," he explained, "and I have what's obviously a coupe, a '63 split-window. She can't wait for this car to actually hit the road so she can get in. She'll go for a ride up the road. She'll be in the '54 and I'll be in the '63 and we'll go someplace."