Feature Restoration 1972 Pontiac Grand Prix SJ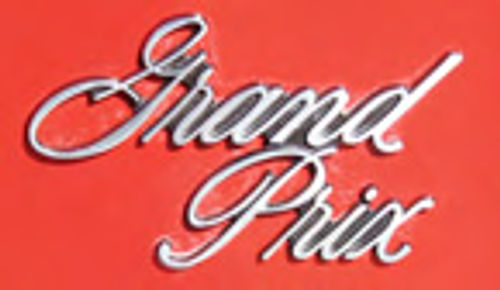 GM Borrowed Cues From the '30s for This Personal Luxury Car. So Pull On a Double-Breasted Suit & Ride In Style.
SOME FOLKS HAVE referred to the Pontiac Grand Prix like the one seen on these pages as an affordable, latter day version of the classic-era Duesenberg. Well, its long hood/short deck styling certainly is reminiscent of the Duesie. And the fact that you could get a Grand Prix as a "J" or an "SJ," just like the Duesenberg of decades earlier, couldn't have been a coincidence that just happened to be lost on the Pontiac marketing staff. Furthermore, the car's radiator shell grille was another definite retro cue that brings to mind designs of an earlier era.
Beyond that, the Grand Prix of the time definitely was a personal luxury car that mixed driving pleasure, powerful response and comfort into an attention getting package.
But was it really Everyman's Duesenberg? Why don't you be the judge of that
Smaller, Yet Bolder
Pontiac's Grand Prix first appeared during the 1962 model year and it was based upon the division's full-sized body until 1969 when a new, boldly restyled G-body emerged riding on a 118-inch wheelbase, three inches shorter than the year before.
In addition to the striking new styling with its long hood/short deck propor ions, the newly redesigned car's interior featured a curved instrument panel shaped to face the driver, a standard console also angled toward the driver and blending into the instrument panel, and "Strato Bucket Seats" which wrapped around the front occupants. Leather upholstery was optional, though this was dropped for the 1971 model year and replaced with a pigskin-grained vinyl. A no-cost option was a bench seat with a fold-down center armrest. All 1969-72 Grand Prix models had the radio antenna embedded within the windshield for a cleaner look.
As mentioned above, two variations of the Grand Prix were offered, the "J" and "SJ." The former came standard with a 350 hp version of Pontiac's 400 cid V-8 while the latter received a 370 hp 428. The SJ also added an automatic level control, power front disc brakes, high-performance suspension, special tires, and special instrument panel gauges. For '70, the 428 was replaced with a 455.
By the time the 1971 model year arrived, the SJ package was also comprised of body-color mirrors with a remote control for the driver's side, vinyl pin stripes, courtesy lamps in the doors and trunk compartment along with a Rally Gauge cluster and a Delco X heavy duty battery.
Sales of Pontiac's personal luxury car soared well above the previous high point of nearly 73,000 (1963) to nearly 112,500 with the introduction of the new body style. Then sales declined greatly— to about halfthatfigure—due to internal competition from Chevrolet with its new for-1970 Monte Carlo which was based on the Grand Prix platform. However, sales took a big jump for 1972—the year of our feature car—to over 90,000.
Some Modest—& Major—Restyling
The first substantial—yet modest— restyling of the Grand Prix took place for the 1971 model year. A semi-boat tail rear deck, dual headlights, and a Duesenberg-inspired grille were the most noticeable changes. Updates for '72 were nearly unnoticeable and included high intensity headlights, a new cross-hatched grille, and three-segment bumper mounted taillights.
The following year greater changes were made to the Grand Prix's styling including the federally-mandated fivemile-per-hour bumpers and the new "Colonnade" design which replaced the hardtop styling around since GM introduced it in 1949. After that, the nextreally major changes came for 1978 when the Grand Prix, along with its siblings at the other GM divisions, was downsized to ride on a 108-inch wheelbase.
Today, a Grand Prix of the Feature Car's era is under-appreciated and very nice examples can still be found for reasonable prices. For many collectors, obviously, the rare SSJ model—a Hurst Performance Edition offered for '70 to '72—is the most desirable of the group. But only about 60 of the '72 Grand Prix SSJs were built, so don't expect to find many of these at reasonable prices.
Engine, Transmission and Other Systems
Engines for the 1972 Grand Prix were the same as for the prior model year— either the standard 250 hp 400, or the 455 (standard in the SJ). For '71, compression ratios had been lowered across the board to accommodate low-lead gasoline and an evaporative emission control system was added; both were done to meet federally mandated air pollution standards. (Official horsepower ratings for '72 were reported as SAE net rather than gross output.)
When shopping for engine components, keep in mind that an Oldsmobile 455 was not the same as the Pontiac 455 V-8. Carburetors were specifically tuned for each of these engines and, therefore, these are not fully interchangeable. So, if you are in need of a carburetor for a Pontiac obtain one specifically for a Pontiac.
A Turbo-400 Hydra-Matic transmission was an option for the Grand Prix up to March of the 1971 model year. It was so commonly ordered—only 58 three speed and 58 four-speed versions were built for '72—that the automatic was made standard at that point. Turbo-400 cores which can be rebuilt are becoming somewhat difficult to find now.
The steering system, rear suspension, rear brake hoses and rear brake drums from '71 were carried forward for '72. Front disc brakes had become standard by '71; for the next model year the rotors and calipers were carried forward. However, the front brake hoses were changed. Variable-rate power steering was new for '71.
Parts for these systems are still readily available. In the case of the featured Grand Prix, the entire suspension was rebuilt including four new coil springs. Parts were sourced from Performance Suspension Technology (PST) and Eaton Spring. Brake parts were obtained from NAPA.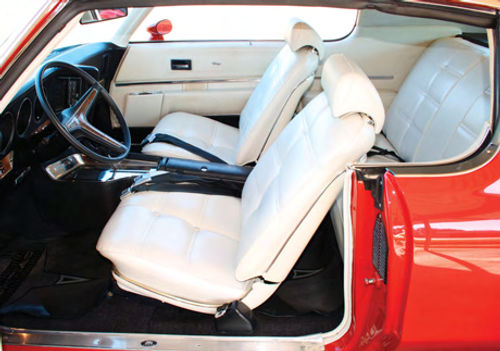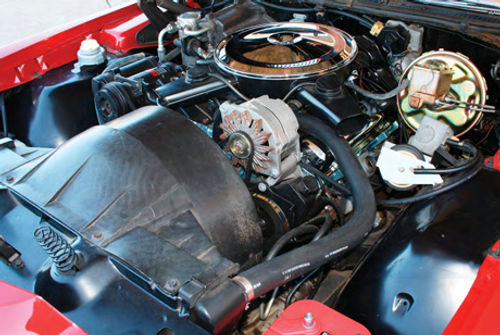 Fuel tanks for the 1971-72 Grand Prix models are not reproduced and NOS units are either very rare or non-existent. That leaves the restorer with two obvious choices—to repair the one that comes with the car or find another used tank and repair it as needed. The tank on the feature car had leaks which were welded closed. However, welding damages a tank's galvanized interior and if left untreated that will lead to rust formation. This fuel tank was thoroughly cleaned and coated inside with an epoxy liner to provide protection against corrosion.
A '72 Grand Prix with the optional air conditioner will have a revised condenser—in other words, the '72 unit is not the same as the one from the previous model year.
Some Items Were Shared; Some Weren't
For'71, the Grand Prix received some mild styling revisions to the quarter panels and deck lid; these changes were carried over for the following model year (although the lock cylinder for the trunk was revised for '72).
1972 Pontiac Grand Prix SJ
GENERAL
Front-engine, rear-drive, coupe
Base price $4472
ENGINE
Type Overhead-Valve V-8
Displacement 455 cu. in.
Bore x stroke 4.15 in. x 4.21 in.
Compression ratio (:1) 8.2
Carburetor Four-barrel
Power 250 hp @ 3600 rpm
Torque 375 lb.-ft. @ 2400 rpm
DRIVETRAIN
Transmission Three-speed automatic
SUSPENSION & BRAKES
Front Independent, coil springs
Rear Live axle, coil springs
Brakes (f/r) Disc/drum
STEERING
Power-assisted
MEASUREMENTS
Wheelbase 118 in.
Length 213.6 in.
Weight 3898 lb.
Tire size G78 x 14 in.
As mentioned, the deck lid received creases giving a boat tail look representing still another connection to the classic era Duesenbergs. Other 1971-72 shared components include hood & hood moldings, bumpers, fenders & fender extensions, front & rear wheel opening moldings, parking lamp assemblies, cornering lamp assemblies, rocker panels, doors & door moldings, glass, and frame.
Body and trim component sunique to the 1972 GP are the grille, wheel covers, license plate surround, and tail light lenses. The piece surrounding the license plate is quite rare in NOS form and generally expensive when one becomes available.
Body & Trim Work On This Car
Both bumpers were triple plated (copper, nickel and chrome). The grille and headlights were polished to a like-new shine. Reproduction chrome-plated door handles were installed.
The body was stripped to bare metal followed by an application of Martin Senour Vinyl Wash Primer, 8827.
Next was spraying the body with Martin Senour epoxy 6102. Filler used was Evercoat Rage Extreme. It was roughed out with 40-grit followed by 80, then a final sanding with 150-grit.
Afterwards, another coat of epoxy was applied. Three coats of Chroma Premiere 2K 32430 primer went on next. This was block sanded with 150-grit then 320-grit sandpaper and sealed with Chroma Premiere 42460 (value shade 6) sealer. It is designed to minimize the amount of the color coat needed. Minimizing the amount of paint used reduces the cost involved as well as the chances of problems occurring later (such as the paint cracking). At this point, DuPont's Chromapremier single-stage urethane paint was sprayed onto the body.
Once dry,stick sanding with 1000-grit, then progressing to 1500 and finally 3000-grit sandpaper resulted in a glass smooth surface. Buffing with finer and finer 3M TRIZAC compound provided a very high gloss.
Interior
The back seat and headliner only needed some cleaning. Reproduction all-vinyl front seat covers and carpet were installed by a local shop, Action Seat cover. The required kit (manufactured by Parts Unlimited, Inc.) was purchased for $289 from Ames Performance Engineering. Incidentally, a front and rear seat kit costs $515.
Door panels are molded vinyl and are not reproduced. If a set needs to be replaced, good used examples must be acquired and dyed to match if necessary. A company such as Just Dashes may be needed to perform a restoration of the door panels. In the case of our subject car, they were in excellent condition.
Just as in the case of the door panels, dash pads are not reproduced either. The best option here is to find a suitable used one when necessary. Fortunately, the original was in excellent condition on this car.
Our Featured Grand Prix SJ
The 1972 Grand Prix SJ seen on these pages is owned by Tim Cox of Longview, Texas. He bought it through an eBay auction a few years ago.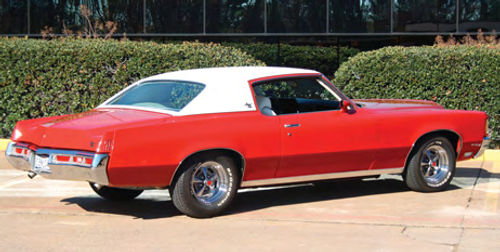 The drivable car came from Ohio, and was surprisingly rust-free except for some pitting on the frame as well as some corrosion on the underside of the hood's skin as well as the deck lid skin. Moisture and dirt collected in between the inner structure of the hood and its skin leading to some bubbling along the right side of the cowl end of the hood. The same occurred with the deck lid. Despite a thorough cleaning of the infected area and treatment with POR 15, the bubbling has reappeared. Eventually a rust-free hood and deck lid will be found to replace the originals. For now, though, this problem is only a minor cosmetic annoyance.
Tim's Grand Prix SJ is very well equipped having the optional "Safe-T Track" 12-bolt differential, Rally II wheels, white vinyl top, tilt steering wheel, cruise control, AM/FM with eight-track stereo, power seats, power windows, power door locks, power trunk release, automatic air conditioning, under-hood light, and rear window defroster.
So, does all that add up to a '70s version of a Duesenberg? Why not give us your thoughts on the subject.
Resources
Ames Performance Engineering
P.O. Box 572, Spofford, NH 03462
Performance Suspension Technology (PST)
Box 396
Montville, NJ 07045
Wheel Vintiques
5515 E. Lamona Ave, Fresno, CA 93727