Down On the Farm... With Vintage Tractors Four In a Row
A Quartet of Vintage Farm Tractors With Consecutive Serial Numbers Were Found in Upstate New York…and Some Required Considerable Restoration Work.
Discovering a vintage vehicle just one serial number digit off yours is unusual. Finding three in a row? Quite rare. But four in a row? That's nearly "unheard of," according to Howard Hemminger, president of the International Harvester Antique Tractor Club. Yet within a 50- mile radius in Upstate New York you'll find four consecutive serial number 1954 Farmall Super MTA tractors.
As you might expect, while they toured various farm shows and festivals in the region last summer, each machine's owner had a story to tell.
This Couple Has a Pair
Two of the four tractors presently rumble across the acres of Marvin and Nancy Adams' Lamella Farms in Phelps, New York. They farmed with one of the two for decades since its purchase in 1969 at an auction. Eventually they parked the '54 Farmall, replacing it with newer models for daily farm work.
Years later, "they were starting to get value and we thought we should fix it up," Marvin recalled.
Marvin had Columbus Cold Weld Corp. in Columbus, Ohio, weld a crack in a cylinder.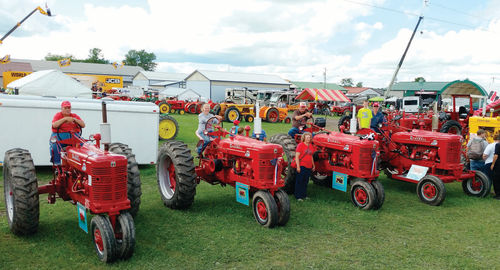 "It was a big mess to have that crack in the block," Marvin said. "We didn't know what to do then. I do some mechanical work on the engines but I told the people in Columbus to fix anything else they found wrong while putting it together."
That included installing new piston sleeves.
Marvin painted the Farmall and installed new tires. His cousin, Robert Westfall, a lifelong mechanic, put everything back together. It took about a month to complete the project.
"I've painted some other tractors, and we try to make them look nice if we can," Marvin said. "As far as doing a complete restoration, no, I'd never done one before."
While searching online for parts in 2013, the Adams' son, Jason, uncovered the second Farmall tractor.
"We looked it all over and I asked my son to check the serial number," Marvin recounted. "He said, 'You're not going to believe this but it's one number less than the one we have.'"
The Adams purchased it on the spot. Their second '54 Farmall needed little work. Marvin installed new rims and painted it.
The tractor restoration and reunion has now become a family affair. Nancy "didn't pay much attention when we were restoring, but since we joined the Bellona International Harvester Antique Tractor Club, she's been on board," Marvin said.
But while the 61-year-old Farmalls are now in good condition, Marvin leaves the heavy work on their farm to newer— and less rare—equipment. The Adams' "brother" 1954 tractors occasionally propel a hayride or operate an auger with their power take-off.
"I still have a few (vintage tractors) sitting around that need to get going, so I have some tractors that need work if I ever get the time,"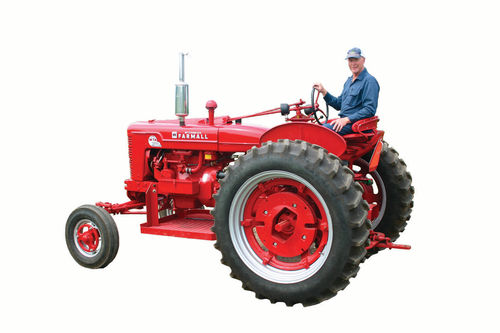 Marvin said. "But then dairy farming takes up quite a little time," he added with more than a bit of understatement.
"It's gratifying to see them looking nice and running," he remarked. "They're old tractors, so they still bother me some and it takes some fixing to keep them going."
Chance Meeting at a Show… Leads to a Tractor Discovery
The Adams enjoy displaying their pair of tractors at farm expos and car shows in the area. That's how Marietta, New York, resident Jack Thompson stumbled upon them and added another consecutively serial numbered tractor to the set.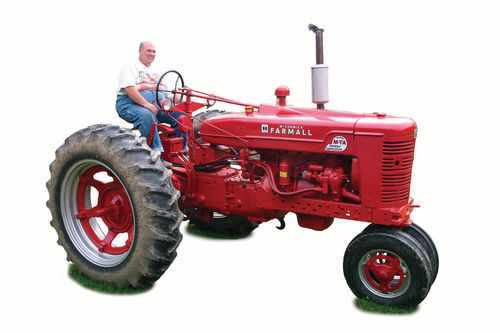 Oblivious to the Adams' two tractors' close geographic proximity, Thompson purchased his '54 Farmall in 2010, rescuing it from abandonment in a hedgerow. Although not a farmer, Thompson enjoys farm equipment and indulged his agricultural leanings by purchasing the Farmall.
A Major Project
Because this vintage tractor was in rough shape, Thompson had plenty of work to do. He replaced the engine block, repaired the drive train, cleaned it thoroughly and painted it.
Thompson says that his hobby "keeps me out of my wife's hair."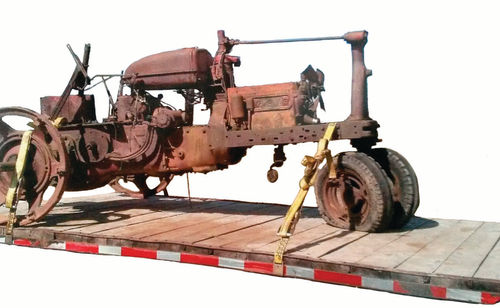 As a farm enthusiast, Thompson regularly attends Empire Farm Days, an annual 300-acre outdoor agricultural show in Seneca Falls, New York. The 2014 expo featured the Adams' tractors. Upon closer inspection, Thompson felt thunderstruck to learn his tractor made the duo a threesome.
Then There Were Four…and This One Had Required a Major Rebuild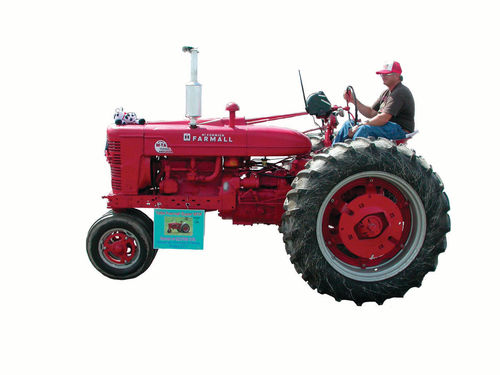 The three consecutively serial numbered machines had received publicity in Red Power Magazine, a publication "for IH collectors and enthusiasts." In January 2015, Cato, New York, resident Paul Dudley read about them— and realized that his '54 Farmall would create a quartet as the fourth in a row.
However, when he first saw the machine in 2012, it had languished in the worst condition of any of the four in this group.
"1954 was the only year they made the Super MTA and they made only 24,000, so it's rare," Paul said. "I decided I wanted to build it."
The 4-cylinder, 5725-lb. tractor offered 46 hp from its power take-off and 42 from its drawbar.
Purchased for only $600, the scrapcondition tractor needed tons of work. But a dedicated restorer isn't daunted by an arm's-length parts list. Paul, along with his son, Glenn, and a few workers on Dudley Farms rolled up their shirt sleeves.
The men fabricated any parts they couldn't find…and between the parts they located and the ones they made, they wound up replacing about half the tractor.
Dudley and his crew replaced the hood, drawbar, gaskets, clutch, torque amplifier, pistons, sleeves, rings, bearings, head, radiator, grille, hydraulics, steering shaft, seat, battery box, gauges, wheels and tires.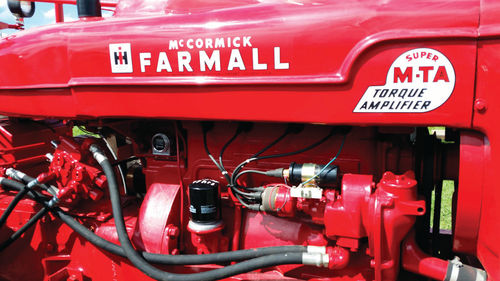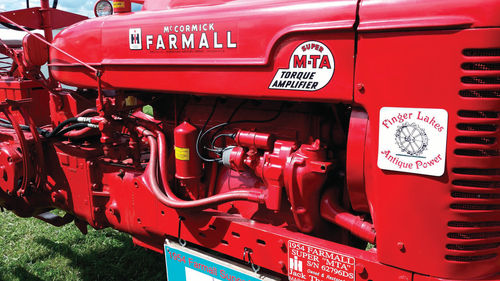 "We took what we had left and replaced whatever was worn and missing," Paul said. "Locating a hood for it was the hardest part. They're pretty rare and our hood was just a piece of junk. The painter made it look nice. It's a real testament to their ability to do body work and paint."
The restoration truly was a group project that included local residents John Daily, Lee Hoag, Wayne Burk, Billy Snyder, George Grant and Paul Skank, "and I've probably left someone out," Paul said.
Brad Townsend of BT&T, Inc. in Cato painted the tractor. The restoration took several months.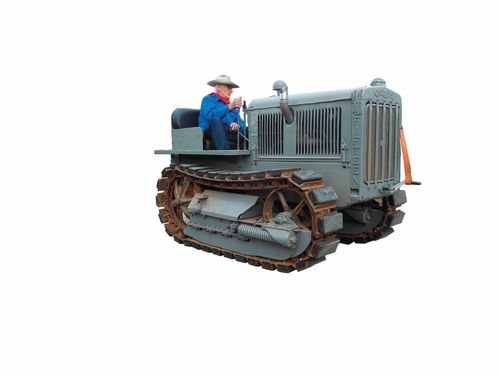 The Fourth Joins the Tour
Paul Dudley and his wife, Katherine, used the restored tractor on their 600-acre crop farm. But once they realized that theirs was the fourth Farmall in a row, the four tractors became a hit, touring numerous local shows all summer.
Paul thinks that the four tractors may have been sold by the same International Harvester dealer, but the fact that they're all still in the area and have been discovered, restored and reunited creates the ongoing appeal of the four tractors' story, or at least the portion of their story that the present owners know.
"We don't know how many owners they've had or how many farms they've been on," Paul says.
Rescuing "Strays"
The call of vintage vehicles has been strong and lasting for Dudley, to the point that he now owns about 20 tractors and a 1940 Buick business coupe.
"It's always a challenge to take something that doesn't run and make it run," he said.
He loves hearing his Farmall rumble to life, sounding like a new tractor each time he starts it.
"There's always something in our shop," he said with a laugh. "I'm always on the lookout for tractors. Some people see a stray dog or cat and rescue it. We rescue stray tractors."
After 80 Years and an Extensive Restoration, This Caterpillar Tractor Is Still Part of the Family…
I married the farmer's daughter from Soledad, California, in the Salinas Valley and it turned into a package deal. You see, every time I visited my in-laws, I would check on the status of a PV 15 that was wasting away in their front yard.
Caterpillar 15s were made in the late 1920s 'til the early 1930s. Their gasoline engine made 15 hp at the drawbar and 20 horsepower at the belt pulley if so equipped. The 4-cylinder gasoline engine had a bore of 3 ¾ inches and a stroke of 5 inches and ran at a governed 1250 rpm. They weighed in around 6000 lbs. They eventually were replaced with larger gasoline tractors and the more efficient diesels such as the D2 and D4.
Finally, in the fall of 2010, I made a decision regarding the PV 15. I took on the restoration project and decided to bring the 15 to Visalia, California, for some much-needed TLC.
The Ground Had a Firm Grip on It…
At the time, it was not running and the bottoms of the tracks were buried in three inches of soil. The engine was free and I found the original side curtains in a nearby barn.
It would not roll, but a helpful neighbor brought his wheel tractor over and we pulled the 15 forward and backward four or five times and it broke free.
I always name my restoration projects and this one was an easy pick as "Ernie," after my father-in-law.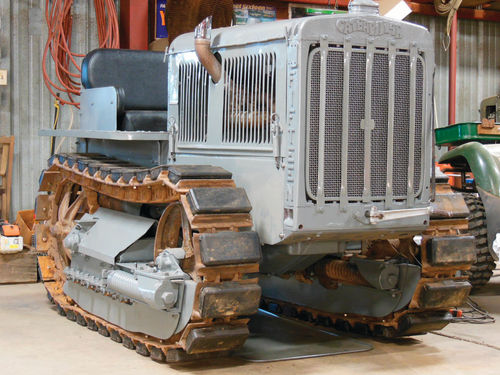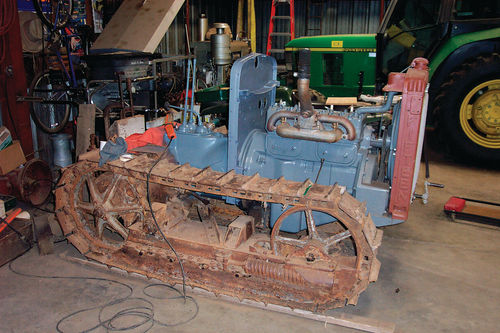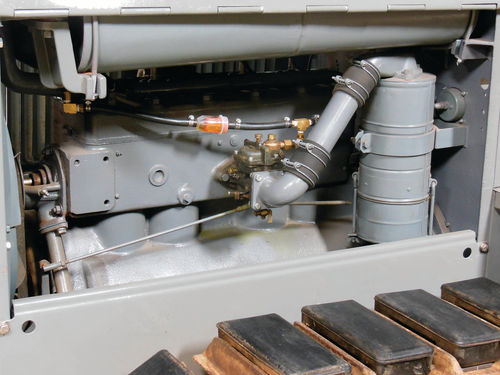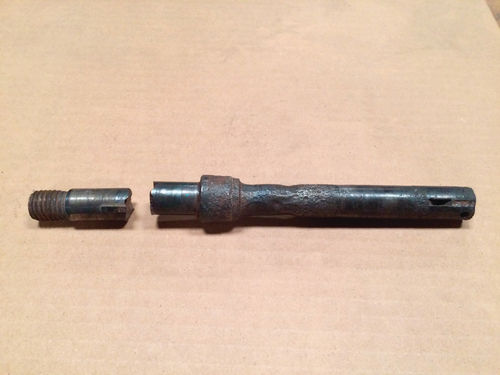 As we traveled to Visalia, we were a cloud of dust heading south on Highway 101, with 80 years of Salinas Valley soil blowing off the trailered Ernie.
A Tale of Two Ernies
Ernie Binsacca was born in 1928. Ernie the PV 15 was manufactured in 1929 but was not purchased by the Binsacca family until 1931 for $1500. So began the 80-plus years that the Ernies worked together in Soledad on the farm started by his grandfather, Desiderio, in 1887.
Ernie B's first recollection of PV Ernie was that at the age of 10 he had trouble reaching the pedals. Ernie's Uncle Dave fastened an old boot heel to the clutch to help Ernie and his sister Janice drive Ernie on their farming chores. The modified clutch pedal was not changed in the restoration.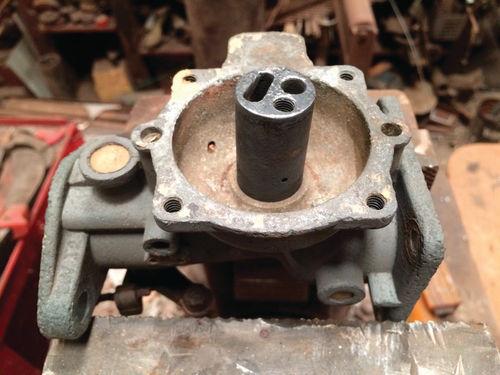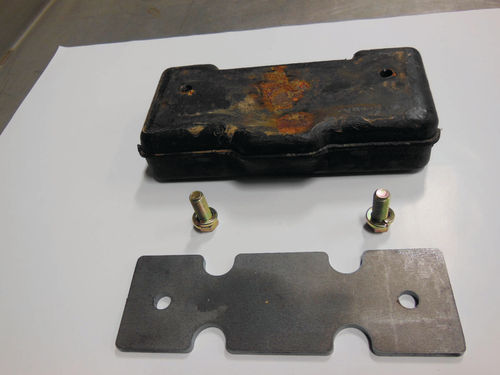 A Hard Worker… Sent to Pasture
Both Ernies had spent a lifetime plowing and seeding and cutting hay. They also worked the ground for beans, carrots and grapes.
Over the course of time the farm purchased a D4 7J and a D6 8U. Ernie the human became the classic farm CAT skinner (aka a Caterpillar driver). PV Ernie was used less and less as the demand for larger equipment and faster speeds put him more on the sidelines. He was finally laid to rest after an overheating episode left him with a cracked head.
But all that changed with his restoration.
The Engine Starts…and Creates Another Problem
The first order of business was to get Ernie running.
Compression ranged from 25 to 40 lbs. and after every pop and snort, the compression improved. After rebuilding the carburetor, the engine ran for the first time in 20 years…
But the first thing it did was break the water pump shaft and send the fan into the radiator. It was one of those one step forward and two steps back scenarios. After rebuilding the pump and obtaining a new radiator core, I was pleasantly surprised when I found out all three clutches were in working order. After that it was a simple process of disassembly, cleaning and painting.
Throughout the project, I received a good deal of help from members of the Antique Caterpillar Machinery Owners Club (ACMOC).
The ACMOC club members are a great group of people that offer free advice on antique CATs and other equipment. I actually bought two used water pumps from members in New York and Michigan. With the three pumps I had I was able to make one good one. I was able to clean up the corrosion from one of the purchased water pump shafts by taking a .020-inch cut. The old-style packing gland took up the space that I cut out. You cannot simply go down to NAPA and get a new pump.
Club members also helped me with the Ensign carburetor. Ernie was firing on several cylinders but not starting. One of the members suggested that I place the cylinder in the middle of the carburetor in some white vinegar. There are small fuel passages inside that cylinder that a regular carb soak apparently did not clean out. That did the trick and got Ernie running which then resulted in the broken water pump and its restoration described above. The tractor's fuel filters are not correct. Ensign had a metal filter that hung off the side of the carb. They are available used from collectors but not cheap.
Ernie's tracks have been modified with military surplus tank pads for street use, an addition that makes it a lot easier to move Ernie on my concrete floor. This task also was accomplished with help from a club member.
Together Again…
While both Ernies' farming days are over, Ernie the PV15 is now on the show and parade circuit.
And in November of 2013, Ernie B once again drove Ernie PV. He did not climb onto the old 15 as gracefully as he did in his youth, but once he was in place he was like a duck hitting the water; some things are never forgotten.
There was no need to explain the controls to Ernie B.
Resource
Antique Caterpillar Machinery Owners Club
7501 N. University, Suite 117, Peoria, IL 61614