CAR SPOTTING withTRACI in France
This month we go abroad with Car Spotting...to the beautiful cities of Paris and Tours!
Last month I went abroad for the first time with Car Spotting and took a look at some micro cars in Italy as well as some other neat Italian finds. This month, the international tour continues – in France! Paris and Tours were my two French destinations and many unique French cars were spotted!
Take a Ride on the Tours Train
I had the good fortune of visiting downtown Tours, where my aunt and uncle live, and got the opportunity to visit downtown Tours, which is quite a bit less busy than Paris but still draws a significant tourist crowd. There are some very neat old buildings and gorgeous cathedrals; Tours is a town very rich in history.
One thing you can indulge in, if you are a tourist, is taking a ride on this little train which will take around to all the sights of the historic downtown part of Tours. I spotted this train, packed with tourists, driving right by us and couldn't resist snapping a photo!
Paris Traffic May Rival Los Angeles
While I was visiting Paris, my friends and I went to the top of the Arc de Triomphe. We were considering going to the top of the Eiffel Tower, but tickets were a bit pricey and it was extremely crowded with extraordinarily long lines. So, we opted for the Arc de Triomphe, which I would highly recommend since when you are on top of the Arc de Triomphe, you are almost at an eye level with the Eiffel Tower, which makes for a gorgeous view of the skyline and great photos, of course.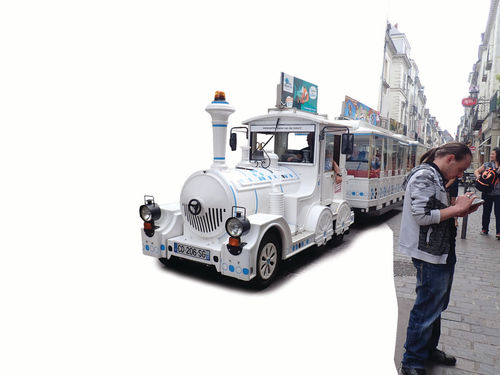 Since the Arc de Triomphe is in the city center, all the roads spread out from the Arc and it becomes a giant traffic circle on the Champs-Élysées.
This may the largest roundabout in the world – certainly the largest one I've ever seen and the French, like the Italians, seem to be able to maneuver their vehicles without many mishaps. If you look closely in the photo, you can spot a Smart Car, a couple of scooters, and a few other little mini cars. We were here close to sunset on a Saturday, so I can only imagine what a typical rush hour would look like.
Castle Finds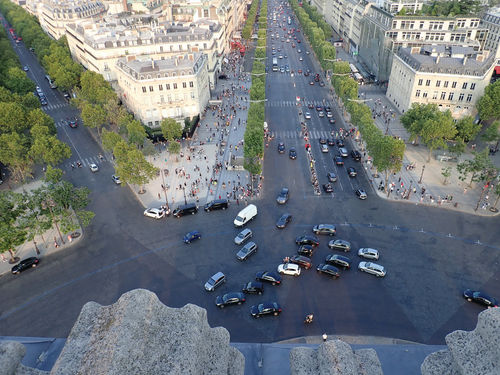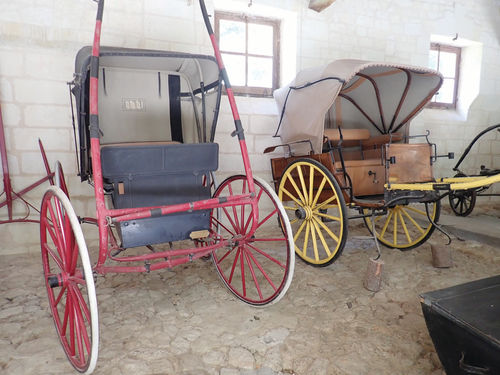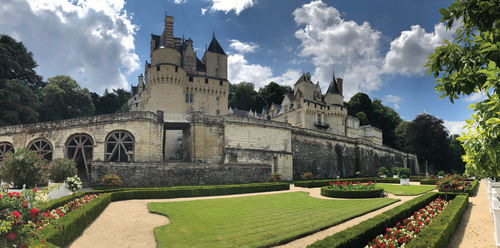 While I was visiting my aunt and uncle in Tours, they took me to three wonderful castles around the French countryside including the Château de Chambord, the Château d'Azay-le-Rideau, and the the Château d'Ussé which is referred to as the "Sleeping Beauty Castle" because it is the castle that Walt Disney got his inspiration from for the castle in the movie Sleeping Beauty. It was at the Château d'Ussé that we discovered these amazing carriages that were on display! I always find it fascinating to see and learn about the complete history of these magical places and try to understand how these people lived.
Chocolats and Cars
I spotted this little Renault outside of a chocolate and pastry shop and couldn't resist taking its photo. The scene was so perfectly French on this little cobblestone street. I had spotted many Renaults in Italy and France, obviously, had them in abundance as well. The number of European brands of cars never ceased to amaze me. It was so interesting to spot different vehicles than we're used to seeing in the United States.
Happy Traveling!
If you've been overseas exploring and have spotted some unique vehicles, send us your photos – we'd love to see your international findings!