These beach car finds will have you ready for some cruisin' with the windows down all summer long!
The beach cities along the California coast, specifically Orange County, are some of my favorite places to spot classic cars. It seems there's always at least one, if not more, in every parking lot and along every street. It's not a small wonder why – Southern California has some of the nicest, fairest weather all year long. You can be out driving around with the windows rolled down (or the top down if you're lucky enough to have a convertible) during just about every season in Orange County, with the exception of a few rainy days and when those Santa Ana winds blow through occasionally.
So when I was visiting Huntington Beach recently, I was very pleased to find not one, but three beautiful classics parked right out in front of Duke's restaurant (in the special valet area, of course). For those not familiar with Duke's, it is an iconic restaurant practically right on the sand of Huntington Beach and it emanates an old-school surfer vibe.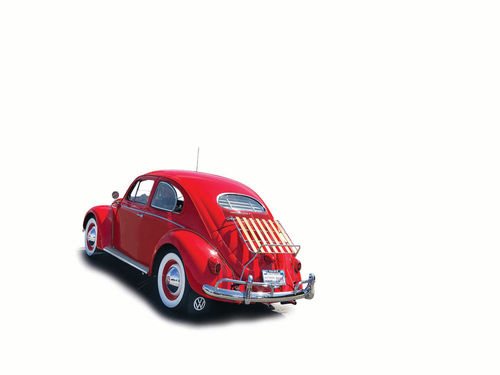 All three of these vintage vehicles were dramatically different from each other: a Volkswagen Bus, a Ford Bronco, and a Chevy Camaro. All three looked to be in perfect condition: no rust, scratches or damage to be found. Whether these cars had undergone complete restorations is hard to say, but it's obvious they've all had some excellent work done on them and with the warm, dry climate here they'll probably remain in show-ready condition.
The Camaro, I believe, was a 1968 model given the lack of wind wings and the shape of the front turn signals and it was a fine example of late '60s and early '70s muscle cars that just look like they exude power. The color of this Camaro looked to be a navy blue or perhaps even a dark purple which I hadn't seen before on a Camaro. Imagine driving this around town in Huntington Beach! It definitely will make heads turn.
The pale, mint green of this Ford Bronco is really unique and makes the vehicle stand out in the crowd of all the other off-road worthy cars that are common sights in Southern California. The owner has definitely taken great care of this Bronco as it looked to be in pristine condition. It truly is another great car to take for a drive around the beach town of Huntington and to show off to envious onlookers.
The third vehicle in this row of classics is a true beach car: a Volkswagen Bus. These are among my favorite vehicles because they not only look like a fun vehicle to drive but they always make me smile when I see one. They always give off a fun and lighthearted vibe when you see one drive past you and you can't help but stare at the amazing vehicles and feel a little happy yourself. This bus was painted with one of my favorite color schemes: bright blue and white.
Upon closer examination, the interior of the bus consisted of the same bright blue color on the upgraded leather seats with whicker paneling on the inside of the doors and tiny little curtains on each window giving it a sense of home. The owner has definitely taken great care of this VW and has a fine attention to detail. This is one of the most exquisite VW Buses I've had to pleasure to lay eyes on.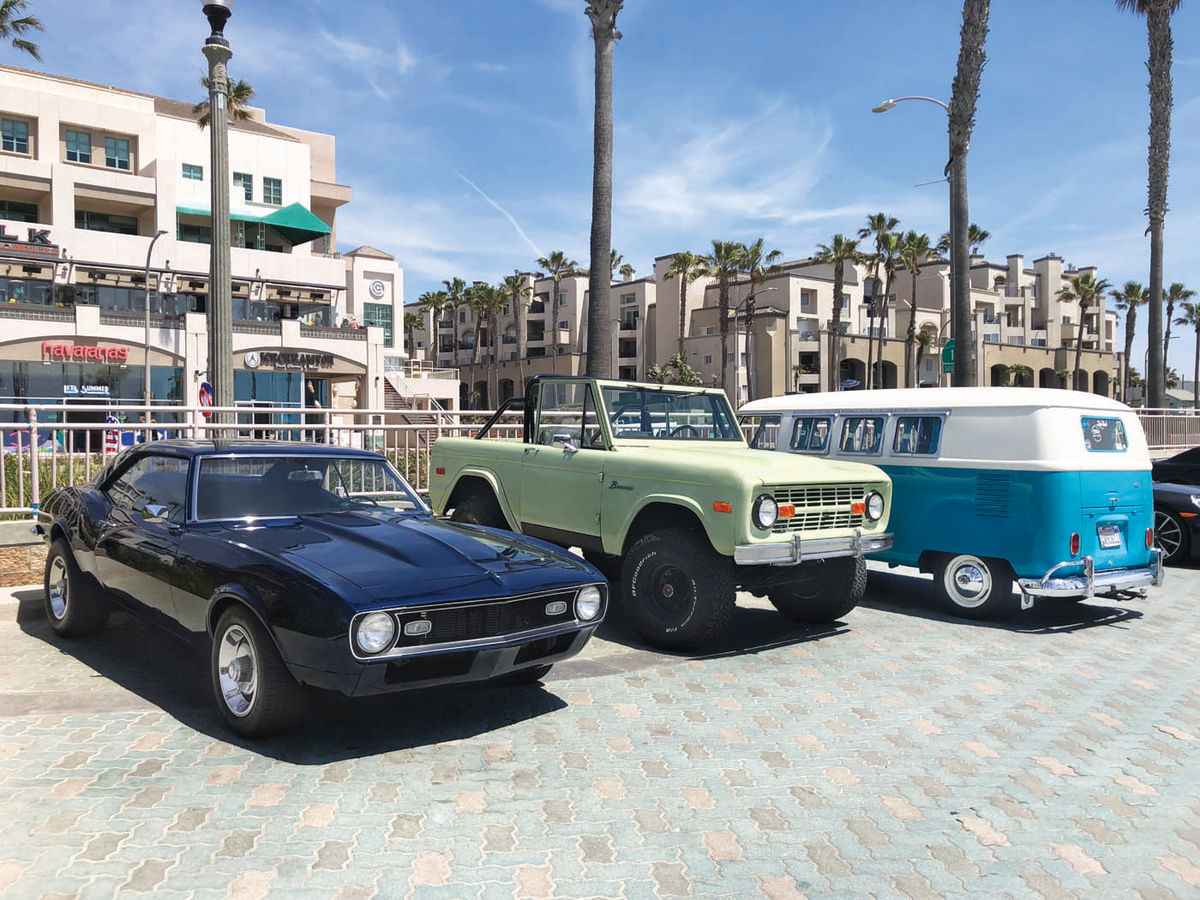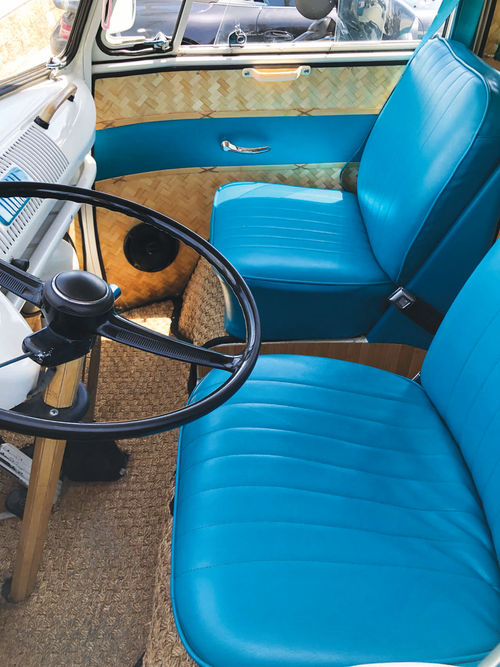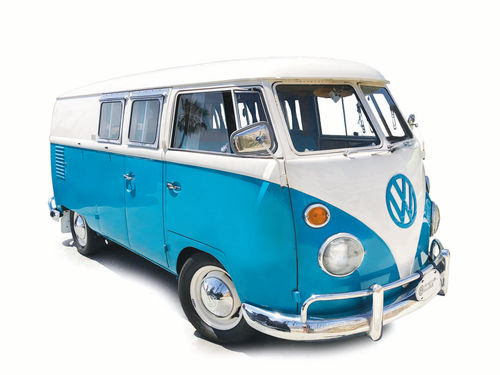 I was definitely not the only person drawn to these three cars in the parking lot – they were certainly given a lot of attention by curious passersby as people walked past them on their way in or out of the restaurant. It was quite the unique trio of classic cars, as well as a perfect, sunny day to take them out for a drive!
Two Classic Car Spottings In One Day
A while later, as my dad and I were driving down Pacific Coast Highway toward Newport Beach, none other than a bight, cherry red Volkswagen Beetle Bug joined us on the road! This was the fourth classic car spotted in one day and I was ready with my camera to snap some photos of it as it passed us. (I was in the passenger seat, of course, as I snapped the photos out the window.)
I always enjoy spotting classic VW Bugs (and VW Buses – they all just seem to brighten my day when I see them) and this one was a great example of a 1957 Bug – complete with a wooden rack added on the back, bright bumpers and wide whitewall tires. This was an oval-window sedan (there's a cabriolet as well).
Beetles, of course, are a vehicle loved by many and possibly one of the most recognizable cars on the road. For those who may not know, Volkswagen recently made the decision to once again discontinue manufacturing of the Beetle, which I found very saddening. (I remain hopeful that they will eventually make a comeback at some point in the future, though.) After hearing this news from Volkswagen, it makes every VW Bug sighting extra special.
If you have a VW Bug or Bus, or really any classic you'd like to show off or that you've spotted while you're out and about, send us your photos – we'd love to see them and hear your stories!