A VINTAGE CONCEPT CAR…THAT GLOWS IN THE DARK
There's a lot of talk about selfdriving cars these days but apparently the idea of a vehicle with self-driving functions goes back at least to the '50s and one of these autonomous concept cars came equipped with glowing tires to help make it more visible after dark and on overcast days.
The car in question here is the Golden Sahara II, a vehicle that was displayed extensively more than a half-century ago, put into storage for decades and then was recently restored and re-introduced at this year's Geneva International Motor Show. As in years past, the current version of the Golden Sahara II has been fitted with glowing, see-through tires that were custom developed by Goodyear.
"The 1950s and '60s were a period of intense innovation for Goodyear," said Henry Dumortier, Vice President Consumer for Goodyear Europe. "We partnered with mobility pioneers in everything from lunar exploration to land speed records. Goodyear's collaboration on the Golden Sahara II project was our first step in shaping the future of autonomous mobility."
A George Barris Creation
Interestingly enough, the car started out as a 1953 Lincoln Capri belonging to George Barris, the legendary "King of the Kustomizers" who died in November 2015. When Barris rammed his new Lincoln into a truck and damaged the car's top, he and a colleague/customer named Jim Skonzakes, a.k.a. Jim Street, decided to turn the vehicle into a custom car.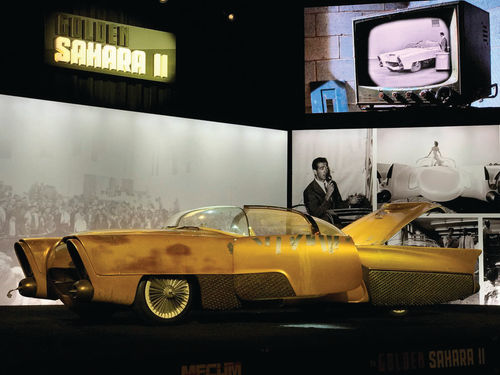 Known originally as the Golden Sahara, the vehicle was a futuristiclooking, space-age design with pearlescent gold paint, a half-bubble top, a cocktail bar with built-in refrigerator, a high-end radio and in-dash television. The bottom line for the car was $25,000 or about $235,000 in today's dollars. Introduced at the 1954 Petersen Motorama in Los Angeles, the car toured the show circuit for two years and then Jim Street worked it over a second time, adding new technology including electronic steering, centered uni-controls for acceleration, braking and steering, and front bumper sensors that detected objects in the car's path and allowed for automatic braking. There also were those special tires that were developed by Goodyear using a translucent form of synthetic rubber and internal lighting which allowed them to glow. Goodyear says this concept tire "was part of broader research" by the company into the feasibility of tires that could help improve visibility in bad weather conditions or even be wired to light up when a driver stepped on the brake pedal.
The bill for the makeover came in at $75,000 or $700,000 in today's dollars, and the car was renamed the Golden Sahara II.
After more touring, Street put the car into storage a half-century ago where it remained until his death in 2017. It was offered for sale at a Mecum auction in May 2018 and purchased for $385,000 by the Klairmont Kollections, a museum of 300 classic and custom vehicles in Chicago. After yet another restoration and a newly developed set of glowing tires from Goodyear, the Golden Sahara II is back in the public eye.
"We are truly honored to have once again been a partner in the Golden Sahara II project," Goodyear's Dumortier added. "Working on projects like the Golden Sahara II and the concept tires…is an opportunity to stretch our imagination and envision the possible products and services of the future."
For a look at another potential Goodyear product, check out Page 3 where we feature a tire designed for flying automobiles. –Ted Kade, Editor