A SHOW AT THE "HEART" OF THE VINTAGE CAR WORLD
Last month we visited a very proper British concours d'elegance so we thought that this time we'd take a look at the upcoming—and rapidly growing— London Classic Car Show which promoters say "is enhancing the city's reputation as the world's classic car capital."
Set for Feb. 15-18 at ExCeL London, an exhibition and convention center, a healthy turnout is expected as the previous show saw "more than 37,000 flocking to savor last February's memorable four-day feast of automotive nostalgia."
The on-site nostalgia includes some 800 "stunning classic cars" on display along with Car Club Square where more than 30 one-make clubs "will be staging displays of their favorite machines, with club members on-hand to discuss the merits of their chosen marque or model."
If you don't already own a vintage vehicle, that's not a problem as promoters tell us that "there will be plenty of opportunity for visitors to join the classic car movement, with a large proportion of the dealer space already booked."
One very interesting aspect of the show is something called The Grand Avenue, which they describe as "a ground-breaking all-action roadway running through the very center of the show and along which some of the world's greatest classic road and competition cars will be driven."
"It means The London Classic Car Show is no mere static exhibition but a living, breathing tribute to the automobile," promoters said. "Where else can you see Le Mans winners, Grand Prix racers, classic supercars and century-old veterans in action in the center of the capital?"
Yet another special draw will be a display called "Getaway Cars," which was described as "an evocative homage to those vehicles used by infamous criminals in headline-grabbing robberies, with some of those made famous in films joining the display."
And for those whose interest tends to focus on vintage racing, the event includes a sister show called Historic Motorsport International (HMI).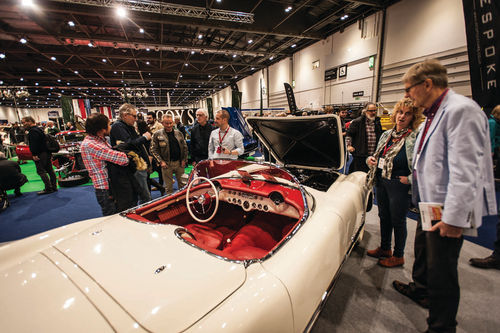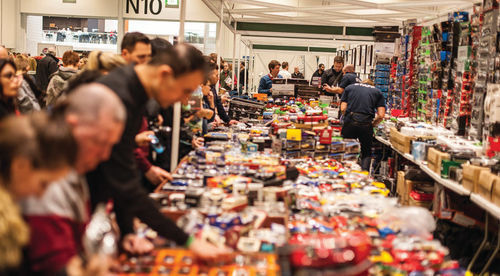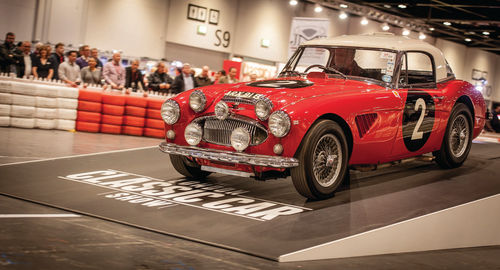 "Introduced to celebrate the UK's leading role in all areas of historic motorsport, HMI adds yet another exhilarating dimension to the visitor experience with admission free to all those attending the London Classic Car Show," promoters said.
Overall they must be doing something right with the event as this year it will cover some 463,000 square feet of space at the exhibition center. That's up from last year's 388,000 square feet; some 345,000 square feet the year before and about 194,000 square feet at the inaugural show in 2015.
"We will need every last additional centimeter," said event director Bas Bungish. "We need to keep expanding, too, as back in February we had record crowds, record-breaking displays and record numbers of exhibitors selling cars for record prices.
"London sits right at the heart of the global classic car movement, and the London Classic Car Show is enhancing the city's reputation as the world's classic car capital."
For more on this rapidly growing event visit thelondonclassiccarshow.co.uk.
And if you happen to be in London in mid-F>.
And if you happen to be in London in mid-February, plan on paying £30 or about $40 for your ticket.
–Ted Kade, Editor