Rolls-Royce Is Only Going to Build 55 of Its Extremely Uncommon Wraith Luminary Automobiles. So It Could Be a Car to Buy and Hold, If Only It Weren't For That Extraordinary Sticker Price…
When you talk with your vintage car pals, no doubt one topic that comes up from time to time regards the field of "future collectibles."
"If only I'd bought a Hemi Cuda convertible when they were new," someone might say, "I could make some serious money off of that car today." Or maybe the statement goes something like, "I should've held onto that 1970 Malibu SS when I got married. I could've kept it in like-new condition and made a nice profit now."
Well, obviously we can't go back and make that wise purchase or hold onto the car that we sold to a cousin for $1000 only to learn that he had wrecked it a few months later.
So instead many people scratch their heads as they wonder what car or truck they might buy today that would bring a nice return if they decided to put it on the market a few decades from now.
In addition, many publications and others involved in the vintage vehicle field offer up their opinions regarding what might become a "future collectible." With that in mind, we at Auto Restorer have decided to direct your attention to a real possibility: the Rolls-Royce Wraith Luminary seen on these pages.
Built To Be Collectible
As part of its product lines, Rolls-Royce builds what it calls "Collection Cars," limited edition vehicles that are meant to be "bespoke" or custom, something like buying your clothes only from the most exclusive designers. Why, the automaker which boasts that "Every Rolls-Royce motor car is built by hand at our state-of-the-art headquarters in Goodwood, England," even has a Bespoke design team to envision and produce its "Collection Cars" that will stand out no matter where they are being driven or parked.
The latest in this ongoing line of overthe-top luxury vehicles is the Wraith Luminary Collection which the company says is "Inspired by those who lead where others follow…," and "…will light the way for the luxury trailblazer."
Or as Torsten Müller-Ötvös, Chief Executive Officer of Rolls-Royce Motor Cars, put it, "Wraith Luminary is a stunning Collection Car. It speaks directly of our contemporary Rolls-Royce brand—progressive and trailblazing; the pinnacle in hand-crafted luxury. This is a motor car that celebrates visionaries who achieve eminence in their respective fields. Indeed, this collection is for the world's luminaries."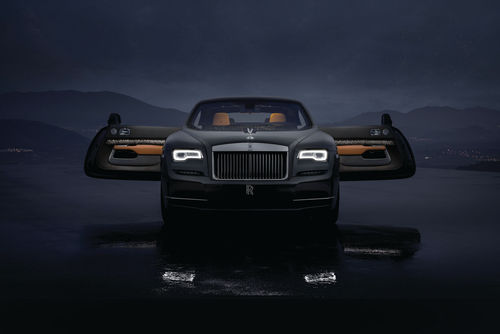 Here's What Makes It Collectible…
For starters, only 55 of these cars will be built, making them a rare find on the market. And in case anyone is not aware of the car's rarity, the vehicle will announce its status as soon as a door is opened. Each of the car's tread plates "bear the provenance of this unique collection," with the words, "WRAITH LUMINARY COLLECTION—ONE OF FIFTY-FIVE" engraved in the plate's hand-polished stainless steel.
Along with rarity, it takes uncommon details to make a vehicle collectible and as you might expect, the Wraith Luminary scores big-time in that department.
Let's start with the exterior where a newly developed paint called "Sunburst Grey" is rather flat in the dark but "when awoken by the sun" rich copper tones in the coating come to life, "emitting a deep, emotive warmth." Rolls says that "further intrigue" is added by a hand-painted Sunburst Motif on a body line at the top of the front fender.
Now let's open one of the doors and be met by Tudor Oak wood trim that was sourced from the forests of the Czech Republic and "selected for its depth of color and the density of the grain structure." Add to that the fact that for the first time the car's trim is illuminated as "the light of 176 LEDs permeates through an intricately perforated design in the unique Tudor Oak veneer, allowing a mesmerizing pattern, reminiscent of the trailing light of a shooting star, to luminesce at the touch of a button."
And speaking of shooting stars, the Rolls-Royce Bespoke Collective group of engineers, designers and craftspeople has expanded upon the existing Rolls-Royce starlight headliner, a hand-woven configuration of 1340 fiber optic lights which "act as a glittering night sky" in the car's cabin. For this car they've added "further theater" by introducing eight shooting stars that "fire at random," predominantly over the front seats in recognition of the importance of the Wraith's owner/driver. The result, Rolls said, is "a playful display of light that creates wonderment and awe for the car's passengers."
While you're watching that "playful display" you'll no doubt want to be comfortable and to suit that need the interior is trimmed in Saddlery Tan leather, while the rear seats contrast in Anthracite leather, "thus highlighting the prominence of the driver's position," Rolls said. If you like, "a more dramatic contrast can be selected by specifying Seashell colored leather in the rear." Either way the colors "will be perfectly coalesced through the inclusion of a two-tone steering wheel."
As if more were needed to make this car stand out as uncommon, The Rolls-Royce Bespoke Collective applied a hand-woven stainless steel fabric (you read that right, "steel fabric") to the transmission tunnel and door panels, thus "contrasting the Tudor Oak wood and Saddlery Tan leather." In addition, the metal fabric, which incorporates strands that are 0.08-0.19mm in diameter, is woven and placed so it will refract the light of "the unique illuminated paneling in the doors."
Make It Quick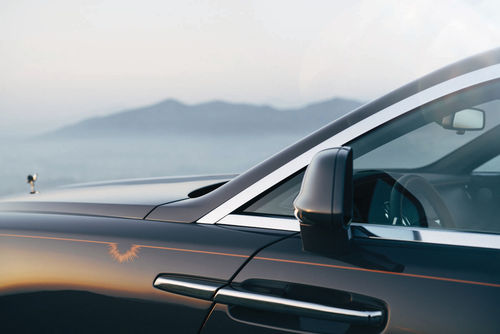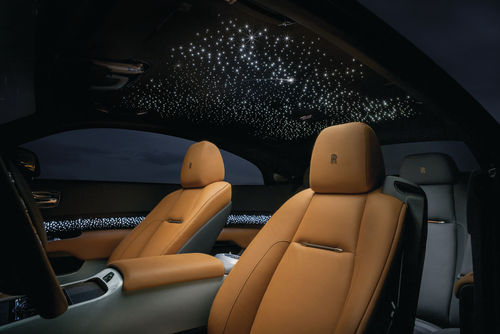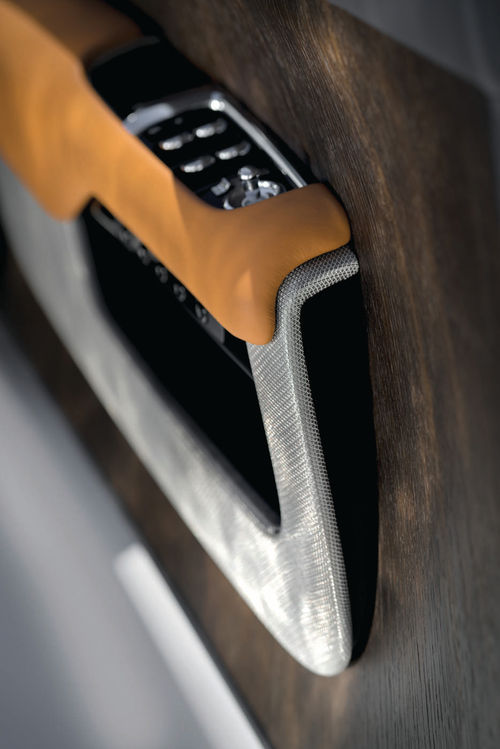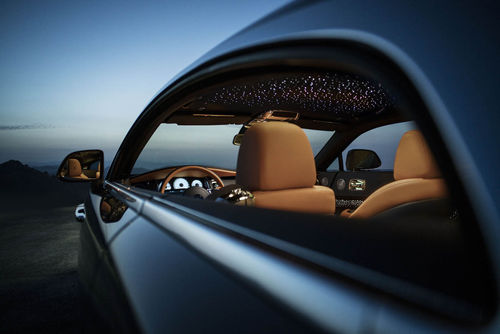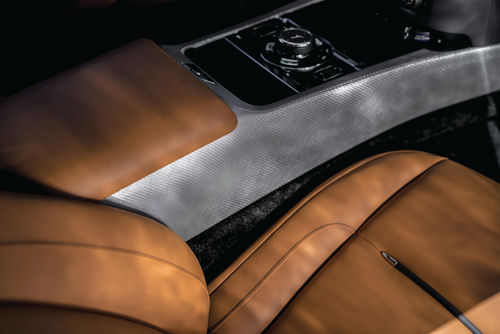 Rolls said that since the start of its Wraith line, the vehicle has "long attracted the patronage of visionaries" who were "drawn to the intoxicating promise of near unlimited power and it's hauntingly rakish fastback design, a true gentleman's gran tourismo…"
While the car may not have "near unlimited power," it does carry a lot of punch with a 6.6-liter V-12 engine and a pair of turbochargers that team up to produce 624 horsepower. That output translates to a 0-60 time of 4.5 seconds and a top speed of 155 mph.
A Future Collectible?
features that go into the Wraith Luminary, it definitely could shape up as a car that will appeal to collectors in the decades ahead. So it might make sense to contact a Rolls dealer before the limited run is sold out.
Before you pick up the phone, however, you might want to consider the car's MSRP which is $402,000.
But on the other hand, just think how much it might be worth 50 years from now…