VISITING A VERY PROPER CONCOURS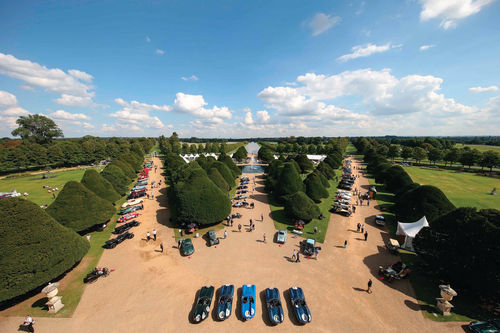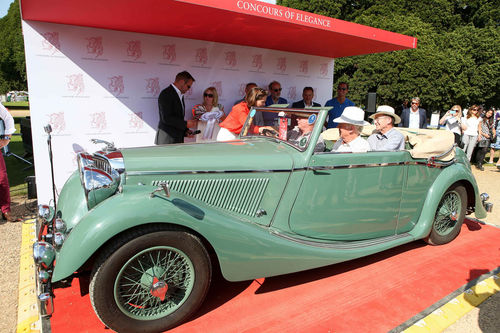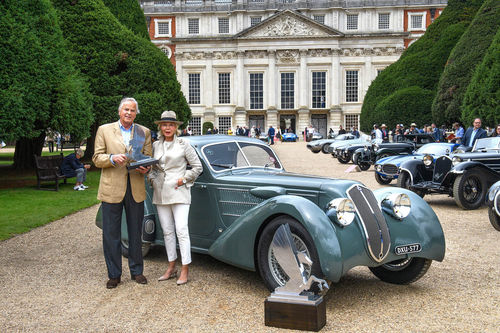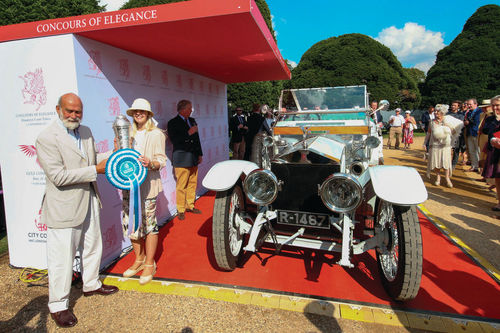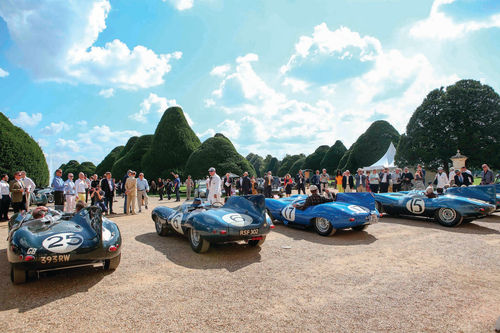 While we have a number of great concours d'elegance events in this country, we've yet to have one at a royal palace with a prince in attendance, so we decided to look in on one in England and check out their show and the types of cars displayed there.
This year's British Concours of Elegance took place in "the spectacular gardens of Hampton Court Palace," as the promoters proclaimed. Hampton Court is a royal palace about 12 miles southwest of central London on the River Thames. Construction of the palace began in 1515 and King Henry VIII seized control of it in 1529. (It's hard to believe that something nearly 500 years old could still be standing much less being used as the host location for a car show.)
Press materials for the event enthusiastically reported that the concours celebrated "another weekend of motoring royalty, welcoming nearly 12,500 motoring enthusiasts and around 1000 incredible cars."
"More than 60 of the world's rarest cars were…vying for the honor of Best in Show," the materials continued. "The quality of the cars this year was so impressive that to even be invited to attend was a triumph."
Interestingly enough, the Best of Show winner is selected through a vote by the owners of the concours cars, instead of being picked by a panel of judges as is the case in concours events in the U.S.
That top honor went to a Lancia Astura Aerodinamico Castagna which concours officials said "wears a stunning aerodynamic body by the Italian coachbuilder Castagna." That body was, in fact, originally built for an Alfa Romeo 8C 2300 Lungo and was shown at the 1934 Milan Motor Show. In 1935, on instructions from Vittorio and Bruno Mussolini, sons of Italian dictator Benito Mussolini, the car body was transferred to the shortened chassis of a V8-engined Lancia Astura Series 2. The Mussolini brothers then briefly raced the car.
Meanwhile, in addition to the Best of Show contenders, some 1000 other vehicles were on display at the palace. A panel of expert judges, including Prince Michael of Kent, a first cousin of Queen Elizabeth and avowed car enthusiast himself, bestowed a special honor on one of those vehicles. A Rolls-Royce Silver Ghost Taj Mahal that originally belonged to the Maharaja of Nabha was selected by the judges to compete in the main Concours display at next year's event. The Rolls features a larger fuel tank, a louvered hood and a special tropical electrical system, all specified for its first role in life as a demonstrator for the Bombay Rolls-Royce sales office.
Prince Michael also was honored at the event when The Royal Automobile Club gave him the Spirit of Motoring Award "for all he has done for the world of classic cars and motorsport, including his role as patron of the Concours of Elegance."
Another special award on the agenda was the Jaguar Land Rover Classic Trophy. Some 80 historic Jaguars were on display at the event and a panel of judges led by Jaguar Land Rover Classic Director Tim Hannig "overwhelmingly" decided the car they would most want to take home was "an impeccable" 1938 SS Jaguar 2.5-litre Drophead Coupe.
Well, chances are that none of us will be attending a car show at a royal palace anytime soon or rubbing elbows with a prince, but along with the press information we were able to get a few photos of the current winners to help make you feel like you were part of the event. Almost makes you want to brew up a pot of tea, doesn't it? –Ted Kade, Editor