It Offers High Performance In a Useful, Dependable Package. Sounds Like a Perfect Fit for Our 20th Anniversary.
TWENTY YEARS AGO, more than a few street racers were probably stunned to have their doors blown off by a Ford Taurus. It wasn't just any Taurus, of course, but from stoplight to stoplight, figuring that out wasn't easy.
It was all part of the fun that came with owning a 1989 Taurus SHO (Super High Output) and it remains so today, but neither the SHO package nor the basic Taurus had seemed likely to appear in Ford's future as the 1980s opened. After all, the American auto industry had been through difficult years in the 1970s and by the time that decade wound down, few domestic cars grabbed enthusiasts' imagination as muscle cars had done just 10 years earlier. And, like its competitors, by 1980 Ford had reached the point of building "downsized" cars to meet government mandated fuel-efficiency standards.
Turning a Performance Corner
But then for 1982 Ford added the EXP, a mostly forgotten two-seater hatchback based on the Escort, and the Mustang GT. Better than the return of the GT name was the fact that a Mustang could now be equipped with a 302 and in "High Output" form, that meant 157 horsepower. The EXP, despite often being described as "sporty," ran the Escort's 97.6-cubic-inch four that began at 70 horsepower before receiving an 80- horsepower option. It offered decent handling for the time, but 80 horsepower in a one-ton car was really no match for the 302-equipped Mustang GT that weighed just 600 pounds more.
Looking back, it's fairly easy to see that Ford was heading toward an emphasis on performance—admittedly, it was heading there slowly, as was most everyone else—while contending with fueleconomy requirements and safety and emissions regulations. Interestingly, it also was somewhat recognizing that the European approach to performance was not a bad thing.
Those two points were illustrated by a pair of developments in 1983, the first being improvements to the Escort/EXP. The Escort gained a GT and besides the requisite blacked-out grille, fog lights and road wheels, it offered a fuel-injected version of the 97.6-cubic-inch four that generated 88 horsepower. The engine also was available in the EXP and while it didn't produce anything close to outrageous speed or acceleration, it was a definite step in the right direction and progress would continue.
Equally important for another reason, though, was the 1983 Thunderbird, a 180-degree turn from the 1982 model. What had been not only boxy but also oddly proportioned and busily trimmed was now the essence of clean. Smooth surfaces, a flowing rear roofline, a sloping hood and sides that tapered at front and rear were among the features setting it apart from its predecessor. If the aerodynamically efficient body didn't suggest the changes going on at Ford, there was more.
The new Thunderbird's base V-6 was the 110-horsepower 232, but an optional engine was described by the magic word. The turbocharged version was just a four-cylinder displacing only 140 cubic inches, but it produced 142 horsepower and although fuel injection was by then losing its aura of exotica in the American market, it was one of several improvements aimed at enhancing the car's performance. It was all part of the Turbo Coupe package, which included a five-speed, better suspension and distinctive trim.
The Turbo Coupe returned for 1984, when Ford added a turbo option to the Escort/EXP, but there was another addition that—visually, at least—was as important as the 1983 Thunderbird had been. The new car was the Tempo, a front-wheel-drive compact whose aero look was more futuristic than that of the Thunderbird. The Tempo has rarely been seen as much more than a basic car, which isn't completely fair, but isn't completely wrong. Continuing in production through 1994, it would offer styling improvements, a V-6 and four-wheel drive as options, but the Tempo's genuine sales success was probably due to the fact that it actually was a decent car whose streamlined design set it apart from the competition.
It looked like it could be fast and by 1986, chances improved slightly when Ford upped its 140-cubic-inch, 86-horsepower four to an even 100 horsepower. The Tempo also benefited from some restyling at the front and rear with composite headlights, a simplified grille and new taillights.
But that was nothing compared to Ford's latest, the Taurus.
Taking a Chance on Taurus
Designed to be a serious contender in the mid-size market, the front-wheel drive Taurus debuted for 1986 with a look even more aero than that of the Tempo. Its grille was not much beyond a Ford oval floating in a larger oval hole in a flat panel. Big, flush composite headlights flowed upward to a sloping hood and outward to the fenders' edges. Glass met cleanly with surrounding panels and overall, there was little that could catch air. What makes that even more interesting is that Ford was still building its full-size rear-wheel-drive LTD Crown Victoria, which strongly resembled the 1979 version and would go on in all of its boxy glory through 1991.
That the very traditional LTD was still a strong seller suggests that the Taurus was a courageous move on Ford's part. Besides the Tempo and the Taurus' own sibling, the Mercury Sable, there was no American car that looked like it. Ford was risking a 1980s replay of Chrysler's 1930s Airflow experience; whether the design was good or bad, detractors might have ammunition to claim that it failed because it was ahead of its time, too radical, too bizarre, etc. and right or wrong, those claims could go on for decades.
Luckily for Ford, the risk paid off and the Taurus succeeded with 236,000 first year sales. And why not? The Taurus was about more than appearance. Its dash, for example, seemed like it should've been in a European car. Independent suspension, rack-and-pinion steering and a five-speed manual transmission added to that impression. Engines ranged from a 153-cubic-inch four to a 183-cubic-inch V-6 with 88 and 140 horsepower, respectively. Those numbers won't light fires today, but in 1986, they were in a very important ballpark. There, Audi's 109- cubic-inch four produced 102 horsepower and its non-turbo 136 five was good for 115, while BMW's 164-cubic inch six generated 121 horsepower.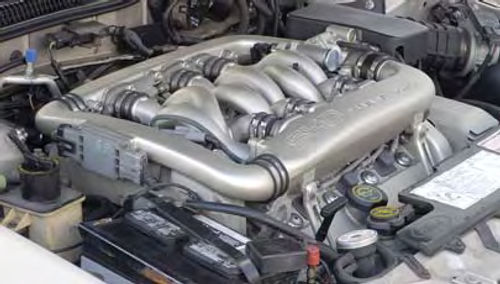 Typical evolutionary improvements helped the Taurus to sell well over the next few years with 375,000 built in 1987 and 378,000 in 1988.
Ford could have simply continued on that track, but instead it chose to reward enthusiasts for their patience in the post-muscle-car era. Its gift was the 1989 Taurus SHO.
Competition for Europe
The new model's most obvious difference was its double-overhead-cam, 24- valve V-6, a Yamaha-designed 3.0-liter—or 182-cubic-inch—that produced 220 horsepower. Opening an SHO's hood on the showroom floor in 1989 must have startled a few shoppers and even today, there probably are those who would buy an SHO just for the engine's appearance.
More important than aesthetics, though, was that the new engine better than doubled the base 153-cubic-inch four's 90 horsepower and represented a healthy increase over the 140 horsepower available from the 232 and the other 182, both of which were V-6s. Available only with a five-speed manual transmission, the SHO's standard-Taurus four-wheel-independent suspension was improved by the addition of "performance handling components including higher rate strut valving, stiffer suspension bushings and larger…stabilizer bar(s)."
Not without good reason, Ford was proud of that package and wrote in a brochure that "the power and torque of its engine, coupled with its handling, suspension and four-wheel-disc brakes, put the Taurus SHO…in the league of Europe's high-performance sports sedans."
Its $20,000 price slotted the SHO at the top of the Taurus hierarchy by placing it more than $3000 over the next lower model, the LX wagon, and $8000 above the base L sedan, but then, "the Taurus SHO model has the combination of sport features and luxury appointments that distinguish world-class performance sedans." Among them were P215/65VR15 tires on aluminum wheels, fog lamps and "aero cladding with wheel spats."
You might even say the SHO is comparable to the Mercedes Benz 6.3 and later 6.9 in that Ford and Mercedes each took a regular sedan and added appropriate improvements. Granted that while Mercedes went further by adding air suspension and stuffing its largest contemporary V-8s under the hoods, the SHO still exhibited the thinking and performance usually snobbishly associated with European sport sedans without becoming a knock-off.
A Stealth Performer
It takes a good eye to distinguish a Mercedes 6.3 from a 300SEL or a 6.9 from a 450 SEL and, for most drivers, the same is true when it comes to separating a Taurus from an SHO. Kevin Boyer, whose original 1989 SHO is featured here, knew exactly what it was when he bought it in 2004.
"I remember when they were new," he said, "and I always liked them."
The feature car is somewhere around the middle in a series of SHOs he's owned. Everything began with another 1989 that he bought in 2001 after spotting it while heading to an event at Carlisle with a friend. It was mostly hidden behind a garage with just a part of a fender visible, but on the return trip, they stopped to see it. What followed was the textbook example of a conversation about buying a collector car.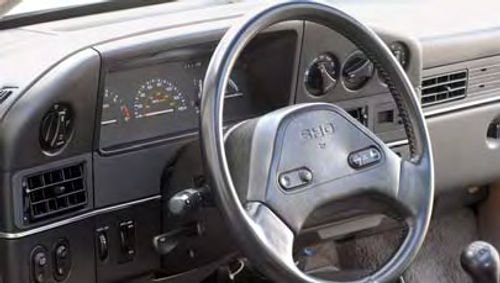 "We went back and looked at it," Boyer recalled, "and that's when the gentleman came out and said 'Hey, do you want to buy the car?' I said 'Well, maybe.' The price was right and that was my first SHO.
"I didn't know exact horsepower ratings or any technical information on them. I just knew that I liked them and I thought they were well-designed cars."
He quickly learned an important lesson about SHOs when he discovered how easily the one he'd just bought would spin its front wheels.
"The car I was driving before that," Boyer explained, "was my father's Oldsmobile. You know how the stories go. The Olds was a very slow car, a beautiful car in good shape. I went from an automatic with no horsepower to one of these with a stick and I'd never owned a stick car before. I'd driven them before, I'd never owned one. Driving the (SHO) home right after I bought it, every stop, every red light, yeah (it could spin its wheels), and I wasn't trying to."
That didn't scare him off and when the feature car was advertised in his local newspaper in Harrisburg, Pennsylvania, he decided to look at it despite a seemingly high price.
"A friend I had with me," Boyer said, "mentioned that he thought the car looked like I had owned it since new. I'm usually quite meticulous with my cars. I was impressed with the overall condition and it was one of the rare opportunities where I had the cash to buy it."
It's Not a Demanding Car
Mechanically, the Taurus needed little and while its condition seems surprising for a car in the Northeast, the explanation is simple:
Sold new in Philadelphia, it went to Florida with its first owner less than two years later. It was sold in about 2002 or 2003, but remained in Florida until returning to Pennsylvania shortly before Boyer bought it.
By that time, he was fairly hooked on SHOs. The reasons are simple and probably the ones that Ford had hoped would draw customers to them.
"They're good all-around cars," Boyer explained. "You can drive them as any normal cars, they have a lot of oomph if you want to get on it; they're four-doors. I bought it because at the time I had three children, and four doors are a whole lot better than two (for) getting kids in and out. It even has trunk capacity. I remember bringing two bikes home for the kids."
That went hand-in-hand with something else that makes the SHO a real world performance sedan.
"I'd always heard a lot of good news about the motor being a good, strong, long-lasting motor," Boyer said, "as long as you're taking care of it.
"When you say that," he laughed, "I think back to the days of the Jaguar. There is a valve-adjustment that's supposed to be done every 60,000 miles. But it's more of a check than an adjustment and there are shims in there that you can replace if it's out."
Obviously, maintenance is more than just setting the valves after a few years of average driving, but the SHO's undemanding personality is a big argument in its favor. It doesn't need to be tinkered with as a matter of course.
"Oh, no," Boyer said, "just get in and have fun. Keep the oil changed; you don't want to wipe out any bearings. They're very stout motors."
Beware of Hard-Driven Cars
There is a downside to the SHO's engine, although the potential seriousness depends on the maintenance it's been given, whether it's been abused and whether it's covered so many miles that it's mostly worn out.
"You want to know," Boyer said, "that the Yamaha 3.0 motor, while it's a cast iron block, is not the same cast iron block as in a regular Taurus 3.0."
That raises the matter of parts availability. Items such as sensors, belts and gaskets are out there, but hard parts are likely to present a challenge.
"I think Ford's inventory," Boyer said, "is getting really slim."
Matt Delbaugh, another SHO owner, explained exactly what that means when the engine suffers a catastrophic failure.
"You're going to need a donor engine," he said.
That's a thought to keep in mind when an SHO becomes available at a bargain price because there's a large hole in the side of the block or a piston-shaped lump in the hood. Even if a donor engine is handy, though, the fact that the car needs it might indicate that it was driven hard. Spinning the tires often enough, Delbaugh said, can lead to serious damage to the SHO's five-speed.
"It blows the side of the housing right out and you're done," he said. "It's not something that can be repaired."
"We've seen many of them," Boyer added. "They do have a locking differential (available) and if you're going to do any serious performance, you're going to need one of them. They're going for $1300 to $1500 right now. And they're not making them, either."
Take a Close Look for Rust
A problem more likely than a blown engine or transmission, however, is rust.
"Body rust is a big issue," Boyer said. "The main spot on just about every Taurus is going to be right underneath the fuel-fill door on the right rear. Also, if you open the rear doors, inside the dogleg, they're going to rust there."
Several potential rust areas require actual in-depth inspection rather than a cursory look.
"My first '89 that I bought was from a Southern state and rust-free," Boyer said, "but it had rust in two spots that were quite unusual. Inside, as the sunroof would slide back, there's another pan that it goes into in the back and each pan on the back corner has a drain to let the water out. One of mine was rusted out in that drain area. Maybe it sat up here in Pennsylvania with water in it for a while. I don't know.
"Another spot on my rust-free car— which I guess really isn't rust-free—is both driver's side doors (where) there's a strip of weatherstripping at the very top, at the roof. If you pull that out, down there at the seam, they caulk it. Sometimes the caulk will dry out, especially on a Southern car, and the water sits in there and starts to rust. I haven't seen it on any other cars. When I detail my cars, I make sure that's a nice clean area."
He said that one of his cars is rusted around its door handles and suggested checking the trunk lid's underside lip near the license plate lights.
Delbaugh added that door-bottoms also rust and that the metal behind the cladding should be inspected. He also said that the Taurus was recalled for replacement of the nuts holding the front subframe to the body structure. The cars impacted by the problem were those in the North, Boyer said, and, in theory, they should have been repaired, but a Southern Taurus raises another matter. If the work wasn't done and the car has moved North, the problems might appear.
"My red car was in the South for a long time," Boyer said. "It's been up here I don't know how many years, maybe two or three before I owned it, and I had to do one of those. The subframe was loose back there and I had to drill the hole and put the recall kit in it.
"It wasn't bad to do. The hardest part is getting everything out and getting the carpet up."
An Inexpensive Tire-Smoker
So far, there's not much adding up against the SHO—plenty of cars rust and will destroy major components if abused— and Boyer said it's entirely possible to find one at a reasonable cost. The 2009 Collector Car Price Guide pegs a top-condition 1989 model at $10,000, but Boyer said average examples go for far less.
"I guess most people don't have a lot of cash to outlay for a car like that and most SHOs are within their reach," he said.
That affordability probably is due also to the SHO's relative youth and to the fact that its appearance enables it to blend in and pass for just another Taurus. Stated another way, some might feel it's too new and not sufficiently distinctive to be valuable. That's good news for those willing to take a risk, as SHOs are unlikely to be low-priced forever.
Of course, if getting noticed is important, an SHO is likely to disappoint badly. A Taurus is still a common sight and they've aged well, meaning that they don't stand out in traffic. Fortunately, there are at least two factors that create the proverbial exceptions to the rule. Knowledgeable people are the first. Smoking the front tires is the second.
"I really shouldn't have done that," Boyer admitted, as smoke literally poured from the feature car's front wheel wells.
It Makes You Feel Welcome
After returning the feature car to Boyer's home following the photography session, we took its twin for a ride. I've always liked the Taurus in general and SHOs in particular. Driving this one reminded me of why that's so.
Ford got the SHO very right. It felt much like a European sport sedan in its day—and remains more than acceptable by 2009 standards—in that there's no need to drive it hard unless you want to push it.
The car can be quick off the line and fast out in the open, but anyone who invests a little time and thought in understanding it can drive it with ease in downtown traffic. It doesn't try to get away, it doesn't jump unexpectedly, it doesn't require constant shifting and it doesn't do anything embarrassing.
"The speed potential is there all the time," Boyer said, "and they're very easy cars to drive slowly, too.
"The powerband on them is so wide and 220 horsepower might not sound like a whole lot to some people, but when you're driving it, it's enough."
Somewhere long ago, I read a road test that described the SHO as a car to live with and not one to put up with. This example shows how true that observation is; the driving position is fine, the steering wheel is at just about the right location and the shifter is remarkably good for a high-mileage original 20-year old car with front-wheel-drive. Stepping down hard when the light changed was really tempting, but I'd just seen Boyer do that in the feature car and I remember the warnings about transmission failures. Still, to say that the SHO has no trouble keeping up with traffic even when driven with restraint is a laughable understatement.
Covering 100 or so miles in it would provide enough of a feel to allow for some fairly aggressive maneuvers and further experience would just make it better. But driving the car just a few miles was enough to become comfortable with it.
And that really was the point behind the SHO.