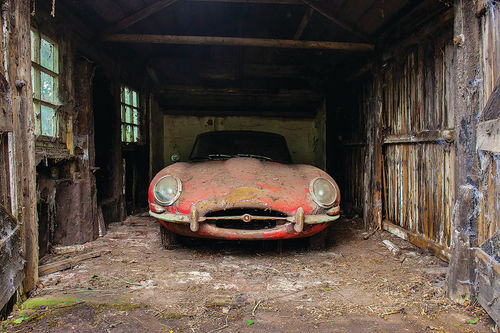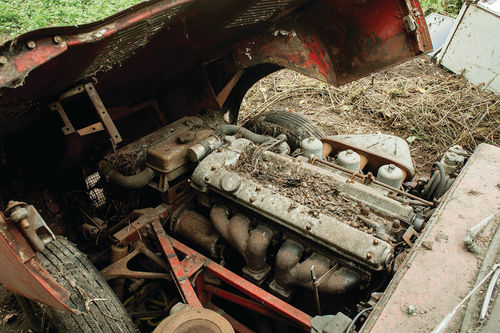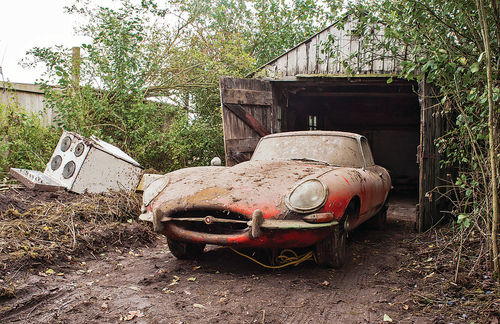 Would you be willing to pay six figures for a car that's been languishing in a shed for the past four decades? Well, someone in England recently did just that, turning over the equivalent of about $99,000 for the vehicle shown on this page.
And as you can see from the images, this car didn't just accumulate a layer of dust and experience a bit of tire rot over the years.
So no doubt the person who made the purchase had the eye of a restorer (along with more than a few dollars in his back pocket) and saw what the vehicle could become with an appropriate infusion of time, work and money.
Furthermore, this is a rare 1964 3.8-liter E-Type Jaguar Coupe and Damian Jones, Head of Sales for H&H Classics, the specialty auction house that handled the transaction, summed up the situation this way: "It's fair to say (this car) will take a lot of restoration work at a not inconsiderable cost. But the opportunity to acquire an apparently complete and unmolested right-hand drive 3.8 Coupe, of which only 1798 were made, would doubtless set many a pulse racing."
Put Aside In the Mid-'70s
The Jag had been through two owners when a man bought it for his wife in 1970. She drove the sports car for about five years and then, inexplicably, a car that is incredibly popular in England, not to mention other parts of the world, was relegated to storage under far less than ideal conditions. As Jones put it, the Jag had not been exposed "to the full light of day" for four decades and not even been started for about 15 years.
However, while treating a special vehicle in this manner may be hard for Auto Restorer readers to comprehend, apparently barn finds of this type are not a totally uncommon phenomenon in the UK. "Considering the perennial popularity of the immortal E-Type Jaguar," Jones commented, "it's extraordinary how many have been confined to barns over the years and are only now resurfacing to the delight of new would-be owners."
Turning the Wheels Again
When the man who had put this Jag in storage died, his family contacted H&H Classics, a company which bills itself as "a specialist auction house dedicated solely to the sale of collectors' motorcars and motorcycles."
H&H sized up the car's potential and dispatched technicians to remove the Jag from its resting place. Family members were on hand to watch as the car was removed and "not surprisingly, it was an emotional occasion for them," Jones said.
In addition to being "apparently complete and unmolested," as noted above, the Jag also had its original owner's manual, warranty card and service book that contained eight entries up to its 20,000-mile service in November 1965. It also had five old MOT (Ministry of Transport) vehicle safety and roadworthiness certificates with the last dated 1973/74 at 50,000 miles. When the vehicle was removed from storage, its odometer displayed "a credible" 52,738 miles, H&H reported.
The car was then "set to return to life," the auction house said, and it estimated that the Jag would go for about $45,000 to $55,000 at its next regular sale at the Imperial War Museum Duxford in Cambridgeshire, England. As noted above, when the bidding was completed the rough-looking Jag had gone for twice that original estimate.
The new owner's plans for the barn find E-Type haven't been made public, but one thing would seem to be certain. Given its sales price, the car won't be found deteriorating in a storage shed some 40 years from now patiently waiting for yet another owner to come along.