Feature Restoration 1929 Chrysler Series 75 Roadster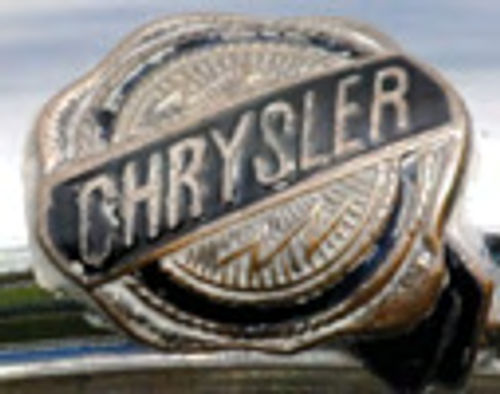 It Entered the Family When His Grandfather Traded for It. Now,Three Decades Later, the Project Continues.
CHRIS CHERVANKA'S 1929 Chrysler Series 75 has been in his family for more than three decades, but its history before an offhand remark brought it to his grandfather's attention is anything but clear.
"My grandfather was at Hershey in the fall of '78 when he heard a guy saying that he'd love to trade his Chrysler for a Model A roadster," Chervanka said. "My grandfather asked the guy about it and then he traded for it. At the time it was really a bad trade because my grandfather's Model A was a fully restored '30 Deluxe roadster."
While describing it as "really a bad trade" might seem harsh, the fact is that the Chrysler did have its share of mechanical and cosmetic problems.
"It had been painted," Chervanka said, "and all the paint on it was checked. It had rotten seats just covered in black vinyl. It was missing all of the hubcaps, the top assembly was missing; the windshield and stanchions were off of a Chrysler Series 75 phaeton, so they were taller, the rear end was shot and it sounded like a pack of wolves was chasing you down the road when you went to drive it.
"The thing was a wreck."
Why his grandfather would have wanted it is a fair question, as is his willingness to trade the Model A he had restored.
The answer is twofold, as he had driven the completed Model A to a regional show and was disappointed that it didn't win a trophy, but in the grand scheme of things, the other part is probably the more important reason.
"He was a Chrysler guy anyway," Chervanka said. "It was 'I want an old Chrysler' and that was the end of his Model A career. He didn't want (the feature) car per se. That was just what happened along. He would've taken pretty much any six-cylinder Chrysler."
It All Started With a Locomobile
Still, it's hard to argue with his taste in cars and the company that built them.
In 1908, Walter P. Chrysler, the man who would become the company's founder, had gone far out on the proverbial limb by buying a new $5000 Locomobile to take apart and study.
His idea was actually a fairly sound one, since by that time he was a railroad superintendent responsible for locomotives and that demanded machine and mechanical skills. Automobiles, even at that early date, seemed to represent the wave of the future and a man with Chrysler's skills and background would naturally find them intensely interesting, even if he did have a few more years to spend in the railroad industry.
By 1909, Chrysler's career had taken an important turn; he had left the railroad and gone to work for a major manufacturer, the American Locomotive Company. At ALCo he connected with James Storrow, an ALCo director who also happened to be involved with General Motors, and through that, Chrysler entered the auto business and became general manager and then president of Buick.
Working in the automobile industry agreed with Chrysler, so after leaving Buick in 1919, he went on to Willys Overland and turned the company around. That led to another critical event, his involvement with Maxwell. Manufacturer that could trace itself to 1905, by 1920 it was collapsing. Chrysler joined Maxwell in 1923 with hismission essentially being to straighten out its finances and soon he became president of the company. Maxwell's time was running out, though, and when a new car arrived for 1924, it wore its president's name.
The 1924 Chrysler used a 201-cubic inch 68-horsepower six in bodies ranging from roadsters to town cars with a signature feature being four-wheel hydraulic brakes. It was joined at the end of the following year by a four-cylinder model based on the last Maxwell, but 1925 was a landmark year for another reason as Maxwell Faded and Chrysler Corporation took its place. The catalog expanded and in 1927,Chrysler Offered everything from a four-cylinder roadster at $750 to an Imperial town car at $5495.
History of a Company and a Car
The four departed in 1929 and the entry-level Chrysler was now a small six, the Series 65, priced at $1040 for a business coupe to $1145 for a sedan. Its basic engine was a 65-horsepower 196.
But moving up to the Series 75 like Chervanka's car brought a 249-cubic inch, 75-horsepower six and prices ranging from $1535 to $2345.
The Imperial with its 100-horsepower, 309-cubic-inch six was more powerful and more expensive than either, but Chryslerstated that the 65 and 75 were "a style that re-styles all motor cars."
The 75, according to company literature, offered a "new Chrysler-created 'slender-profile' radiator harmonizing with cowl moulding…external fitments of new and costly chromium plating…new 'air wing full crowned fenders…longer, lower, roomier bodies with wider and deeper seats, greater legroom and greater headroom…new sweep and style to rear deck of coupe and roadster…metalware, vanity cases and smoking sets of exclusive Chrysler pattern…"
Putting aside the admitted hyperbolic tone of the sales brochure materials, there's a definite appeal to much of that and given that the car survived, Chervanka's 75 must certainly have charmed its owners over the years. Chervanka has some theories on that, but not much more.
"I would say," he speculated, "either that it came from South America, judging by how rough the chassis was and how much was missing, or somebody was going to build a street rod at one time and somebody else saved it.
"The restoration, if you will, was old then. The paint was already all cracked on it. In the left-hand side of the body, the wood was all bad in it and instead of fixing it, they just screwed in body bolts through the side of the body. Then the rumble(seat) wood had three bolts on each side, too, to hold the wood together, carriage bolts, stuck right into it."
But even if it's all the result of nothing more than a very poor restoration, it did enable the car to remain on the road. However, Chervanka agreed that his Chrysler also might have served as a parts car and then been reassembled using the take-off pieces from the project. It drove poorly when his grandfather acquired it, he said, although it did drive and his grandfather carried out the restoration that got it looking as it looks today.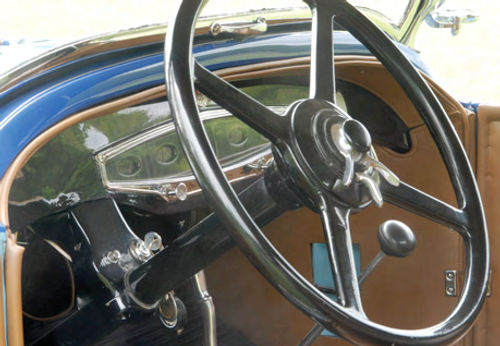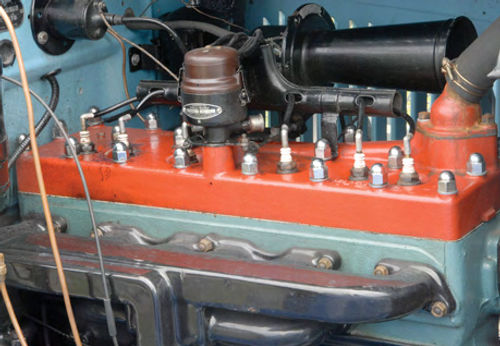 "It was always a fix-up-in-progress," Chervanka said.
There was the top assembly which was fabricated from a set of plans in Chrysler's archives and the incorrect stanchions which were modified to the proper dimensions. Then there were some improvements, such as the sidemount fenders which showed up in an ad during the mid-1980s. The fenders were in British Columbia and needed to be shipped to Pennsylvania, but it was all leading up to the car's eventual disassembly and restoration in 1993.
Chervanka's grandfather had been gathering the necessary parts and had reached the point where there were enough reasons to begin, so the Chrysler was taken down to its frame.
There's More Work to Be Done
The story becomes complicated because of the ongoing nature of the project; it was, after all, a "fix-up-in-progress" and that approach hasn't completely ended. Chervanka has painted and detailed the suspension and engine, but while that's physical work, the Chrysler has always required a different kind of effort when it comes to parts. It was incomplete when his grandfather bought it, which is really more like two problems in that there's the need to find the parts and the need to know that they're the right parts. Sometimes, it's not easy and Chervanka spoke of help from the owner of a similar car.
1929 Chrysler Series 75
GENERAL
Front-engine, rear-drive, roadster
ENGINE
Type Flathead in-line six-cylinder
Displacement 249cu. in.
Bore Stroke 3.25in.x 5.00in.
Compression ratio (:1) 5.2
Carburetor Single-barrel
Power 75hp@3200rpm
DRIVETRAIN
Transmission Three-speed manual
SUSPENSION & BRAKES
Front/Rear Solid axle, leaf springs
Brakes(f/r) Hydraulic, drum/drum
STEERING
Worm-and-roller
MEASUREMENTS
Wheelbase 121in.
Weight 3190 lb.
Tire Size 6.00x18in
"(He) had a 75 roadster," Chervanka explained, "and he would take parts off in the winter and lend them to me. That's how the top rests got made, that's how the pieces for the sidemount got made."
All of the incorrect parts on the car can be addressed, he said, and doing so is all part of the plan. He's not spending every hour of his free time hunting down replacements, but he's always got an eye open for them and he's also doing the work required to close in on authenticity.
"This Winter,I'm Going to fix the interior so it's right," he explained. "That looks perfectly authentic. I think only a Chrysler guy who had one of these would know otherwise.
"The biggest thing that happened to me was when I took it for its First Junior. I won the First Junior with it when they had the AACA meet in Binghamton (New York). I took it to Hershey thatfall for the Senior and I didn't get it. The judge came over and said 'it's a nice car. You should do this and this, but there's one major thing wrong with it. It has the wrong radiator. It's supposed to have a honeycomb radiator.'"
Winning a Senior award at Hershey is significant, of course, but as anyone who's been there knows, there's more to the event than the trophies.
"I was walking through the 2008 swap meet at Hershey," Chervanka said, "and I came across the shutters, the radiator shell, headlights on the bar and a gas tank. And it was the honeycomb radiator and the stuff looked like it had been inside, like it had been hung up in a barn. The guy would not sell just one piece, so I had to buy everything for $600. I had three of my buddies with me and we all lugged for some distance. That's when you find out who your friends really are.
"Finally, I stopped a couple of golf carts and told them I'd pay them, but there were two Hershey Region guys driving by and they gave me a ride. We loaded everything on the back of a golf cart and then I sat on the middle of the seat doing a balancing act."
A Parade of Power plants
Then there were the engines. The one that came with the car had problems.
"I don't remember what was wrong with it because I was small," Chervanka said. "My grandfather bought one off of a man who had a spare rebuilt one... It eventually threw a rod and he had the original engine rebuilt."
By 2005, Chervanka had been given the car and was returning from a show when that engine threw a rod. The show season wasn't over, he said, so he wasn't about to put the car aside and work on it over the winter. Instead he bought a replacement engine from a parts supplier who had several candidates.
"He had two motors on the ground," Chervanka said. "One was kind of hard to turn over, so I said 'I'll take this one.' I brought it home, pulled the head off of it and realized that it had all aftermarket valves in it. I said 'this motor looks like it was rebuilt.' I pulled the pan off of it and everything was nice and tight, the rods were nice and tight. The only thing I'm Sorry I didn't do is put rings in it. That motor carries great oil pressure. That motor is awesome."
Sufficiently awesome, in fact, that it's in the car today.
Somewhat Surprising Performance
Like his grandfather, Chervanka believes in driving the Chrysler.
"It's a really good road car," he said. "It'll travel 55 or 60 miles an hour without straining itself.It has hydraulic brakes on it, so, obviously, it stops well. It's an old car,so it steers like a truck and you're not going to lean it in the corners or anything like that, but it's a fun car to drive.
"You're not going to get on Interstate 81 with it and keep up with people, (but) you're not a hazard.
"If I go up Route 171 with it, I'm just moving with traffic.I Was Laughing coming down here this morning that nobody passed me on the Stillwater Stretch and I was kind of chuckling that these people were thinking 'hmm, that car runs pretty good.'"
The reference to "the Stillwater Stretch" on Pennsylvania Route 171 is something that those familiar with the area would appreciate instantly. For others, it's probably best to say that plenty of questions about cars and performance have been answered on it over the years, but the comment about the Chrysler's not being passed there is telling; it really does keep up with traffic on secondary highways and that helps to explain why Chervanka drives it to a number of shows in the region. Most, he said, are within roughly 100 miles of his Thompson, Pennsylvania, home and that self-imposed limit is due to time constraints more than it is to fear of being left along the road.
The worst-case scenario, though, has happened.
"It has left me stranded a couple of times," Chervanka said.
"The vacuum tank on it I've found to be very unreliable. It broke down going to Owego (New York)…I was three miles from the show."
Ask The Person Who Knows Them
Enjoying the Chrysler on the road could raise a concern about parts, but he said that routine mechanical pieces such as tune-up and maintenance items are mostly available and even chassis components can be found.
"A '28 Model 72 and (the 75) pretty much share all of the mechanical stuff," he said. "The chassis parts are pretty much identical. The real difference in the chasses is that those were still external brakes and the '29s are internal."
That doesn't quite raise it to the level of parts support enjoyed by Model A fans, but it's still good news even if it does tie in with a key piece of advice for someone looking for a car like Chervanka's roadster.
"I would try to find someone who knew them, first of all, so that you weren't going into it blind," he suggested, "and I would make sure that it was as complete as complete could be. But even if it wasn't complete, that wouldn't deter me if it was a nice, solid car."
That shouldn't automatically deter an experienced restorer from a 75, either, as long as he's willing to do the necessary research and accept the fact that the finished product isn't likely to be in his garage by summer.
Beyond that, most of what might be wrong with an as-found relative of the feature car is likely to be comparable to problems with any other unrestored car of the era. Rust is enough of a concern nearly anywhere on the body that it's worth crawling (or looking) into every accessible area no matter how good the external panels seem to be.
Particularly—but not exclusively—on an open car from the Chrysler's time, water finds its way in and can't always get out. Trapped water in such a car is rust waiting to happen, but it's also detrimental to the wood inner structure and that can be even more of a horror story as it's entirely possible for an original car to show minimal rust damage while needing major restoration to its wood.
The Family Ties Still Bind
Chervanka's Chrysler is obviously past the point where he needs to inspect it for pre-restoration problems and by his own admission, he "drives the wheels off of it and enjoys it," but all of that's only part of the reason why he'll never sell the car. It shouldn't come as a surprise that the other big factor is the memory of his grandfather, who died in 2005.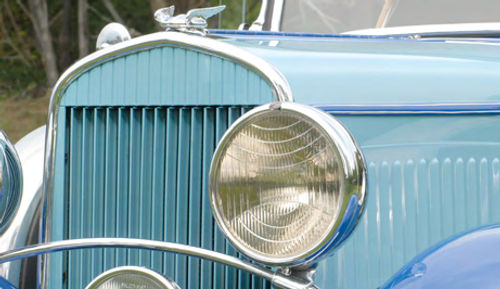 "There's sentimental attachment to this one," he said. "I was three years old when he bought it... It's the car that got me into the hobby. I remember that when I was little, I used to beg him to take me and drive me around town in it. I used to love the sound of the gears in it. It was just fun, going to car shows and parades."
Doing a quick bit of math, though, reveals something that actually might come as a surprise. Chervanka is 35 and his ownership of the car at once supports and denies the conventional wisdom about collectors wanting the cars they remember from their youth.
"It's all I know," he said. "I wasn't around '55 Chryslers, I was around these. If I was going to have a car that reminded me of my youth, I would look to buy an '83 or '84 Chrysler Fifth Avenue."
Fifth Avenues aside,it's the '29 thathe owns now and before that, his interest was in Model A Fords and that goes back a long way, too. He spoke of a photo showing him with a Model A coupe that his father had restored.
"I wasn't even old enough to stand up by the front bumper," he said, "so they're holding me up in the picture. I guess you could say that I've been around."
And thanks to Chervanka's grandparents, the Chrysler also has been around and become a well-known vehicle.
"Everywhere I go with it," Chervanka said, "people recognize it. But then my grandparents always went everyplace with it. They drove it all over, too."