1970 Plymouth Road Runner
The Plymouth May Have Started as a "Practical" Car 85 Years Ago, But Then They Added a V-8, 4-Speed and a Running Bird…
GEORGE HIGHHOUSE 1970 Road Runner has seen more of the United States than its 88,000 miles might suggest.
"I was looking for a Road Runner," said Highhouse, who bought the feature Plymouth in February of 2010. "I was looking for a '68, '69 or '70. That one showed up on eBay…on a Friday night. I called the owner. I went down to see it on Sunday and I put a deposit on it."
The car was near Philadelphia, several hours from his Scranton, Pennsylvania, home, and was on the road. He recalled that it seemed basically solid overall with little rust, but added that it clearly needed attention. From there, the story gets interesting.
"As far as I can tell," Highhouse said, "(the seller) and his brother bought that car new. They bought it in California and then they took it to Alaska for work on the pipeline."
Given that the Alaska Pipeline's construction attracted plenty of workers from the lower 48 states, that part of the car's history may not be especially remarkable. The oddity in the story is that somewhere in its travels, the Road Runner must've spent enough time in another country to warrant that notation on its Pennsylvania title. Highhouse doesn't know the details of that turn in the car's travels, but the fact that the car survived with no real problems speaks well for its previous owner. Furthermore, the fact that it remained with that previous owner for 40 years and accompanied him to Pennsylvania is convincing evidence that he felt strongly about it. And why not?
From Practical to Practical-Plus
Plymouth started out in 1928, long after Ford and Chevy had established themselves in the low-price market and some wondered whether this new car from Chrysler was really a smart move. Still, the company's leader, Walter P. Chrysler, was no newcomer to the auto industry and by then could point to plenty of achievements. He'd been president of Buick and then turned Willys-Overland around before agreeing to do the same for Maxwell and Chalmers. While Chalmers was soon phased out, Maxwell revived strongly enough that in 1925 it became Chrysler Corp.
In 1928, Chrysler's price range had expanded from just $720 for an entry-level Deluxe coupe to a breathtaking $6795 for a Dietrich-bodied dual-cowl phaeton and if the lower figure seems close to the first Plymouth's $670 price, it might be because the Plymouth was an update of the affordable Chrysler Series 52. Its family connection was reflected in the vehicle's formal name--Chrysler Plymouth-- and the company advertised it as "a new car," easily keeping a straight face when it claimed that the four-cylinder Plymouth "is the first to give at so low a price the advantages of performance, riding ease, dependability and full adult size which characterize fine cars of higher price."
With that statement, Chrysler had hit the essence of what would be Plymouth's philosophy for decades. Value would remain important, as shown by the arrival of a six in 1933 starting at $495. It was the same price as 1932's base four and if that weren't value enough, a second-series replacement during the year actually took $50 off the price. Plymouths probably generated few thrills among drivers of the time, but their value and overall quality were enough to carry them right up to the end of civilian automobile production early in the 1942 model year.
After the war, Plymouth gradually became more locked into its "value" role as no one could fault the company's decision to drop its first V-8 into Chrysler's 1951 Imperial, New Yorker and Saratoga models.
Plymouth held to its mission and so carefully did it avoid extravagance that only in 1952 did it begin offering overdrive and in 1953 the semi-automatic Hy-Drive as options. It continued to be powered solely by a six-cylinder flathead, just as it had been since 1933 and just as it would be for one more year. Finally, in 1955, it was Plymouth's turn and the six found itself with a V-8 relative good for 157 horsepower from 241 cubic inches. Before the model year's end, a 167-horsepower 260 arrived and with the optional four-barrel, it could be bumped up to 177 horsepower. Plymouth was making up for lost time, but not just in its engines.
For 1953, the ever-pragmatic Plymouth Had introduced a completely new body measuring 189 inches overall and riding a 114-inch wheelbase. A direct comparison to the 1952 model is slightly complicated as Plymouth was then using 111- and 118.5-inch wheelbases for overall lengths of 188 and 194 inches. The 1953 Plymouth's wheelbase was a bit less than halfway between the two and it was barely longer than the previous short model, but much worse was the fact that it looked smaller. It was still a good car offering reasonable value, but times were changing and Plymouth's own history concedes that the 1953-54 design wasn't the best decision.
However, the Plymouth that resulted for 1955 was a complete break with its elders and an excellent match for the new engine. From its hooded headlights to its slight tailfins, flatter surfaces and straighter lines wiped away all memories of the past. At 204 inches on a 115-inch wheelbase, the longer look was no illusion. When 1956 brought real fins, overall length grew by one inch and a new model, the Fury, revealed that Plymouth could build a performance car. After all, a 240-horsepower 303 in a 3600-pound car could provide what at the time was impressive acceleration, reaching 60 miles per hour in less than 10 seconds.
Give Me a Hot Intermediate
With a few exceptions, high-performance cars remained full-size into the early 1960s and it remained easily possible to order a shockingly fast Plymouth. A 426 Hemi with its published 400 to 425 horsepower was a great way to do just that in 1964.
The muscle car era had opened and while demand for full-size performance cars was falling, not all drivers wanted the newly introduced compact cars even if they could be screamingly fast. The answer was the intermediates that had been coming onto the scene.
At Plymouth, its initial hot intermediate was the 1965 Satellite at the top of the Belvedere line, sold only as a V-8 coupe and convertible. Then the GTX was added with its standard 375-horsepower 440 and the possibility of a 425-horsepower Hemi for those who felt that the 440 just wouldn't do it. Still, at $3178 for the coupe and $3418 for the convertible, the GTX wasn't cheap enough for many buyers in the growing youth market, so Plymouth again called on its practicality experts whose affordable solution was the 1968 Road Runner.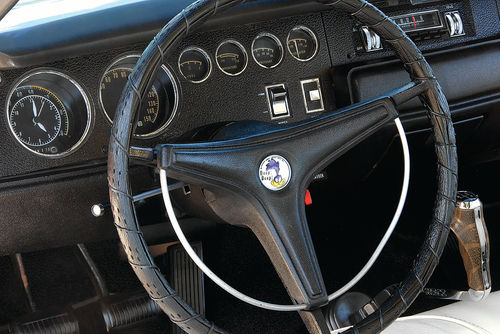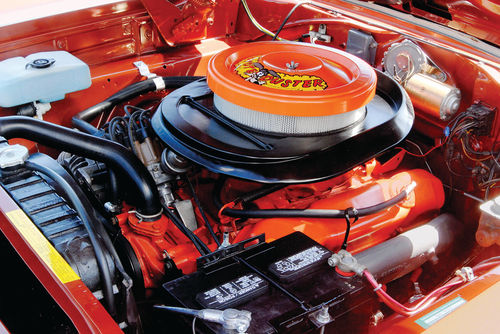 Like the GTX, it was basically a Belvedere and could be ordered with a Hemi, but with its standard 335-horsepower 383 and what advertising called "a total lack of unnecessary doodads, gewgaws, and falderal," it came in at "a price way below what you would pay for a Supercar."
Plymouth had gotten it right enough to sell more than 44,000 first-year Road Runners, so naturally, it returned for 1969 with minor changes and the addition of a convertible. Sales reached just under 85,000 and Motor Trend recognized the Hemi Road Runner as its Car of the Year, but that wasn't much help to sales of the 1970 model as they fell to about 44,000. The drop was probably due to more than one factor as the Road Runner's body was in its third year, competition was intensifying and among those few who could see very far ahead, the muscle car's popularity overall might have been about to start cooling.
The Road Runner would look completely different for 1971 and would be updated two years later as the muscle era was winding down and taking performance with it. Insurance premiums, fuel costs and a government-mandated focus on lowered emissions brought about the end.
1970 Road Runner
GENERAL
Front-engine, rear-drive two-door hardtop
ENGINE
Type Ohv V-8
Displacement 383 cu. in.
Bore x stroke 4.25 in. x 3.38 in.
Carburetor Four-barrel downdraft
Power 383 hp @ 5200 rpm
Torque 425 ft.-lb. @ 3400 rpm
DRIVETRAIN
Transmission Four-speed manual
Final drive ratio (:1) 3.55
SUSPENSION & BRAKES
Front Torsion bar
Rear Solid axle, leaf springs
Brakes (f/r) Disc/drum
MEASUREMENTS
Wheelbase 116 in.
Length 202.7 in.
Height 53.1 in.
Width 76.4 in.
Weight 3570 lb.
Tire size F70 x 14
The Road Runner name continued to appear, though, and Plymouth used it as late as 1978 on a Volare coupe. Purists, understandably, are more appreciative of the genuine high-performance Road Runners such as Highhouse's 1970 model.
A Highly Recognizable Car
"Most people come over and look at it and say 'I had one like this,'" he explained. "They come off with all kinds of comments. You have guys come up, ladies come up, bikers come up, people in general. A lot of people recognize it."
They notice it even though it's Dark Burnt Orange metallic, the original and fairly low-key color that was hidden under red and black when he bought the car. That wasn't the only change, he recalled, as the engine bay and the engine itself had been painted incorrectly.
"That's why I was wondering when he said it was a matching motor, the original motor," Highhouse said. "I was leery because it was the wrong color, but it turned out that he was correct. I took it apart and all the serial numbers matched."
The disassembly, he continued, revealed more essentially good news.
"I took the whole car apart," he said, "stripped it down to the chassis. The back quarter panels had very little rust, but around the driver's side wheel well, it was a little bit rusted under the back and the right side had a little bit on it, too. The rockers were good, the floor pans were good, the trunk was good, the tops (of the front fenders), everything. It was all good."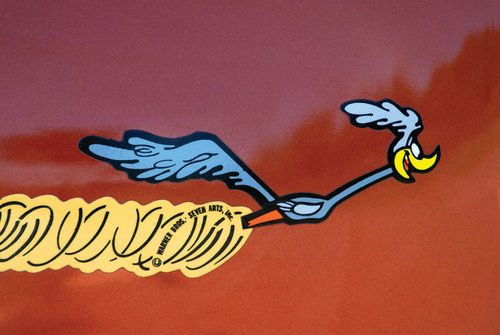 Good, but not perfect, as the car had suffered a minor front-end hit and was wearing a replacement fender and an incorrect hood that needed to be changed.
"Chrysler calls it a Fresh Air Hood," Highhouse said. "Mopar guys all call it the Air-Grabber Hood because it says 'Air Grabber' on the switch and it has the 'Air Grabber' decal on it. But technically, it's noted on the fender tag as a Fresh Air Hood. The other hood that's on a Road Runner, not this one, is called the 'Bulge Hood.'"
The quarters probably could have been saved without too much difficulty, but he replaced those, too. The bumpers were re-plated, the wheels were refinished and the window trim was buffed.
Then there's that side stripe with the famous bird in motion, and Highhouse described a mistake sometimes made while applying it.
"If you look at the front third on the fender," he explained, "there's a small X on the bottom, in the pattern. There's a little X in the first piece that you put on with the bird on the front and if you look at the rest of the striping, you have to follow with the X's on the bottom of the stripes. Some people put them on upside down and the dust goes the wrong way. You don't notice it too much unless you really know the Road Runner and you can pick on somebody pretty good if you see a mistake. There's no way they can deny it, once you show them. They'll just look at you like they can't believe you know that."
The stripe on his car is a replacement and, of course, it's correct.
Inside, he said, the back seat is original and the front seats were recovered probably in 1990, when other work was done. He replaced the carpets and the door panels.
"The main reason why I replaced them," he said, "is that the guy who had it before me did the famous thing that everybody did. They took them and cut the fronts out and put speakers in the doors. The speakers don't belong there, so I had to replace the panels."
He also replaced the gas tank and the clutch and had the four-barrel rebuilt, but with 80,000 miles showing, he was prepared to rebuild the 383 if necessary. After an inspection at the machine shop, though, it received not much more than hardened valve seats and new pistons. The only modification was a mild cam.
Running Down the Highway
That the Road Runner needed relatively little put an end to a quietly nagging fear that arose when Highhouse looked at the car and made the deal to buy it.
"I put a deposit on it," he recalled. "I said I'd be back down for it the following week. 'You know,' the owner said, 'I want to take my last ride in it. I'll bring it up.' He brought it all the way up to Scranton for me and I'm thinking 'did he do this for a reason? I wanted the car anyway so I took it over to another guy who knows Mopars. He looked at it and he said 'yeah, go ahead. This car is solid.'"
Highhouse then drove it to confirm its condition and after a few hundred miles was returning from a local trip when it began vibrating severely. Crawling in first gear, he got it home just as the driveshaft dropped. It was the car's only breakdown and one, he agreed, that was less of a nightmare than it seemed at the time.
The restoration spanned about three years and since its completion, it's been to local events and made trips to New Jersey as well as southeastern Pennsylvania and Carlisle.
"I go with it wherever I want to go with it now," Highhouse said. "I know my car. It's ready to go."
But what about that hood? Does It matter?
"At any speed, you flip the switch," Highhouse said. "It turns it on, the vacuum comes out of the intake, goes to the actuator, into the canister, back through the system and it opens up the door. Then when you want to close it, you shut off the intake air, basically, and it comes down. The neat thing about it is that at any speed you're going, you can be going 65 down the highway, decide to open it and it'll open. You would think that with it open at 65, it wouldn't close. You shut it off, it just loses the vacuum, it shuts nicely. It closes right up."
Yes, but does it matter? Does it make a noticeable difference in performance?
"No," Highhouse said. "The top speed I go with it is 70 on the highway, if I'm passing something. It sounds stronger when it's open. It has more of a 'purr' to it or whatever. It's getting the air right into that air cleaner. I don't see any difference in the temperature, I don't see any difference whatever, but it scares the other guys."
Abundant Rust and Bad Repairs are Real Possibilities
If the idea of scaring the other guys has appeal, a similar Road Runner could be just the car. Finding the right one might require some effort, as they're not without their problems. Rust is the biggest enemy and it frequently attacks the quarters, the tops and heels of the fenders, the leading edge of the hood and the trailing edge of the trunk lid, door bottoms, floor pans, the very rear of the frame and the area at the base of the backlight.
"With those windows," Highhouse said, "usually the water comes down and gets under that molding. It puts a big hole in most of them."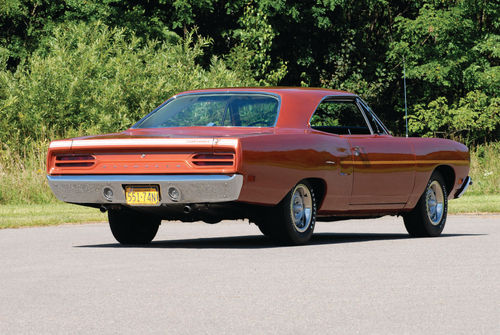 Some of the problem areas might be easily seen, but it's critical to remember that these cars rusted early and might have been repaired less than perfectly a long time ago when they were still on the road as everyday transportation. Buying a project or even a seemingly good one with which to start might include buying repairs that need to be undone. Not everyone is trying to hide problems, of course, and not every problem is tough to detect or correct. Consider the shifter in the feature car, which should be a Hurst Pistol-Grip.
"He had a little Hurst shifter with a ball on it," Highhouse explained, "and he said he didn't like the shift pattern with the Pistol-Grip because that's a very long handle and when you shift it, it's a very long throw. It's tight—it's very tight—but if you were going to race the car, you wouldn't want that, so maybe back in the day he was a wild man. I don't know. But he had it hanging in the garage and I called him back to get it."
Be Vigilant for Clones
Familiarity with the car will go far in evaluating its condition and completeness, but decoding its numbers will reveal how close it is to correct and whether it's genuine. Highhouse has seen his car looked over.
"You know they know what they're looking at if they look at the windshield first," he said. "That's the first thing they look for to see whether it's a clone. And that's a big thing because people clone them out, clone the Satellites out."
The numbers don't lie except in the case where a car has crossed over from clone to counterfeit, but Highhouse pointed to a quick test that knowledgeable hobbyists can use to rule out some "Road Runners" at once.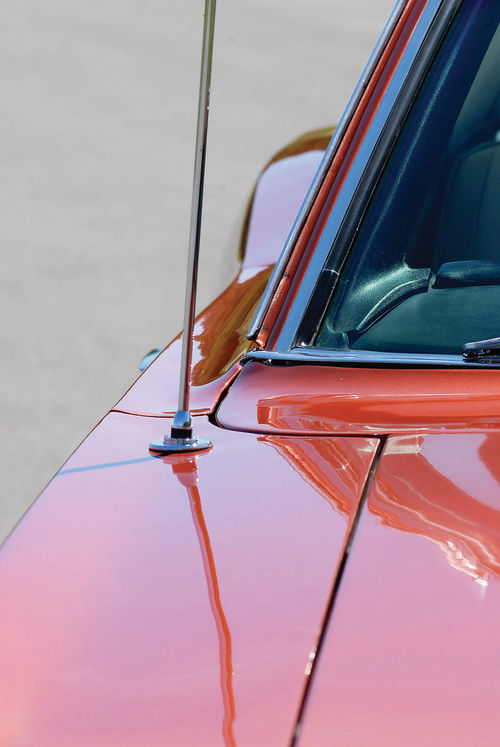 "They wouldn't even have to look at the VIN," he said. "They'd look in the window and see that the dash is different."
He did the necessary research before buying the feature car and he was right about its authenticity and about his decision.
"I'd never had a Road Runner," he observed. "I'd always wanted one…and I've always really liked them, but I was really happy to find one and get it and redo it. I'm still happy. Even after I've sunk a ton of money into it, I'm still happy with the car."