1959 Brockway Model 147 W

If You're Thinking of a Bigger Truck for Your Next Project, Consider This One's Size, Shifting and Lack of Frills.
TRUCK COLLECTORS HAVE at least one thing in common with car collectors—and that's brand loyalty. But then nothing is forever, of course, in either of those worlds.
"We were basically Mack people," said George Marushock. "We had a B model wrecker in the garage in the early '70s that we were in with our dad."
Marushock and his brother, Ed, of Throop, Pennsylvania, own the 1959 Brockway Model 147 W tractor featured here and although they were "basically Mack people," this wasn't their first Brockway. But then acquiring Brockway trucks did not signify a complete change in interest on their part, certainly not anything like going from a Ford to a Chevy or from a Packard to an Imperial.
Mack and Brockway, after all, were in many ways similar companies with more than a few parallels in their long histories. And if that's not enough, Brockway in its later years was owned by Mack.
A Horse-Drawn History
The first Brockways were carriages built in Homer, New York, in 1851 by William Brockway and it was not until 1910 that truck production began there under the direction of William's son, George. By 1912, truck production was underway at the new Brockway Motor Truck Co. in Cortland, New York, where it would remain for the remainder of the company's life.
The initial 1910 model, of course, was nothing like the feature truck, but rather an air-cooled open highwheeler somewhat comparable to the International of the time. That resemblance made sense, given that Brockway had received some assistance from Chase, a nearby company that's mostly forgotten today, but was also building an air-cooled highwheeler.
Early on, Brockway developed a relationship with Continental, which would provide gas engines to it for decades and then joined with other truck manufacturers to furnish military trucks during World War I.
Typically thought of as a regional truck with sales primarily in the northeastern United States, Brockway had nevertheless grown large enough by 1928 to acquire Indiana Truck Corp. The purchase was a wise move in that Brockway now had a wider market, but the timing wasn't right and as the Depression ground on, the Indiana expansion became too much and Brockway sold it in 1932.
But being forced to give up Indiana and undergoing a bankruptcy-driven reorganization didn't hurt the company's catalog. In 1929, Brockway had offered 19 models of one- to 71 ⁄2-ton capacity and in 1939, it listed 30 models rated at up to 15 tons.
Taking On a Classic Look
Something else happened in that period as Brockway's styling took on design features that it would maintain for decades. The general look of the grille, for example, would be recognizable on the feature truck and beyond, while other models' three-piece windshields would continue even later.
Brockway again won military contracts during World War II and devoted itself completely to that work. There was more military work to be done during the Korean War as well. But by the mid1950s, changes in the truck-manufacturing business began catching up to Brockway as some companies were joining forces in attempts to survive and others tried to go it alone.
Brockway found itself entertaining inquiries and proposals from several prospective purchasers and on October 1, 1956, it came under the control of Mack. Of the two, Mack was much more the assembly-line volume producer while Brockway operated with a build to-order philosophy. The combination was thus a good fit, something that almost certainly accounts for Mack's generally hands-off attitude toward its new division.
Brockway Had Its Own Dog
The feature truck was built when Brockway was under Mack's ownership, but its basics had been established long before Mack entered the picture. Trucks that were more modern would follow and, as a group, would bear a family resemblance via their angular fenders, large radiator shells and Brockway badges centered in their grilles. Many of the conventionals carried over the three piece curved windshield and all wore one addition that had been made after the sale to Mack.
The parent company had—and still has—one of the most recognizable symbols in the world with its Mack Bulldog, so Brockway came up with its Huskie. The sled dog appeared in 1959 atop radiators and on hood sides on a line of new trucks that were called Huskies (the featured model isn't one of them). Three years later, the chrome Huskie mascot was switched to a golden version in honor of Brockway's 50th anniversary.
Hit With Multiple Problems
The company did well through the 1960s and into the early 1970s, but then things began going wrong. The energy crisis hit the trucking industry hard, as did difficult business conditions. Brockway received orders, but it had to contend with the economy, with growing governmental mandates and with labor problems. Mack chose to sell the division, but the deal collapsed at the last minute and Brockway closed down in 1977.
A Mystery Truck
Not much is known about the history of the feature truck.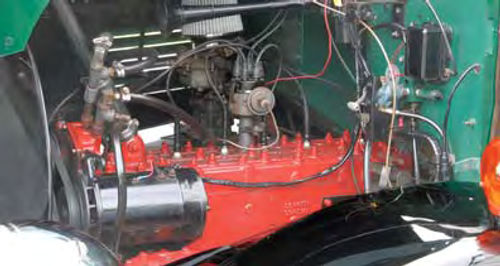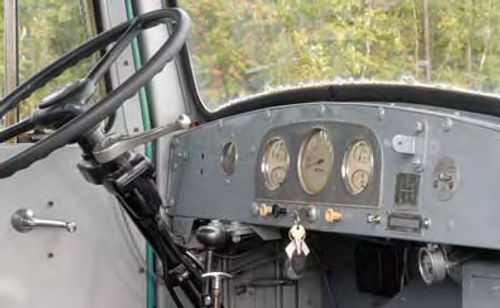 The Marushocks bought it early in 2003 from a local owner and since northeastern Pennsylvania was a loyal market for Brockways, it's likely that it has spent its entire life there.
It might have been a dump truck or a tractor, but when they bought the truck, it was a chassis and cab.
"Nobody's ever stepped forward with any knowledge of the unit," George said. "It's a good question. We always try to know some background on the units we have, but it's been very quiet."
The circumstances that led to their buying it don't do much to clear up the mystery: The truck had spent several years parked in a garage before its owner arranged to move it to a building owned by the Marushocks. That was when things became especially interesting.
"At the time we got this," George recalled, "we also ended up with a (Model) 361 Brockway. Originally we were just going to store them for him up in the other garage, but it ended up where he decided to sell and we kind of jumped at the opportunity.
"That one (the feature truck) we definitely decided to keep. The other one was up in the air. We were going to restore it, but we wound up taking it up to the Brockway show in Cortland and found a buyer. The guy was 99 percent sure; it was either the truck or an engagement ring. The engagement ring lost..."
It Started Easily… and the Tires Were Like New
The feature truck, like the 361, had been in storage long enough that it needed to be towed to the Marushocks' building, but much of the restoration work had been completed before they bought it. The Brockway had been rewired and repainted, George said, but had no interior.
"It was all there," Ed explained. "It was all new upholstery in plastic bags."
To be precise, its cab lacked more than just upholstery and that was one of the reasons that the truck could not be driven to its new home.
"We had to put the interior in," Ed said. "There were no seats in it."
The second reason had more to do with the mechanical components.
"The linkage on the carburetor that actually runs through the throat of the carburetor was frozen," Ed said. "We didn't even try to work with it. We took it off and we had another carburetor from another truck. We put that on to get it started."
With new spark plugs and fresh gas, the Brockway started easily and the good news didn't end there.
1959 Brockway Model 147 W
GENERAL
Front-engine, rear-drive, single-axle semi-tractor
ENGINE
Type Continental L-head six-cylinder
Displacement 427 cu. in.
Carburetor Two-barrel downdraft
Power 165 hp
DRIVETRAIN
Transmission Fuller five-speed manual, non-synchronized
Rear end Eaton two-speed
SUSPENSION & BRAKES
Front/Rear Leaf springs
Brakes (f/r) Air-operated drum brakes
STEERING
Ross cam and lever
MEASUREMENTS
Wheelbase 135 in.
Tire size 10.00 x 20, 12-ply tube type
"We were very lucky," George said. "If you check the tires, they're Goodyears, original, no recaps. In fact, when we got it, it still had the little bits of nubs. Zero miles on the tires."
It had chrome headlight rings— bagged for protection as the upholstery had been—and the Marushocks later found a new old stock floor mat with the embossed Brockway name.
The simple fix to get it running, the bagged parts, the tires and other breaks appeared mostly after they had purchased the truck, which doesn't help to explain why two admitted Mack fans wanted a Brockway. It started with a Brockway wrecker, George said, and by the time the truck shown here came along, they'd already restored a 1974 Brockway tractor that they still own.
"We already had a 361," George said, "so we really didn't need another one, but this little 147 kind of expanded our different models. It wasn't a duplication of something we had and the condition was just unbelievable. Mainly it was dirty (and needed) some elbow grease."
Good/Bad News on Projects & Parts
Few would be so lucky. The only realistic way to find a collector vehicle in the condition of the feature truck is by tracking down a very good original or by buying one that someone else has restored, but in this case, that's going to be more trying than usual. The first problem is that the newest Brockway out there is more than 30 years old—the feature truck is 50—and that's followed by the unpleasant fact that trucks tend to be used up and then scrapped. Even worse, Brockway was not a high-volume producer, so whatever the number of those that are out there, it isn't very large.
Finding a restorable example is one answer and there the news becomes a little better; it's most likely going to be easier to locate a Brockway in that condition, but what might surprise a restorer not experienced with trucks is the interchange that exists. The feature truck uses a Continental engine, Fuller transmission and Eaton rear; so did other manufacturers' trucks of roughly the same period and that improves the chances that parts can be found.
In most cases, though, buying parts will still require hunting, research or both, and that brings up yet another point to keep in mind. If any parts are available, the largest concentrations of them should be in areas where the trucks were good sellers. Brockway's popularity in the eastern United States suggests where to start the search since trucks no longer on the road there probably can give up some components and the parts that supported those vehicles when they were in service might remain to some degree.
"In this area," Ed said, "there's a chance you could find (Brockway) parts getting back that old. As far as just going into the store and buying parts, that doesn't happen, needless to say. With an old car, you still can find parts because there are so many manufacturers out there making them, but with trucks, that doesn't happen.
"If you can't buy it, you have to fabricate it, but it isn't that hard because the trucks are not that complicated. There are no frills. It's the basic necessities."
Some of the parts that are available, though, are surprising to say the least.
"There's a couple of places that wound up buying the tooling," Ed said. "You can get a roof for that truck, door skins, the back of the cab, that panel. For the newer ones, the '74s like the 361s, you can get them, but I don't know if you could get fenders for that truck. I don't think you would."
Needing a fender would lead right back to the area where the truck was popular; a new old stock piece might be found there, but chances are better that a repairable fender is waiting in a salvage yard. Even if the necessary piece of sheet metal is being elusive, of course, it probably isn't going to be the fatal blow to the restoration or even a major delay to its completion. It should be about the same with exterior trim.
"Some of the trim parts don't exist," George said. "In fact, we were fortunate with the nameplates. When we got the truck, there were none around. Then we got a complete setup at the Brockway show (in Cortland), new old stock."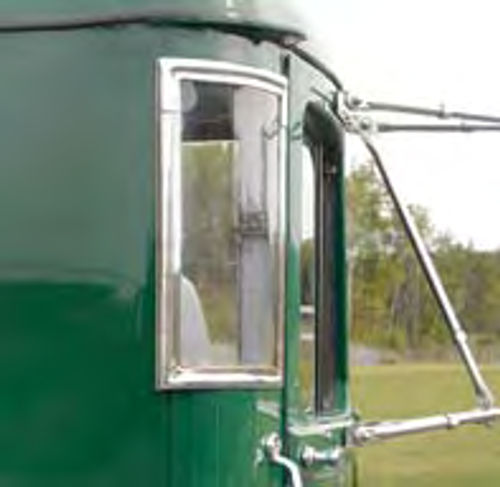 And then there are those truck-related things that might baffle, amuse or surprise an experienced restorer of passenger cars.
"They had so many hood variations," Ed said. "It's not so much the shape, it's the length. There are lots of different length hoods. I don't know how they had so many or why they had so many, but you would think on a truck like that—once again, no frills—you would have pretty much two or three choices. If you need a hood, there's a good chance that you'll go through 10 or 15 before you find the one you need. You might have to cut or add."
A Relatively Easy Shifter
Another variation between heavy trucks is the shifting. Unlike those that use perhaps a four-speed main transmission and an auxiliary with several more gears, the Brockway is relatively uncomplicated. With just a five-speed and a two-speed rear, driving it without a trailer isn't much more of a challenge than driving a car with an unsynchronized transmission…sort of.
Thanks to the diagram on a plate on the dashboard (unlike vehicles that display the pattern on the shifter, right under the driver's hand), the almost-conventional shift pattern is clear. It does seem odd initially, but after one or two looks at the diagram, it's obvious that placing first above reverse at far left makes perfectly good sense, since first is so low that downshifting into it would at least be unusual and finding it when stopped is simple.
The other four forward speeds are laid out in the conventional H pattern, but there's still the matter of double-clutching. It's unsynchronized and as manual transmissions are becoming rarer and rarer in modern cars and light trucks, the ability to shift even a synchronized example is becoming less common. For those who can drive a stick, though, Ed believes that crossing over to the Brockway would be accomplished without too much drama.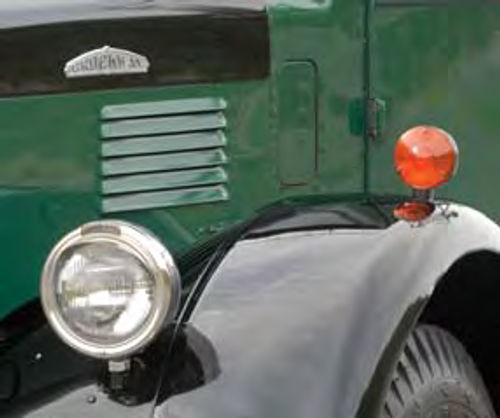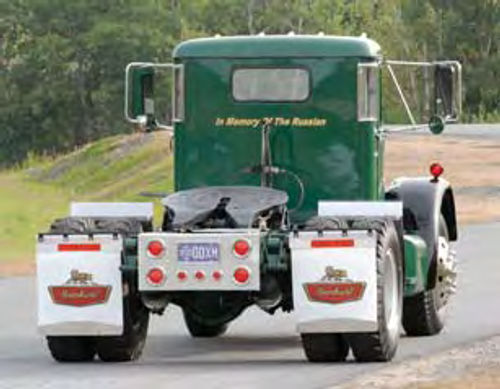 "If you have knowledge of driving a standard shift," he explained, "and if you spent a day in the truck, you'd have it. I'm not talking about pulling a load, but within a day…as far as the two-speed (rear), if you're just out joyriding, you don't have to shift the two-speed. It's got a cable running up and down the shifter that goes out to an air valve on the firewall. You pick the button up and all you really have to do is let up on the gas and then step on it. Don't rush, just take your time… That's something that comes with time."
Adjusting to the Truck's Dimensions
The part that's almost certain to be more difficult is learning how to judge something like the Brockway. The feature truck isn't as large as its modern counterparts, but someone who's never driven anything like it will find it large enough. Ed noted another consideration that could become a surprise during a new driver's first time behind its wheel.
"The hardest part you would have," he said, "is that the back is wider than the front. It's just like driving a dually pickup. You have to watch because the front end'll go through and the rest of it might not fit. That's the only downfall with that truck. The visibility is great and it's got such a short hood that it's easy to judge, but the back end is definitely wider than the front."
When he says it's "easy to judge," remember that he's an experienced trucker and most experienced truckers— along with experienced airline pilots, locomotive engineers and others who operate large machines—really do find their work easy. Developing the skills to move from seeing it as "possible to judge" to "easy to judge" could take some time, but Ed said the Brockway's relatively small size could work against a new driver who might sense that his truck is taking up an entire lane of the roadway.
"A later Brockway is a lot higher," he explained, "so it feels more proportionate. In something like this, you're sitting so low that it feels wide. The higher you are, you feel more proportioned. With the two of (the Brockways) sitting there, the 361 kind of dwarfs that truck and the 361 is not a big truck."
Trucking Runs In This Family
Admittedly, this doesn't sound like it's adding up in favor of a large truck as a collector vehicle. After all, even putting aside the learning curve that accompanies figuring out how to drive it, there are considerations like operating expenses and the cost of components that wear out and need to be replaced.
But the transition from restoring cars to restoring trucks might be less difficult than expected as Ed pointed out one advantage of a truck that nearly any restorer of cars should appreciate.
"I don't think it would be hard at all," he explained, "because first, when you're used to working on cars, you know that if you don't have the car pretty much up off the ground, you have a hard time under it. With this, basically, you don't even have to jack it up to get under it and work on it comfortably."
That work might require larger tools, George added, but then factoring in the body's minimal brightwork and trim, an absolutely straightforward interior, the mostly flat windows and the lack of power accessories can make a solid, fairly complete Brockway like the feature truck become tempting.
Those reasons are good ones, but for the Marushocks, there are others. As mentioned earlier, Brockways were popular in their area and are well remembered today. When the feature truck is shown, George said, it's often appreciated.
"An old-timer'll come over," Ed said, "and it's pretty neat to hear the stories. 'I drove one of them' and 'I pulled this' and 'I did that.'"
That would be enough to satisfy many collectors, but there's something additional that means even more to them.
"Another thing that's part of the drive behind us," George said, "is that both of us have been around trucks all of our lives. Our dad, George, was in trucking and we followed in his footsteps. That's why you see 'in memory of the Russian' (on the cab). That was his handle on the CB."
"Dad started all this trouble," Ed laughed. "I tell everybody that."
"The one thing is that our dad did not live long enough to see the hobby end of it," George said. "He passed away in '96. He attended (Antique Truck Club of America national) shows at Macungie as a spectator, but he never got to see us in the hobby end of it.
"That's one thing we regret, but at the same time, we still have his memory alive."