The Sporty Ford Brought Back Memories for Two Generations of This Family. Some Day It Will Pass Them Along to Yet Another Owner.
For some time now, whenever I encounter a vintage vehicle I can't help but think, "What if these old cars could talk?" The knowledge of their past ownerships would not only be invaluable, but entertaining as well. In fact, I'd say the impetus for my writing this article was that the 1955 Thunderbird on the cover of the April 2015 issue spoke to me. You see, I was lucky enough to know the previous owner of my 1956 Thunderbird… namely my father, Lorenz J. Dillenschneider.
Arrival of This Second Bird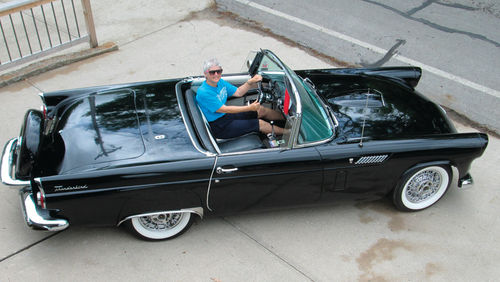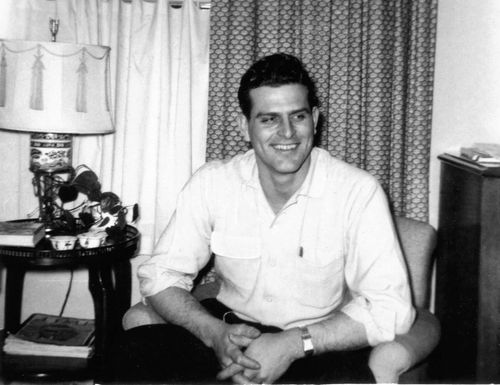 It was the summer of 1985 when, quite unexpectedly, my dad came to my house to show me this 1956 Thunderbird that he had just purchased. It was the second two-seater or "Baby Bird," as Dad liked to call it, that he had owned. His first Thunderbird was a 1955. While he no longer was behind the wheel of his original Thunderbird, I believe that he had reached a time in his life where he could afford some pleasure by acquiring this car to remember a time when he was younger and driving his first one. As most of us know, we have all had to let cars go that we really liked, but circumstances demanded the sale or trade of those beloved vehicles.
Dad was very pleased with this 1956 Thunderbird because he said that he had been looking for a reproduction or kit car when he found this one. I remember Dad's enthusiasm and could tell how proud he was of this car as he told my wife Martha and I all about how he had found and purchased it. He spoke of the fact that it had belonged to a Ford dealership in Springfield, Missouri. He told us how he had been scouring the classifieds in many newspapers, (remember there was no Internet in 1985); how he wasn't able to look at the car firsthand and had a good friend check out the car for him. The report that was given to Dad about this car was "Larry, it looks pretty good to me" and Dad purchased it sight unseen.
Again, you can imagine his enthusiasm when upon first seeing the car he realized that instead of buying a reproduction he had purchased an authentic 100% survivor. He talked about how this car only had the removable hardtop and how his first Thunderbird had both the hard and convertible tops. However, this was OK because he planned to drive only on warm sunny days and the convertible top wasn't necessary.
It's Better Than the Last One
The first Thunderbird he had was blue but as it turned out, he liked the black color better. His first Thunderbird didn't have a Continental kit like this '56 but he preferred the Continental addition as well.
In fact, he was so enthused about this 1956 car that he never got out of it when he was showing it to us. Dad would point and direct Martha and me to the particular item he wanted us to see, and he just kept talking about memories, until he left to show his "Baby Bird" to the next person. Or at least that's what I remember about that day when he showed us the car. You must understand that while I was listening to Dad talk about his newly acquired 1956 Thunderbird, my memory was racing back in time to Dad's 1955 Bird.
Dad Was My Co-Pilot
In 1956 Dad was 29 years old when he bought that first 1955 Thunderbird. I was nine years old. Occasionally Dad and I would "go for a ride" in the '55 and I would be behind the wheel.
We would go to a park area where there was no other traffic and had a "circular course" that I could safely drive. He would adjust the seat to the forward position, telescope the steering wheel to the rear position, scoot real close to me in the center of the seat so he could take over if necessary…and around and around we would go! I vividly remember the feeling of driving that '55 Thunderbird. While my young friends were riding bicycles or driving pedal cars, I was tooling around that park driving the real thing. I can almost hear Dad saying, "Not so fast Jim; press harder on the brake pedal" and "watch the road son." I can also remember the "discussion" between Mom and Dad after one of these adventures and the "promise" not to let Jim drive anymore. Fortunately for me, Dad would forget those promises by saying that I was growing up at a rate that justified letting me drive that car again and again.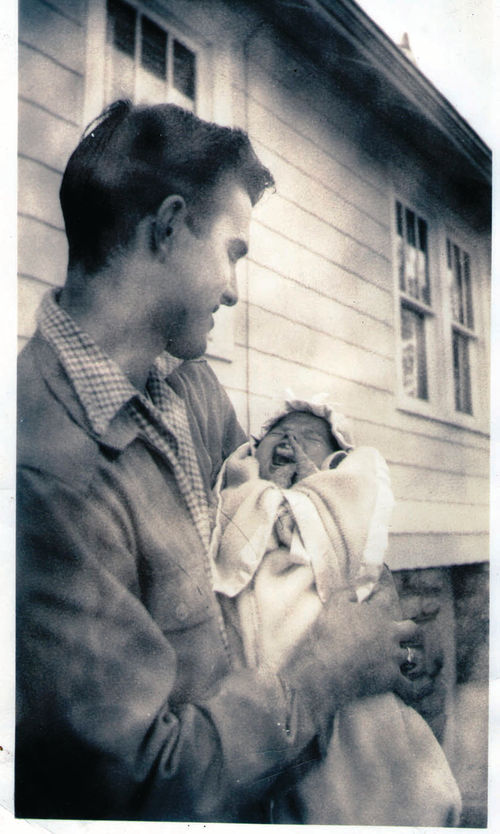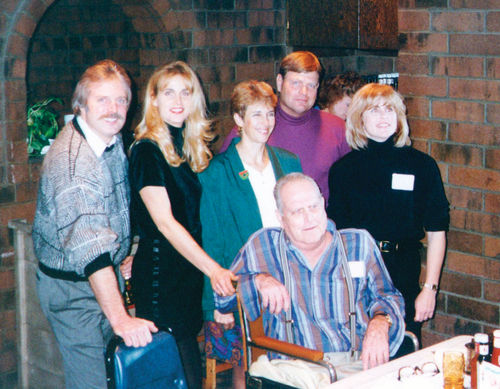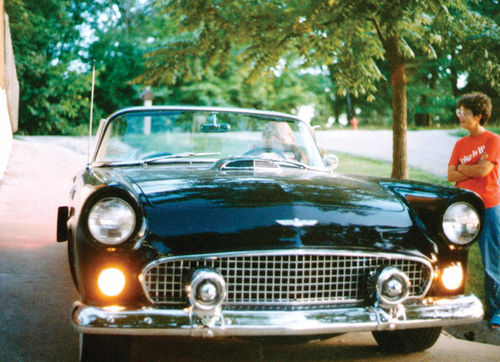 As I said previously, we've all had to let cars go that we really liked. I don't recall exactly when Dad's '55 Thunderbird left; I just know that time passed and our lives went on. I will say that my affection for automobiles probably began with Dad's first Thunderbird. Additionally, as my interest grew so did my car repairing abilities. When car repairs were necessary, the cost was reduced to only repair parts because my labor was free.
The Bird Finds a New Nest
By 2003 Dad had aged to the point where he no longer drove his 1956 Thunderbird. The car was just setting and Dad thought that wasn't good for it. So during a visit to his house to help with a maintenance item, Dad looked at me and said, "Jim, I've been talking to your brothers and sisters about the Thunderbird and we think you should have it." I looked back at him, smiled and said, "I think you're right!" I was 56 years old. Dad liked to say that I got a '56 when I was 56! We decided that I should become affiliated with organizations that he was a member of to get to know other Thunderbird owners and familiarize myself with sources of information and parts suppliers to ensure a good future for the car. Some of my best sources of information have come from the members of these clubs and publications such as Auto Restorer.
I also received a small library of other information and books on Thunderbirds. We made room inside my garage to protect its condition and provide an area to make improvements. Dad liked the fact that I had the interest and the ability to maintain and improve the car.
We also decided to resist the urge to fully restore the car with a frame-off restoration because as sometimes happens, the car becomes something you're afraid to drive or the victim to a stalled restoration.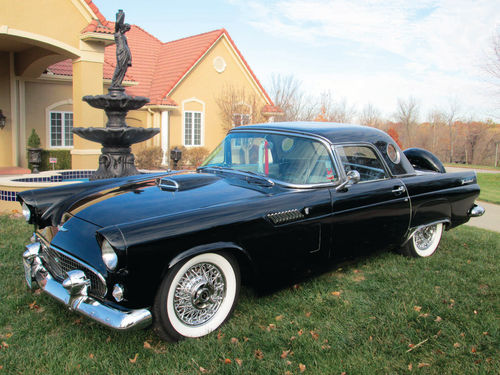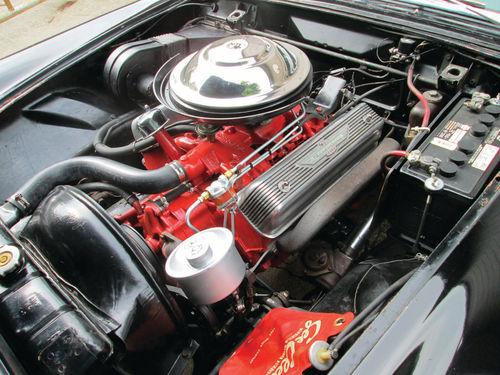 So we began what I have recently heard termed a "mechanical" restoration. By taking that approach we were able to enjoy driving and improving the car simultaneously. Under the heading of enjoying the car, my wife Martha delights in driving it. She refers to the car by its name, "Raven," and says it's "elegantly sexy."
Even though Dad was unable to be physically involved with me in working on the car, we enjoyed discussions concerning whatever improvements I was involved in. I believe he enjoyed the rides we took to test those improvements, and while Dad sat comfortably in the passenger seat on those test drives, I also could remember him sitting very close to me when I was nine years old and driving his 1955 Thunderbird.
In August of 2012 we lost my dad and as you might imagine, his 1956 Thunderbird took its place as one of the lead vehicles carrying my wife and me as we followed Dad to the cemetery.
My younger brother often says that he likes to "make memories." I think he's right. As you might have guessed by now, this writing is in part to honor my dad. But in addition, when the time comes for this car to meet its next owner, I plan to include this article along with all the other information I've collected about this car.
That way, this 1956 Thunderbird will be able to speak to them.