1955 Pontiac STAR CHIEF CUSTOM CATALINA
In Any Project, Parts Cars Can Be a Handy or Even Necessary Resource. With This Uncommon Pontiac, One Car Was Fashioned From Six.
MOST OF THE collector-car world would agree that an original car is an unrestored car or possibly a correctly restored car, and that's fine until something like Bill Diehl's 1955 Pontiac Star Chief Custom Catalina shows up.
"That's the original car I bought in 1993 or 1994," Diehm said. "It's the original body. It might not be the original chassis or anything else, but at least the hardtop body itself is the original one I bought."
Although the coupe was only about an hour away from his Gouldsboro, Pennsylvania, home, he didn't happen on it or see it advertised, but told a friend of his interest in one.
"I happened to mention that 'I would love to have a '55 Pontiac,'" he recalled. "'It's one of the cars that I've been looking for.' My friend said 'I know where there is one.'"
Of the several pieces that thus fell into place, the most surprising might be that his friend was able to immediately point him to the car that would provide the hardtop body shown here. Pontiac that year built some extremely desirable models — the Safari station wagon is an obvious example — but to describe the 1955s as "common" would be quite a stretch even though that's at least a little hard to understand. It was, after all, a good time and an important one in Pontiac's fairly long and complicated history.
It Started With the Pontiac Buggy
While a number of builders and wouldbe builders used the Pontiac name in the earliest days of the automobile, the only success among them was the Pontiac Buggy Company and the Oakland it introduced in 1907.
By 1909, William Durant had brought Oakland into General Motors where it might have gone on for another century had a twist in corporate thinking during the 1920s not interfered. The GM plan called for development of a range of new makes that would fill what the company perceived as gaps between its existing lines. With that, as John Q. Customer moved upward on his journey from an entry-level Chevrolet to the Cadillac that it was assumed he coveted, he would have no reason to leave the General Motors family as none of the necessary steps would be big ones.
It all looked great on paper and since nothing like it had yet been done, GM pressed on with what came to be called its "companion cars." Oldsmobile was joined by the upmarket Viking in 1929 and 1930 while Buick's lower-priced 1930 Marquette didn't make it to 1931. The LaSalle arrived in 1927 and held its place below Cadillac through 1940, a record that would be truly impressive if Oakland's companion car hadn't outlasted them all.
Oakland No; Pontiac, Yes
Oakland introduced the Pontiac in January of 1926 and the new lower-priced car hit its target squarely with more than 76,000 sales during the year to Oakland's 57,000. Cost undoubtedly worked in Pontiac's favor as its $825 price for a coupe or a coach — the only choices — compared favorably with the cheapest Oakland, the $975 roadster.
The saying about the handwriting on the wall was certainly coming true for Oakland and Pontiac, as Oakland sales fell from almost 51,000 in 1929 to 21,943 in 1930 and then to 13,408 in 1931. Taken alone, the numbers might be attributed to the impact of the Great Depression and that clearly was a big factor, but despite its own fall off, Pontiac played a major role in Oakland's decline. Its 1929 sales of 200,503 cars fell tremendously to just 62,888 in 1930, but rebounded to 84,708 in 1931. With that, Oakland was gone.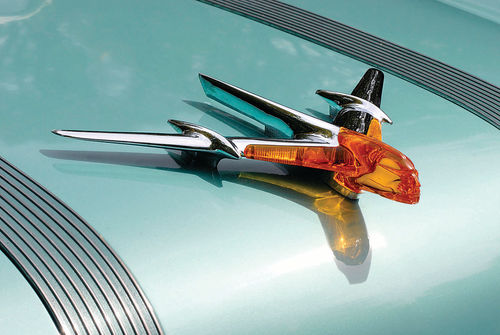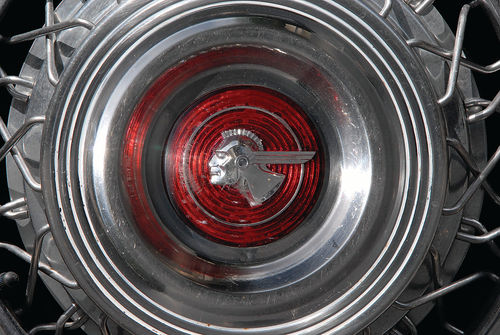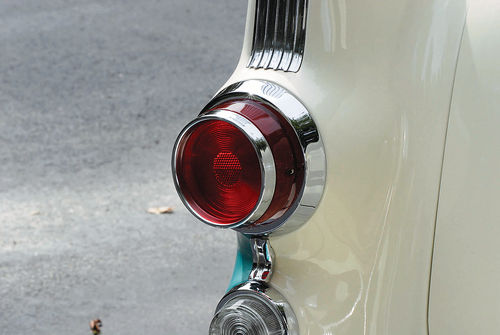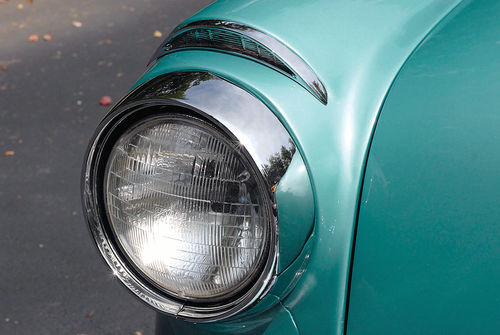 Adding "Silver Streak" Styling
Then 1935 brought a design element that would effectively come to symbolize Pontiacs just as Dagmars would later be associated with Cadillacs and portholes with Buicks.
The Silver Streak was a simple centered strip of brightwork travelling the length of the hood and down the grille and while it naturally would vary from year to year as styling evolved, it remained a constant. Moreover, unlike Dagmars and portholes, "Silver Streak" was a real name and would appear at times on the cars themselves and in advertising.
"This is the new Pontiac — a car that adds new luster to a fine old name," a 1946 ad explained. "It carries to an even higher level the tradition of quality that began when the first Pontiac 'Silver Streak' was introduced a decade ago. It is the finest of the famous 'Silver Streaks.'"
Considering its 1935 introduction, "Silver Streak" might have been a nod to one of Pontiac's distant relatives, the power cars built by GM's Electro-Motive Division to pull streamlined passenger trains. Wearing stainless steel skins, the train sets began appearing in early 1934 with the Chicago Burlington & Quincy's first "Zephyr." Only a handful were built, but their Art Deco looks turned them into instant icons and they remain so today. Regardless of its origins, though, the Silver Streak had had a good run at Pontiac by the mid-1950s; enough so that giving it up was something to be done gradually rather than abruptly.
Moving Ahead to a "Strato" Engine
By 1954 only Pontiac and Packard were still selling flathead straight eights in American showrooms. Each finally introduced a modern overhead-valve replacement for 1955 and at Pontiac it was a 287-cubic-inch, 180-horsepower V-8 called the Strato-Streak.
Like the engine itself, the name was a much better fit to the modern world. Boeing had flown its Stratoliner in 1938 and since it built only a few before World War II halted production, it was not well-remembered, but "Strato" and the connotation of high flight were too good to let go. Once the war ended, Boeing flew its B-47 Stratojet bomber in 1947 and its B-52 Stratofortress bomber in 1952.
The Cold War ensured that the general public was aware of such advanced machines and picking up "Strato" was a good way to bask in the reflection of the bombers' technology and performance. The prefix also appeared on furniture such as the Stratolounger, although it sounded better on a Pontiac engine.
Six In…One Out
The Silver Streak name and the streak itself would be gone by 1957, but at mid-decade the hood had two streaks and the rest of the car didn't lack for flash.
As a Star Chief, Diehm's Pontiac wears trim ranging from the brightwork on the lower quarter panels and the stars on the fenders and doors to the stainless steel around all of the windows and, of course, the illuminated Chief Pontiac hood ornament. Among its options and accessories are the Hydra-Matic transmission, power steering and brakes, six-way adjustable seat, power antenna and the continental kit.
"I have the power windows for it," Diehm said, "but the upholstery was done and I didn't want to cut the upholstery to put them in. It did not come with power windows. One of the cars I bought — one of the six I bought — had power windows, so I do have power windows."
Yes, it did take five others to complete the feature car, which was all there, but…
"No motor in it," Diehm recalled. "The motor happened to be sitting in the trunk, the transmission was tied up, but it did not look that bad initially. We got it home and I started tearing it apart, then I realized we had a project going.
"There was body rot everywhere. Total body rot, total. The chassis in some locations I just didn't like the looks of."
The chassis was deteriorated badly enough that making repairs seemed like the wrong approach, so a replacement came from New Mexico. Two of the others were a little closer to home in Pennsylvania.
"One of them came out of the woods in South Sterling," Diehm recalled, "and when I say 'the woods,' I mean they had to chop down trees.
"I bought one in Conshohocken, the four-door sedan that's sitting next to the garage. I brought it home, found out it had a broken gas line and a bad gas tank, which I had spares of, put them both in and we drove the car up until I put it in the garage to take parts off of to finish the two-door."
Acquiring those parts cars (and the others) might seem like an extravagance, but Diehm's description of removing that original body from its chassis strongly suggests that it was more of a necessity than overkill.
"It was basically easy," he said. "That came off because the bolts just rotted."
Even with such a deep supply of parts available, there were still others to be hunted down and there was the actual restoration. A flea market vendor provided complete NOS rocker panels and a friend gave Diehm the necessary instruction in fabrication when the time came to replace the quarter panels. The floor, by comparison, needed only minor attention to address some rot at the right front.
There was, of course, more to be done.
"The roof of it looked like a goat had run across it," Diehm recalled. "The roof was in terrible shape."
Major rust problems meant that the fenders were worse than the roof, but the parts cars provided good replacements. The doors were in about the same condition and while the parts cars had better ones as with the fenders, there were other options.
"We also bought parts," Diehm said. "We bought a set of doors and the reason I remember is that I called the guy for something else and he said 'by the way, don't put those doors inside your house because the rattlesnakes stowed themselves in them over the winter.' Little things like that wake you up."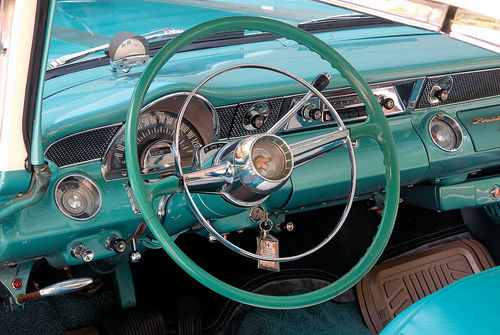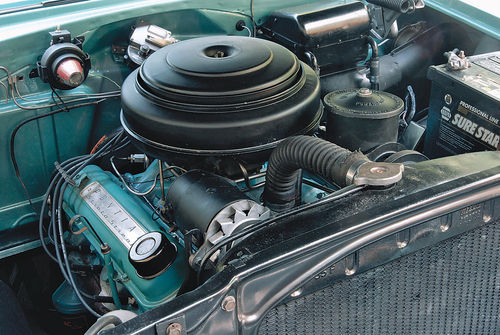 That was offset to some extent by the fact that, as mentioned above, the original car was complete.
"The original car," Diehm said, "had all of the chrome on it, all of the stainless on it. Everything was on that car, the side moldings — which are impossible to get — were on it. All the stainless around the windows was all there. Most of the stainless on that car came from that car, all buffed out, which I did myself very slowly in the garage, piece by piece. All the chrome came from a chrome shop in New Jersey. He did all the chrome and I still have pieces of chrome that are brand-new and have not been put on the car. They're still wrapped."
The interior was reupholstered and the headliner was replaced, but the steering wheel is from the original car and Diehm said that since it has several small cracks, it's in line for restoration down the road. Of the several extras he has, one is not much more than the steel ring while the other is NOS but, unfortunately, incorrect for a Star Chief. The gauges are correct and most required nothing more than cleaning and polishing.
"I know all the gauges are out of the four-door," Diehm explained. "The radio is out of the four-door because it worked. I have six radios, so rather than try to fix them, take that one out, put it right in and turn it on. The power antenna came out of the four-door, the six-way manual seats came out of the four-door. That four-door was the best buy I ever made of all of them because I drove it for years."
Swapping the seats from a four-door into a two-door — although technically possible in most cases — would be somewhere between pointless and absurd, so what really happened here was the transfer of the rails and adjustment mechanism from the four-door car's seats to those in the two-door.
Built to Be Driven
Mechanically, the Pontiac received at least as much attention as the body and interior, beginning with the replacement chassis.
"I had to sand it down and peel off the paint," Diehm said. "I guess being out in New Mexico, no moisture, no rust. I pulled the rear and put my rear in it. The whole front end is brand-new. Everything that went in is NOS or rebuilt. I'm going to drive the car and I don't want to take a chance while I'm driving it, so everything went in new."
The rear was rebuilt, too, as were the driveshaft that came from one of the other cars, the transmission and the engine, which is the one that was in the original car's trunk and, as it had no substantial problems, it was the best candidate.
Parts for that phase of the project in some cases needed to be tracked down.
"One of the things I did have a difficult time finding," Diehm said, "was NOS motor mounts and tranny mounts. I've got some new sets because every time I saw them, I bought them just to make sure. The front mount is kind of a strange one and the tranny mounts are actually what holds the engine up, so I've got the other sets of those.
"The 'Strato-Streak' on the right valve bank, where it says 'Pontiac Strato-Streak,' you can't find those pieces of aluminum. I happened to have two of them and I don't know how (another owner) found me, but I gave one to him as a gift. I said 'yeah, I do have an extra one.' He said 'I'll buy it.' I said 'no, you won't' and we met in Florida. I brought it down."
Stockpiling for an Uncommon Car
Finding body components is likely to be about as difficult as finding the "Strato-Streak" badges and Diehm agreed that since his Pontiac is an unusual car, backup trim and sheet metal are important to have in the garage.
"I have extra doors, extra fenders, extra hoods, extra trunks, extra bumpers," he said.
If things are starting to add up against considering a Pontiac project like his, knowing about parts sources might counter that concern. Diehm gave the example of the rubber parts he purchased from Ames Performance, but he also mentioned a name that could come as a surprise.
"The windshield is Chevy, the back window is Chevy," he said. "All the chrome outside around the windows, that's all Chevrolet. I bought an awful lot of stuff for Chevrolets from Danchuk. 'I've got a Pontiac. What fits?' 'Okay, you can use this, this and this.' They were great, all these guys."
A less-obvious benefit to the Chevrolet connection lies — almost paradoxically — in the number of 1955 Chevrolets versus the number of 1955 Pontiacs out there. If a Pontiac like Diehm's is appealing as a restoration project, it's going to be important to determine whether its rust and other metal problems are typical or unique. Looking at similar Pontiacs and talking to their owners is possible, but looking at Chevrolets and talking to their owners is easy. When it comes to an unusual car, information gained from others can help in deciding whether a given problem means a particular vehicle should be passed by or whether the problem is common and shopping further might therefore be a waste of time and money. Not every Chevrolet problem is a Pontiac problem anymore than every Pontiac problem is a Chevrolet problem, but too much information is a good thing in this case.
Diehm said that the rusted quarter panels, rocker panels and lower fenders on his cars are typical and that grille components and even parts of the bumpers rust. The right front floor on two of his cars needed attention and he said the lower edges of the hoods and trunk lids from several of the cars show various amounts of damage. Headlight buckets and doors and the surrounding sheet metal are potential rust areas as is the frame near the rear axle. Although it didn't show up on any of his cars, the bottoms of the pillars are often weak on a badly rusted example and in very rare instances a small crack can develop at the dip in the beltline.
Most of the potential problems can be eliminated or at least minimized by following his recommendation to start with a car from a dry climate. Similarly, a car with all of its trim will place the project further ahead right at the beginning.
Planning for a Road Trip
The feature car's restoration was completed in December of 2012 and although that sounds like almost two decades were spent on it, Diehm said that other projects intervened. Once it appeared to be ready, there were short rides at slow speeds on back roads to be sure that it truly was ready and then came that first show about seven or eight miles from home.
"Not that I was afraid," Diehm said, "but I probably drove way below the speed limit."
Minor glitches were corrected and although it still hasn't covered many post-restoration miles, he has plans. One is to take it to Florida during the winter, but the more ambitious possibility is to drive it to Chicago and on to California via Route 66.
"If I can get air to work in that car," Diehm said, "I might still do that. That car was built to be driven, not to be a trailer car. I'm going to run the daylights out of it as much as I possibly can."