Some Vintage Cars Are Rare and Others are Extremely Rare. This 1911 Luverne Is One of Two Known to Still Exist.
A famous century-old Luverne automobile that dropped out of sight years ago is back in the limelight, thanks to a restorer's involvement with the car.
Collector Roy Bernick, 87, of Waite Park, Minnesota, is reviving the rare Minnesotamade Luverne Thirty that the late Gordon "Gordy" Sundgaard of St. Paul bought in 1950. While Sundgaard owned it, the car was a fixture in Minnesota antique-car circles from the 1950s through the '70s and beyond.
"Over the years, everybody's seen it because Gordy drove it a lot around Minneapolis," said Bernick, who unveiled the recently shined-up Luverne at a meet in Mankato, Minnesota.
"Dad was real outgoing and he was always willing to stop and talk about it and give somebody a ride," Sundgaard's son Kip, 60, recalled. "He'd even give a kid a ride in a wet swimming suit or whatever. He didn't care. He said, 'If I can't drive the car, I don't want it.'"
When the auto appeared in an early 1960s ad for another Minnesota product—3M masking tape—the car's fame spread well beyond the borders of its home state.
Show Participation Leads to Sale
Preparations for a planned showing of Minnesota-made autos during the Antique Automobile Club of America's Mankato convention actually led to the sale of the Luverne car to Bernick.
Bill Dirnberger, a Minneapolis car collector and Minnesota AACA member who helped organize the Mankato show, phoned Bernick to ask if he'd bring his 1919 Pan sleeper car, made in St. Cloud, Minnesota, to Mankato. He agreed.
Furthermore, Bernick agreed to also help clean up the Luverne for the show. The car had deteriorated following Sundgaard's death in 1982, whereupon the car passed to son Kip, who acknowledges, "I'm not really a car guy."
Consequently, he had been more reluctant than his father to drive the Luverne. "If you cracked one of the cylinders or something, you'd really be out of luck, I think."
Kip had the Luverne running "possibly four" years ago after he and a friend made a new horseshoe-shaped carburetor float.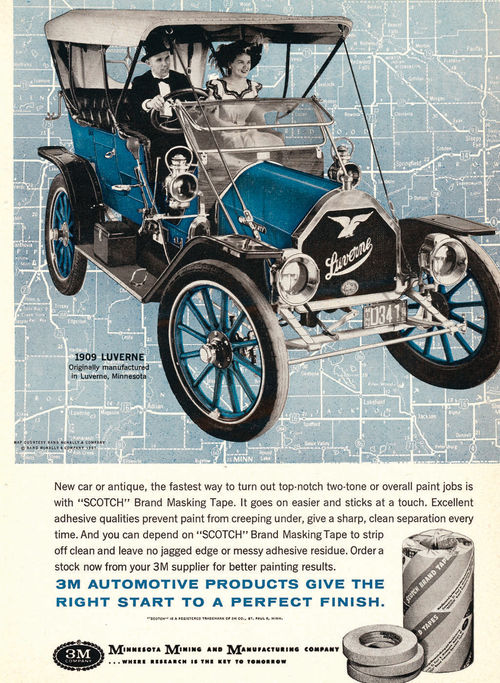 "I put it in...and it broke in half." He subsequently glued the broken float, after which the car ran for a while but then quit again.
"Nobody wanted to touch it in Minneapolis—to clean it up," recalled Bernick, who began collecting cars with the purchase of a Brush in 1953. "It was so bad. The brass was just terrible."
Accordingly, early in December 2015, Bill Dirnberger hauled the Luverne car from Kip Sundgaard's place in a St. Paul suburb to Bernick's shop near St. Cloud.
A One-Family Car for 65 Years
The car was in such bad condition at the time that when one car club member saw the Luverne he went so far as to admonish Kip, Dirnberger said. In addition to the tarnished brass, the Luverne's engine wasn't running, its cape top was stained and worn and the driedout leather upholstery had begun to split.
"You've got it sitting in a dirt-floor garage," Dirnberger recalled the club member saying. "You don't take care of it!"
Bernick and Kip Sundgaard subsequently struck a deal and the car changed hands at the end of 2015 after having spent 65 years in the Sundgaard family.
"I don't have the modern conveniences of a heated garage," conceded Kip, who lives on an older farmstead. A barn where the Luverne was stored for a time fell down about eight or 10 years ago.
He said he also didn't have time to keep up with the car's maintenance. "At the time I sold it I'd been retired for two years and I hadn't even looked at it. But the car looked like a million bucks down in Mankato," he said. "Roy has the resources to restore it."
Bernick and Gordy Sundgaard, who met right after World War II, had something in common before the car sale, Kip noted. Sundgaard was a paratrooper during World War II; Bernick became a paratrooper in the Korean War.
Now both men also are owners of record of the same rare Minnesota-made automobile.
"I think the car's in a better place now," Kip said. "But letting go of it was hard."
Bernick's Restoration Work
Since early 2016, Bernick has worked to bring the car back to life.
In March, Dirnberger visited Bernick's shop to discover that "Roy had all the brass off the car and all the stuff that could be removed."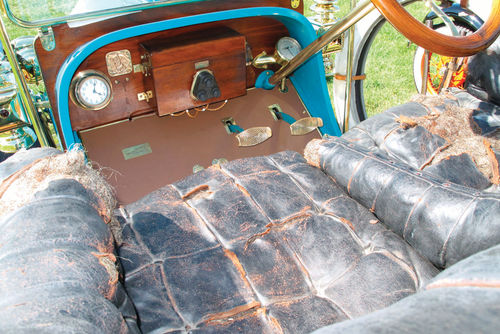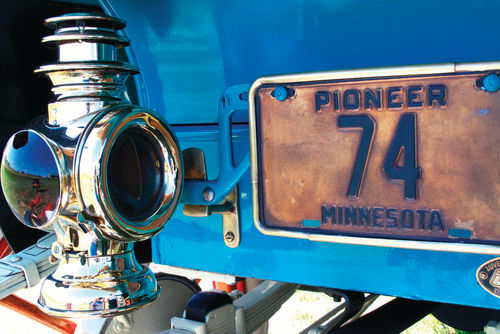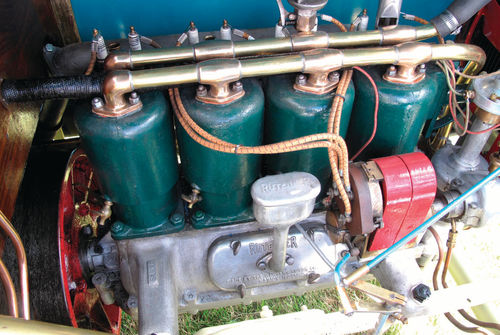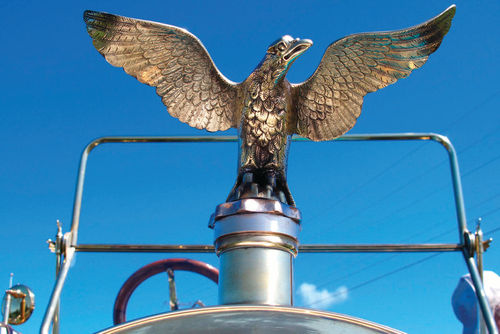 The car, however, was gone—off to a body shop that touched up and buffed the paint after repairing a hole where a severed fan blade had punctured the Luverne's hood.
Bernick made a muffler for the car, which had none when he got it.
A machinist re-raced the hubs so Bernick could install better wheel bearings: roller bearings in place of the original ball bearings.
Good Mechanicals are Crucial
"I drive most of my cars," said Bernick, whose oldest in a collection of 50-plus is a 1902 Victory Electric. "I'll have to show this one off. It's getting more attention than the Pan."
Although Bernick and his mechanic got the car's 4-cylinder Rutenber engine running, "it was spewing oil out so bad— they had oil coming out the exhaust so either a piston is bad or something else," Dirnberger said. "They didn't want to risk throwing a piston through the block."
Next on the to-do list, therefore, is rebuilding the engine, as well as replacing the upholstery and top, Bernick said.
Otherwise, he'll leave the car as it is, which includes a non-original body color and an aftermarket eagle hood ornament that Sundgaard installed. Kip Sundgaard said that the car, originally black, was painted a vivid blue color that his mother Joanne had selected.
Sundgaard Had Found the Car in '49
Gordy Sundgaard first heard of the car in the late 1940s, according to an article he wrote for a 1974 magazine published by the St. Paul AACA chapter.
"The romance between Luverne and I started in the back seat of my 1913 Ford in 1949, where my sister-in-law Alice and her mother, Emma, were riding," he wrote.
"Emma said, 'Gordon, you should have seen that old Luverne this man used to store in my garage.'
"Well, I got curious and found out it was 12 years before that, 1937 or so, when the man had stored his car in Emma's garage. She remembered his name, so I called him. He still had the car but didn't know if he would sell or not. After many calls and stalls, he finally showed it to me.
"It was Decoration Day weekend in 1950. The Luverne's owner started high, I started low and we met in the middle."
What Year Is It?
Sundgaard had variously identified the car as a 1908 or 1909 Luverne and said it was built for a St. Paul druggist.
It's more likely a 1911 model, according to automotive researcher Robert R. Johnson of Minneapolis. His search of early Minnesota auto registrations reveals that the Sundgaard car, Job No. 618, was first registered in 1911 to a Mary A. Hovorka of St. Paul.
Three other pieces of evidence support Johnson's conclusion.
One, the May 26, 1911, Rock County Herald of Luverne, Minnesota, reported that the local automaker "shipped one of its 30 H.P. cars to Dr. Hovorka, at St. Paul, yesterday."
Two, the "6" in the car's job (or serial) number, 618, signifies a 1911 model, according to other Minnesota auto registrations and a collection of Luverne automobile build records.
Three, the 1908 Luverne Thirty autos had a wheelbase of 108 inches, which increased by 2 inches for 1910 and 1911. Bernick says his No. 618 car has a 110- inch wheelbase.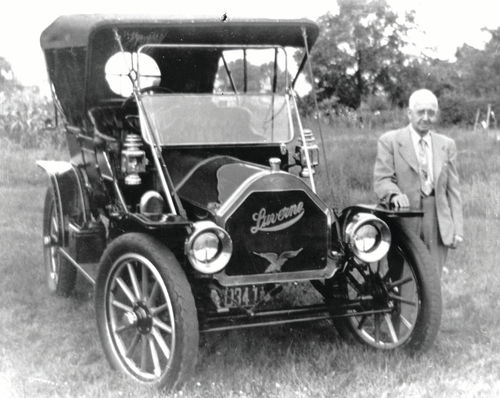 Thinking back, Robert Johnson recalls riding with Gordy Sundgaard in the Luverne during a Dearborn, Michigan, tour. "We were going like crazy down the road in that car. Oh, it ran real good at that time."
Some History of the Luverne and Its Manufacturer
Brothers Al and Ed Leicher, carriage makers in Luverne, assembled their first auto in 1904—a kit car purchased from St. Louis.
"As time went on we made improvements of our own," Al recalled in a 1950 interview, "and we always put emphasis on sturdiness."
The brothers discontinued making 2-cylinder autos in 1909, thereafter using Beaver, Continental and Rutenber 4- and 6-cylinder engines instead.
They built at least one car in late 1916 fitted with a Buda engine, according to build records, and reportedly built at least four late Luvernes equipped with Ferro V-8 engines.
The Luverne company also produced a variety of special models: a rugged hill-climbing Montana Special, hearses, trucks and fire engines.
A 1965 Minneapolis Tribune article quotes Gordy Sundgaard as saying he bought the car from its second owner. He restored the car in 1958.
The first two owners barely drove the Luverne, which displayed an odometer reading of just 3358 miles when Sundgaard bought it.
In fact, the car still had its original top, leather upholstery and, possibly, its factory tires. "They were so hard that the flat spots wouldn't round out even after 90 pounds of Freon were put in," Sundgaard said.
Meeting the Makers
Very few people with old cars have the opportunity of meeting the people who made their vehicle but that's not the way it was with the Luverne.
At one point Ed and Al Leicher came up from Luverne, Minnesota, to see Sundgaard and his car, and invited him down to the factory to be their guests at the town's 100th anniversary and to drive the Luverne in the town's Grand Parade.
While there, Sundgaard complained to one of the Leicher brothers about the car's stiff clutch pedal, according to son Kip Sundgaard.
Specifically, he asked if there was any way to make it easier to operate. The answer: No. The Leichers said they had installed a heavy duty clutch "because we didn't want people to burn them out pulling Model Ts out of the ditch."
The Era of the Luxurious Luvernes
From 1912 until the end of auto production in 1917, the Luverne Automobile Co. staked its fortune on a line of big, handsome luxury autos.
"We got to painting ours brown so they'd look nice for the Minneapolis (auto) show," Al Leicher recalled in a 1950 interview. "We upholstered them with brown Spanish leather and put on brown tops. Our later models were all big and sturdy. People got to referring to them as 'Big Brown Luvernes,' so we just adopted the name."
The company remained in family hands until the early 1970s, but by then it was producing fire engines.
As for the cars' reputation for being sturdy, Bernick learned about that aspect of a Luverne automobile when he recovered the running boards with linoleum.
Removing the running boards which normally are held to braces and the fenders by just a few bolts became an unexpectedly arduous task.
"They're screwed and nailed and everything," Bernick said. "Everything is so tied together that it wouldn't come apart even if you hit something hard. It's engineered so well. That's why they did a good job with fire trucks. They built the fire trucks this way. They were built to last."
Only a Few Remain
Of the several hundred Luverne cars built from 1904 to 1917 by the small Luverne Automobile Co. which never had more than 20 employees, only a handful of the vehicles are known to survive.
Besides the Sundgaard-Bernick car, at least one complete and original Big Brown Luverne remains. The car, completed in late September 1915, is a 7-passenger touring car that could be considered either a 1915 or 1916 model.
Three, perhaps more, of the early Luverne 2-cylinder cars are also in collectors' hands.