Feature Restoration 1968 Ford Mustang GT 390

The Original Pony Car Has Continued to Evolve Over the Years, But For Decades It's Stayed True to Its Roots.
AST Spring, A Ford Motor Co. press release called the Mustang "an American icon," a claim not far from the truth as the then-upcoming 45th anniversary of the Mustang's introduction approached. Among the reasons it cited as support was the badge's uninterrupted production.
"The good thing is that Ford kept making the Mustang," agreed Bob Seidel, whose 1968 GT 390 is featured here. "They didn't do the Camaro thing and stop making it. They kept the Mustang alive."
It's easy to look back and accept that Ford was simply being smart for all those years, but if the Mustang had turned out differently, that strategy might've led to a distinctly unpleasant result. As it happened, the Mustang provides almost a textbook example of overnight success thanks to a number of factors that came together in its favor, critical among them being an unlikely ancestor that arrived for the 1960 model year—the Falcon.
The Falcon Legacy
Ford unveiled the Falcon on October 8, 1959 as one of Detroit's answers to the growing popularity of compact "foreign cars." Like American Motors' Rambler American and Studebaker's Lark that already were in production, the initial group of Big Three compacts was—with the exception of Chevrolet's rear-engined Corvair—completely conventional. Their front-engine-rear-drive layout was traditionaland a potential customer looking at one of these new compacts on the showroom floor saw something reassuringly familiar, but smaller.
In the Falcon's case, small meant a wheelbase of 109.5 inches, a difference of 9.5 inches from the full-size 1960 Ford. In its cheapest form—the two-door sedan—the Falcon listed at $1912 and Ford sold 436,000 of them. Granted that Ford's dealership network played a part in that record, it was still an extremely impressive performance.
And then as now, something about small cars made drivers want to go fast. More than a few imports of the time offered some kind of performance variant. The Mini Cooper is almost certainly the most widely remembered ofthe time.
The Falcon, though, was limited to an 85-horsepower 144-cubic-inch six. That was fine for a compact family car and the 101-horsepower 170 that arrived in 1961 was a definite improvement, but it didn't exactly explore the limits of Falcon's potential.
Still, it did have potential both on its own and because of developments at Ford and its competition. It had literally walked away from the Corvair, which sold just 250,000 examples in its first year and 298,000 in its second to the Falcon's 474,000. But Chevrolet had been gradually retargeting the Corvair toward that segment of the small-car market that valued sporty at least as strongly as it valued economical. It fired a major salvo in 1962 when it launched the Corvair Monza Spyder with its turbocharged 150- horsepower six.
Catering to the Youth Market
The Falcon had no direct response to the turbocharged Corvair, but it did have Lee Iacocca calling the shots as general manager of the Ford division, and he knew that the Falcon's platform could easily serve as the basis for a decidedly different kind of sporty Ford. It was beginning to happen even before the Corvair Spyder came on the scene.
One of Iacocca's requirements was that the new car would have to appeal to young people and while a two-seater like the original Thunderbird was discussed, a small four-passenger car was seen as reaching a broader market. The goal was to introduce the car at the New York World's Fair in April of 1964, but even using the drivetrain, mechanicals and basic structure from the Falcon, Ford would have to move quickly and it was not until August of 1962 that a design was ready to go through the approvals process. It used the now-famous long hood and short deck that Iacocca said had struck him when he saw his first Continental and as it worked its way toward production, details were added to give the Mustang a look like no other car.
The cove on each side trailed from fender to quarter panel to end in a fake scoop, while taillights each carried three vertical bars and the grille carried its galloping horse.
The original Mustang was nothing like the Falcon, but it had inherited more than components from that older model. Affordability Was among the most important of the shared attributes and when introduced on April 17, 1964, the base Mustang listed at $2368. While a base 1964 Falcon Was Just $1985,the Mustang seemed ready to score a direct hit on Iacocca's youth market. That it would later evolve into a performance car, create its own market segment and find buyers who could only dream of their youth was an upcoming bonus.
The Birth of the Pony Car
Whatever the breakdown of its customers' demographics and tastes, the Mustang truly was the essence of the "overnight success" cliché and although more expensive than the Falcon, it was obviously seen as affordable by the public. Ford sold almost 127,000 of the "19641 ⁄2"Mustangs before the 1965 model was introduced on October 1, 1964 and then followed up with 559,000 cars in the first full production year.
The most telling point might be that the early Mustang was available with anything from the Falcon's six to a V-8, but only about 25 percent of the 19641 ⁄2 cars and 35 percent of the 1965s were sold with sixes. Other manufacturers had already been toying with what would eventually be known as the muscle car formula by dropping bigger-than-stock engines into early compacts and by now the Falcon offered a V-8, but they were existing cars. The Mustang was new and had made its own place, one that would soon be known as the pony car market.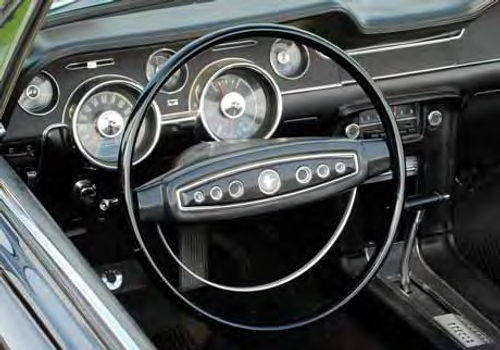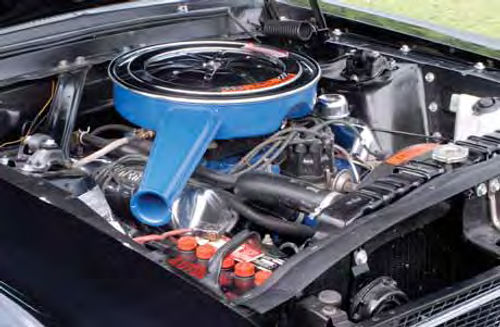 Ford chose not to tamper with something that worked so well and therefore kept the original in production through 1966 with only the most minor changes. Once again, it was the right call, given that 1966 sales amounted to more than 600,000. But in the mid-1960s, tradition allowed the Big Three's models to go only a few years with no significant changes and for the Mustang, that period was over. To continue the car's momentum would require a fairly heavy restyling, and it happened with the 1967 models.
Different…But Still a Mustang
The 1967 Mustang was a different car as a result of the restyling, but being all-new didn't make it unrecognizable. It was, in fact, a nearly perfect evolutionary step; the taillights had been split into three pieces each, the fastback's roofline had been extended rearward, and the front clip had been tweaked to seem bigger and bolder without becoming ridiculous.
The knowledgeable driver couldn't confuse the '67 with a 1966 model and even the most casual driver would know that it was a Mustang.
It was again possible to option a Mustang to suit nearly any taste by choosing from a list that included bench and bucket seats, air conditioning, power steering and power front disc brakes. Three- and four-speed manual transmissions were offered, as were sixes and V-8s, but the 289 was no longer on top. That honor now went to the 390, which itself was bumped downward one year later by the 427 and the 428.
1968 Mustang GT 390
GENERAL
Front-engine, rear-drive, five-passenger convertible
ENGINE
Type Overhead-valve V-8
Displacement 390 cu. in.
Bore x stroke 4.05 in. x 3.78 in.
Compression ratio (:1) 10.5
Carburetor Four-barrel downdraft
Power 325 hp @ 4800 rpm
Torque 427 lb.-ft. @ 3200 rpm
DRIVETRAIN
Transmission Three-speed automatic
SUSPENSION & BRAKES
Front Independent, coil springs
Rear Solid axle, leaf springs
Brakes (f/r) Disc/drum
STEERING
Recirculating ball
MEASUREMENTS
Wheelbase 108 in.
Length 183.6 in.
Height 51.6 in.
Width 70.9 in.
Track (f/r) 58.5/58.5 in.
Weight 3285lb.
Tire size E70 x 14
The availability of a 427 or 428 in a car that could just as easily have been ordered with a 200 six does show that Ford hadn't forgotten an earlier advertising claim that the Mustang was "the car designed to be designed by you." A dealer rarely raised an eyebrow when a customer wanted a specifically optioned car…as the original owner of the featured Mustang almost certainly did.
A Special-Order Car
"With the color codes and the trim package," Seidel said, "this car is one of six that were made that way. What makes this thing kind of unique is that most of the GTs they made were 289s. They made some, 1000 or so, of the GT 390s and of those, most of them were four-speeds. Back in 1968, if you had an automatic, it was your grandma's car,so that's what makes that vehicle a rare car, plus it's a convertible."
Grandma aside, the automatic isn't the most baffling part of the car's original equipment list, but to appreciate that, it's important to know that the Mustang was sold new in Texas. All of that combines to virtually guarantee that the car was built to someone's order.
"Back then," Seidel said, "that was common practice, so apparently, the guy who ordered this knew what he wanted. No air and it's black, triple black. I can't understand that. Go down south and most cars are white or a lighter color. And this car is original. The black is called Raven Black and that's the color it was born with, Raven Black."
An Uncommon Rust Problem
Seidel and his wife, Carol, bought the convertible in 1997 from another collector not far from their Binghamton, New York, home, but since the Mustang had spent its working life in Texas, it lacked the rust that would likely have attacked a local car. From other Mustangs that he's owned and seen, Seidel has a good idea as to where it would have rusted.
The shock towers and the shackles' mount areas need to be checked, he said, as do the floorpan, trunk floor and the rocker panels. Quarter panels, wheel openings and the bottoms of the fenders and doors are also prone to rust.
But Seidel noted one area on early Mustangs that not only rusts, but is a nightmare to repair correctly. He knows because it happened on a 1966 that he owned.
"Up where the windshield meets the top of the car," he said, "you've got the louvered vent area. Ford never painted the inside of that, so what would happen is the rain would come in there and the rain is supposed to go out these little holes in the side, but also in that area were two metal vents that attached to that and brought pressure into the car when you opened your vents. Rain would come in and it would lie in there if the car wasn't being moved and the drains happened to be plugged. It would lie there and the water would rot it and come inside the car.
"The only way to fix that isto drill out over 150 spot welds, tear that out and build a new cowl. And the vents that you get now, the replacement vents, are plastic."
For that reason, a Mustang whose interior is water-damaged is one that should be looked over very carefully. Seidel said a low-budget fix is available, but it's something that not every collector is willing to accept.
"You buy this plastic cover that sits on the outside over the grille and it's got little fingers," he said. "You put them in there, turn the fingers and that locks it in and seals it. The plastic part is cheap, but it looks like heck and you're not going to get any fresh air in the car that way because you just closed the port where the fresh air can come in."
Aftermath of a Bad Valve Job
Dealing with a rusty Mustang won't be easy, but that's at least partly offset by the car's popularity. Expertise, information and parts are widely available. "I proved it with the '66," Seidel said.
"You can build a Mustang."
That kind of support and their uncomplicated nature make Mustangs good projects for inexperienced restorers, especially if the car is one of the more affordable basic versions, but there remains the need for common-sense precautions.
"You've got to be careful,"Seidel Said. "You've got to know what you're looking at and if you're not sure (or) if you're new into it, you need to take someone with you that's not. Take somebody with you that can scope it out, that knows where to look and knows the right questions to ask, knows what belongs on the car and what doesn't belong on it."
If that's not sufficiently convincing, there's the fact that Mustang drivetrains are generally rugged and have few, if any, delicate components that are waiting to break. Seidel recalled having to work on his car's engine and his description of the problem at first sounds like it's leading up to blaming the engine itself. Not quite.
"After I'd had it a couple of years,"Seidel said, "its tarted running kind of weird. I put a compression gauge on it and No. 7 was nothing,so I pulled the valve cover off and I could see what had happened. The pushrod was gone, so I yanked it apart and found that one of the keepers that holds the valve into the spring had disintegrated because there was no oil. The valve went down, the piston came up. I pulled the heads and thank God, it didn't hurt the piston."
Actually, it had begun with an earlier valve job.
"Every motor has its own little idiosyncrasies," Seidel explained. "The rocker assembly goes across the top over the valves and there are four bolts. Three bolts are the same size and one bolt is skinnier and longer and that one bolt on the driver's side goes the second from the firewall and on the passenger side, it goes the second from the grille. That long skinny bolt is what allows oil to come up to the tops of the valves and underneath that on top of the valves is a tin channel. The oil goes in that channel and it's distributed across the top end. Well, not only did someone put the wrong bolt in the wrong place, he had the channel on upside down.
"It was obvious that somebody didn't know what he was doing."
Problems developed as a result several years later, so Seidel pulled the engine and transmission to go over them thoroughly. While they were out, he detailed the engine compartment. Today it's running fine; even with the automatic that Seidel agreed is a little bit of a disappointment when compared to a four-speed.
"When you kick that down," he said, "it hooks up and it does a pretty good job. Now, if you want to be stupid and light them up, it'll do that.I did it after I bought it and I'm never going to do that again because it took me three months to clean the rubber off of the quarter panels. And I said, 'I really don't need to buy a set of tires for this car.'
"ButI had to do it once.I left it in drive when I planted my foot in it and in second gear, it was still smoking the tires.
"I had to let off on the gasto get going anywhere. It was moving, but it was smoking more than it was moving."
Everyone Can Spot a Mustang
Having done it once, the Mustang hasn't done so again; there's not much need and actually, Seidel doesn't drive it very often. The reason, he said, is simply that he wants to take care of it.
"I'm not worried about breaking something or that it's not going to get me there," he explained. "I'm worried about the people that are around. Somebody's going to whack it. Somebody's going to take the baby carriage and go down the side of the car."
When it does get out to a show, a cruise or even just on the road, it's not a car that's overlooked. Carol Seidel said that stopping nearly anywhere generates questions, but mostly about the car's year
"Young kids," Bob added, "I mean 10- or 11- or 12-year-old kids, they know it's a Mustang."
"And they know it's a hot car," Carol said. "They'll say, 'Light 'em up!'"
"We were on a road rally once and we were driving through some little town and making a turn," Bob continued. "We were going up a hill and a bunch of kids saw it. We were with a whole group of antique cars and they didn't give two hoots about the other cars. They saw ours and they were yelling and screaming and the one kid says, 'Light 'em up!' I kicked it down a little bit and they just went crazy."
Anecdotal, perhaps, but it makes the point that a Mustang Is one of those cars that nearly everyone seems to recognize or at least notice. Putting aside those who don't recognize any car, it's probably safe to assume that most drivers—like those kids watching that rally—can easily separate a Mustang from the crowd. It was that way from the beginning, a fact that becomes even more intriguing when the car's Falcon origins are considered.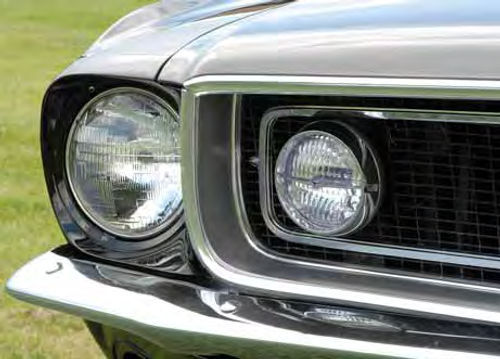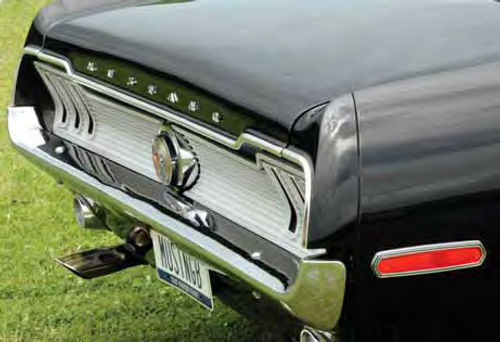 "I've always liked them," Bob said. "When we first started dating, I had a '66 Mustang. The first real car that we had was a '76 convertible."
"I remember the first Mustang I saw," Carol said. "A state trooper owned it."
Early Mustangs are in much the same position today as they're rare enough on the street that those who come across one will probably remember that they saw it and those who have a chance to check it out don't hesitate to do so. It happens to the feature car at shows and cruises.
"Most of the girl that stop by and look at it," Carol explained, "will say 'that's the car, that's the kind of car I want.' Almost every time we have it out."
"Even the kids with the import cars," Bob said, "they walk around and when I've got the hood up on that, they're all about what's under the hood."
So if Seidel decided to take one of those import-owners for a ride in the Mustang and then let him drive it, would he be surprised at what the car can do?
"I think he would," Bob said. "Who'd have thought an old car like that could have such a kick in the pants?"