Dropping In On Some Chrysler Letter Cars & Maserati Polo Ponies
Since it's not possible to visit all of the automotive meets we'd like to attend, we thought we'd drop in on two uncommon events via our back cover.
First on the itinerary is the 44th Annual Spring Meet of the Chrysler 300 Club International, Inc. The club, dedicated to the Chrysler 300 Letter Series automobiles that were built from 1955 through 1965 and the 1970 300 Hurst, is meeting June 11-14 in Mystic, Connecticut. There are more details in our Events Calendar on page 3 but we thought we'd take a few minutes to hear about the lure of these Chryslers from club member Tom Kunkle who owns two 300 Hurst cars. Here's Tom:
"I have been working on and building cars most of my life. I learned from my father starting when I was about five or six years old. We always did all of our own work. I've had Corvettes, race cars, customs and everything in between.
"In 1998 I sold my full custom 1951 Ford that I had owned for about 10 years and bought my 1970 Chrysler 300 Hurst Edition hardtop. In the 15-plus years I've owned it, I have put almost 30,000 miles on it. It's an original (one repaint) numbers-matching car. As Hurst cars go it's pretty well-optioned with air conditioning, power brakes, power steering, cruise control and AM/FM stereo. We've driven the Hurst from Pittsburgh to Detroit; Louisville, Kentucky; Williamsburg, Virginia, and Cleveland, and we've made several trips to the Mopar Nationals in Carlisle, Pennsylvania.
"They built 485 of the 1970 Hurst Edition Chryslers and according to the Chrysler 300 Club records there are about 100 left.
"My second 300 is a 1970 Hurst 300 convertible tribute car. In 1970 George Hurst built a convertible for "Miss Hurst Golden Shifter" Linda Vaughn to ride on when she appeared at drag strips. That car was destroyed in an accident and they made a replacement. My tribute car is not quite finished but last year I took it to the Woodward Dream Cruise in Detroit. While there I got to meet Linda Vaughn and took several pictures of her with my car. She loved the car and told me a few stories about the original. She said if George saw my car it would make him happy.
"Both cars have TNT 440 engines, 727 Torqueflite transmissions and 3:23 rear ends. The hardtop has the Imperial brown leather interior which is all original. The convertible has the stock 300 white bucket seats and console shifter. The paint scheme on the convertible is also a little different than the hardtop and it has the Hurst logo and NHRA logos on the fenders and quarter panels. It also has Crager SS wheels."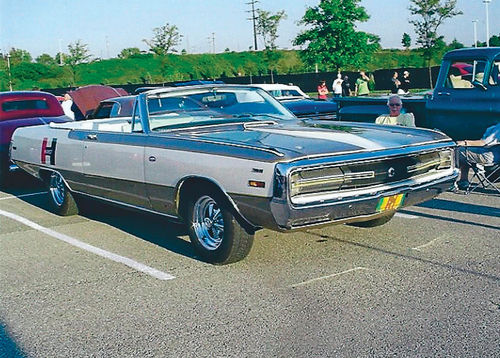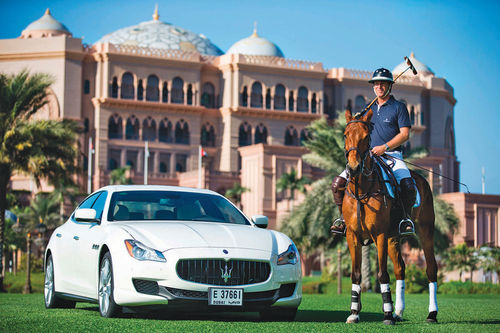 For our other long-distance visit, we thought we'd look in on Italian automaker Maserati as it celebrates its centenary year. As you might expect, a company that specializes in high-end luxury vehicles such as its Quattroporte and Ghibli would have to come up with festivities that are a bit out of the ordinary — and they did, with a series of four polo tournaments to be held at different locations around the globe.
Unfortunately, we've missed the first stop on the Maserati Centennial Polo Tour which was March 26-April 20. That event featured the 110th U.S. Open Polo Championship at Florida's International Polo Club Palm Beach. Too bad we missed that one, because the company says it's "America's most prestigious polo event."
However, if we hurry, we may be able to make at least part of the Maserati Metropolitan Polo Classic taking place May 30- June 2 at the Tianjin Goldin Metropolitan Polo Club in Tianjin, China, near Beijing.
Then on June 15 it's time for the Jerudong Park Polo Trophy in England. That event supports the charities of Prince William and Prince Harry, both polo players themselves, you know. It will take place in "one of the oldest and most prestigious English polo clubs," the Cirencester Park Polo Club, which opened in 1894.
Wrapping things up will be an autumn tournament in the United Arab Emirates. The date and location are still to be determined.
And while you're making your plane and hotel reservations for any or all of the remaining polo events, you can keep up to date with Maserati's centennial observance by visiting maserati 100.com.
–Ted Kade