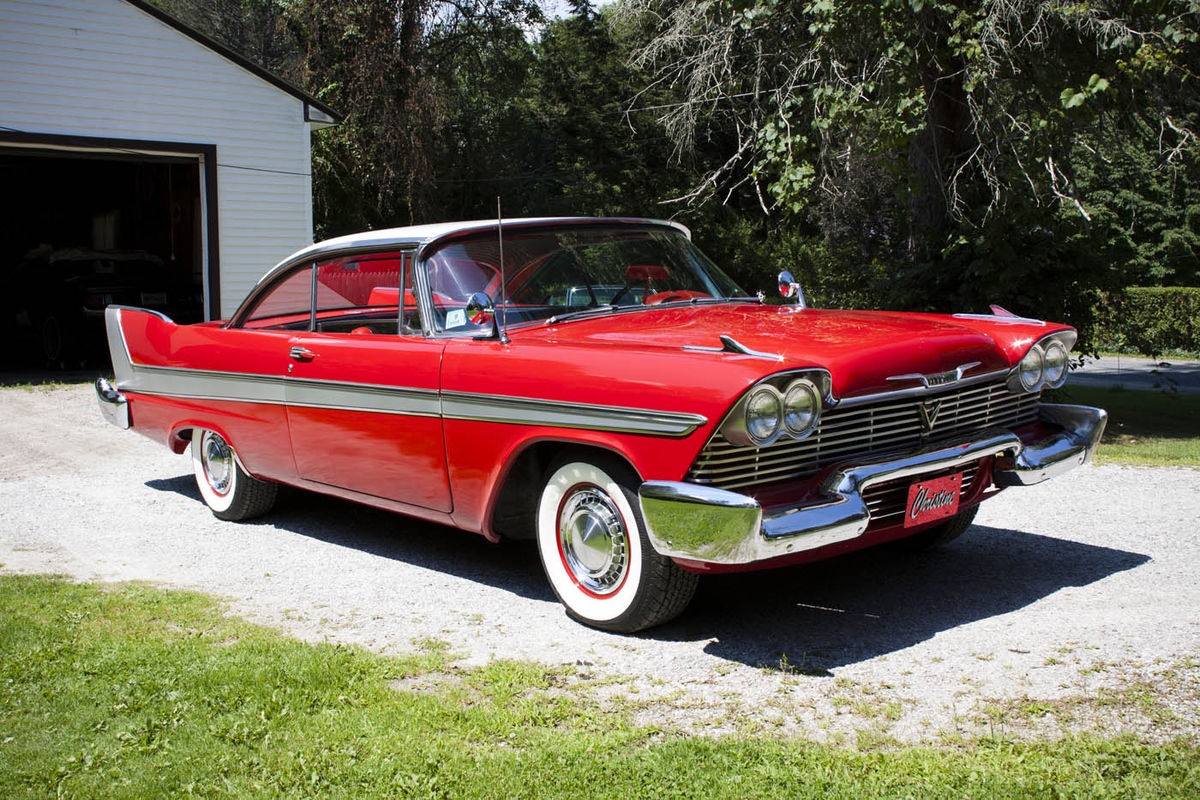 The Owner Had Wanted a Clone of the Famous Movie Car for Years. When He Found a Similar '58 Plymouth…He Couldn't Resist It.
Editor's note: In the world of vintage vehicles, there are a number of "icons" such as the '57 Chevy, '65 Mustang and E-Type Jaguar. But one icon that stands out in her own way is "Christine," the demon-possessed 1958 Plymouth Fury from the Stephen King horror novel and movie adaptation of the same name.
Chances are you've read the book that was published in 1983, seen the movie or are familiar with both. But in case you missed them or it's been awhile and you need a refresher, you'll find the story familiar because it starts as love at first sight for a high school boy who spots a rusting Plymouth Fury deteriorating on a front lawn and buys the car.
In this case the fellow is a teenager named Arnie Cunningham who is basically a nerd but he starts to gain confidence as he and Christine bond. (By the way, the name "Christine" was bestowed on the Fury by the car's previous owner.)
One of Christine's traits that would be appreciated by any restorer is her ability to regenerate herself. That's right, no matter what happens, she can, without the aid of hard-to-find replacement parts or hard labor from her owner, restore herself to showroom-new condition in a very short amount of time. In fact,
perhaps one of the most famous scenes from the movie comes after Christine has been savagely battered by a group of sledgehammer-toting teenage thugs. Afterward, Arnie consoles the damaged hulk of a car and then turns to Christine and says, "Show me." Thereupon, Christine flashes her brights and proceeds to repair herself right before our eyes. (If you've not seen this for yourself, Google "Christine" and you'll find several copies of the scene.)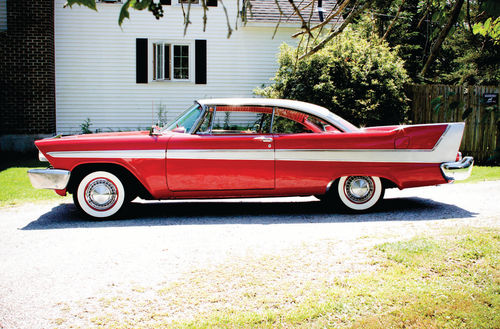 But in addition to being a restorer's dream, Christine also has a very dark side in that she's demon-possessed and has a way of violently eliminating her enemies and rivals. Her malevolence is first seen on the final assembly line when a worker idly drops cigar ashes on Christine's front seat and shortly thereafter finds that he has enjoyed his last smoke. Among others, she later takes her revenge on the young punks who battered her with hammers and even tries to eliminate Arnie's girlfriend, who, after all, is Christine's rival for Arnie's affection.
Ironically, it's been said that Stephen King chose a '58 Plymouth when he was considering various cars for the role of Christine because it was a relatively unknown vehicle. But since the publication of the book and release of the movie decades ago, the '58 Plymouth has gained quite a following and when reader Henry Frederick sent in some photos of his Christine clone we knew we had to share them and Henry's story with you.
So let's visit with Henry and his version of the famous or should we say infamous Fury: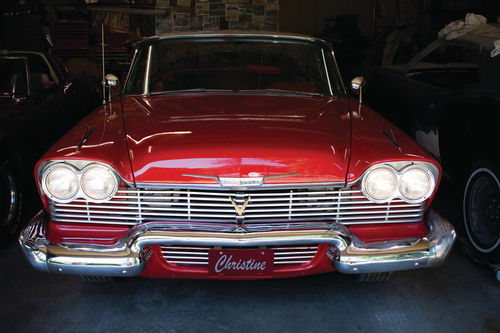 Christine, I believe, found me, an experienced auto restorer with a passion for horror movies along with vintage cars.
It was almost three years ago and Christine was only three miles from my garage. My brother spotted her on the side of the road with a "for sale" sign. I was hesitant to go look at her as I had my hands full with another project.
You see, "Christine" was a wicked movie and our favorite cult classic horror film over the years along with the "Phantasm" series featuring many '70 and '71 Cudas. My triple black 1971 Cuda was close to completion and other cars had filled my garage. I also had a 1966 Grand Prix and a 1974 Corvette that I owned and restored over a 25-year period.
But the thought of just seeing Christine up close was too much. I'd wanted one of those Plymouths ever since I saw the movie back in the '80s but never thought it possible. So we checked out the car and made some jokes about Arnie Cunningham, the "Christine" film star who was possessed by his car.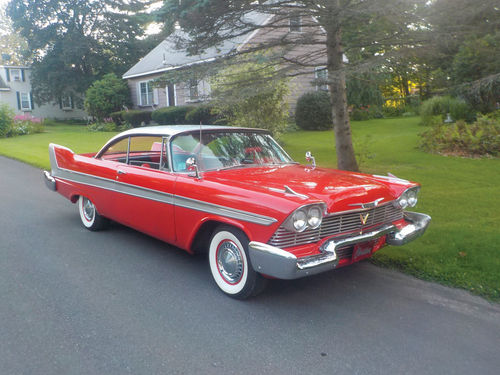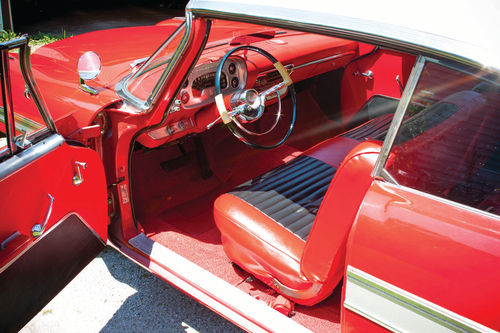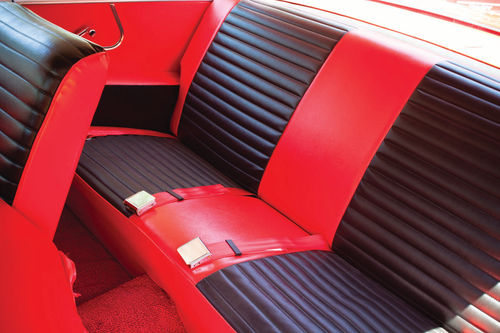 Still, the Plymouth's price was right so I talked with my brother Rich who is also the co-owner of the '71 Cuda. We have always shared a love for the cars in horror movie. His financial help was good, too, and his ability to locate hard-to-find parts was also key.
We could not stop talking about her, so we bought her for the asking price and drove Christine home. (I should point out that she didn't look exactly like Christine at that time. She was red with a white top but needed some cosmetic work as I'll explain.)
The Transformation
She ran great and the work needed wasn't bad. (I do all my own restoration work including paint, electrical and mechanical.) I rebuilt the front end and added factory power brakes. She had very minimal rust and the original quarter panels were almost perfect…only a small patch panel was needed at the top of one wheel opening and at the lower front corner of the other wheel opening. Luckily, Rich found prefab panels as there is little to nothing being reproduced for these cars. Like I said, he has a great parts-finding ability. Mechanical parts, on the other hand, are readily available. I did not have much history on this car other than the previous owner told us he had bought her 15 years earlier but only to drive on nice days. She obviously was well-kept as the undercarriage is very clean. Our Christine had started life as a 1958 Savoy built in Detroit. (Of interest, among the 20 or so cars destroyed during the filming of the movie, many were modified Savoys and Belvederes.)
The car's interior had been redone at some point in white and black. I changed the colors to red and black and installed a new red carpet. My brother located the necessary Fury trim and bumper wings, and located an authentic 150-mile-per-hour speedometer.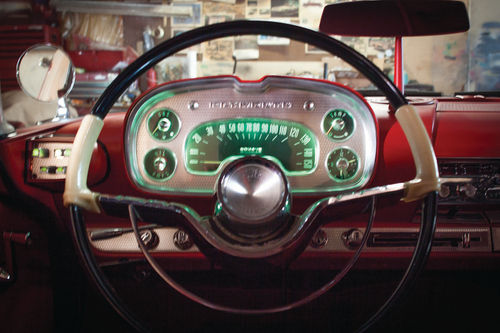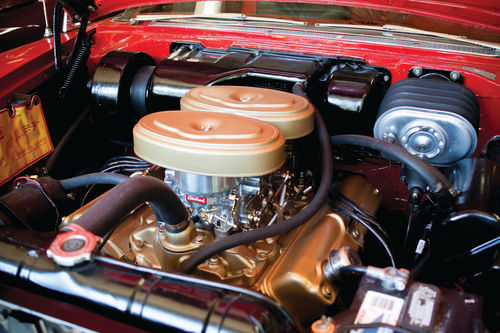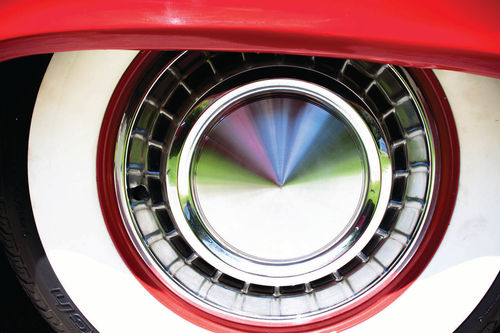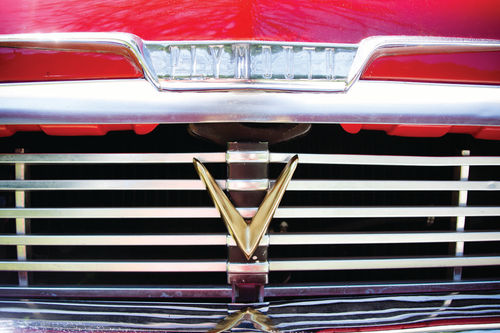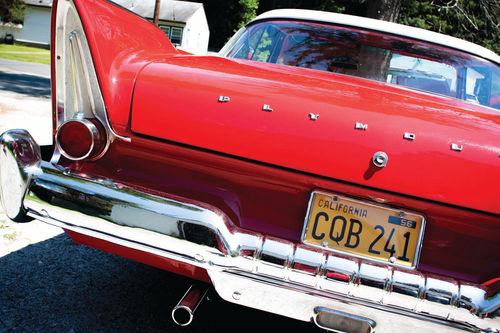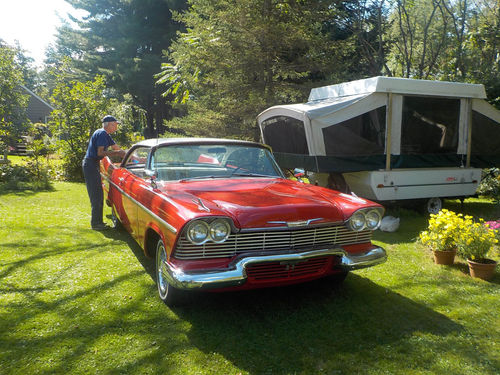 Under the hood is her original 318 Polysphere engine with a pushbutton three-speed Torqueflite transmission. The drivetrain was rebuilt at some point as she runs strong with no smoke and is very quiet (unless you get her mad). I pulled the engine out to clean, re-gasket, paint and detail. Then I installed an original dual quad intake using two Edelbrock 600 cfi performance carbs.
We researched every detail to make her as close to Christine as we could. As noted, she started as a Savoy model and only had the single stainless trim pieces running down her sides. We found the correct Fury bands with upsweep and sourced the lower trim. The car also had Caddy spoke hubcaps when we bought it and we've replaced those. We even located a pair of NOS Roberk 330 mirrors like the movie car had.
Christine Gets Noticed
I had hoped to drive her more this past summer and make it to some car shows, but she had a brake sticking and she hesitates a little so I need to put smaller jets in the carbs. Trust me, I'm gonna be cruising next spring. Some people see her as a nice Plymouth but a lot of folks recognize her as Christine. She gets lots of attention. In fact, when I sold two other cars last year the people who stopped to look at them spotted her first and said "Hey, that's Christine." A few people have even asked me things like "has the car bit you" or "has she chased anyone." "Well," I answer, "not yet." My girlfriend says I spend more time with Christine than I do with her. So I plan on taking her to the drive-in with Christine next summer. I'm sure she'll like that…unless she remembers the movie.
Editor's note, continued: I no longer have my copy of the book but one thing about the dust jacket caught my attention right away. On the back cover there was a photo of Stephen King perched on the hood of a Plymouth. Only instead of having twin headlights, that Plymouth Had a headlight paired with a smaller parking lamp/turn signal. That's right, the famous author was posing with a '57 Plymouth instead of a '58. I don't think Christine would have been very happy with that turn of events.