Dashes, Gauges, Trunks & Options
Sometimes You'll Need Help With These Parts of Your Projects. This Might Be Just What the Resto Doctor Ordered.
INTERIORS CAN BE restored with a kit or by a professional upholsterer, but restoring dashboards, gauges, trunks and options may mean dealing with numerous specialists. For example, Jerry Kopecky, of Iola, Wisconsin, restores Chrysler 300 Letter Cars. He gets interior upholstery kits from Gary Goers (garygoers.com) in Montana. His bulk soft trim, like fabrics, comes from SMS (smsautofabrics.com) in Canby, Oregon. His padded dashes are done byJust Dashes (justdashes.com) in Southern California.
A unique Chryslerinterior item that Kopecky gets expert help on is the "Buck Rogers" instrument panel for Chrysler 300Fs. It has all of the engine monitoring gauges housed in a "globe" or "bubble" with electroluminescent lighting. One might think that the restoration of one of these instrument panels would be on a par with building your own Space Shuttle, but Kopecky discovered a company named JC Auto Restoration (jcauto.com) in Lynnwood, Washington, that restores them. A Canadian supplier manufactures replacement wiring harnesses for them.
Working With a Special Rotisserie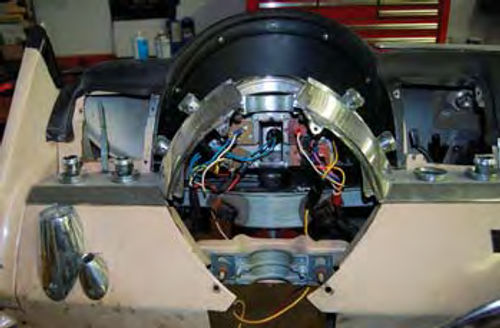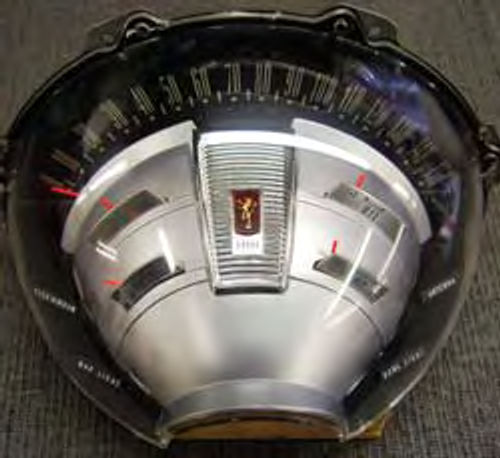 To do dashboard restoration work, Kopecky made his own "dashboard rotisserie." After sending the display bubble off to JC Restoration, he mounts the rest of the assembly in his dashboard rotisserie so he can flip the unit over to work at different angles.
The dashboard is completely taken apart. While many pieces are then sandblasted and refinished, the dash also has a lot of bright metal trim bits that Kopecky sends to Iverson Automotive, in Minnetonka, Minnesota, to be buffed up or re-plated. The old brittle, faded and spliced wiring is replaced with a new harness. All chrome trim is re-plated and all gauges are sent out to be rebuilt. Kopecky keeps a visual record of all work done with digital photos and videos. "Taking lots of pictures is a good way to keep track of your interior restoration project," says Kopecky. "I would highly recommend it to any restorer."
Electroluminescent Experts
Meanwhile, at JC Auto Restoration, owners Jeff and Lisa Carter have specifically researched how to repair instrument panels for '60s Mopars with electroluminescent backlighting. JC also does other specialty jobs.
"For a 1960 Chrysler 300F, we typically restore the instrument panel, the heater, the air conditioner, if there is one, the push-button automatic transmission switch and other electric motors," Jeff explained. "We have three 1960 Chrysler 300F electroluminescent instrument panels going in the shop right now."
Electroluminescent instrument panels are backlit using a system that was introduced on 1960 Imperials and devised by Sylvania Electric Products, Inc. (later GTE). Electroluminescent units were then used on Chrysler cars as late as the 1967 Dodge Charger. Each gauge pointer becomes an individual light source.
Jeff Carter first got involved in repairing electroluminescent backlighting after buying a 1961 Chrysler 300G in 1978.
"The instrument panel lights on the car didn't work," Jeff recalls. "There was no information available at that time, no light bulbs, nothing in the whole program and we really just started from there."
Carter learned his repair techniques through trial-and-error and by contacting Osram Sylvania headquarters in Danvers, Massachusetts. Carter also found out how to rebuild the power pack that powers the electroluminescent lighting system.
Carter estimates that JC Restoration restores about 40 electroluminescent instrument panels per year. "We're a small shop, but we have two employees who do instruments on a full-time basis," Jeff said. "Since we do all of the work inhouse, we can control the quality of the work and the schedule for doing it."
JC Restoration also has a warehouse full of NOS and used gauges for Mopars, Jeff said.
The results of the work done on the 1960 Chrysler instrument panel for Kopecky Klassics can be seen in the accompanying photos. Of equal importance was the fact that it was done with a one-week turnaround time.
"We specialize in electroluminescent panels and we're really the best at that, but we have also diversified into doing other jobs, and with the current economy, I'm glad of that," Jeff said. "We just rebuilt a beautiful set of original gauges for a 1942 Willys hot rod pickup, since the owner thought the original instruments looked better than aftermarket replacements."
A Look at Gauge Faces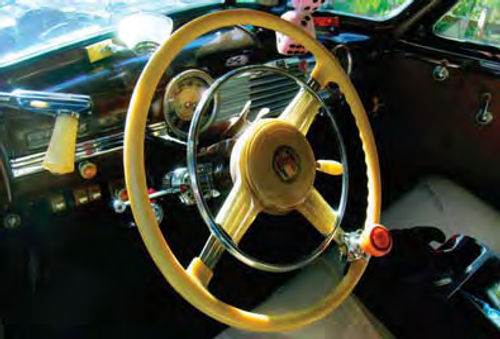 John Berry, another subcontractor in Davenport, Iowa, also offers dashboard restoration services. He started by painting and printing reproduction gauge faces for motorcycles, since the Antique Motorcycle Club of America national meet is held near his home.
Then, in 1997, a Jaguar owner told him that the skills he used to restore motorcycles were in demand by car collectors. Today, John's Phoenix Restoration restores gauge faces, trim plates and body tags. (See Resources below.)
While there are many stick-on overlays for popular antique auto gauges, Berry works from scratch. "Many overlays are the wrong color," he said. "Some reproductions are too glossy; others are simply not done well."
After disassembling a gauge, Berry makes new artwork to match the original. This can be as simple as setting type to match the original, but many letter styles can't be matched. To duplicate these, Berry uses his sign painting experience to hand-paint masters. Later, he converts these to silkscreen and reprints the same faces.
Berry matches the original paint on the gauge face, then he strips off all of the old paint. Some gauge faces are made of brass and have transparent glazes. New glazes are mixed prior to stripping the old ones off. John straightens the face, if needed, and makes sure it's free of rust. He warns, however, that some gauge faces can't be repaired and must be remade of aluminum or brass.
Sometimes, You Improvise
Berry recently restored a '38 Packard radio delete plate that had been hit with a hammer. The glass was completely gone and the brass inner panels were badly bent. Since Packards were upscale cars, many had radios—and that makes radio delete plates hard to find.
Berry located a man with a still-boxed NOS plate, plus another still in a car. The man would not sell either one, but he did let John photograph the one that was in the vehicle.
Berry hammered new circular brass parts and glazed them to match the originals. He then took his photo of the original piece and used it to match the lettering style on the inner glass face. Berry drew on his 40-plus years as a sign painter and screen printer to hand paint a master to match the lettering. He then made a silkscreen and printed the lettering on the backside of new glass.
Berry replaced the curved glass outer face by cutting a piece from the center of a 12-inch curved-glass clock face. He replicated the plastic disk, and handbuilt and polished an aluminum trim ring. He mounted the refurbished original emblem and affixed everything to the center of the new delete panel. The original chrome bezel was fully intact and needed only a good cleaning.
Other Shops of Note
D & M Restoration is a subcontracting shop for the restoration of instrument clusters, glove box doors and center convenience consoles for antique, classic, vintage and muscle cars. You can send your parts into the Greenville, South Carolina, company to be restored and when they come back they will look quite a bit shinier and newer.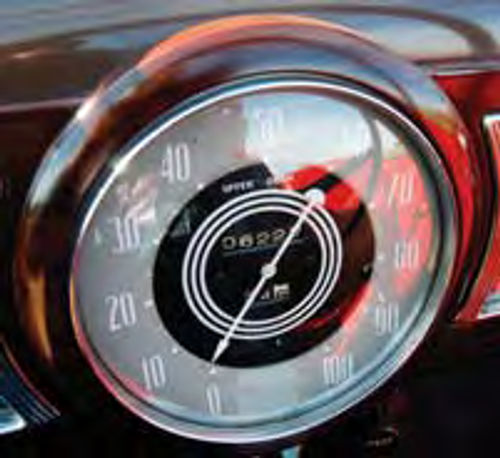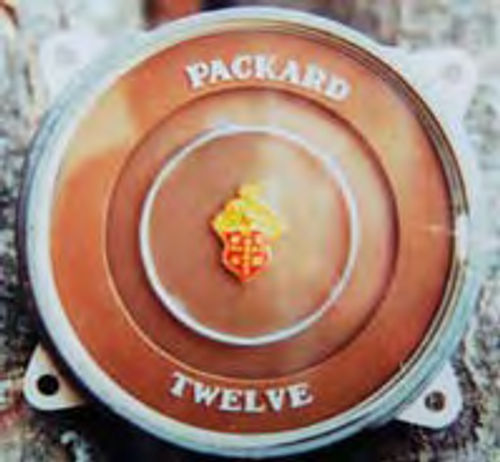 Dennis Bickford of Vintage Woodworks manufactures a lot of little parts that people need to restore classic Chrysler trunks.
Jenkins Restorations of North Wilkesboro, North Carolina, has the correct trunk lining material for 1937-2002 GM cars.
Optional at Extra Cost
Many collectors "load up" their vintage cars and trucks with as many extras as they can find.
After all, options make a vehicle more pleasant to use. They warm it in the winter, cool it in the summer and make it easier to steer, among other things. There is little doubt that a collector car today is more valuable if it has lots of options. The one exception might be the car with too many options.
Through the early '50s, even very basic equipment like signal lights and rearview mirrors were extra-cost options. Directional lights were not mandated for all cars until 1953. In the mid-'60s, seatbelts, headrests and collapsible steering wheels were changed from options to government-required safety equipment.
Collectors often want to add options to their cars when they restore them and the nicest way to add an option is to find an NOS unit in the factory packaging with the original instructions included. Be aware, however, that most NOS options selling on eBay bring pretty strong prices.
With the rising demand and values, some hobby suppliers are rebuilding options like vintage radios and 8-track tape players. AM radios can also be upgraded to AM/FM. Steering wheel restoration services can redo "deluxe" steering wheels to enhance the inside appearance of cars. Muscle car collectors will pay hundreds for a factory wood grain steering wheel. Several outfits remanufacture tachometers.
Seatbelts are a popular accessory, especially now that most people recognize the value of wearing them and have grown accustomed to using them in newer vehicles. So it comes as no surprise that a number of suppliers repair them using the old hardware with new webbing and that new three-point belts are available to replace the old lap belts that were originally installed in many vintage vehicles.
(For more on installing three-point belts, see page 14 of the February issue. And to help you with your dash, trunk and option projects, we've gathered together a number of potential resources and listed them here. If you know of someone we've missed, please tell us.)
RESOURCES
Dashes and Consoles
American Classic Restorations
680 Douglas St.
Uxbridge, MA 01569
Dash and console restoration
Iverson Automotive
14704 Karyl Drive
Minnetonka, MN 55345
Just Dashes
5941 Lemona Ave.
Van Nuys, CA 91411
Dash covers
Performance Restorations
164S. Main St.
Keller, TX 76248
Gauges Bob's Speedometer
10123 Bergin Road
Howell, MI 48843
D and M Restoration
46 Grand Ave.
Greenville, SC 29607
Instrument Services, Inc.
11765 Main St.
Roscoe, IL 61073
Clock and gauge rebuilding
Instrument Specialists
14 Church St.
Oxford, MA 01540
JC Auto Restoration
20815 52nd Ave. W
Lynnwood, WA 98036
Dash restoration
Nisonger's Instruments
225 Hoyt Ave.
Mamaroneck, NY 10543
Smith's and Jaeger instruments rebuilding
Phoenix Restoration
2418 Wilkes Ave.
Davenport, IA
Gauge face restoration
R S Gauge Works
Phoenix, AZ
Gauge rebuilding
Rhode Island Wiring Service, Inc.
Box 434H
West Kingston, RI 02892
Wiring harnesses
Williamson's Instruments
2018 E. Front Ave.
Chester, AR 72934
Clock repair and quartz conversion
Y' n Z's Yesterday's Parts
333 E. Stuart Ave. A
Redlands, CA 92374
Wiring harnesses
Options
American Classic Restorations
(see listing above)
Clock repairs and quartz conversions
Andover Restraints
Andover, MD
Rebuilt seatbelts
Cadillac King
9840 San Fernando Rd.
Pacoima, CA 91311
Rebuilt seatbelts and computers
Classic Auto Radios & Clocks
7908 Gillette
Lenexa, KS 66215
Classic Auto Radio Service
23502Shelby Ave.
Port Charlotte, FL 33954
8-track tape player restorations
Classic Plus, Ltd.
601 Lakeshore Dr.
N. Fond du Lac, WI 54937
Steering wheel restoration & stainlessbuffing
Clockworks
1745 Meta Lake Rd.
Eagle River, WI 54521
Clock repairs and quartz conversions
D & D Automobilia
813 Ragers Hill Road
South Fork, PA 15956
Steering wheel re-casting
David Lindquist
12427 Penn
Whittier, CA 90602
Clock repairs and quartz conversions
Gary's Steering wheel Restoration
2677 Ritner Highway
Carlisle, PA 17015
J.B. Donaldson Co.
2533 W. Cypress St.
Phoenix, AZ 85009
Steering wheel restoration
Jim's Sales & Service
455 Gerdes St.
Breese, IL 62230
1920s-70s radio restoration
Palo Alto Speedometer
718Emerson St.
Palo Alto, CA 94301-2410
Clock repairs and quartz conversions
Precision Stereo Repair
8441 Seneca Turnpike
New Hartford, NY 12413
Radio restoration
Quality Restorations, Inc.
Poway, California
Steering wheel restoration
Tayman Electrical
244 Shopping Ave. #288
Sarasota, FL 34237
Radio restoration
Vintage Car Radio Restorations
814 Blake Ave.
Waterford, WI 53485
Trunks & Trim
Auto Custom Carpets, Inc.
PO Box 1350
Anniston, AL 36201
Bill Hirsch
396 Littleton Ave.
Newark, NJ 07103
Upholstery supplies
Jenkins Restoration and Interiors
P.O. Box 1509
North Wilkesboro,
NC 28659-1509;
Metro Moulded Parts
11610 Jay St NW
Minneapolis, MN 55448
metrommp.com; Molded rubber
Moss Motors
PO Box 847
Goleta, CA
British car parts
New CoastFabrics
1955Davis St.
San Leandro, CA 94577-1262
Vintage Woodworks
P.O. Box 49
Iola, WI 54945
Auto wood; upholstery
Keys & Locks Key Men
Monroe, NY 10950; key-men.com
Lock, Stock & Barrel
248 Main St.
Loganville, GA 30052;
Vintage Lock
144 S. Main St.
Cambridge, MN 5508
General Kopecky's Klassics
PO Box 473
Iola, WI 54945