George Foreman Is Well-Known as a Fighter and Salesman, But Just Wait Until You See His Garage
WHEN YOU THINK of George Foreman, the image of a massive boxer or grinning grille pitchman comes to mind. Yet the two-time world heavyweight champ has more interests than slugging and cooking. For example, if you had the opportunity to peek in his climate-controlled garage in Marshall, Texas, you'd see the proof that he's a car aficionado.
Among the vehicles in Foreman's collection are a '51 Chevy Coupe, '51 Chevy Styleline Deluxe, '55 Chevy Bel Air, '55 Chevy coupe, '57 Chevy coupe, '61 and '63 Corvettes, '64 Chevy Impala, '47 Chevy pickup, '49 Chrysler Town & Country, '32 Ford Sedan, Ford Deuce Coupe, '64 Rolls Royce and a '78 Volkswagen Beetle.
Captured by a Smooth Line
But the boxer's passion for classics was an acquired taste. Originally, he craved modern luxury or sports cars— Cadillacs, Rolls-Royces, Mustangs and the like. Then he was bitten by the vintage car bug.
"I heard of people who invest in paintings," he said. "I'd say why would they waste so much money just to look at something? I didn't understand that until I fell in love with classic cars. I could just sit in the garage and look at them. They are pieces of art you can drive."
The smooth lines, curves and flow of vintage cars caught and kept his attention.
"I started out buying a replica of the '36 Mercedes-Benz," he says. "I thought I wouldn't feel good until I got a real one. In the '80s, I started pulling in the cars. I realized the Chevys and Fords and Chryslers would get me into it."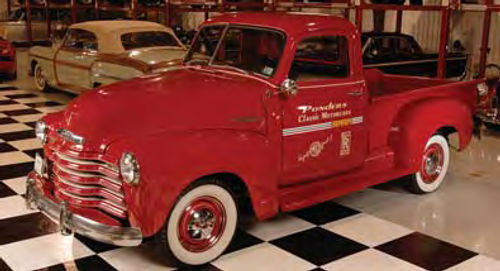 Eventually, he decided upon his dream car. "I've fallen in love with the '51 Chevy coupe," Foreman said. "I thought the '49 would be the year because it was the year I was born. It was a hard decision to make.
"But I'd choose (the '51 Chevy) hands down over a Rolls-Royce. It rings the right bell to me."
Looking In All the Wrong Places
The car's curves appealed to Foreman, and he knew he had to have a '51 Chevy Coupe. The problem was that he couldn't find one.
Usually, he would ask around at car shows, do research on the Internet, or read the classified ads in car publications to find the cars he desired. Somehow, his '51 Chevy eluded him.
Then one day, as he drove near his ranch, he spotted something blue in a neighboring hayfield. As fate would have it, it was a car—the car—a '51 Chevy Coupe, not three miles from his home.
"I had been looking all over the nation for it, and there it is in the field, a '51 Chevy Coupe," Foreman recalled.
Not wanting the owner to know that George Foreman was interested in the car (which could likely result in an inflated price), Foreman had someone else inquire about it and the owner was willing to sell.
"Would you believe it was setting down there for I don't know how long?" Foreman said. "The hours I spent looking for this car! Now I just drive around east and west Texas looking in old hay meadows."
He Wants to Do More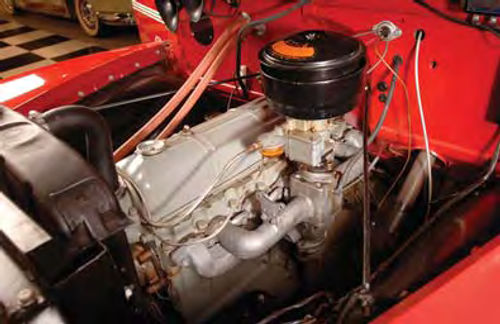 Mechanically, the Chevy was in good shape. "We put a battery in it and drove it to the ranch," Foreman said.
And it was immediately clear that finding his beloved coupe was worth the wait. "We all know life is brief," he said. "It can be a wonderful journey to find something you love to make it so much better. Classic cars have made for me a better life."
Since the coupe had been in Texas for quite a while, its frame had not fallen victim to rust, although it needed extensive body work, a new interior and, of course, a tune-up.
Foreman is in the process of restoring the '51. Although he helps tear down his project cars, "I have a lot of people that help on the restoration," he said. "You don't need an amateur like me messing things up."
He also coordinates the color schemes and directs the projects.
"My dream is to one day do (an entire restoration)," he said. "I go out and assist and watch them. I've been in on a few. I don't know how the guys who do this a lot have the time."
He also enlists help in keeping his bevy of classic beauties in tuned and shining perfection, and he enjoys wiping them down in his temperature controlled garage.
"You must have that," he says of his cars' posh digs in the Texas heat. "It's a major task around here."
Current & Future Attention-Getters
But despite his statements about vintage cars as metallic art, don't think that his classic vehicles only decorate his garage—he collects drivers.
"I can go in a circle around the neighborhood in eight or 10 miles," he said. "I drive around and then go back and get another car. The kids who've never seen anything like it just go crazy."
He hypothesizes that in 25 years, the '08 Ford GT 500 will be every neighborhood's show-stopper classic.
"It will be remembered throughout all the ages," he said. "We have one ourselves. I haven't seen anything that tells me people will want it like that car. Once again, it's the curves, the interior, the little details here and there that say, 'You'll be happy you saw me in your day.'" (For more on the future of the vintage vehicle hobby, see page 9.)
A Gathering of Art and Memories
Obviously, a man like George Foreman has the wherewithal to achieve many of his automotive dreams. And for every special car he collects, he'll be preserving not only automotive history but personal remembrances as well.
"There's a time in our lives that we are so innocent," he said. "When you look at a car, special memories come alive for us of when things were the way they were supposed to be. You wish you could see one of those cars again. We can relive those moments in no other way but in a car."
Editor's note: For another glimpse into George's well-stocked garage and his current life, check out "Family Foreman," a six-episode series to premiere on TV Land July 16 at 10 p.m. ET/PT. The show will feature George and two of his five sons, all of whom are also named George Edward Foreman.