The Decision To Build a Refined Muscle Car Was Very Short-Lived. So, What Are the Odds Of Two Being In One Family?
A CAR'S HISTORY can be complicated when it involves the purchase of a parts car that winds up being restored. The complexity grows when the original plan—swapping the parts car's best pieces to the car that is to be restored in return for the latter's worst pieces so that the parts car can be driven—is reconsidered.
Then add in another parts car with a terminally rusted frame and…
An On-Again, Off-Again, On-Again Acquisition
"I had the convertible first," said Tom Martin. "That would've been in '89 or '90."
The car's then-owner had driven it onto a used car lot owned by a friend of Martin and wanted to sell it. The friend phoned Martin, told him the asking price and made the deal, but when Martin arrived with the cash, he found that the dealer had decided not to sell. A phone call that night announced that it was for sale again—at a higher price—but that lasted only until the following morning, when the dealer once more changed his mind. Yet another call put the car back on the market, but Martin, understandably, was no longer interested.
Moments later, another friend called to ask if he wanted the Ford. Martin said he did, but was certain that the dealer would again refuse to sell it.
"He said 'No, if you want the car, he has it here with the title,'" Martin recalled. "I said, 'I'll be there in the morning with the money.' That's how the deal went down."
A Big Car In An Intermediate Field
After all of that, it's at least slightly surprising that Martin still wanted it, but a 7- Litre's attraction is a powerful one and for good reason.
The era of full-size performance was winding down in the face of big-engine and-small-body muscle cars when the 7- litre was introduced in 1966. The Chrysler 300 letter series, for example, had ended an 11-model-year run in 1965, while Pontiac's Catalina 2+2 had appeared in 1964 and would survive only through 1967. With the 7-Litre, Ford took the approach that a large and fast car did not necessarily have to be ill-mannered.
"For the smoothest brute on wheels," Ford Motor Co. advertised, "add one cubic inch to 427.
"Everybody knows our 427—solid lifters, headers, double four-barrels and all. That's a strong engine and it comes on like Saturday night in Stanleyville.
"Well, we've got a bigger one here— one cube bigger which works out to 428 cubic inches or 7-Litres, which is its name. But there's a silk shirt over all those muscles. Hydraulic lifters. Single four-barrel. 10.5 compression. An exhaust that doesn't play 'The Ride of the Valkyries.' And a lot of civilized joy like front power disc brakes, standard. Bucket seats. Console shift. Choice of four-on-the-floor or Cruise-O-Matic. Really rich carpeting, vinyl interiors, special striping. In two flavors: Convertible or 2-Door Hardtop.
"So now we've got a new kind of car: a brute—but a very, very smooth brute. A 97-pound girl can herd this 7-Litre and never know it has 345 horses and 462 pounds-feet of torque unless she gets mad and stamps her foot. Then she'll know!"
In a mid-1960s kind of way, the ad makes its point well. With the tagline— "America's Total Performance Cars"—it reinforces the image that Ford was then projecting, but the text points more subtly to another aspect of Ford's personality, its concurrent drive toward higher quality.
"Total Performance" is familiar to many hobbyists and collectors, but an equally memorable (if shorter-lived) phrase from the same period is "quieter than a Rolls-Royce." Ford made the claim in its 1965 advertising, where it stated that "obviously, a Ford is not a Rolls Royce. But it did ride measurably quieter… And quietness is just one of the many facts that go to make up Ford's quality story for '65…"
Major Changes Had Occurred In '65
Three Fords tested were quieter than the Rolls-Royces at 20, 40 and 60 miles per hour and while Ford didn't compare them to its 1964 models, the 1965s were very different from their predecessors. More angular than any Ford that had come before, they bore not even a slight family resemblance to the 1964 cars. The round taillights were gone on all but the basic Custom models and the dual headlights were now vertical. A bit of a forward lean and a general cleaning up of the details completed the package. So for 1966, all that was really necessary was to freshen the design.
The new look must've shocked some Ford traditionalists in 1965 and probably even a few in 1966, but some people have always liked them.
"Tom had them (mid-'60s Fords) when he was 15 or 16 years old," said his brother, Mike Martin, owner of the coupe featured here. "He got a '65 Ford Galaxie 500 four-door and people who were 15 or 16 years old, they didn't want a four door Galaxie 500. He always went to a different drum."
Well, maybe, but even if Tom didn't start out with one, a 7-Litre would be fairly close to a teenager's dream. It might fall short of the ultimate frighteningly fast performance cars of its day, but remember, it was supposed to be manageable. Besides, with a 345-horsepower 428, dual exhausts and a four-speed, did it really have to apologize for its front wheel discs and wood-grain wheel or an options list that included power steering, air conditioning, power seats, power windows and even cruise control?
"The car will step out," Tom said. "If you ask it to, it will show its muscle.
"I don't ask it to do too much of that. I did when I first owned it, but as I get older, I don't have to prove anything to anybody anymore. I'm just having fun with it."
And that makes the car's condition when he bought it all the more surprising. Somehow, those who'd driven the convertible had resisted the temptation to drive it hard.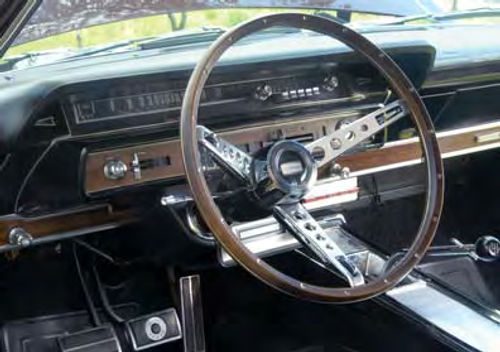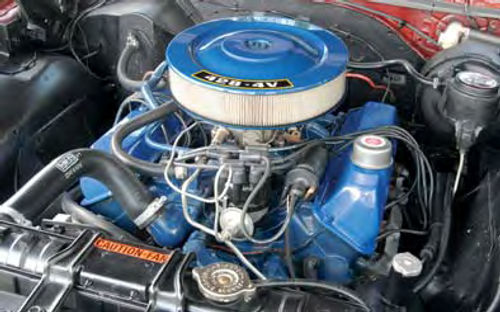 "I sprayed it when I got it because the fellow I bought it off of had the paint worn down to the primer on the corners of the fenders from polishing it," Tom said. "About five years ago, I had to put a new top on it. It had the original top on there and it started to rip at the bottom seam where it meets at the body. It didn't look bad, but I was getting water inside. I was going to keep the car and I figured it was going to need a top sooner or later, so this was the time. I put a clutch in it at 90,000 and it has 118,000 on it now."
The Coupe Makes Its Appearance
The convertible had about 60,000 miles on it when he bought it, has made the trip to Daytona from his northeastern Pennsylvania home at least three times and spent several years as everyday transportation in all kinds of weather.
Bringing Mike's coupe into the story in about 1993 is where it begins to become complicated, since Tom's idea was to buy it as a parts car. The coupe was about 60 miles away and since the seller told him that it had a good body with good chrome and ran and drove well, Tom and his father went to look at it.
"The fellow had it in a barn," Tom recalled. "We opened the barn up and walked in. The car was nice; it was a good-looking car even then. Some seriously nice chrome that I thought I could use for my other car and I figured I'd put the (bad) chrome on this and just run it into the ground as a daily driver. I wanted to see it run and the fellow said, 'We can't start it. It doesn't have antifreeze,' so I said, 'Well, I can start it just to hear it.'"
1966 Ford 7-Litre
GENERAL
Front-engine, rear-drive convertible and coupe
ENGINE
Type Overhead valve V-8
Bore x stroke 4.13 in. x 3.98 in.
Displacement 428 cu. in.
Compression ratio 10.5:1
Carburetor Single four-barrel
Power 345 hp at 4600 rpm
Torque 462 lb.-ft. at 2800 rpm
DRIVETRAIN
Transmission Four-speed manual
Final drive ratio (:1) 3.25
SUSPENSION & BRAKES
Front Independent, coil springs
Rear Live axle, torque arms, Panhard rod, coil springs
Brakes (f/r) Disc/drum, power-assisted
STEERING
Recirculating ball, power-assisted
MEASUREMENTS
Wheelbase 119 in.
Length 210 in.
Track (f/r) 62/62 in.
Weight Convertible, 4059 lb.; coupe 3914 lb.
Tire size 7.75 x 15
Predictably, that was followed by a series of reasons why the car could not be started. Tom had answers for every one, but none of them changed the seller's position.
"We negotiated the price down with my father twisting my arm the whole way," he said. "I'll never forget that. But finally I walked away from the car and the guy literally slammed the door shut on the barn and I got in my car and started to leave. My father said, 'You can't leave that car. It's too pretty a car. It's a nice car. You're crazy for not taking it.' We went back and looked at it. I couldn't find anything wrong with it, so we agreed on a price. I handed him the money, we hooked the strap to it and we pulled it to the nearest gas station…
"I started to pour water in it and it had a cracked head on the driver's side. It was pouring out the driver's side. So we quit there, hooked the strap on it and got on the turnpike."
Safely home, the coupe sat in Tom's yard for several days before his father asked about his plans for it. Tom said the car would serve as a parts source and then be driven for as long as possible, an answer that did not sit well with his father.
"'Can't do that,'" Tom recalled his father saying, "'too pretty a car.' I said, 'I can't fix them all up. You can only have so many. Do you want the car?' I gave him the title and boy, he just took the ball and ran with it."
"He started stripping it down," Mike said. "I never thought he would get involved in it because he never really had a hobby except for hunting."
"And I didn't expect him to switch over to cars," Tom added. "He was a mechanic, he owned a service station in the 1960s, so I knew he could do it, but I didn't think he had the drive. Boy, he surprised the heck out of everybody. He just started buying parts.
"It needed the head. I said, 'Dad, I have a good block down there. Why don't we just take my block and start with that?'
"So we had the block bored out. He and I put it on the motor stand in the basement and we assembled it; put the crank in, the pistons, the connecting rods, we did it all ourselves, he and I. He made sure he was there with me the whole time. Then he painted it because I don't paint."
There Also Was A Third Car…
The coupe was in good condition, but then another opportunity appeared as a 1966 Galaxie 500 XL that Tom had had his eye on became very available. Its owner had wanted a high price for it, so when Tom was asked to look at it, he simply told the owner that he already knew the car and couldn't afford to buy it.
"He said, 'Can you afford $250?'" Tom explained. "I said, 'Did you hit a wall?' He said, 'No, but the frame rotted,' which was definitely an Achilles' Heel on those. So we went up to look at it and the car was almost in two pieces. That's how badly it was rotted."
Much more important, though, was that it could be the still-needed parts car. Better yet, it had a four-speed, something that the coupe lacked since it had been converted to an automatic. The correct transmission and a complete black interior convinced his father to buy it, but it didn't end there. His father and uncle were working on the coupe's body and found filler in the hood and trunk lid, so the XL provided replacements. The transmission came next.
"From the moment we saw the (coupe)," Tom said, "we knew it was the wrong transmission. The serial number said it was a four-speed from the factory, but I was buying it with the automatic. It didn't matter. My plans were to drive it daily until it rotted away anyway, so it didn't much matter at that point.
"But when Dad got the coupe, he wanted to go back to the original way of things, so he wanted to get a four-speed and we lucked out."
The conversion to automatic had been professionally done, he said, probably by stripping all of the necessary parts from a donor car. The XL supplied everything necessary to put the four-speed into the coupe and then provided its interior.
"My dad wanted the bucket seats out of it and he liked the black because he liked the black in my car," Tom said. "So we took the whole interior out and put it in his. When it came time for the headliner, he said 'Can we get this headliner out?' I said, 'Probably not, but I'll give it a try if you're willing to help.'
"We were like two little surgeons in there and it came out. I couldn't believe it came out. I said, 'Yeah, we got it out, but we didn't get it in the other one yet. That's the hard part.' The two of us were really patient and took our time and there it is. It's an original headliner."
Shows Boosted Their Enthusiasm
The coupe's body, Tom said, had some dings, but no serious rust beyond minor problems in the quarter panels and above the rear wheel wells. The fourspeed transmission was later freshened up and its springs—along with those on the convertible—were replaced. Remember, these cars have been driven; the convertible has done more traveling than showing, but Mike recalled how his father gradually grew to take showing the coupe seriously. It began when his mother wanted to take the coupe to the AACA's Hershey national meet and his father removed aftermarket components.
"The first year he took it to Hershey," Mike said, "he got a third place and that sucked him right in."
"He cleaned it up a little more and the following year he went to Hershey with my mom and got a second place. So then, he was really into it. He came home and he was cleaning under the hood and cleaning up a little more. He was getting beat up on radial tires, but he didn't want to get rid of the radial tires. When he got the second-place trophy, the radial tires went. And the halogen headlights.
"Then the following year he went to Hershey and he got a third. He went backwards, so it was 'I can't stand this. They don't know what they're talking about.'"
His interest in the car waned somewhat as a result, but far worse, he was diagnosed with cancer. He continued to take the coupe to several shows, traveling with Tom driving the convertible and Mike driving another 7-Litre convertible that belonged to Tom. In 2002, Mike said, he offered to drive the coupe to a show in southeastern Pennsylvania for his father, but his father drove it himself.
"That was August," Mike said, "and in September of the same year, he passed on, so that was the last time he used that car. Then it sat… The car sat for one whole year. It didn't see Hershey in '03, and in '04, my mother said, 'I guess I'll never see another Hershey because I can't drive that car.' I said, 'I'll take you to Hershey.'"
When the coupe won its First Junior award, he admitted, he was as hooked as his father had been and picked up where his father had left off with the improvements to the coupe. Once again, things became complicated.
"There were a couple of pieces of chrome on the side that were not the best of chrome," Mike said.
"You can't get parts for it, so my brother would take parts off his convertible, the good stuff, and put it on my dad's car and we'd put the bad stuff on his convertible and he didn't care at all."
"There's a lot of mixing," Tom said, "all from the convertible to the burgundy coupe. The seat is out of my car, the driver's seat that's in the burgundy car. (The coupe's seat, now in the convertible) has a little split in the vinyl right where I sit. That doesn't bother me. I take mine to the flea market, I take it to the car show, they're going to throw fliers on your seat anyway and then nobody's going to see it. And it's not like it's not serviceable. The stuffing's not popping out."
Rarity Can Breed Confusion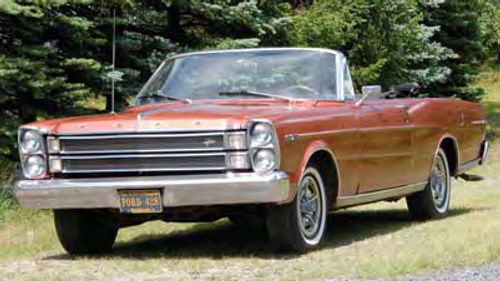 Clearly, the 7-Litre has worked its magic on the Martin family, but the chance of finding one is probably not good. Ford built just 11,073 examples in 1966 and offered only a 7-Litre option package in 1967, so the name lasted just two years.
Barring true good fortune, a Ford 7- Litre that comes up for sale today is likely to be either nice and expensive or rough and affordable. Tom offered some advice on looking at one of these cars in the real world.
Not surprisingly, he mentioned the frame, which he said needs to be inspected at the front and rear.
In the front, the probable rust areas are roughly in line with the fronts of the doors and at the rear, they're in the kick over the axle. The former is typically the problem that shows up first, Tom said, but the entire frame should be inspected.
On the body, he said the quarter panels and the heels of the fenders are the rust points, as are floors in convertibles.
In terms of parts, the news is good and bad. In the plus column, there's the fact that the car is essentially a Galaxie 500 XL, so much of what fits an XL will fit one of these cars. There are, however, exceptions: "The '7-Litre' (badges) and the front disc brakes," Tom said.
The 7-Litre trim is the biggest piece of bad news; many pieces will be virtually impossible to find while others will merely be painfully expensive.
Paying for the premium fuel would be another consideration—even if careful driving can squeeze out 18 miles per gallon.
You've also got to be prepared to explain the car, as the badges apparently cause some confusion.
"A lot of people see that 'Galaxie 500,'" Tom said, "but that '7-Litre' stumps them. They don't know what it is. They think it's a Canadian car."