1940 Packard 110 Business Coupe
Did This Car Bring About the Demise of the Venerable Automaker? Let's Go for a Drive With Our MOD Writer and Decide.
Editor's note: Jim Richardson is the author of our monthly Mechanic On Duty column. He wrote about his 1955 Chevrolet Beauville Station Wagon in our February 2010 issue and we thought it was time for him to tell us about another of his vintage vehicles. He's had a soft spot for Packards for decades, so we decided to have him take us for a drive in this one.
MY FAVORITE RIDE is my 1940 Packard 110 business coupe. I climb into the big cushiony seat, tap the gas pedal to set the choke, turn on the ignition and hit the starter button. The mingled smells of wool broadcloth upholstery permeated with crankcase fumes and coolant odors instantly bring back distant memories from my childhood.
It takes a couple of revolutions to fill the carburetor float bowl, and then it catches. The automatic choke keeps the engine at fast idle for a minute or two, and then it settles into smooth silence. I back down the drive and into the street. Though the car is not small and light, its center pivot steering is so effortless that no power steering is needed.
I slip the car into low and ooze away. As soon as I get rolling I shift into standard second, and then at about 23 miles per hour I let up on the gas for an instant and the electric Borg Warner overdrive shifts into high second. This is a perfect gear for around town cruising because you rarely have to shift. If traffic slows, you merely tap the gas pedal and you are back in standard second gear.
Onto a Modern Freeway
Later, as I motor along the 405 heading south from Los Angeles I have a big smile on my face. One doesn't drive a Packard; one goes motoring in such a car. (It's sort of like the difference between eating and dining.) The car is silent, solid and smooth at 65 miles per hour, its engine loafing along at around 2000 rpm. In overdrive the car will do 70 without drama.
I flip on its factory original Philco AM radio, There is that smell of hot wax as the tubes and condensers warm to their task. I tune it to my favorite golden oldies station and settle back for the journey to an AACA car show at the Enderle Center in Tustin, California. Even though the old radio is monaural with only one speaker, the bass is strong and the tonal range is quite good. Taking my 110 for a drive has been one of my favorite things to do for years.
A Worthwhile Restoration Project
In fact, the first time I saw my 1940 Packard 110 six-cylinder business coupe I knew I had to have it. I discovered it in a classified ad in 1983. It was painted a chalky black and had maroon fake velour upholstery; but the car had some of the deluxe features I wanted. And its tired engine was still so quiet that you only knew it was running if you stood behind the car, where you could just barely hear its faint exhaust burble.
Even in its decrepit state, driving the car was pure joy. It was everything a Packard should be; conservatively stylish, smooth, silent and comfortable. And even though its wheelbase is just 122 inches, it has a big-car ride due to its sturdy frame and innovative Saf-T-Flex suspension originally introduced on the 120 models in 1935.
It took about two years to restore the car to show-winning condition, but it was worth it. The chassis, engine and running gear were all overhauled, and I found and installed the factory optional overdrive.
By comparison to Packard's more expensive models of the time, my little coupe is not exceptional. In fact it is a bit Spartan, but I wouldn't part with it for twice what it is worth — which isn't that much, actually.
Many Packard buffs refer to the company's junior series, six-cylinder cars of the late 1930s and 1940s as the 110 models, though they were only called that for two years (1940-41) out of the nine years the six-cylinder models were in production.
In the beginning, when the new six-cylinder car was introduced in 1937 it was dubbed the 115C, but in 1938 and '39 the six-cylinder models were merely called the Packard Six.
After World War II they were referred to as the Clipper Six and featured an updated version of the six-cylinder engine. The six was dropped altogether in 1948, though a few were installed in taxicabs and export models that year.
Popular from the Start
Prestige automaker Packard's first mass-produced six-cylinder model, the 115C, was the most successful car the company ever built. When it was introduced in 1937 it was the primary reason for the company having its best year ever in terms of sales and profits. Packard sold 137,000 cars that year and the 115C outsold the 120 by a ratio of 13 to 10. It was a feat never to be duplicated.
Oddly enough the introduction of the six-cylinder line is now considered by many to be the reason for the company's downfall 20 years later. It was certainly not because the 115 or 110 models were bad cars though. In fact they were arguably the best in their price range. Their hydraulic brakes were state of the art, and Packard's junior series patented independent front suspension system was so good that it was copied by Rolls-Royce and was also used on Ford Broncos. And their engines were a rock-solid flathead design with full pressure lubrication, thin-shell bearings and aluminum pistons.
In fact, the Packard sixes were so tough that they were used in White trucks after Packard stopped putting them in cars.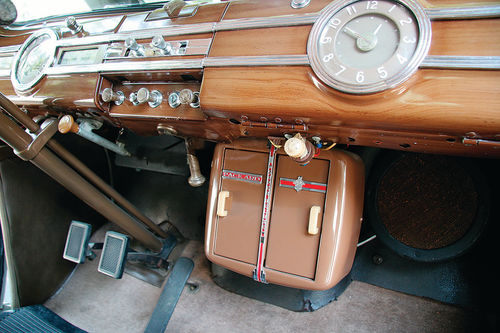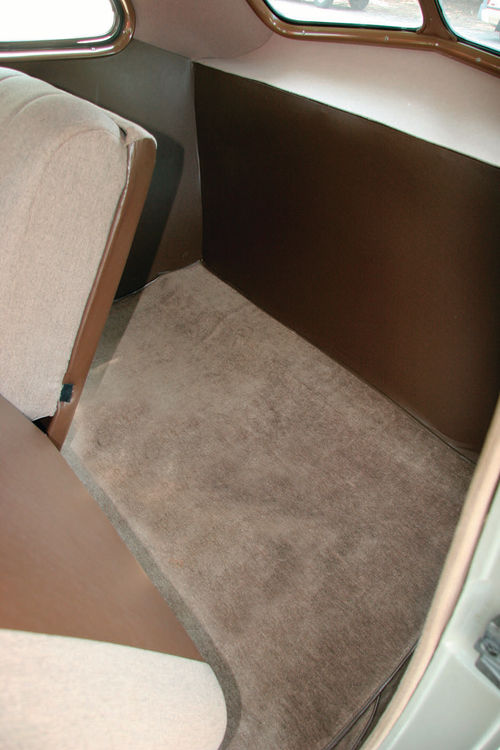 When a Six Got Some Respect
Consumers Union Reports rated the 1941 Packard 110 as its best buy in the $1000 to $1075 price range that year, beating out the Buick Special 8, the Hudson Commodore 8, the Chrysler Royal 6 and the Pontiac Streamliner 8. In their profile they said, "Despite the high revolutions per mile and powerful performance of the Packard Six, reasonable economy is secured because of the car's light weight. Minor changes have improved the already excellent riding qualities. Good clutch and transmission, excellent front suspension, simple engine. Preferable when equipped with overdrive, to any car in the group similarly equipped."
In the mid-1950s, a high-compression V-8 was the engine to have. Six-cylinder motors were what you got in your Studebaker Scotsman or Nash Rambler because you were willing to sacrifice performance for economy. But before World War II, six-cylinder engines had yet to be stigmatized that way. When Packard came out with its new six, Chrysler, Hudson, Studebaker, Oldsmobile, Pontiac and DeSoto also used sixes in their mid-priced models.
And in 1940, for example, Packard's six at 245 cubic inches and 100 horsepower was one of the largest and most powerful of the breed. Studebaker's big six displaced 226 cubic inches, Chrysler's six installed in its Royal and Windsor models displaced 241 cubic inches, and DeSotos sported comparatively puny 228-cubic-inch sixes.
Hudson's 1940 six-cylinder offering was only 212 cubic inches but it did make 98 horsepower. Oldsmobile's six made 95 horsepower and displaced 230 cubic inches, and Pontiac's six produced 87 horsepower and displaced 223 cubic inches. Surprisingly, Pontiac's inline eight was only 249 cubic inches and made 103 horsepower. Only ailing Hupmobile matched the Packard Six at 245 cubic inches and 100 horsepower exactly.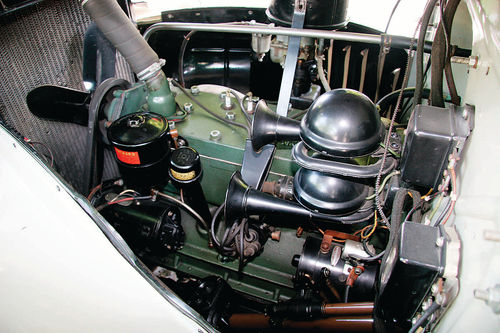 Those Upscale Relatives…
So why do many Packard buffs consider the 110 to be the company's illegitimate stepchild? There are a couple of reasons. To begin with, in 1929 when the Great Depression hit, Packard was the most popular prestige car in America, even though the market was crowded with high-priced hand-built masterpieces intended for the carriage trade. Duesenberg, Marmon, Pierce, Peerless, Cadillac, Chrysler, Lincoln, Kissel and Stutz were all competing for that upper two percent of the market that Packard dominated.
The company's reputation for building fine automobiles went back to its beginning. Packard's Twin Six was introduced in 1916 and was the first V-12 ever put into production. The first president to ride to his inauguration in an automobile was Warren G. Harding and he did so, fittingly enough, in a 1921 Packard Twin Six touring car. In its day, Packard's reputation for building big, powerful, luxurious, high-quality cars was at least as legendary as Rolls-Royce's was in Great Britain and Packard aficionados today are still proud of that.
Then the stock market crash struck the auto industry with a vengeance in 1929. Gasoline consumption continued because people still had to get around, but new car sales dropped off to a trickle in the early 1930s. And the prestige marques were hit the hardest because a fair number of upper income buyers were wiped out. Besides, of the privileged people who survived the stock market crash untouched, many no longer felt comfortable flaunting their wealth in fancy cars when unemployment in the country was at 20-plus percent.
And unlike auto makers such as Cadillac, Lincoln and Chrysler, all of whom were part of bigger firms that offered lower-priced vehicles to help them weather the bad years, Packard's limited line was aimed exclusively at the now minuscule carriage trade. Management knew that their only hope was to broaden their market if they were to survive.
An Early Move to Downsizing
In 1932 Packard attempted to reverse its plunging fortunes by coming out with its 900 series Light Eight, a beautiful, slightly smaller car that sold reasonably well given that it made its debut in the depths of the Depression. But the company lost money on every one of them because the Light Eights were essentially crafted by hand to the same exacting standards as the more expensive cars.
It was then that Packard realized they had no alternative but to go to mass-production if they were to stay in business. That's when the firm's management team decided to bet the company's life and remaining fortune on a whole new, modern assembly line. They also lured experts from other companies (primarily General Motors) to manage the operation and design a less-expensive line of cars. The result was a completely new model intended to compete with Oldsmobile, DeSoto and Buick. It was dubbed the Packard 120 and it debuted in 1935.
The 120 was a solid, well-engineered and well-appointed automobile that had many of the elegant styling cues of the prestigious Super Eights and Twelves, but on a more diminutive scale. It was an instant success and sold like beer at a NASCAR event. It roundly trounced Cadillac's smaller, sportier LaSalle in sales, and even gave Buick a run for its money.
The 120 was a major hit, trading on the company's strong reputation. In 1936 its 257-cubic-inch 110-horsepower straight eight engine was enlarged to 282 cubic inches to produce 120 horsepower. It also rode on a 120-inch wheelbase, hence the 120 designation. Its Wagner-Lockheed hydraulic brakes were excellent, its new suspension system the best in the industry, and its striking traditional Packard ox yoke grille was distinctive. (Incidentally, the so-called ox-yoke grille was actually patterned after an English Gothic church window to counter Rolls-Royce's Greek Parthenon radiator shroud.)
So, Let's Try a Six…
The 120 turned the company's fortunes around, so they decided to offer an even less-expensive, six-cylinder model, the aforementioned 115C. It was by no means a cheap car though, and was only small in comparison with Packard's senior cars.
The 120 turned the company's fortunes around, so they decided to offer an even less-expensive, six-cylinder model, the aforementioned 115C. It was by no means a cheap car though, and was only small in comparison with Packard's senior cars.
Also the company continued to build the Super Eights and Twelves meticulously by hand, using as many employees to craft the senior cars as it did to produce the junior series vehicles, even though their high-end products constituted only a small part of the company's total sales by the late 1930s.
The 115 designation referred to the six-cylinder model's wheelbase, which was five inches shorter than the 120, though from the cowl back the bodies were the same. The six displaced 237 cubic inches in its first year, and developed 100 horsepower. Its bore was 3.438" and its stroke was 4.25" The engine looked much like the 120 motor and shared a number of components, such as the bell housing, timing gear cover, Packard's patented vibration damper, and oil and water pumps.
A total of 109,518 Packards of all types were built in 1937 of which 65,401 were 115C six-cylinder models. The 115C outsold even the popular 120.
Mass production went so well in fact that by 1940 the company had converted its entire operation so that all of its cars were built on assembly lines, even though the senior cars were still bigger, heavier, more powerful and more luxuriously appointed than those of the junior series. This was in line with industry standards because Cadillac, Chrysler and Lincoln did the same around that time.
Overdrive and A/C, Even Back Then
For 1938 all of Packard's offerings were completely redesigned. The wheelbase of the 120 (now called the Packard Eight) was increased to 127" and the 115C became simply the Packard Six and rode on a 122" wheelbase. But a severe recession occurred in 1938 so the company was only able to sell 50,000 cars that year
The introduction of overdrive, available on all models in 1939 made the six-cylinder lineup more economical, and gave them better acceleration because a marginally lower gear ratio on the overdrive-equipped cars gave better off-the-line acceleration. Not that the six-cylinder cars were especially fast. They were not. But in their day they were not considered slow either. In fact, even by today's standards a 1938 six-cylinder Packard performs reasonably well on the street, but can only cruise at 45-50 miles an hour comfortably. However, a 1939 or later six-cylinder model with the optional overdrive can cruise at 60-70 miles an hour all day long on the freeway.
In 1940 Packard was the first car company to introduce air conditioning, available on all models including the 110. It was a blessing for people who lived in hot climates, but the evaporator took up the car's whole trunk, and there was no clutch or thermostat on the compressor, so the faster you went, the cooler the car became, though you could divert the cold air out of the car if necessary.
There were no convertible sedans in the prewar six-cylinder lineup, but there were convertible coupes, business and sport coupes, two- and four-door sedans and even a handsome station wagon. Most accessories were available on the 110 models such as deluxe radio, heater and overdrive, but dual side mounted spare tires were not. The front fenders were too short to accommodate them gracefully.
From Traditional…to Sleek… to Corpulent
After the war Packard discontinued its traditional-looking 120, 160 and 180 models altogether and produced only cars with the sleek new Clipper styling introduced in 1941. A pent-up postwar demand for cars meant that sales of all models were brisk, even though steel shortages limited production. A new 327-cubic-inch engine was introduced, and the six-cylinder engine was updated for the 1947 twenty-first series.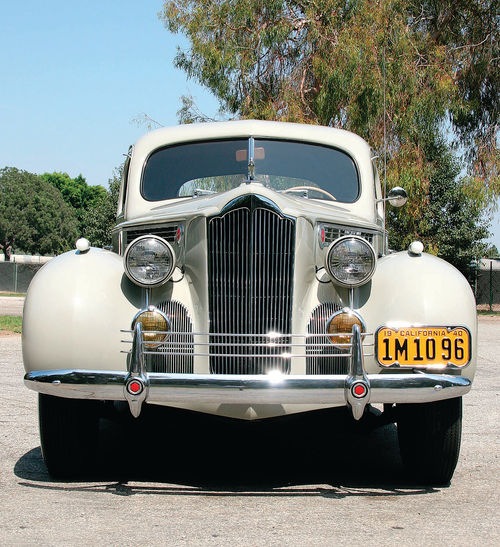 Packard's line was redesigned for 1948 to mixed revues from the public. Granted, the new cars won many design awards, but wags among the buying public referred to the new models as pregnant elephants because of their rather corpulent styling. Other manufacturers such as Nash and Hudson also went in for a rotund aerodynamic look, however Packard's styling for 1948 had its detractors at the time and still does today.
Too Many Bad Decisions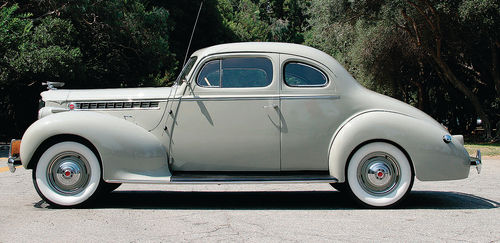 Packard was probably right to drop the six-cylinder engine in 1948 because the Depression was over and people wanted more flash and dash. Where I believe the company went wrong was in not introducing a new high-compression overhead valve twelve-cylinder luxury line to take back the high ground from Cadillac. Later — much later — in 1962 Packard considered introducing a 480-cubic-inch high-compression V-12, but it was a decade too late. Just imagine, however, what an elegant, powerful new luxury car could have done for Packard's position in the post-war market.
The six-cylinder cars were a brilliant idea in 1937 and they helped save Packard from sharing the fate of the likes of Duesenberg and Marmon, but the management team who pulled off that coup was retired by 1949 and the people who replaced them were not visionaries. In fact their reluctant and unimaginative approach is evident in the cars they developed.
Post-war Packard styling turned the uplifting Gothic church window grille into something that resembled a carp's mouth in 1951, and the company was one of the last to do away with the low-compression in-line flathead eights. Only Pontiac held out as long with the same engine format. And it wasn't a matter of money at the end of the war either. Packard emerged debt free and cash rich. They could have done anything they wanted. But instead they went with same old same old and short-term profits at the expense of their future.
Buying poorly managed Studebaker whose production costs were out of control in 1954 only exacerbated the situation. Poor management combined with more poor management only produced worse disasters. And following that in 1956 with a merger with Curtiss-Wright— the major aircraft manufacturer of World War II that thought the jet engine was a passing fancy—was a humiliating final blow to the venerable old marque.
Did the 110 cheapen and kill Packard? No. Poor management did that.
But then I prefer to remember Packard's salad days, back when they were making money when almost nobody else was. That's why I still drive my 1940 Packard 110 even today…that, along with the fact that it is such a smooth, good-looking, dependable fun-to-drive car.