A Brief History of Oil Filters
Various Filters Have Been Keeping Oil Cleaner for 85 Years. Here's a Look at How These Devices Have Evolved.
THE FIRST AUTOMOBILES did not have any sort of oil filtration system and many cars well into the '60s offered oil filters only as an extra-cost option. Other cars, like my straight six and eight-cylinder Pontiacs, claim to have permanent in-the-pan filters, but judging by the smoke that comes out of the road draft tubes, their effectiveness after 50 years or more is suspect. In fact, we have seen "smokers" with only 20,000 miles on the odometer.
To early motorists, it was common to change oil every 500 to 2000 miles. Later, when drilled crankshafts and pressure lubrication systems became common on most automobiles, some kind of oil filtration was necessary in order to protect the oil pump from damage and wear. Early filter designs were often crude set-ups using steel wool, wire mesh or metal screens placed in the oil pump intake. Many designs were cleanable and reusable. (One very popular car that came with a built-in oil strainer but not a filter was the original VW Beetle.)
The first modern oil filter was introduced in 1923. Ernest Sweetland and George J. Greenhalgh developed the device and, because it was intended to provide "pure oil later," they called it the Purolator. So, when the company later used the slogan "First in the Field of Filtering," it was with full honesty.
The original Purolator featured an upright series of seven twill-weave cloth covered perforated plates encased in a heavy-duty cast canister. It also had a sight feed glass on one side, enabling the owner to see the oil flow and change the entire unit when the flow slowed to a trickle.
James A. Abeles saw enough potential in the Purolator to convert a New York City garage into a company called Motor Improvements, Inc. His firm was developed primarily to manufacture Purolator oil filtration systems.
The Maxwell-Chalmers Company saw promise in this new product and installed a Purolator on a Maxwell automobile which was test-driven on a round trip from Detroit to the West Coast in 1924. Also in 1924, Walter P. Chrysler introduced the first vehicle to carry his name, the Chrysler Six. A Purolator oil filter was standard on the new Chrysler.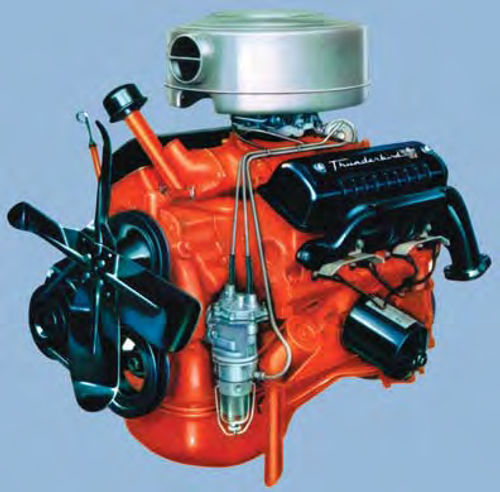 The longer oil drain intervals, cleaner oil and reduced engine wear offered by the Purolator ensured interest on the part of the automotive industry. These "oil cleaners" soon became standard on many popular automobiles of the day, including Studebaker, Pierce-Arrow, Hupmobile, Cadillac, Oakland, Buick and Dodge.
Advances In Filter Design
Over the years, innovations in oil filter technology continued to take place. In the late 1930s, cotton waste material was introduced as a filtration media, providing the first replacement capability for the filter element alone. Various woven fabrics were also used in some filter designs.
Prior to 1943, most oil filters were of the by-pass variety, only filtering about 10 percent of the oil at a time. But the rigors of war-time use showed that something better was needed for engine protection and the first full-flow filtration system, capable of filtering 100 percent of the motor oil, was introduced that year.
Three years later, in 1946, Purolator, working with Chrysler Corp., patented the first "pleated paper" oil filter element, a technology still widely used as part of today's oil filters.
Then in 1948, Purolator says it developed the first Original Equipment "block mounted" oil filter, an important advancement because now the filter was on its way to becoming a part of the engine. Prior to this, many filters were mounted elsewhere in the engine compartment. But even with this block mounted configuration, the filter system continued to consist of a replaceable filtration element and a permanent canister to hold the element.
In 1949, Purolator Products, Inc. had facilities in Newark, New Jersey and Windsor, Ontario, Canada. At that time, the company offered a range of oil filters that fit cars and trucks from a 1931 LaSalle up to most new 1949 models, either as original equipment replacements or retrofit installations.
The OE replacements were mostly Purolator N or T Series models, while most of the installation kits used the latest P-Series Micronic canisters and elements (discussed below). A heavy-duty model called the P-3000, designed for vehicles with crankcases holding over 25 quarts of oil, used two filter elements inside its extra-tall canister.
In non-OE applications, the filter size recommendations were based on the crankcase capacity of the vehicle being retrofitted. All N-1500 and P-700 series Purolator's were recommended for crankcase capacities of 6 quarts or less. All N-1900 and P-900 models were for 6- 14 qt. crankcases. Vehicles with 14-25 qt. crankcases were suited to N-2900 and P-2900 filters. Finally, vehicles with crankcases of 25 qts. or more were best suited to N-3000 and P-3000 filters.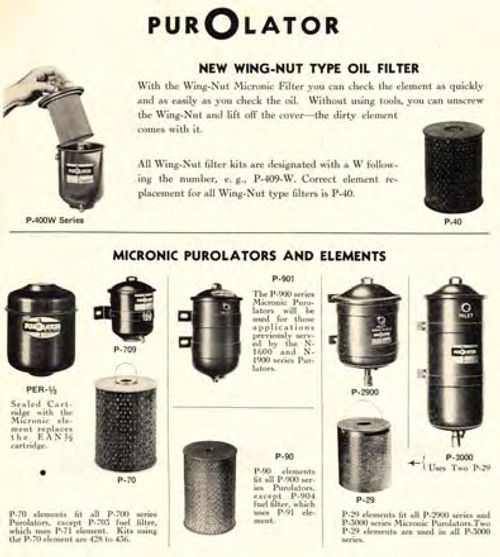 Checking Things Became Easier
In 1949, Purolator also developed a new Wing-Nut Type Micronic Filter that allowed motorists or mechanics to check the filter element as quickly and easily as checking the oil. This design required no tools to unscrew the wing nut on top and lift off the cover. The P-40 filter inside came out with the cover so it could be checked for muck.
Purolator did a good job of promoting the Wing-Nut Top as a "money maker" for its dealers. A 1949 trade advertisement claimed that the new P40 Purolator Micronic Refill had "5 times the filtering area of old-style filters" and "removed 290% more sludge."
The savvy mechanic could take advantage of the claims that the P-40 trapped more sludge and was easily removable by whipping out the dirty filter each time a customer drove in. "This muck in an oil filter can mean money in your pocket!" said the ad's headline in bold type. "Show it to your customers for more Purolator sales." (See photo on pg. 24.)
Introduction of the Spin-On Filter
As often happens in automotive history concerning who exactly did what first, there is some dispute as to who came out with the first modern "spin-on" self-contained oil filter.
WIX says it invented the easily detachable spin-on filter in 1954 while Purolator says it developed the first one in 1955. In any event, by the mid-'50s, filter technology was moving away from the need for a canister and element set-up.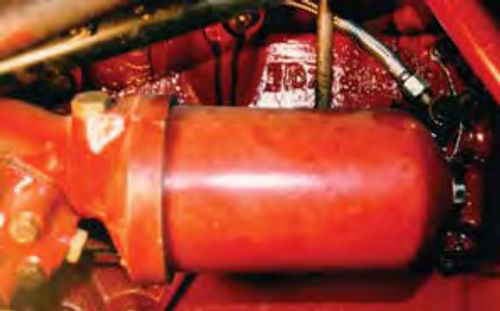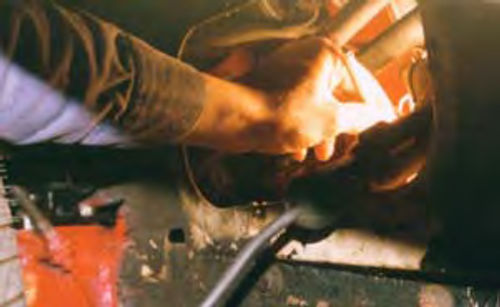 The spin-on filter subsequently became the most prevalent design, though not always as standard equipment. This type of filter is now used almost exclusively in modern passenger cars and in recent years has become more prevalent in heavy-duty vehicles.
Still, during the 1950s the use of oil filters on cars varied. For example, as early as 1953, a full-flow oil filter was listed as standard equipment for the Lincoln V-8, but a canister-type oil filter was optional equipment on the 1956 Ford. The 1957 Mercury included a spin-on oil filter at no extra cost. All 1958 Buicks in all series came with an oil filter. However, if you bought a 1959 Chevrolet, the car and engine you ordered determined whether you would get an oil filter and what type it would be.
Chevrolets with the Hi-Thrift 6 engine offered a by-pass type oil filter as an extra-cost option. A full-flow oil filter was optional at extra cost on 1959 Chevrolets with V-8 engines, unless the car had Rochester fuel injection. In that case, the full-flow filter was standard. And if you ordered a car with a special 348-cid "Turbo Thrust" V-8, the installation of an oil filter was listed as a mandatory option.
A Variety to Choose From
By the early 1960s, there were dozens of different oil filtration system designs and a myriad of trade names. You could find ads in pulp magazines offering magnetic filters, "snow cone" shaped filters, bronze filters and others. But in a more realistic sense, at that time there were two basic types of practical, mass-produced oil filter materials: "pleated paper" and activated clay.
Detergent oils had come into use by 1961 and, as most hobbyists know, these tended to break down the sludge deposits that Purolator used to count on to sell Wing-Nut filters. Detergent oil would hold these dirt particles in suspension and, if everything went right, the pleated paper-type filter would allow only microscopic particles to pass through it. In theory, at least, the filter would snag any sludge that was large enough to hurt the engine.
In contrast, the activated clay filter would take out just about every bit of dirt. In fact, it would sometimes leave the oil looking clean enough to scare a lab tester. One problem with activated clay filters is that they would also filter out some expensive oil additives.
The pleated paper filters did a good job of keeping the engine safe as long as the motorist made sure the filter was changed in accordance with recommended intervals.
Although my flathead Pontiacs do not have oil filters, my MG TD, MG TF and 1957 Buick all do. Filter cartridges are available from specialized vendors like British car parts supplier Moss Motors (www.mossmotors.com) for the MGs, and Cars, Inc., (www.oldbuickparts.com) for the Buick. Fram filter elements also are available for my MGs. You canget them at auto parts stores or from Rock Auto (www.rockauto.com). If you want genuine NORS filter elements from your car's era, try Northwestern Auto Supply (www.northwesternautosupply.com).
Replacing a Filter Element
On my MGs, the OE oil canister is mounted on the lower left side of the engine block towards the center. You have to remove a louvered panel under the left front fender to gain access. Drain the oil pan first, and then use the proper wrench to undo the long bolt that runs through the center of the canister. Do everything carefully and smoothly—force nothing. You do not want to strip threads here!
Remove the front edge of the canister from against the face of the housing. There is a square-cut rubber O-ring or gasket that sets in a groove in the housing. A small dental pick is the best tool for carefully taking it out of the groove.
The new filter cartridge will come with three rubber gaskets, each of which is slightly different in shape. You must use the one that exactly matches the old one! If you don't, the canister will leak oil as soon as you fire up the engine. Slowly and carefully seat the rubber gasket in the groove using the dental pick or a very small screwdriver. Replace the filter element and then seat the front edge of the canister smoothly against the gasket, holding the canister tightly in place. Insert the long bolt (make sure the fat washer is on it) and carefully thread it into the tapped hole in the center of the housing. Tighten the bolt with your wrench. It needs to be fairly tight, but don't crank on it. If you start the motor and see a small leak, you can tighten it a tad more. Have a rag handy to clean up any mess and replace the access panel.
With an MG, if you don't like changing the filter this old-fashioned way, you can purchase a spin-on adaptor kit from Moss. This makes life a lot easier (and cleaner), but you lose the "it's original" bragging rights.
The 1957 Buick has an add-on canister-type filter that sits upright. To change the element, you do basically the same thing as with the MG: undo the bolt on the top of the canister lid, take out the center blot, remove the lid and change the element. The tops have a built-in seal and an overlapping-edges design and I have never seen one leak badly (though I'm sure someone else has).