1962 International "Emeryville"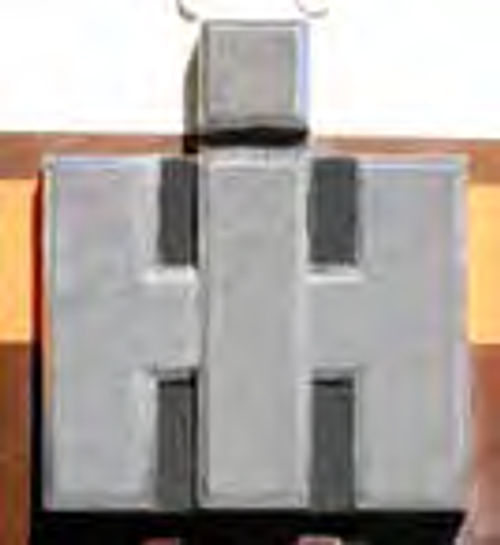 A Retired Trucker Finally Found His Cab-Over Boyhood Dream. If You're Shopping for One, Make Sure the Cab Tilts.
DRAWING AUTOMOTIVE PICTURES has long been a common pastime among school-age boys whose tastes typically produce images of muscle cars or hot rods or something similarly performance-oriented. Bill Nagy of Bangor, Pennsylvania, recalls being an exception in one key area.
"I'd draw pictures of 'Emeryvilles'," he confessed. "I'm talking about a 10- or 11- year-old kid. I was obsessed with these."
That explains why, in 2005, he bought the 1962 International DCOF-405 featured here. Among truck drivers and fans it's popularly known as an "Emeryville" after International's former plant site near San Francisco.
And as truck obsessions go, Nagy's is a good one.
A Trucking History That Began With the Reaper
By the time International Harvester Co. introduced its Auto Wagon for 1907, it could point to almost 80 years of history dating to Cyrus McCormick's invention of the reaper in 1831. By 1902, the McCormick Harvesting Machine Co. merged with four of its competitors to form International Harvester.
The focus on agriculture largely explains International's first road vehicles that were introduced after several years of experimenting and tinkering. The Auto Wagon and its variations were high wheelers that, not surprisingly, amounted to self-propelled buggies. Riding on what looked exactly like wagon wheels with solid rubber tires, the early Internationals were available as trucks or Auto Buggy passenger cars and could be mistaken for wagons or buggies running without their horses.
An International high wheeler's two cylinder engine was good for about 14 horsepower and its transmission was a simple two-speed planetary unit. That, combined with high ground clearance, made them ideal for the contemporary roads in anything but cities.
The problem, obviously, was that high wheelers were a dead-end design; roads improved, more-productive farming resulted in greater crop yields to be handled, life gradually became faster and there was no way that a high wheeler could keep up.
Passenger cars would show up occasionally into the 1930s as special orders built on pickup chassis, but wood-bodied station wagons would remain available into the 1950s. In later years, the Travelall would compete against the Chevrolet/GMC Suburban, and the Scout would be the company's SUV. But through it all, International would be primarily a truck company when it came to road vehicles. With the high wheelers gone, it concentrated on trucks whose basic design features appear on their descendants today.
Sizes, too, were changing. Early high wheelers had been nominally half-tonners on an 84-inch wheelbase. But 1924, for example, saw International offering a five-ton model on a 160-inch wheelbase. Then, in 1936, the C-300 was brought onto the market. The new model wasn't the first cab-over-engine truck or even the first from International but for several reasons, it was an excellent idea.
For example, a given chassis with a cab-over layout offers more space for cargo than would the same chassis with a conventional cab. Furthermore, a cabover chassis could carry the same body that a conventional could carry and result in less overall length. For maneuverability in tight quarters such as city streets or construction sites, the shorter truck had an obvious edge. Visibility is improved as well, because you aren't looking out over a long hood. Even as a semi-tractor, the cab-over provided similar advantages.
World War II interrupted everything and as a truck manufacturer, International became heavily involved in military production before returning to civilian trucks in 1946. But it was not until 1950 that the company introduced a modern heavy-duty truck.
The new truck was the L series and it couldn't be mistaken for any of its ancestors. The freestanding headlights were gone, as were the split windshield and the pontoon fenders. The heavier Ls somewhat resembled the medium- and light-duty models and because it was snub-nosed rather than flat, even the cab-over L looked like its relatives. The flat look reappeared with the R model cab-over of 1953 and anyone who questioned International's commitment to cab-overs had only to watch for the next several years; the R type was joined by the Sightliner—a curious design with extra windows below the windshield— and the DCO-405 Emeryville.
It Was What He Expected
Nagy, a former truck driver, first got behind the wheel of a 1957 Emeryville for a steel-hauler, and driving it was enough to prove to him that he'd been right about the truck since boyhood. It was, he said, very much like the 1962 model that's shown here, so everything that he values about Emeryvilles in general applies to both of them.
"When I was a kid," he explained, "I loved them. I loved the sound of an Emeryville, the backdrop exhaust, the 220 (Cummins diesel) with the 10-speed. They just looked tough and they ran well."
International liked them, too, although it took a slightly different approach in describing the DCO-405.
"Here's the lighter-weight version of the finest diesel tilt-cab hauler on the highway—tailored for top payloads!" the company advertised.
"Lightweight construction means maximum payload capabilities. An all-welded cab gives greater driver comfort with longer life. In-line or 'V' type engines, 170 to 335 hp. Basic simplicity of design assures more goods hauled for less total money on runs up to 79,000 lbs. GCW."
International sometimes referred to them in advertising as "multi-million mile diesels" or "million-mile highway haulers," but no machine lasts forever and considering the distance a working over-the-road truck covers in just one average week, the million-mile mark isn't out of reach.
The feature truck's brethren for the most part would have hit that milestone a long time ago—and the last one was built in 1965—so Nagy had to hunt for his Emeryville.
Buying It Based on a Telephone Call
There was the one in New Jersey that was priced too high and needed suspension work that he didn't want to become involved with, but there were others, too.
"I found a couple of them that were really bad," Nagy said.
"I looked in magazines, word of mouth, everybody knew I was looking for one.
"I said, 'when I retire in 2005, I want to get an Emeryville and do it over, fix it up. I want to keep driving it. I don't want a basket case, I want something that runs so I can drive it while I'm fixing it.'"
Then there was the one in Iowa that attracted someone else's attention.
"(The owner) said, 'send me some money on this truck before this guy comes,'" Nagy recalled. "I said, 'if he gives you the money, sell the truck. I've got two more weeks to go and I'm retired. I can drive out at my leisure and look at the truck and if I want it, I'll give you all the money.' He called me up and said, 'He took it. He loved it and he took it.'"
Then there was the other one in Iowa— the truck that Nagy bought sight-unseen at auction after receiving in-depth coverage of its condition from the auctioneer.
"The guy walked around the truck," Nagy explained, "and he gave me real detail. 'The interior is old but acceptable if you're going to go with an old-style truck. It had a lot of rust to it. The front tire stuck out on the driver's side.'
"He walked all around it and he told me, 'the tires are acceptable, some dry rot cracks, nothing major, tiny cracks.' He explained the whole truck to me perfectly. 'There's some damage on the wheels, the glass is OK, the driver's side window is cracked.' He really gave me a good walk around."
What he didn't tell him was that the cab roof had problems, but Nagy believes that he probably just didn't climb up there and thus never saw the damage caused when the air conditioner had been removed. Roof problems aside, the truck wasn't precisely what he'd hoped to find, but it was close enough.
"I really wanted more of an antique truck," Nagy recalled. "Period-perfect is what I wanted. I wanted Dayton wheels with the center point with a 220 Cummins with a backdrop exhaust and tag axle (a second, unpowered rear axle). That would've been fine and I was going to put (International) diamonds on the mirrors like they did back then. That was my plan.
"Then I saw this one. It catches your eye; it's a nice-looking truck."
The first Iowa truck—the one he missed—had some of the features that he would have liked.
"That one was a '64," he said, "red with a bigger cab and a tag axle, which were two pluses for me. The tag axle you can adjust so there's hardly any air in it and it rides a lot better, and the bunk's a little bigger in it. It has a bit of a different look, but I'm happy with this one now that I have it."
Unfortunately, They Told the Truth
It might not have worked out that way, as buying any vehicle sight-unseen involves risk, but before he could decide on purchasing it, Nagy had to know that he could arrange for the International's transportation. As a career truck driver, he had a few connections and the first one he called said that he could deliver it.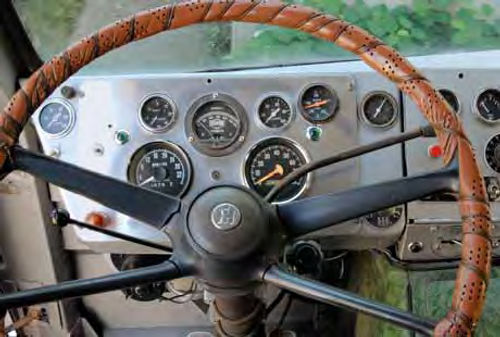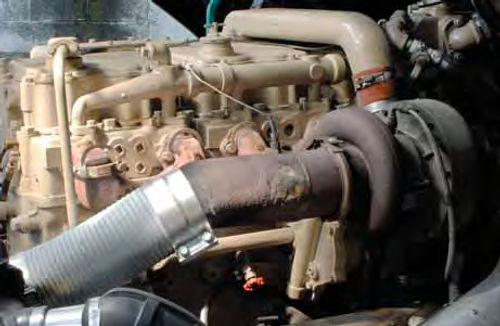 "I said, 'I have 30 days to get it off the property if I purchase the vehicle,'" he recalled, "and he said 'I can get it out of there long before that. If not, I can get one of my buddies to grab it.'"
Delivery still required almost a month and Nagy said that when it arrived at a truck stop not far from his home, he was slightly disappointed to learn that the description he'd been given was accurate.
"I was hoping for better than what he'd described," Nagy said, "but that's all you can do, ask for an honest description."
The doors were badly rotted, he said, as was the sheet metal around the grab handles, and addressing that meant cutting the damaged areas and replacing them with patch panels.
Some of the damage resulted from poor drainage; the rust around the grille's perimeter developed because of problems with the windshield.
"That rubber gets weak," Nagy said, "so the water runs down and there's no place for it to go out."
There was also the water that found its way into the cab because of the roof problems mentioned above.
"It was a freight truck out west and you had to have air conditioning for the sleeper teams," Nagy said. "(The air conditioning) came from the factory. The truck bounces and the roof flexes. When they tear them off, they leak, so (a previous owner) took it off and took all the equipment out and then put a plate over it and attached it with self-tapping screws and put a bead of silicone around it. I'm in the truck and the water's coming in. That rusted the bunk deck."
Fortunately, the deck needed only to be stripped and refinished, but rust wasn't the truck's only problem. Some of the tires were badly dry-rotted, a problem corrected easily enough with good used replacements from the owner of that first Emeryville that Nagy had driven. More important were the electrical difficulties.
"It wouldn't even charge," he said. "The starting system, they hooked it up backwards. They thought it was positive ground and they fried the alternator."
The good news was that the 290 Cummins diesel needed nothing beyond hoses, belts and fluids—it might have needed less if accessing the alternator hadn't required that so many other components be removed—although the 13-speed Roadranger required a new high-low selector and rebuilding of some other components. Nagy said there's additional work to be done on it, but none of it prevents his driving the truck. He's already replaced the clutch, pressure plate and throw-out bearing, turned the flywheel and installed new brake linings.
Nagy has no idea as to how many miles the truck has covered, but said that it had to have been generally well maintained during its working life.
"The guy who bought it off the freight company and built this truck," he said, "was an excellent mechanic. He's the guy who did this motor. It was in 1977 that he put this motor together and (when) I just pulled the stick this morning, it's right around 44 quarts of oil and it stays there."
The International led a varied life; Nagy knows that it hauled at least tractor frames and livestock and he said that it was converted from its original tag axle configuration to a twin-screw.
Be Certain That the Cab Tilts
While he's certainly pleased with it, he said that an Emeryville like his might not be a good choice for a restorer looking for an antique truck.
"It's very frustrating," he said. "You can't get parts, you have to make stuff, you have to hunt really hard. …I was excited about finding that horn button. We had to make the window tracks."
One piece of advice—the one, in fact, that Nagy offered first—should be familiar to any restorer since it has nothing to do with the size of the project vehicle.
"Buy a good truck," he said, "something like I have right here. Somebody's driving it and you see it come in and out (at a show), you know it works nice and the rust has been fixed."
And just how badly do they rust? Nagy ruled out one deteriorated parts truck because getting it to his home seemed questionable. Another that he turned down had a cab that wouldn't tilt and that, he said, is a major problem.
"How are you going to work on anything?" he asked. "(Extreme rust) is the worst-case scenario. The best-case scenario is that the pump's just shot or something's going on that's keeping it from going up."
He spoke of another Emeryville whose cab was to be tilted for routine service and said that despite pumping the jack for too long a time, nothing happened.
"The whole inside floor was pushing up," Nagy explained. "All of the guts were torn loose and pushed up. It tore because there's a lot of weight there. That's your worst-case scenario."
He checks his own truck's cab carefully and frequently, so it's no surprise that he said a cab that won't tilt—or a seller who won't tilt it—is sufficient reason to walk away.
If the cab checks out, he said, ensuring that nothing is missing should be the next priority. But if owning a cab-over engine is more important than waiting for an Emeryville, there are alternatives.
"If you just want a cab-over truck," Nagy suggested, "go to a Freightliner."
They're available and often priced reasonably, he said, while their extensive use of aluminum means less rust.
Whether it's an Emeryville, a Freightliner or some other cab-over-engine truck, anyone who's been through a restoration that wasn't done in a commercial shop likely will appreciate Nagy's belief that help from experienced friends will make a big difference in the project.
What's less immediately apparent, though, is that learning to drive it will be easier with help, too.
"You need somebody," Nagy said. "Years ago, a truck driver taught another guy how to drive a truck. They handed it down."
An Uncommon Driving Experience
For someone in the cab for the first time, there's the need to deal with everything that comes with any unfamiliar vehicle, but there's more. A 13-speed transmission can be intimidating if nobody's around to explain the shifting, steering requires some serious mental adjustment because the driver's seat is above the front axle and, of course, there's the height.
That's not to say that Nagy's Emeryville is too difficult; on the contrary, every time I have the chance to drive a large truck, I realize why so many professional truck drivers are seriously into their work. I've driven semi-tractors newer and older than the feature truck, but unless I'm forgetting something, Nagy's International was my first postwar cab-over of any real size. Since I wasn't sure about judging, common sense said that a deserted road and several loops through a very rough parking area would be the wise approach.
The first thing I noticed was that climbing into the truck calls for flexibility and once inside, it's tight without being cramped. The next thing I noticed was the door shut with a loud click and no rattles.
The steering is surprisingly easy—the driver pays for that with what seems to be several hundred turns lock-to-lock— and I especially appreciated it when I was avoiding the worst sections of the parking lot and threading my way between various obstacles.
The lot was rough enough to demonstrate that the International is impressively free of rattles and strange noises, but a nearby road that seemed like a better choice was actually a dead end with nowhere to turn around, thus giving me a chance to back the entire distance via the side mirrors.
I generally back cars and light trucks that way, but they're smaller and have inside mirrors, too. This was the first time in at least a decade that I'd covered that much distance with mirrors in a large truck and while it's nice to know that some skills really are like riding a bicycle, it would've taken much, much longer if I'd had a trailer.
Nagy had warned me about the shifter and, once again, he was right. Double Clutching was actually the easier part of dealing with the transmission, as the shifter's wear made it hard to find some of the gears. In fact, the shifter was probably the toughest part of driving the International for me; I didn't get enough time behind the wheel where I'd feel comfortable driving it in city traffic, but the judging that had concerned me proved to be much less of a challenge than I'd expected and the high driving position made it easier—for me, anyway—than a conventional in terms of sensing where the truck was on the road.
The International is big, though, and for someone like me, who drives trucks only occasionally, it's not a matter of starting it up and heading for the highway. If I'd had a few more miles in which to figure out that shifter, I'd have been comfortable enough with the truck to take it out on a secondary road.
Based on the short distance I did drive it and the fact that it wasn't my first time in a truck of that size, I'd guess that an hour or two would give me enough of the International's basic feel so that I could begin concentrating on getting good with it. That's the part that would take time and as Nagy said, a restorer with his first cab-over-engine truck would be best served by having an experienced friend help him learn about owning it and driving it.
What Nagy didn't need to tell me was that it would be worth all of the effort involved.