The Family That Restores Together…
This Brother & Sister Got the Restoration/Racing Bug From Dad. Now They're All Involved With Three '72 Novas.
WHETHER IT'S THE roar of a revving, pulsing engine, squealing tires and rolling blue-grey smoke, or the feel of seat springs bottoming out with an engine's thrust, it all makes Mike Sedlacek and his sister Joanie Sedlacek Handel smile—a lot.
"It's an adrenaline rush," they explain.
"Once you've experienced it, you just want to do it again and again."
Since Mike was 12 and Joanie was 15, the two have fueled their appetite for restoring and racing cars—a craze they say their father, Ed Sedlacek, instilled in them.
"Dad was always working on cars and we were in the garage with him, so it's just been second nature for us," Joanie said.
Dad Got an Early Start Too
Ed encouraged his children to take an interest in cars and racing because his own fervor for metal and horsepower started in his teens and still occupies much of his leisure time today.
"I only raced one time in high school but I really enjoyed it," he said. "That's why I was interested in seeing the kids get involved with cars and racing. My older brother started working on cars when I was 13. At first, I did all the handwork that nobody else wanted to do, like sanding areas where you couldn't use a power sander. Even though it was hard work, I really enjoyed it. It's been great to see my kids get involved in it too."
Although Joanie and Mike weren't yet old enough to drive, they started searching for their own restorable vehicle. A white '72 Chevy Nova became their first project.
"We each had a couple newspaper routes and mowed lawns," Mike said. "Dad found the car in a classified ad and Joanie and I pooled our money to get the $1200 we needed to buy it."
The white Nova needed a lot of work. On their pre-purchase test drive, the car's lights went out once they reached 55 mph.
"It really needed some TLC," Joanie said.
In spite of its dilapidated condition, the Sedlacek bought the white Nova, which had its stock 350 cid two-barrel engine, three-speed automatic transmission and 2.73 rear axle ratio. They replaced all the belts and hoses, fixed the lights and installed a new radio. The exhaust and brakes were replaced and then the fuel pump crashed during a trip to the grocery store. Since the speedometer/odometer had stopped many years before their purchase, there was no telling how many miles the white Nova's engine had actually logged.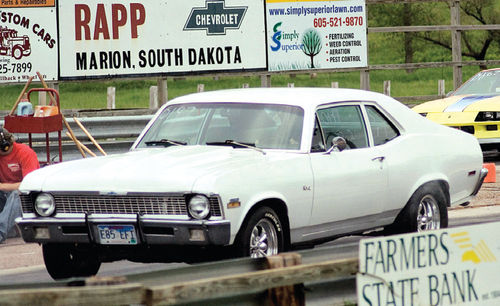 But at that point, although the body had not been fully restored, the Sedlacek were nevertheless eager to see how the car would do on the racetrack.
Following In Dad's Tire Tracks
During the summer of 1995, the same year she entered her junior year of high school, Joanie raced regularly. Her fearless approach to racing saw her consistently coming up with second place meet standings even though it was her first season at the track.
"I was young and dumb," she remembers. "Sometimes I was pretty nervous before a race, but I was never scared. Most of the time I was running at a top speed of 88 mph. A lot of the time I came in second. There were some close races, but I didn't often win first place."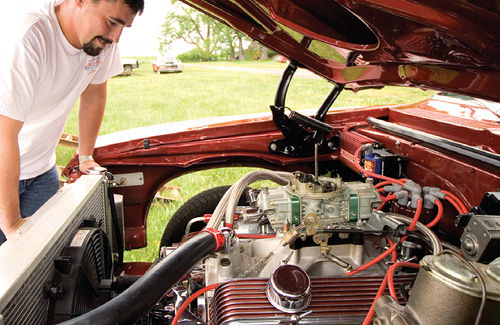 What Joanie was good at was trumping her competitors in overall stats for the year. "At the end of that first summer, I was the Point Champion," she said. "The second summer I raced it was pretty much the same. I didn't take many first place wins, but I won Point Champion at the end of the year."
Joanie was one of two young women racing at Thunder Valley. The two have remained friends over the years even though they competed against each other.
"I don't remember any other girls racing those two summers," Joanie said. "I was kind of a tomboy."
But even a tomboy quickly finds out that drag racing takes a good deal of physical and mental discipline if you're going to be successful.
"It takes some real concentration to make sure you don't start too soon, that you've got just the right traction on the track. There's a lot of 'do this, don't do that.' The weather's always a factor. You try to know what the barometric pressure is so you know how that impacts the car and the track. Lots of details."
Still, Joanie has had her share of racing mishaps as well, including one embarrassing incident where she lost track of her gear selector.
"With one burnout I shot way past the lights so I had to back up to get in line," she said. "Then I forgot to put the car in drive again so when we got the start flag I revved it up and went straight back. Since then I've never forgotten that 'R' does not stand for race!"
A Brother/Sister Track Team
Joanie credits her brother Mike for much of her racing success, noting that he became a master pit man at the age of 12.
"He was always making sure everything was ready and I had whatever I needed on the track," she said. "I was able to focus on the race because I knew he was taking care of everything else."
After the first summer of racing, the Sedlacek made arrangements to have the white Nova's body fully restored. They also installed a 406 cid small-block Chevy motor and added a 780 Holley carburetor.
"We polished the car a bit," Mike said. "When we finished, it had the 327 350- horse cam and we put in Keith Black flat top pistons. It had a stock crankshaft and stock rods."
Before they finished their overhaul, the Sedlacek added a three-speed auto transmission with a 3500 rpm stall speed torque converter. They switched the rear end to a 4.88 gear ratio.
Before they finished their overhaul, the Sedlacek added a three-speed auto transmission with a 3500 rpm stall speed torque converter. They switched the rear end to a 4.88 gear ratio.
Another Nova Joins the Family
For Mike, early on his dad's restored 1968 Impala had strengthened his resolve to find his own restoration project and he was 13 when a red Chevy Nova first claimed his attention.
"My parents were north of Mitchell when they saw the car at a junkyard," Mike said. "They stopped and asked about it and found out the owner wanted $300 for it. It took about a week for us to get back to the junkyard to pick it up. By then, the owner had stripped the car down and sold a bunch of parts off it."
Because the deal they had made was no longer valid, Mike and his family walked away from that first car. When a relative heard their story a couple weeks later, he directed them to another red '72 Chevy Nova just 10 miles down the road from the yard where they found the first one.
"When we looked at it, all I remember seeing were big fat tires and the SS on the grille," Mike said. "It cost $550 and it was in a lot worse shape than our white Nova. It had quite a bit more than the average amount of rust. The fenders were rusted out, it needed wheel wells and the worst part was that the firewall was so rusty there was barely anything between the driver and the engine."
In spite of the car's poor condition, Mike began to work replacing and rebuilding, bringing it to running condition. His entire family became involved in the project before it was over.
Mike installed the original engine out of the white Nova, the stock 350 two barrel. He also replaced the brakes before he took it out for its first test drive. Ed was enjoying Mike's project too, and joined his children in testing the vehicle…with an unexpected result.
"Dad was driving it one night when all of a sudden we heard a big bang," Joanie said. "The drive shaft broke. We found out afterward that there was a big groove in the shaft that we had overlooked."
When Joanie married knowledgeable auto mechanic Justin Handel in 1998, the three began working to upgrade the white Nova even further, and that included the installation of a turbocharger. In fact, Mike said Justin is "the brains behind the turbocharging."
The Fun's In the Participation
Meanwhile, Mike took more of the white Nova's components and installed them in his red car. The two vehicles were quite similar, although the red Nova had a 3.08 rear axle ratio and no turbo. As he continued to improve his car, Mike was using it for some pleasure driving but hadn't yet raced it.
"Engine-wise, I had used just about everything out of the white Nova that Joanie and Justin were replacing and I was really proud of the way the red Nova was driving," Mike said. "All of a sudden, one summer, I started hearing a tick out of the exhaust. I knew I had to make some changes to it if I wanted to race, so I ordered a set of heads and a cam. I put aluminum heads on it and put on roller rockers and a roller cam. I got an 850 double pumper carburetor and put a 3.73 gear ratio in the rear end."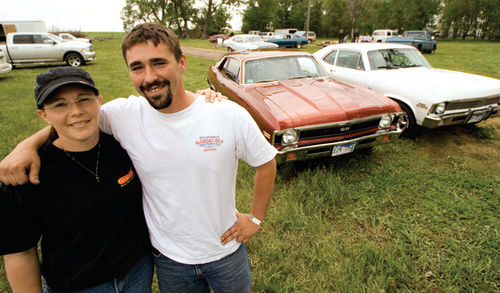 Once all the upgrading was done, he took it to the track.
"I never did race, I just did the time trials," Mike said. "The first pass I made with it, my run was about 12.4 in the quarter, which was very disappointing. Justin said not to worry about it, that he could do more adjusting. He worked on the carburetor and we finally got down to 11.58 at 117 mph."
Racing didn't turn out well for Mike, however. He used Joanie's white Nova one summer and his own red Nova a second summer. But neither season resulted in any trophies.
"The best race I ever had was with a blue '72 Nova that we've never fully restored," Mike said. "Actually, that day I ended up in the loser's bracket, but with a good friend of mine. We raced about 15 different times that day and it came down to just him and me. In the end he beat me. But just getting out there on the track and seeing what your car can do and what you can do, it gets your adrenaline pumping."
Over time, Mike replaced the red Nova's front subframe and switched the drum brakes for disc brakes. He removed the subframe and sand blasted it and rewelded the seams. He eventually replaced the 350 engine with a 406. His mother reupholstered the door panels and back seat, which came out of a 1994 Buick.
"Mom redid the dash pad and I made my own center console shifter. That came out of a Chevette," Mike said. "Now I have power seats in the front and a different stereo."
Mike also has continually worked with brother-in-law Justin to improve his car's performance and he's very satisfied with the power it puts out now.
"My red Nova will take off like a streak now," he said. "It's like being on a roller coaster ride. You sit back in the seat and get half lightheaded that first split second. When you feel that seat bottom out there's a real sense of power and excitement. If I ever trashed the car I'd probably cry, I'd be so mad."
Back to the Track Again
Just for the fun of it, Joanie and Mike recently entered their cars in weekend drag races at Thunder Valley Dragways. With somewhat rusty skills, they completed qualifications for two different heats, but neither one claimed a victory in their race.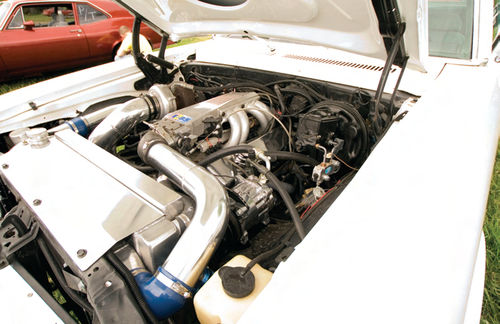 "I had a bad reaction time and got beat," Joanie said. "Mike made it to the second round in his heat, but his car went faster than he thought it would so he was eliminated because he broke out."
In spite of the fact that he's already invested countless hours and plenty of resources in his restoration projects, Mike also is deeply enmeshed in the restoration of a 1986 Chevy pickup, completely rebuilding the body and doing the work himself in order to learn more about the process…and prove to himself that he can do it.
"There's something about taking a piece of junk, something that looks like nothing, and make something out of it," Mike said. "It's like finding a diamond in the rough. It really gets in your blood. With the Novas, that's a piece of history that we've preserved. It's a lot of hard work, but it's really an investment. There's a lot of reward when you see someone drooling over a car that you restored.
"I especially like it when someone tells me that something can't be done. My response is, 'just watch me.'"
Staying Involved
Mike, Joanie and Justin participate in Yankton, South Dakota's, annual Riverboat Days Car Show every August and participate in other car events every year.
"We're going to the street races in Brainerd (Minnesota) this year," Joanie said. "It's always fun to see all the cars in one spot. Some of those cars are even more geared for racing than our Novas, with chopped wheel wells and wheelie bars.
"It's like being a kid in a candy store."