Some Tips On Vintage Vehicle Safety
Older Cars Didn't Have Safety Features That Are Standard Today. Let's Look at Some Mods & Dealing With an Accident.
THIS BEING Auto Restorer's 20th anniversary year, it has seemed especially appropriate that we put the spotlight on several issues of pressing importance to the hobby, such as the future of car and truck collecting, the involvement of younger hobbyists…and the crucial subject of occupant safety in vintage vehicles.
Now, with our anniversary year coming to a close, we wanted to present some readers' thoughts on occupant safety that came in response to the September Rearview Mirror column "Can We Improve the Odds?"
And, since accidents do happen, we're also including some professional advice on how to go about filing a claim regarding a vintage vehicle.
If you'd like to add to the discussion, by all means feel free to contact us with your thoughts on the subject. Because even though our anniversary year may be coming to an end, occupant safety, of course, continues to be a crucial issue in an automotive world populated with crowded roads and distracted drivers.
Some Safety Modifications for His '57 Chevy
Your September column saddened me. I, too, wish something could be done to improve our chances in a wreck.
I have been so aware of the danger of driving older cars that do not have the benefits of the life-saving features of a modern car.
In fact, I almost lost my life in a horrible accident in my '57 Chevy wagon in 1968. An elderly woman pulled out in front of me and stopped, completely blocking the street. I knew if I hit her at the speed I was going it would end her life. I could not let that happen…my only choice was to try and go around her. There were no seat belts; the car had the poor brakes of that era, and bias ply tires.
By jerking the steering wheel to make the car steer to the left, it resulted in my being thrown across the seat. I was hanging onto the steering wheel with my left hand and no longer had any control of the car.
I impacted an oak tree head-on. The '57 Chevys have a few quirks; one of them is that the passenger-side visor never stays up. It was down and that is what my head hit. The visor sliced through the windshield just like a knife. That visor saved my life. My '57 Chevy was totaled.
I loved that car and knew I had to replace it, but I was now aware of how dangerous it could be. I finally found my Bel Air wagon in 1970. The first thing I did was to install seat belts and polyglas tires. That took care of being thrown around in the car and the glass tires were an improvement. Semi-metallics in 1971 took care of the brakes. I started to restore it in 1991 but a divorce stopped that so I now have a '57 sedan. I drove my wagon for over 250,000 miles.
My sedan has seat belts, radial tires and semi-metallic brakes. These are the only improvements that can easily be done with a stock car. I usually get about 50,000 miles out of a set of semi-metallic brakes and when I replace the shoes I rebuild the master and wheel cylinders and replace the hoses. I have the brake drums turned to break in the shoes. I converted to silicon brake fluid about 15 years ago and have been pleased with its performance.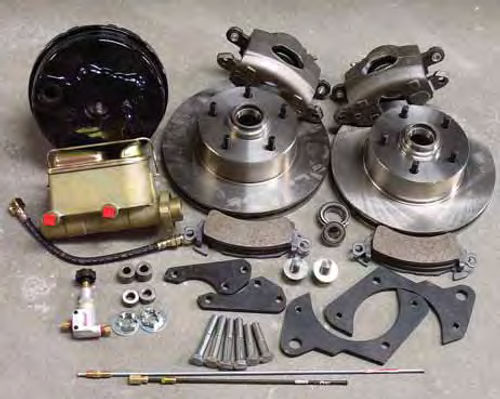 I have never had a brake failure maintaining the brakes as I have described.
I would compare the performance of semi-metallic brakes with disc brakes. The hotter they get the better they brake; they are impervious to water, brake fluid and grease. The only issue is adjusting the brakes on a regular basis. Remember that cars from this era required a grease job every 1000 miles and the brakes were adjusted at that time.
There are self-adjuster kits available for my Chevy; I just haven't done that yet.
The last time I bought semi-metallic shoes I got a few sets, but I no longer can find anyone selling them and I am on my last set of shoes.
My girlfriend has a 2002 Buick LeSabre and its seat has a three-point seatbelt and a headrest to prevent whiplash. I plan on finding a seat from that type of car for my '57. I would think it could be used on other cars too. The floor will have to be made stronger so it will absorb the forces from passengers being belted in.
Still, the best way to survive an accident is to not be in one.
If a car is not able to travel at the posted speed, it should have flashing yellow lights in the back. A sign just does not do the job. It might be possible to use some of those magnetic lights that are used when towing a vehicle if you change to a yellow lens and add a flasher. These could be used without modifying the car.
Air bags are a totally different ballgame. That will require a computer programmed for an aftermarket installation and I would not be very hopeful that someone would try to do that.
I am a licensed professional engineer, working for the U.S. Army in aviation and missiles. I am always on the lookout for anything that will improve the safety of my '57. If you have any thoughts, I would like to know.
I enjoy your magazine; your articles are comforting, what I like to read. Thanks!
David C. Kennedy, Sr., PE
Headrests, Brakes, Steering & Lights
I was inspired to write this after reading the Editor's piece in the September issue. I have four '60s Mopars in various stages of restoration and have given some thought to how to make upgrades to improve safety. I have described this to friends as doing a "driver" restoration. I think the general term in the industry has become "resto-mod."
For the purist, these ideas may simply not be acceptable. I assume they want their machines to be exactly as designed. But then I could argue that driving a 30-, 40- or even an 80-year-old car on today's highways is just not acceptable. It is dangerous for the occupants of the vintage car and also for the modern vehicles pulling around them.
Now, to a few ideas for "newer" cars. I include in this any machine with a substantial body and frame (or unibody) that could withstand a collision with a modern SUV or truck. The question is how to include or improve those items that might keep the occupants from receiving serious injuries assuming a modest collision.
Headrests: I have two ideas here.
First, I have envisioned a clever designer coming up with a detachable seat cushion with a headrest. The mechanism would have a support that goes down the back of the typical bench seat. The passenger seating area is a web or even the type of seat that has "beads." The driver or passenger sitting on this would anchor the cushion and headrest mechanism.
This should be combined with three point seatbelts. In a collision, the shoulder and lap belt will prevent the passenger from hitting the windshield or steering wheel. The support down the back of the bench seat will prevent the cushion from coming forward. As the passenger is thrust back, either in recoil from a frontal crash or due to a rear-end collision, their weight and inertia will press down on the seat cushion to hold it in place while the backward movement of their head is stopped by the headrest to prevent whiplash.
The benefit of this invention is that when you get to the car show, it comes out and allows the bench seat to be seen in its original form.
The second idea is not quite as elaborate and is one I'm employing. Go to your favorite U-Pick salvage yard after carefully measuring your bench seat and find a newer bench seat with incorporated head rests. It might be possible to transfer the seat cover from the older seat to the newer seat. The other choice is to have the new seat and existing rear seat reupholstered in a fashion consistent with the style and look of your vehicle.
Brakes: This is an area that is well supported by the aftermarket. There are disc brake conversion kits for many model cars. I think in many cases putting in a dual master cylinder with a proportioning valve and front disc brakes while leaving the rear drums is perfectly adequate. (Editor's note: For more on converting to front disc brakes, see the September and October issues.)
Steering and Suspension: The aftermarket is providing many replacement front clips that allow modern suspension upgrades (Independent Front Suspension), and rack-and-pinion steering to be put in vintage cars from eras back to the '30s. Of course, these are common in body-modified customs and street rods. I see no reason to not also take advantage of this technology and upgrade a vehicle that is otherwise original in its appearance, engine and interior.
Headlights: There will always be the need to drive after dark, either coming back from an event or taking your collectable car on a trip. Upgrading to modern lamps should improve your visibility.
I encourage those restoring vintage cars who want to drive them on the highway to think about the safety of actually driving (and dare I say colliding) with other modern vehicles.
I don't think it is wise to drive in a vehicle that can't go the speed limit or is unstable at these speeds and expect others to have the same appreciation for your piece of history.
Kevin A. Townsend
Tips for Handling a Claim On a Vintage Vehicle
Over the past 25 years, the folks at Hagerty, a provider of collector vehicle insurance, say they have seen "the good, the bad and the ugly when it comes to claims." Although statistics show that collector car owners drive their vehicles less and take better care of them, accidents do happen. So here are some tips from Hagerty if you need to file an insurance claim on your vintage vehicle:
• Always Be Prepared for an Accident. Although this is something you have probably heard many times before, it is vital to stay calm and quickly assess if there are injuries. From the passengers in your car to the occupants of the other vehicle(s), it is important to be aware of any potential injuries both for safety and insurance purposes.
Keeping disposable cameras in all of your vehicles is a great way to record details in the event of an accident. If one isn't available, consider taking a picture with your cell phone. Photographs of vehicle damage and the road/surrounding area, including any skid marks, often paint a better overall picture of what took place and will help to clarify the situation for your insurance company as well as the police.
Additionally, in the event of an accident, it is important to know your legal obligations as specified by your insurance policy. Many companies will require you to take reasonable steps to ensure that your vehicle does not incur further damage once it is involved in the initial accident. Some of these steps, such as moving your vehicle to secure temporary storage, may be paid by your insurance company.
• Document Your Vehicle's Value. If you do not have an Agreed Value insurance policy like many collector car insurance companies offer, you may have to prove your vehicle's value in order to receive a reasonable settlement.
Documentation that can help you prove your vehicle's value includes mileage and maintenance records, pre accident photos, receipts for work done to the vehicle and any awards the car has won at shows.
• Consider Fixing It Yourself. If you are the do-it-yourself type, consider repairing your collector car yourself. Some insurance companies will allow this, and they may even pay you for your hours. All they usually require is an estimate from a reputable body shop you might normally use for repairs. You would receive your claims settlement based on this estimate, as long as it is fair and in line with damages. If you do not have a shop, your insurance company may assign an appraiser and pay you the going labor rate in your area.
• Screen for a Reputable Repair Shop. If you choose to take your collector car to a repair shop, first check to make sure they have a good reputation. If the place you choose specializes in collector vehicles, check with local car enthusiasts to see if they have experience with the shop. Your insurance company may be able to recommend shops that have generated positive feedback as well. Cross-check these lists and when possible, talk to more than one establishment.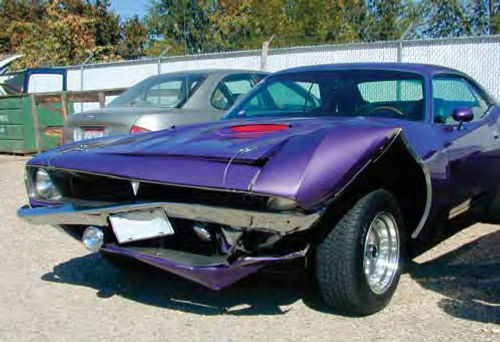 • Be Patient When Searching for Parts. As you know, finding the correct and authentic parts for your collector car can be more time consuming and challenging than repairing an ordinary vehicle. Take an interest in the actual parts your insurance company/repair shop is proposing to use to fix your car.
As all parts-chasers have learned, there are many different types of parts for collector cars, ranging from OEM (Original Equipment Manufacturer), NOS (New Old Stock) and Aftermarket. Make sure you get the best part to maintain the value of your classic.
• Do Not Accept Your Vehicle Until You Are 100% Satisfied. Make sure you personally and carefully inspect the repairs. Take it for a test drive to verify that it drives just as well, if not better, than it did before the claim and inform the repair shop of any concerns you have before taking your car home.
"It is always best to be prepared in the event that you suffer a mishap, because the consequences of being unprepared can prove costly," said McKeel Hagerty, CEO of Hagerty Insurance.
"This is particularly true for collector car owners who have invested a great deal of time and money in their vehicle."
For more on Hagerty, visit hagerty.com.