NOT ALL AUCTIONS Feature Multi-Million-Dollar Vehicles
At This Sale, Parts Cars Reign. But It's Definitely Not Recommended for People Who are Offended By the Sight of Some Rust.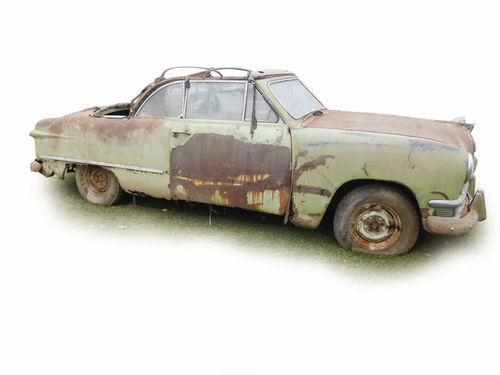 Editor's note: Over the years we've featured a number of auctions where rare, pristine vehicles change hands carrying six- or seven-figure price tags while celebrity guests look on approvingly. But not all vehicle auctions are quite like that. Consider, for example, this sale in Wisconsin that consisted mainly of parts cars and vehicles that are well in need of some restoration work…and no internationally known celebrities were in attendance.
Maybe you wouldn't have wanted to buy anything that day but you'd no doubt admit that it would have been fun to walk the grounds and inspect the merchandise. So let's follow along with AR contributor John Gunnell who did attend the sale.
There seem to be two types of auto restorers. The first type is the restorer who actually takes a car apart, fixes or refinishes all the pieces and puts the car back together again. The other restorer is the person who buys a project car, holds onto it for years and then says "I'll never get it done" and sells it.
Jack Slattery, who gathered up quite a collection of aging vehicles while he lived in the vicinity of Plymouth, Wisconsin, falls into the second category, although Jack admittedly had more project cars than most of us. Jack ran out of time to get the 42 vehicles restored, however, so his cars were auctioned off to the highest bidders last November at the Plymouth fairgrounds.
According to workers at the W. Yoder Auction Company (www.wyoderauction.com), about 20 years ago Slattery (who is still alive) started buying old cars and storing them in a large chicken coop that he rented. The coop's owner said that many of the cars were not in good condition even when he put them in the building. Most of them deteriorated even more from long-term storage.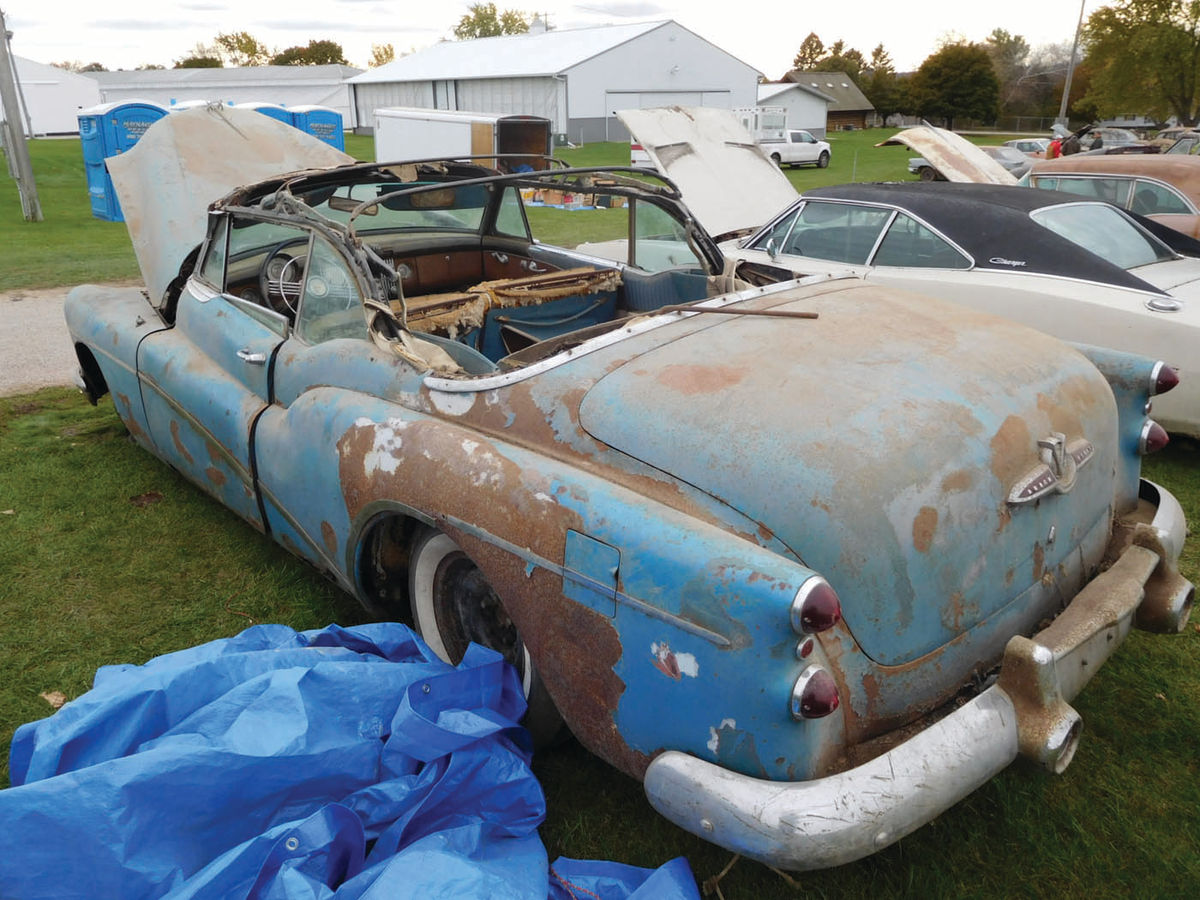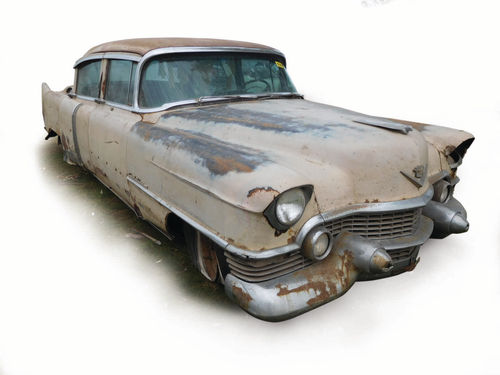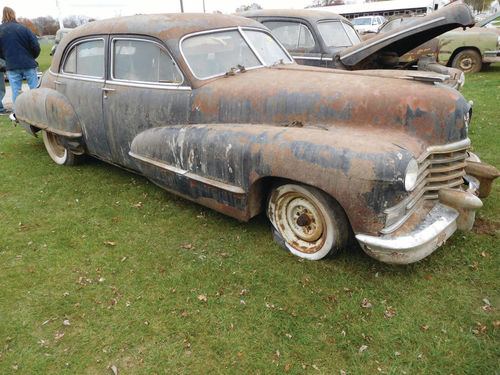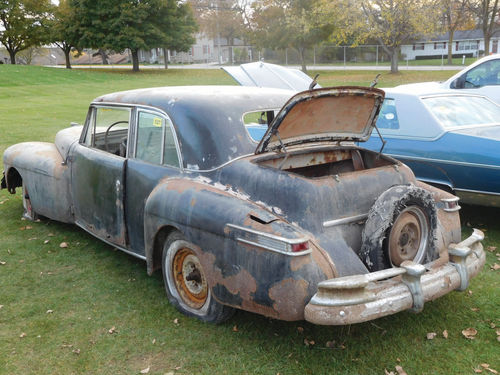 Many were loaded with remnants of upholstery, rusty parts, rotten tires… and raccoon excrement.
There were 42 cars available for purchase and sales announced at the auction totaled $127,285, but apparently that isn't the whole story. After the sale, auctioneer Wayne Yoder told some interested parties that a few of the online bidders did not pay for the cars they supposedly bought. So it's impossible to say what the real total or average price was. Still, it was a very interesting event with some notable, if rough, vehicles. The cars were mainly GM models and many were convertibles. There also were two Lincolns, two Fords, two Mopars, a Packard and a Corvette. Among the biggest sales of the day were a '53 Buick Skylark that brought $25,500 and a '68 Dodge Charger 440 was announced sold at $9000.
A Broad Selection of 1930s-'50s Cars
The offerings included one 1930s model (a pretty decent '36 Olds F-36 touring sedan that sold for $4000), 13 cars from the 1940s, most of which were coupes or convertibles and seven cars from the 1950s, mostly two-door hardtops or convertibles.
Most of the cars were sold without titles and no sales tax was levied on those. High bids included $8100 for a 1940 Lincoln Continental convertible and $9250 for a 1940 Packard 120 four-door convertible. Both needed lots of restoration work.
A fairly solid 1947 Ford Tudor Sedan seemed like a fantastic bargain for only $800, but the next car was a ratty 1950 Ford Custom Deluxe ragtop that left more than a few spectators scratching their heads as to why someone would go $5100 for it. A 1946 Lincoln Continental also brought in a very strong $2600, considering its condition.
Year Make & Model Body Type Condition $ Sold For
1941 Buick Century 2d Sedanette Parts Car 4000
1948 Buick Super 2d Convertible Parts Car 4100
1953 Buick Skylark 2d Convertible Parts Car 25,500
1968 Buick Electra 225 2d Convertible Parts Car 500
1968 Buick Electra 225 2d Convertible Parts Car 350
1968 Buick Electra 225 2d Convertible Parts Car 475
1968 Buick LeSabre 2d Hardtop Parts Car 260
1969 Buick Riviera 2d Hardtop Restorable 1500
1941 Cadillac 62 4d Convertible Parts Car 3500
1941 Cadillac 62 2d Coupe Parts Car 2600
1946 Cadillac 62 4d Sedan Parts Car 1000
1947 Cadillac 60 Special 4d Sedan Parts Car 550
1949 Cadillac 62 4d Sedan Parts Car 475
1954 Cadillac 60 Special 4d Sedan Parts Car 600
1958 Cadillac Cpe DeVille. 2d Hardtop Parts Car 2600
1961 Cadillac 62 4d Hardtop Parts Car 400
1962 Cadillac 62 2d Hardtop Parts Car 1000
1966 Cadillac Cpe DeVille 2d Hardtop Parts Car 700
1975 Cadillac Cpe DeVille 2d Hardtop Parts Car 800
1964 Corvette 2d Convertible Parts Car 11,750
1940 Dodge Luxury Liner 4d Sedan Parts Car 3000
1968 Dodge Charger 2d Hardtop Parts Car 9000
1947 Ford Deluxe 2d Sedan Restorable 800
1950 Ford Custom Deluxe 2d Convertible Parts Car 5100
1940 Lincoln Continental 2d Convertible Restorable 8100
1946 Lincoln Continental 2d Coupe Parts Car 2600
1936 Oldsmobile F-36 4d Touring Sedan Restorable 4000
1940 Oldsmobile 2d Business Coupe Restorable 3600
1950 Oldsmobile 4d Sedan Parts Car 500
1957 Oldsmobile 98 2d Hardtop Parts Car 2600
1971 Oldsmobile Cutlass 2d Convertible Restorable 4200
1971 Olds Custom Cruiser 4d Station Wagon Parts Car 1400
1976 Oldsmobile Cutlass 2d Coupe Parts Car 225
1940 Packard 120 4d Convertible Parts Car 9250
1954 Pontiac Star Chief 2d Hardtop Restorable 4000
1965 Pontiac Catalina 2d Hardtop Parts Car 1000
1965 Pontiac Catalina 2d Hardtop Parts Car 475
1965 Pontiac Grand Prix 2d Hardtop Parts Car 1000
1976 Pontiac Grand Safari 4d Station Wagon Restorable 1900
1976 Pontiac Grand LeMans 2d Hardtop Parts Car 350
1978 Pontiac Bonneville 2d Coupe Good 850
1982 Pontiac Grand Prix 2d Coupe Restorable 675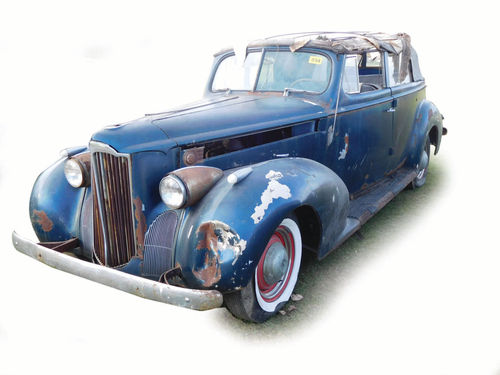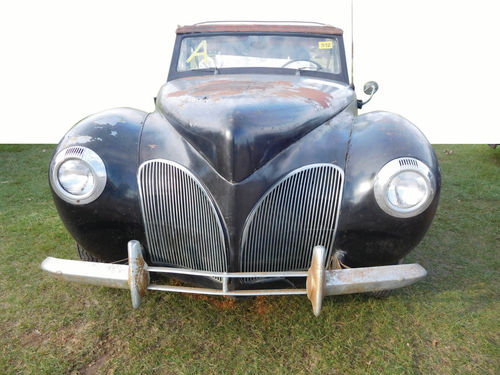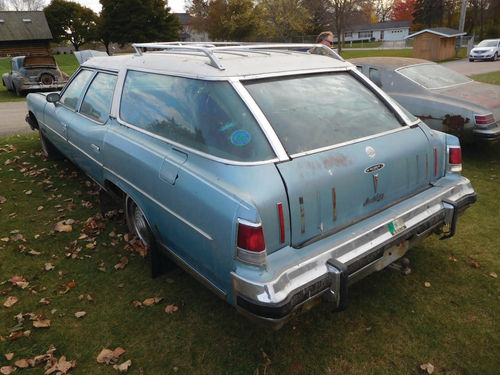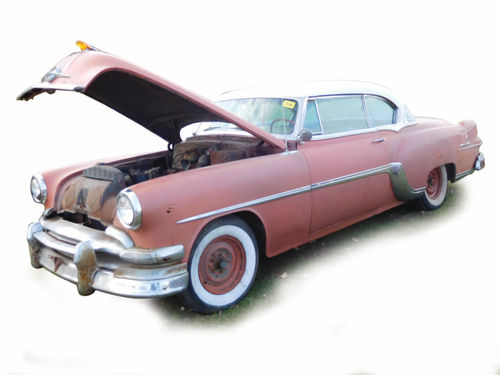 One of the nicer postwar hardtops offered was a 1954 Pontiac Star Chief Custom Catalina finished in Coral Red and Winter White that you might say was in "floorless condition," but was otherwise quite nice, including the genuine leather upholstery. While it might not pay to restore this car to original condition, it would certainly be possible "to just fix it up" and have a bundle of fun with it.
Included here is a list of the prices announced on cars that could be restored or otherwise put to good use by the vintage vehicle hobbyists who read Auto Restorer.