My First Car Was Great, Until…
A Reader Tells Us About His Brand-New '67 Mustang, Which, Unfortunately, Had an Unhappy Ending. But Then There Was the '55 Ford and the '68 Dodge Dart GTS.
Hello Ted,
I greatly enjoyed your article in the March Auto Restorer about Edsel B. Ford II's birthday gift of a new Mustang ("A Rare Birthday 'Pony' Tale").
I wasn't that lucky, but in late 1966 I was watching "The FBI" with Efrem Zimbalist, Jr. in the starring role when a commercial came on showing the new Mustang for 1967. At the time I was 19 years old and was working full time for a local electronics firm and still living with my parents so I had saved up some money.
Back then my family was good friends with the family that owned the local Ford dealership in Carlisle, Pennsylvania. It was known as Buckley Motors and whenever my dad wanted to buy a new car, he would call Jim Buckley, the son of the owner of Buckley Motors and ask him to "bring one of those new Fords over" so dad and mom could take a look at it. When I told dad I wanted to buy a Mustang, dad called Jim Buckley and he came to our house in a new Mustang so I could check it out. I had already been to the dealership and received all the brochures on the '67 Mustang so I had a list of items I wanted to order on my new Mustang. These included the 271 hp 289-cubic-inch high-perf engine (this was before they offered the 390), 4-speed transmission, AM radio and wood-rim steering wheel. For some reason I didn't want the fastback, I wanted the conventional notchback Mustang. I loved the dark Hunter Green exterior color and I wanted an all-black interior. Jim Buckley told me "John, you don't want the 271 hp high-performance engine! It only has a 12,000 mile/one-year warranty on it while all the other engine options have 36,000-mile/3-year warranties!"
It Was Fun While It Lasted
So, at the urging of my parents I opted for the 225 hp 289 engine instead. This was disappointing, but I guess it saved me from getting quite a few speeding tickets! That's me with my '67 Mustang in the photo. The car in the background was my '55 Ford that I later sold to a friend who took the photo.
The Mustang was everything I had hoped it would be and more. The summer of '67 a friend and I drove the Mustang to Ocean City, New Jersey, for a memorable weekend. The car always got looks and waves from the girls and it always was a pleasure to drive. It has a special place in my memory because it was my first new car.
Unfortunately, it didn't last very long. On Labor Day weekend, 1967, I was cruising the block on Sunday evening about 11 p.m. after having washed and waxed the Mustang on Saturday. I was sitting at a red light in the left lane, because I wanted to turn left at the corner. There were about three cars ahead of me — all waiting to turn left. I remember looking in the rearview mirror thinking, "Boy, that guy is close" when WHAM!! he plowed into me with such force that my wood-rim steering wheel ended up "butterflying" and the seat back on my bucket seat gave way and I was looking at the window crank on the right side of the back passenger seat!
I got out of the Mustang and was so upset I wanted to fight with the guy who hit me! I remember calling him every name in the book but he had hit the windshield in his big Oldsmobile and was lying there unconscious. The police estimated his speed at over 70 mph! They took him to the hospital and I later learned he was driving drunk and had gone through about four other red lights straight through town before he hit me.
Salvaging Some Parts
My Mustang, with only 12,000 miles on the odometer, was squeezed like an accordion and the only parts that weren't damaged were the engine and transmission and the interior, minus the wood-rim steering wheel and the seat back of the driver's bucket seat.
I had an unfortunate experience with my insurance company because the driver who hit me was uninsured and the insurance adjuster said that my car could be repaired, so I didn't get market value for the Mustang — only the repair estimate.
So I kept the Mustang and took the engine, transmission and bucket seats from it and put them in the '55 Ford Tudor sedan shown in the photo. I put a 4.10 rear in this '55 and it surprised quite a few muscle cars in block-to-block drag races. I even beat a GTO Judge once. I can still see the look on the GTO driver's face when he pulled up beside me at the next traffic light!
A friend bought the '55 from me in 1969, just before he went to Vietnam and he still has it today — it's been in "restoration" mode for the last 15 years!
Behind the Wheel of a Mopar… and Another Mustang
The '68 Dodge Dart GTS (see photo) was the car I bought after the Mustang. I couldn't go back to another Mustang because it just didn't feel right "cheating" on my first love and when I started that 340 engine in the dealer's showroom, I knew I had to have the Dart! But, that's another story!
In February 2008 I finally bought another Mustang — a Hunter Green Bullitt, Number 0553, which I still own and which has only 20,000 miles on it. (I was very careful driving it when my Bullitt approached 12,000 miles!) My wife and I drove it to Florida a few years ago and we got plenty of "thumbs-ups" from other drivers!
I thoroughly enjoy your magazine and the how-to articles. I'm so glad you don't subscribe to the "show car" venue of other magazines where the cars are restored or built by professionals at astronomical costs. We do-it-yourselfers are happy to take the ideas you present and try them on our own cars!
I have a '53 Ford F-100 that I hope to finish some day. I'll be sure to send you photos when it's back on the road!
Keep the shiny side up and the dirty side down!
Thanks for sharing your car stories with us, John. When reading about the fate of your Mustang I couldn't help but have an immediate flashback to a very similar incident that I experienced when I, too, was a teenager.
I was driving a used Fiat 1100D sedan at the time and waiting at a red light at a very busy intersection (Eight Mile Road on Detroit's east side). I happened to glance up in my rearview mirror just in time to see a full-size Chevy bearing down on me. This, of course, was long before drivers could be distracted by text messaging, but in that momentary glance I could see that the woman behind the wheel of the Chevy was gazing into her rearview, apparently fussing with her makeup.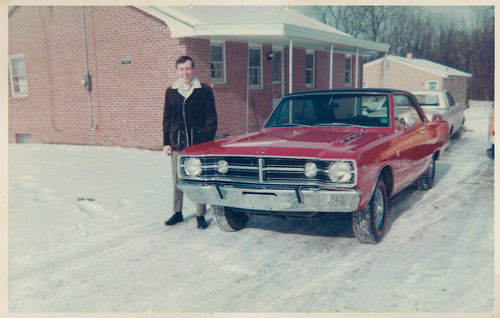 I hit my horn button in an attempt to alert her to the situation just as she rammed me with enough force to knock me out into the intersection. Fortunately for me, in fact, very fortunately for me, there was no oncoming traffic or, given the usual high rates of speed on Eight Mile, I would have been T-boned in a most convincing manner.
Aside from being sore all over, I wasn't hurt.
My little Fiat, on the other hand, looked something like a lopsided "A" from the side and was totaled out by the insurance company.
–Ted Kade