CAR SPOTTING with TRACI in Italy
This month we go abroad with Car Spotting...to the beautiful cities of Rome and Florence!
Europe, especially Italy, has long been known for its "micro cars" and scooters. After all, you need a tiny car to navigate down those narrow cobblestone streets – and for parking! Little cars and scooters all lined up along the road, practically touching each other, is a very comical sight.
Top Notch Driving Skills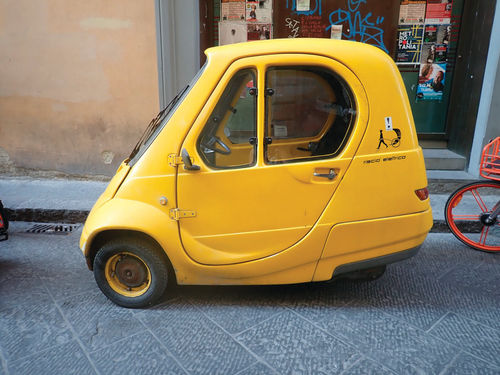 These Italians are expert drivers and masters at parallel parking. Just watching traffic move down a street in Rome is almost on par in entertainment quality with a Mission Impossible car chase scene. The way they maneuver their tiny vehicles (with scooters weaving in and out inches away from cars and oftentimes going up on the sidewalk) is very impressive – and this is coming from someone who lived and drove in Orange County and Los Angeles traffic! I also never witnessed any accidents or even a small fender bender in Italy (although I'm sure they must occur). Be warned though, if you are a pedestrian, you must have your wits about you at all times while walking around. In Italy, the whole "pedestrians have the right of way" rule doesn't really exist, or at least is not enforced at all.
Walking around Italy gives you time to observe as you walk (which is a nice change of pace from driving everywhere in the United States) and I spotted many unique cars. The vast majority of Italians seem to drive Fiats or scooters but there were quite a few unique brands of vehicles there that you won't see in America (or other countries). In fact, it was a little bit of a culture shock when I returned to America and had to suddenly share the road with trucks and SUVs, which would look like monsters on a cobblestoned Italian street. Many cars that we see in America wouldn't even be able to fit on a street in Italy – they would be much too large!
Ever Heard of a Pasquali Riscio?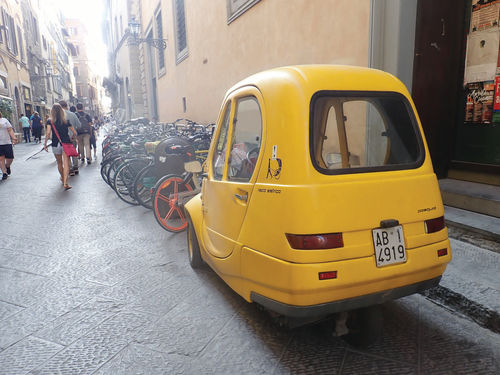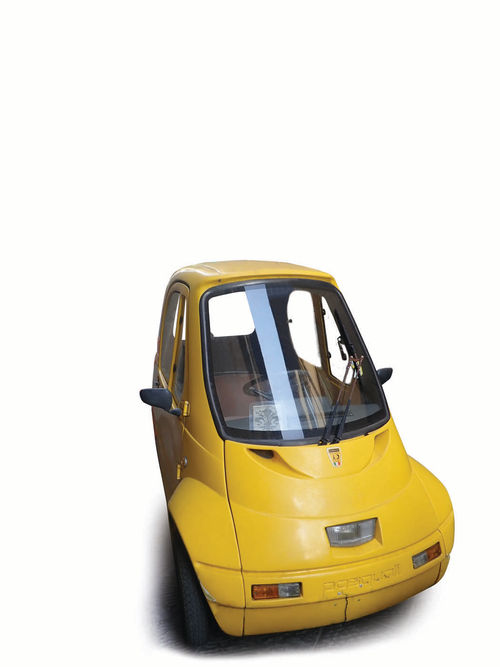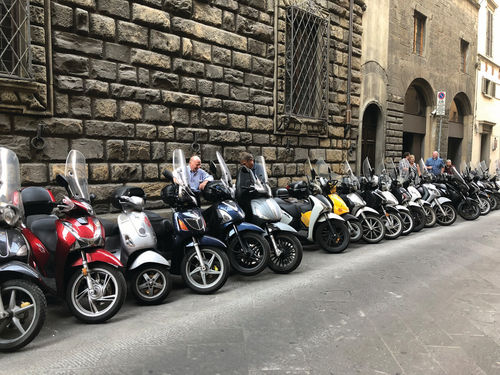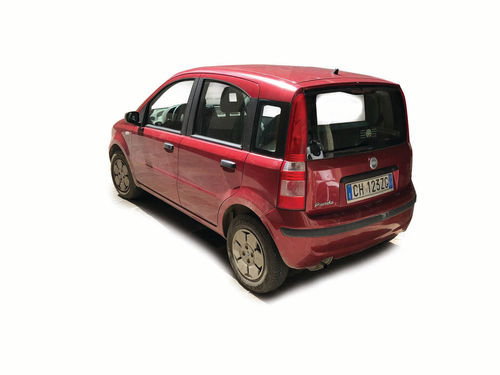 The first Italian vehicle that really caught my eye as I was walking was a little three-wheeled micro car called a Pasquali Riscio. It is an electric car with zero emissions made in Florence! There are two types of Pasquali Riscio. Type 105.10 has one seat only and doesn't even require a driver's license to operate. Type 105.20 does require a driver's license and has two seats. The max speed of these three-wheelers is
around 25 mph, which is perfect if you are simply tootling around the city. Their website states that these little vehicles provide you with the same maneuverability as a scooter in city traffic but with a roof over your head you are protected from any weather! What an amazing little car. Perhaps the next time I visit Italy, I may try to rent one just to see what it would be like to drive one of these little three wheelers! Who can resist that bright yellow color?
Fiat, an Italian Original
Of course I must include a Fiat in the Italian Car Spotting saga. This one, also a yellow color, was spotted in Rome by my parents. It is a Fiat 500L, very common in Italy – I saw one around almost every corner. The surprising thing about this Fiat is that it seems to be void of any scratches or dents, which are a common sight on Italian cars due to the fact that they park literally an inch away from each other at times. Also, "lanes" aren't really a thing on the road; I often saw five cars abreast with scooters weaving in between. So while there weren't any real accidents that I saw, people do bump into each other or brush past each other and certainly door dings are an everyday occurrence. The fact that this Fiat had smooth, shiny doors and hood is a miracle in and of itself. Plus, I've always enjoyed bright colors on cars, especially small cars such as this Fiat.
Unique European Brands of Cars are Everywhere!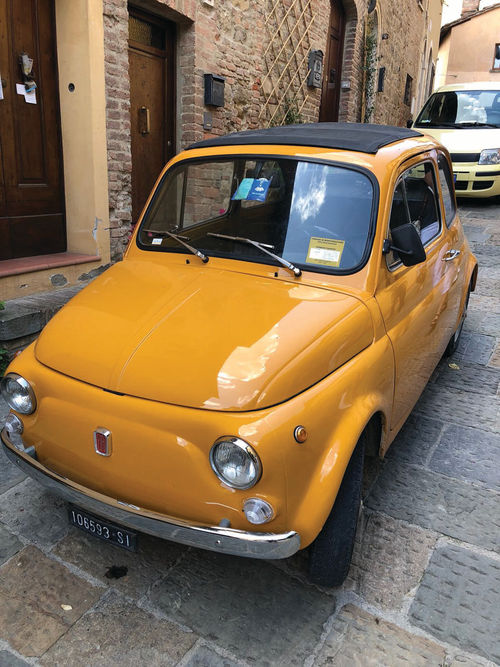 Another Fiat, called the Panda, was also very prevalent in Italy, which is not a model that we are accustomed to seeing here in America (it appears that it is only sold overseas). This is just one of many European vehicles that we won't find here in America. Another one that I thought was especially different was a Renault called the ZE Twizy. (We'll have more French cars in the near future.) I spotted this unique little vehicle while walking around the cobblestoned streets of Florence, not far from where I spotted the bright yellow Pasquali Riscio. It is also an electric micro car with zero emissions and they can get up to speeds of around 50 mph, twice that of a Pasquali Riscio. Renault makes a variety of vehicles and I'm fairly certain I saw at least one of each while traveling abroad – they are a very popular car choice for Europeans. The Twizy model is the smallest vehicle they make and seats up to two people, making it a great option for maneuvering those Italian streets.
More than Just Cars...
The number of scooters I saw in Italy was quite astonishing. They are a hilarious sight to see all parked alongside each other, practically touching. How they manage to park so perfectly right next to each other is truly a mystery. For those unfamiliar with European streets, I've included a couple of photos to give a better image of what a day in the life of an Italian can look like from a driving and parking perspective.
Happy Traveling!
This is the first of a couple of international Car Spotting articles. This month featured Italian cars, of course. Does anyone want to guess which country will be featured next month?
Also, if you've traveled (or lived) abroad and have photos from your travels, we'd love to see them! Perhaps you might even own an Italian micro car of your own! Either way, send us your photos and your car spotting stories.