How -to A60-Year-Old Buick "Survivor"
This 1951 Special Has Spent Most of Its Time In a Garage. Now It Offers a Glimpse Into Automotive History.
A GROWING DEBATE in the vintage vehicle hobby centers on the value and merits of "survivor" cars and trucks and whether they should be kept in their original, unrestored condition.
"It's only original once," has become the battle cry of those who say that if it's at all possible, a vintage car or truck should get only the repairs and maintenance necessary to operate it safely on the streets. Other than that, a vehicle should keep as much of its original paint, interior, trim and mechanical components as it can, so it may be a more representative example of its era.
In fact, Bloomington Gold show judges will now assess vehicles to determine if they can be classified as survivors. Bloomington has come up with its own definition of the term and trademarked the name as it applies to cars it judges to meet its standards.
In Bloomington Gold parlance, a Survivor vehicle is: 1) At least 20 years old; 2) Capable of making at least a 20-mile test drive and 3) Judged to be over 50 percent un-restored, yet with finishes, surfaces and overall condition good enough to use as a reference for authentic restoration of a vehicle like it.
Many of the cars and trucks that have participated in the Bloomington Gold Survivor shows to date are vehicles that belong to serious collectors. Without a doubt, the vast majority are very nice units that were extremely well-preserved over the years. Moreover, most of these vehicles have been carefully washed, polished, waxed and lubricated—in other words "detailed"—by their current car collecting owners.
That level of care has not been the case with a survivor-type 1951 Buick Special two-door hardtop that recently woke up from a long nap in the village of Manawa, Wisconsin. But there'll be more on that in a minute. First, let's consider some general information regarding the '51 Buick Special.
Bigger & More Powerful, With a New Front End
For 1951, all Buick Specials grew two inches in length and under their hoods was a larger-displacement 263-cid "Fireball" straight eight with 120 hp. Showroom prices started at $1917 for a hardtop with no options.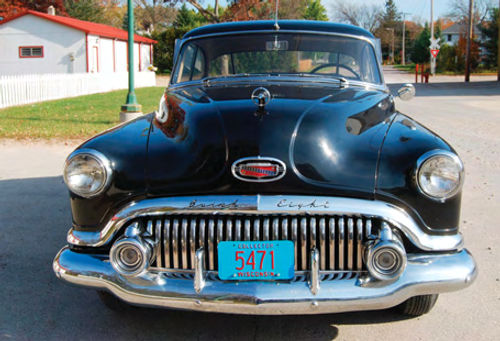 This model was part of Buick's volume-production three-porthole Special Deluxe car line. Sweep spear-style side trim gave the Special Deluxe models an upscale look. (Buick Roadmasters came with four portholes on each side.)
The 1951 Buick Rode on a rugged, X Braced chassis with a relatively low center of gravity. They all used a rigid torque-tube drive system, rather than an open driven shaft. The Buicks Salesman's guide stated, "The major source of Buick's sway-less, swerve-free ever-level stability comes from its solid and surefooted chassis, giving the car road poise and a solid 'seat' on the highway."
A new "Push-Bar" front end replaced the 1950 style, which was often referred to as having the "Buck Tooth Buick" look. The 25 small, stamped-steel grille bars used in the 1951 grille did not cover the bumper and were designed to "give" with the massive wraparound bumper. Blade-style bumper guards added to the car's front-end protection. The red Buick emblem above the center of the grille, with its blue-and-silver diagonal stripe, was a trusted hallmark, along with Buick portholes in the front fenders and a Buick bombsight hood ornament.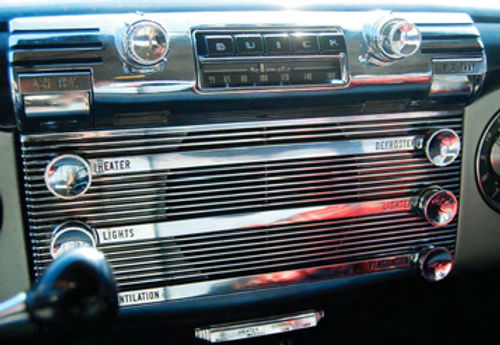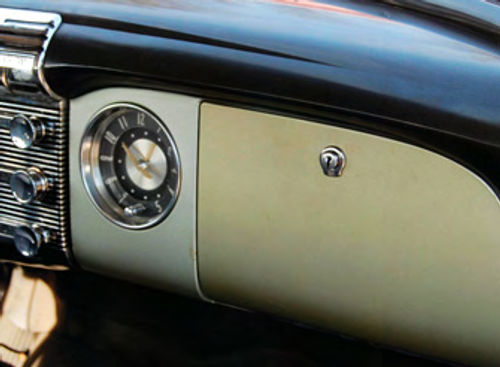 Buick's 1951 appearance was described as "Dreamline Styling" and featured tapered fenders that blended into the main body feature line.
A colorful ad promoted the 1951 Buick Special as "Room With Zoom."
One Low-Mileage Special
The "Rip Van Winkle Buick" from Manawa had been driven just 20,391 miles from the day it left the showroom and belonged to a man named Walter Zemple, who recently passed away. Paperwork in the car's glove box indicated that Mr. Zemple purchased the car on May 25, 1951 at Waupaca Motor Sales in Waupaca, Wisconsin, about 17 miles from Manawa.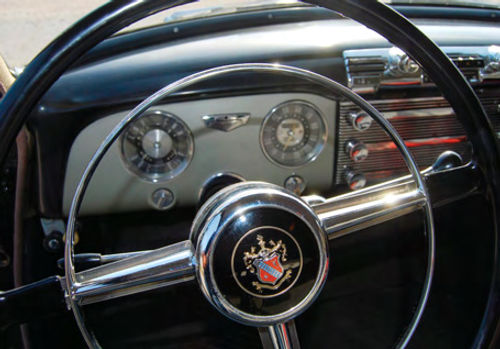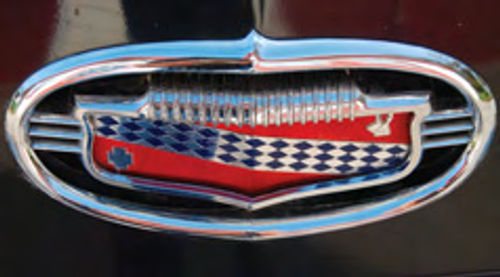 Walter Zemple was the car's only owner through the first 59 years of its existence, and during that time the car was stored in an unheated garage. Mr. Zemple heated his home with wood and had no electricity, but he took outstanding care of his favorite car.
When the Buick Was discovered after Mr. Zemple's death, it was inside a wooden one-car garage. The tires were resting on boards that were staggered so that the car could be driven up on them, raising it higher than normal for better air circulation under the car. This helped to keep rust-causing moisture from attacking the vehicle. The car was stored with the rear facing the door and was slightly dusty…but otherwise it was in near mint condition.
Taking a Closer Look
The car is finished in its original black Duco lacquer paint and has a two-tone gray interior. The seats had been covered with both blankets and sheets, they have no rips, tears or stains and, in fact, look perfect. The floor mats, door panels, headliner, package shelf and trunk trim are all as new.
The glove box is like new and has a key slug sticker and an instruction sticker for the tire pressure, jacking, engine oil and transmission oil. The dashboard is gray, with a greenish tint on the right hand glove box door. We're told that these Buicks came this way…the various dashboard parts were painted in different parts of the factory and assembled after they were painted.
The inside of the car's wheel wells still have factory black paint, There was some very minor surface rust on the inner panels while the chassis, frame, gas tank and other under-car parts have a light coat of storage rust. The front suspension looks like it was always well-lubricated. The insides of the wheel discs themselves have only light surface rust. The front Buick badge still has its factory blue and red coloring with no deterioration.
The trunk badge and handle are red with some minor fading and lifting of the reflective red finish. The car's chrome decorations and stainless steel trim are very nice to excellent throughout, with only the lightest scratching/pitting on some pieces. The rocker panel moldings have black factory paint right to the outer edges and light storage/surface rust only on the bottom edge. The bumper jack is in the trunk and looks like it is brand-new.
Under the uncommon Buick hood that lifts from either side or comes completely off, the engine bay looks almost like new.
The car's "Fireball Eight" engine has the original color paint on the rocker arm cover and some other parts. Some black paint has been spilled on the rocker arm cover, quite likely the result of a garage accident, but that probably could be removed with careful polishing.
The spark plugs appear to be the car's original ones, and there are numerous extra sets of period correct plugs in the trunk. Buick engines came with a long spark plug cover that often caused shorting between the spark plug wires. The cover for this car has been removed (probably because it shorted the wires) and currently is in the Buick's trunk.
The car has an add-on canister type oil filter assembly that is a correct accessory item for the car's era. This may have been dealer installed, although it is not listed on the original bill of sale.
The firewall has black paint that appears to be original.
The Buick Special has a three-speed manual synchromesh transmission. The 263-cideightwiththree-speed "stick shift" is a favorite of Buick fans who say this combination gives the small Special a real kick in the performance department.The 7.60 x 15 black sidewall U.S. Royal Air Ride tires appear to be the car's original set and they still look good and hold air. It is doubtful these tires would hold up well in long-distance driving, but they add value to a car being preserved as a "survivor" vehicle. The car has full wheel discs.
Factory options on the bill of sale include a heater, a radio and antenna, back-up lights, a Buick Flex steering wheel, Foam Tex (foam rubber) seat cushions, directional signals, an accessory group and a spare tire and tube. The spare currently with the car is in good condition, but does not match the brand and model of the mounted tires. (It's not known why there is a replacement tire in the trunk.) The car also has an exhaust deflector with the blue square Buick logo and a factory trunk light.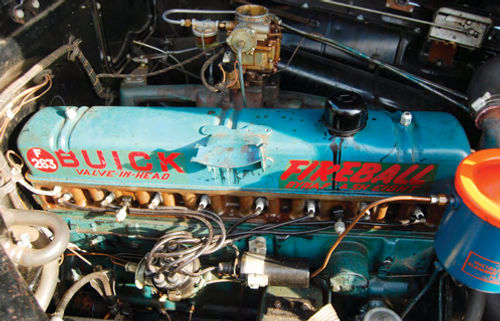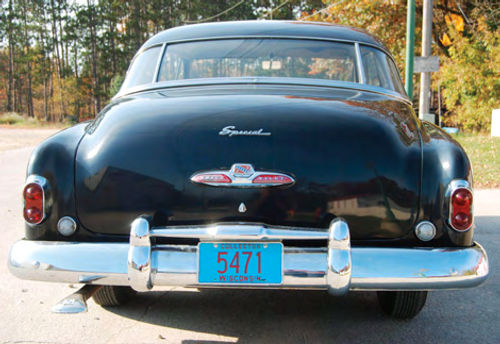 Mr. Zemple purchased numerous spare parts over the years and stored many of them in the car's trunk. There are mechanical parts, trim parts, accessories and other items stored there. The other items in the trunk include old oil and antifreeze which, as many readers will recall, came in tin cans years ago.
About That Radio…
The Buick starts, runs and drives as good as it looks. Everything on the car works, except that the radio is silent. There's power going to it, but no music comes out.
The car has been washed once since it was removed from Mr. Zemple's garage, but it has not been waxed or detailed, nor has the interior been cleaned. The old gas was drained and replaced with new gas, and a new battery was required.
Other than that, nothing else has been updated on this 60-year-old Buick since the car was awakened from its long-term nap.