Feature Restoration 1948 Willys 4WD Pickup
He Applied His Corvette Restoration Approach to This Truck. The Result Was an Uncommon "Farm" Vehicle.
IT'S NOT OFTEN that you would compare a Willys Pickup truck with a Corvette. But bear with me for a minute. Let's start with performance. The Willys has a low gear ratio (5.38:1) that comes in handy around the farm where it might be up to its axles in mud. The Vette has a reputation for burning tires and showing its taillights to just about anything that wants to race on a long, smooth stretch of asphalt. Anyone wearing a pair of coveralls can see the beauty of a Willys. The Vette? It's slick and sleek. Corvettes get restored to the highest degree, with judges quibbling over the correct amount of overspray in areas where the sun doesn't even shine. Willys, more times than not, get a bargain paint job, a set of oversized tires and a small-block V-8.
Ask the Man Who Owns Both
So is this a fair comparison or a stark contrast? Actually, it's both. Just ask Fred Humes, the owner of this 1948 Willys Pickup. He's restored Corvettes and is a guy who appreciates all the details that a restoration requires. He also had a vision of the kind of truck he wanted to have, and you're looking at it. Still, he's pretty lucky that the truck turned out as well as it did.
That's no condemnation of his mechanical skills and project management capabilities. It's the end result of a vehicle bought and sold and bought back again over the course of several years. Things could have ended up far differently for this truck.
Following up on a classified ad for a wrongly identified 1949 Willys Pickup truck, Humes found this recently retired vehicle in San Diego, less than 50 miles from his home in Oceanside, California. The previous owner had been using it as a daily driver until the brakes went out and he decided to part with it.
The body was straight and the rust was minor. Humes was so happy to have found the truck that he'd spent years looking for that he bought it without even attempting to start it. He appreciated this style of truck and his wife liked its rugged good looks. But the idea in his head at the time was to drop a Chevy V-8 into it and maybe even turn it into an extended cab, because it's somewhat cramped for a guy who's over 6 feet tall.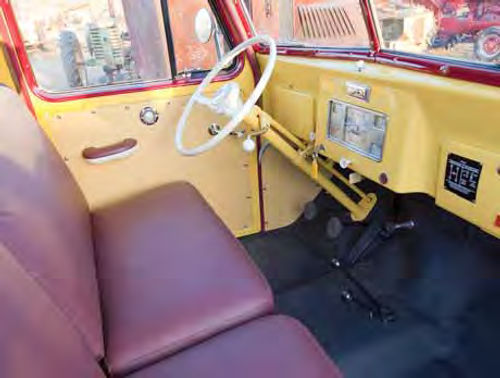 But none of those things happened. As project vehicles often do, this one sat for a while before fate decided which card to play next.
Sold, But Not Forgotten
A move to a house with a smaller garage left the Willys without a roof over its head, so Humes asked an acquaintance if he wanted to buy it. The answer was yes. The deal was done and the truck was gone.
Well, all but the engine. The new owner didn't want it, and that turned out to be a lucky break for Humes. A 1948 Willys engine is only going to sit around for so long before most guys wonder what the heck they are ever going to do with it. Five years went by before Humes reached that point.
"That's when I contacted Willys America (a Willys restoration and parts company in Cazadero, California, owned and operated by Paul Berry) and asked if there was any value to the engine," Humes says. "The response was that it was really a junkyard engine without the original vehicle."
So Humes explained the story of the truck it came from and more questioning ensued. Did the truck have a column shift? Did it have a split bench seat? The answer was "yes" to both. Up to this time, Humes thought the truck was a 1949 because that's how it was registered from the original owner. The column shift and the split front seat, along with grille and fender details, were evidence the truck was actually a '48 and not a '49.
What a Difference a Year Makes
Berry told Humes a '48 Willys truck in original condition was a rare find. He knew people who had been fishing for similar vehicles and only reeling in butchered up examples that by and large were not considered keepers.
As soon as Humes heard that, he was on the phone to the guy who owned the truck. Did he still have it? Yep. Had he done anything to it? Nope. Humes was there the next day to pick it up. And he got it for the same price he had sold it for.
"That began the reunification of the original engine and truck," Humessays. "AsI went through it, I realized the only way to do this right was as an exact original restoration. I've been through that with '55 Chevys and older Corvettes,so I have a pretty good feel about how to do it like the factory made them."
Restoration Comparisons
But Humes quickly learned that restoring a Willys Pickup isn't quite the same as working on a Tri-Five Chevy or a vintage Corvette.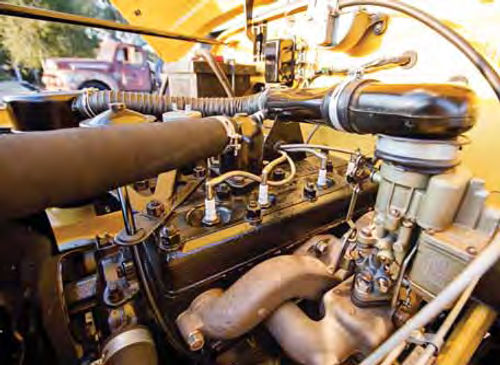 One thing he quickly discovered about restoring a late '40s-era Willys is that almost nothing exists in terms of written details about how the Willys truck was produced at the factory.
Fortunately, the truck was very original in most regards and it was a very good guide to the way these vehicles rolled off the assembly line.
Only a few parts were missing. For instance, the gas tank had been changed to a larger unit. The headliner was gone except for a little 2-inch piece that was used to track down a replacement. It took almost two years to find the headliner material, which was unique to the '47 and '48 trucks and station wagons. Humes could have gone with the cardboard material used in the '49 trucks; it was available as a reproduction part. But that's not the route a Corvette restorer would take.
"I found out a lot of suppliers would say they have the right part, but when it was shipped it didn't look like the original," Humes said.
"Functionally it would work, but it wasn't a correct reproduction.
"I needed a new chrome bar for the top of the hood. When I bought the truck, the hood was pushed down as if someone had stood on it or put a lot of weight on it. The trim bar was broken. Someone reproduced this part, and I found it was made from stamped stainless steel. It looked right from 20 feet away, but up close you could tell it wasn't like the original.
"Several suppliers tried to be helpful but they didn't quite understand the concept of what the NCRS (National Corvette Restorers Society) people try to do with Corvettes. Not too many guys want to be that exacting with Willys Trucks. It wasn't unusual for suppliers to say, 'Nobody will know the difference anyway. Who cares?' Well, I care. I want it the way it came from the factory."
Applying Some Michigan Yellow
You won't see a lot of late-'40s Willys vehicles at car shows, cruise nights or off-road vehicles playgrounds.You'll See even fewer of them that have factory correct details like the splash shield for the starter, the original-type fan shroud, new glass with the date code stamps as they were in '48, new old stock headlights, and, yes, even overspray in the areas where only Humes would look.
During the restoration process, Humes had the body acid dipped, then media blasted to give the metal some "tooth" before the primer coat went on. Minor metal repairs were made at the bottom of the cowling, in the floorboards, and along the bottoms of the doors to replace rusted areas.
Not surprisingly, Humes chose an original paint color. Willys had a grand total of two paint colors for its four-wheel drive trucks in 1948: Potomac Gray and Michigan Yellow. As you can see, yellow trumped gray, even though this truck was originally gray. A slight deviation, perhaps, but a request from his wife.
1948 Willys Pickup
GENERAL
Front-engine, four-wheel-drive, pickup truck
ENGINE
Type Inline L-head four
Displacement 134 cu.in.
Bore Stroke 3.125in.x4.375 in.
Compression ratio (:1) 6.48
Carburetor Single-barrel
Power 60hp
Torque 106 lb.-ft.
Main bearings 3
DRIVETRAIN
Transmission Borg-Warner T-90 Three-speed manual
Transfercase Spicer 18
Finaldriveratio (:1) 5.38
AXLES & BRAKES
Front Dana 25
Rear Timken 51540
Brakes(f/r) 9-in. drum/drum
MEASUREMENTS
Wheelbase 118in.
Length 183.75 in.
Height 74.4 in.
Width 73in.
Track(f/r) 59.5/58.5 in.
Weight 3300 lb.
Tire size 600-16
The engine restoration work was pretty basic. Rings and bearings, a valve job, cylinders were bored .30 over, and the head was surfaced. The fuel pump and the wiper motor were rebuilt.
That's Optional at Extra Cost
Powering this '48 Willys truck (although the word "powering" might be a bit of an overstatement), is the famous "Go Devil" four-cylinder L-head engine that was under the hood of the World War II-era general purpose vehiclesthat came to be known as Jeeps. From its 134 cubic inches, it created all of 60 horsepower. It didn't need to go fast. It just needed to go anywhere.
The Go Devil engine was mated with a Borg-Warner T-90 three-speed transmission, which was also used in the CJ2 Jeeps. With the 5.38 gears that are in Humes' truck, a top speed of about 45 mph is achievable, although not recommended. Humes says he's never driven his truck over 40 mph. (If you want a truck that's more at ease on modern roadways, there's an aftermarket overdrive unit available.)
Seals and bearings in the axles were replaced and the same goes for the differential and transfer case. Because the gears were not chipped or excessively worn, Humes believes the 66,000 miles on the odometer when he brought the Willys home might be correct.
As the various pieces were finished, Humes assembled the truck.
"I checked date codes on the engine block, the cylinder head, the transmission, the bell housing, and the flywheel," Humes says. "They all are dated in 1948 and they coincide. Not that anyone at Willys cares, but the NCRS people will love that."
Staying true to the "as Willys would have built it" blueprint, Humes tracked down a set of NOS spark plug wires, which led to one of those restoration surprises that keep this game interesting.
"When I opened the box," Humes says, "I thought there was a mistake because there weren't any rubber insulators where the wire connects to the spark plug. I later found out, after some research, that the rubber insulators were an option that came in the 'water-proofing kit.'"
Parts & Information Sources
Of all the parts suppliers that Humes contacted, he found only a few that were on the same page as he was when it came to finding the correct original parts or reproductions that were made to factory specifications for his particular truck. Among those that were especially helpful were: the aforementioned Willys America in Cazadero, California, (willysamerica.com); Walck's Four Wheel Drive in Bowmanstown, Pennsylvania, (walcks4wd. com); andMidwest Jeep Willys in Crawfordsville, Indiana, (midwestjeepwillys.com).
Paul Berry at Willys America says he's owned hundreds of these vehicles in the 33 years that he's been buying and selling parts and restoring vehicles. He's a source of Willys information that many folks turn to in times of need.
Berry has annual production numbers and has more than likely seen every Willys vehicle—trucks, wagons, Jeeps, and Jeepsters.
A Post-War Product
Willys trucks were introduced in 1947 as the Willys Overland Co. switched from military to civilian production.
Only 2346 four-wheel drive trucks were produced in 1947. That compares with 2642 two-wheel drive trucks, 27,515 station wagons, and 65,078 CJ-2 Jeeps. Berry pointed out that production numbers were kept by the calendar year rather than the date when new models were available to the dealers.
In 1948, the auto industry was scaled up to accommodate post-war demand and Willys factories in Toledo, Ohio, and Maplewood, California, were better supplied and equipped for expanded production. As a result, a production surge occurred at Willys that corresponded with the auto industry trend. Four-wheel drive truck production was almost eight times greater than the year before, totaling 20,957. That was more than double the production of two- wheel-drive trucks, which numbered only 9216. Station wagon production increased to 44,381 (including the new- for-1948 Jeepster), and the CJ-2 Jeeps accounted for 74,122 units.
Production of all Willys vehicles was then dialed back in 1949. A total of 10,757 four-wheel drive trucks rolled off the assembly lines, compared with 4955 two-wheel-drive trucks. Station wagon production, which now included four models, dropped to 36,427, but that topped the combination of CJ-2 and CJ-3 Jeeps, which only managed 29,931.
Change Came With the '50s
Minor changes were made in the four- wheel-drive trucks from 1946-49, but in April of 1950 a few more obvious changes took place. Even the untrained eye can distinguish the changes in the grille, which added horizontal bars and was slightly V-shaped from the sides to the center. The leading edge of the front fenders also became noticeably V- shaped and a stamped crease down the center replaced the flat-fendered design that was a carryover from the war-era Jeeps. The centerline trim piece on the hood was dropped in favor of a simple hood ornament. Inside, the gauge cluster that had been rectangular and contained the speedometer was redesigned with a round speedometer separated from the other gauge cluster. Another mid-1950 change was the availability of an optional "Hurricane" engine. The Hurricane was a higher compression, F-head design that had one set of valves in the block and one set in the head. (It was rated at about 75 hp, depending on the source.)
Production figures for 1950 do not distinguish the flat-fendered trucks from the redesigned versions that were built beginning in April.
Although the production numbers show the 1948 four-wheel-drive trucks significantly outnumbered both 1947 and 1949 versions, Berry says the number of survivors is shallow for all the flat-fendered 4wd trucks. "None of the early post war trucks are any more valuable or any more rare than the next one," he says. But he also notes that few of the survivors were as original as this vehicle was or have been restored to the level that Humes restored his truck.
Some Expert Advice on Parts
Have you ever been out somewhere and mistaken another woman for your wife? Me neither, but you can see how embarrassing that could be for some guys who just aren't paying close enough attention.
The same can be said for parts that look like they could be for a '48 Willys Pickup truck, but aren't. Sometimes the differences are subtle and could fool anyone. Other times you get back to the garage and wonder out loud, "what the heck was I thinking?"
Willys expert Paul Berry has an eye for what works and what doesn't. Here's some of his advice:
The rear fenders on all Willys Pickup trucks from 1947 through 1963 are all the same, and you can't swap a right fender for a left one.
The bed was essentially unchanged throughout this production run as well. The overall dimensions remained the same but the lettering on the tailgate changed beginning in 1953. The early- style tailgate, with the WO (Willys Overland) logo like the one on Humes' truck, is a highly prized piece. Berry says they are sometimes seen on later model trucks much to the dismay of owners of the early trucks that wish they had them.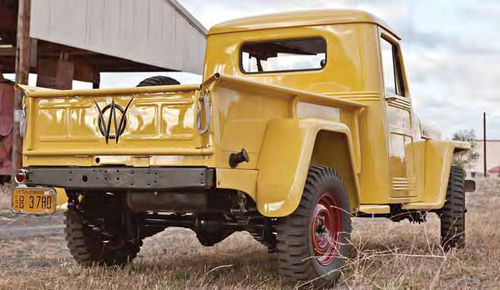 Mechanically, the Go Devil engines in the early post-war Willys vehicles were all the same, as were the transmissions. The front differential in a four-wheel drive truck is essentially the same from 1947 through 1963.
"The gear ratio may have changed over the years," Berry says, but the axle shaft diameter would not have changed. The universal joint design was changed a few times, but there weren't a lot of tooling changes."
Take note that the Willys Trucks have longer wheel bases than the wagons. They also have a wider track in the rear suspension, which makes the differentials different.
Fenders and grilles also can get a guy into one of those awkward situations. The 1947 through mid- '50 front group (fenders, hood and grille) on the pickup trucks look identical to the two-wheel drive wagon parts. But, Berry points out, the inner fenders are different, which prevents them from bolting right up. From 1949 through mid-1950, a Willys four wheel-drive wagon was produced and the fenders from that vehicle are interchangeable with the four-wheel-drive pickup trucks built from '47 to mid-'50.
"The basic stampings (on the trucks and two-wheel drive wagons) look the same, and some guys will use cutting torches to make them fit," says Berry with a great deal of disapproval in his voice. "Sometimes you see vehicles with pieces from five different vehicles made to work."