George Barris Is a Well-Known Pioneer In the World of Modifieds. His Work Runs from Mercs & Mustangs…to a Prius.
IT'S A LONG road from a 1925 Buick to a 21st century Toyota Hybrid and along the way, George Barris has customized them all. In fact, he began customizing vehicles before the work he was doing had a name. To young Barris, his joy was just creativity mixed with a love of cars.
"My parents had a hotel and a restaurant," he recalls about growing up in Roseville, California, near Sacramento, with an aunt and uncle who brought him up after his own parents died. "They gave me a 1925 Buick and I bought some paint and foxtails. I took the gold knobs off the doors in the hotel and put them on the grille," Barris recalls. "The car was a knockout and I was grounded for a week!"
Barris soon began hanging around a local body shop, learning how to weld. He began to earn a reputation for tailoring the cars of friends, such as putting in a set of cat's eye taillights for $10. By the time he graduated from high school, he had a full set of body work skills and had formed the Kustoms Car Club. (Barris favored spelling "custom" with a "k," in effect customizing the word itself.)
A progression of cars in Sacramento led Barris to open a shop in the LA suburb of Bell in the early 1940s. When his brother, Sam, returned after World War II, the Barris Brothers Custom Shop opened on Compton Ave. in Los Angeles. They quickly became known for a new technique—the art of chopping.
About that time, Barris developed a second skill along with his creative bodywork. "Every time I did something, I'd take my camera on a tripod and 'click.'"
You Oughta Be In Magazines…and Pictures
His love of cars, customs and "clicks" soon attracted the attention of the then new car magazines of the day, and completed Barris customs as well as "how-to" photo stories soon began to appear in print.
The handiwork of brother Sam went right along with the creative flair of George. Sam chopped the top on his 1949 Mercury, then made the first hardtop chop, done on a 1951 Chevy Bel Air.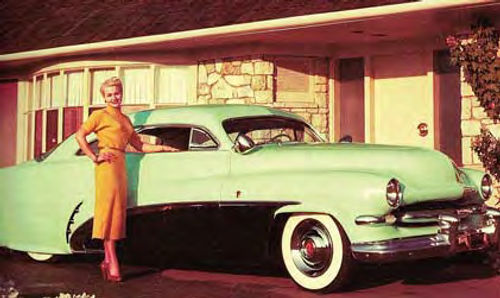 The Barris touch soon built up quite a résumé of work. It included the Jesse Lopez Ford, a 1941 coupe done in the late 1940s that was chopped four inches and dressed in a Cadillac grille and wheel covers. George and Sam also worked on the famous 1951 Mercury built for Robert Hirohata. The design, seen at the center of this page, drew rave reviews with its lowered top, tuck and roll interior and 30 coats of hand-rubbed lacquer.
Eventually, Sam left the company and later died of cancer but George continued to create. Meanwhile, the Barris reputation spread from the pages of magazines to both large and small screens.Moviegoers saw Barris customs on the big screen beginning with the 1958 movie, "High School Confidential."
The creations became icons of the 1950s. One was the Golden Sahara, a 1953 Lincoln Capri hardtop lowered and transformed with 40 coats of oriental pearl paint and 24-karat gold.
The Golden Sahara appeared in the Jerry Lewis movie "Cinderfella" (and also is appearing at the top of this page). Another was the Kopper Kart, a '56 Chevy pickup that was dramatically dropped 5.5 inches, its bed extended and much copper metallic applied. As you might expect, it turned heads.
The unforgettable Ala Kart, the part Ford Model A and part Model T pickup finished in white, was a hand shaped, quad-headlight-wearing work of automotive art. Its unforgettable look helped define what customizing was all about.
Fire Almost Put Out the Flame
Yet work on that icon had almost come to an abrupt halt—along with the energy that propelled Barris. It was after a fire at his shop in 1957, when many cars were destroyed, that he had the overwhelming desire to throw in the towel.
But his friend Shirley, who would soon become his wife, had different ideas and she saw the Ala Kart as a new beginning.
"She said 'You're going to finish the Ala Kart,' Barris recalls.
"Shirley was the one who pushed us into the diversified levels. She supported every idea I had."
One of those new directions focused on an even younger generation of car collectors and customizers. Many children of the late 1950s began to know George Barris from plastic model kits that began appearing in every hobby shop and dime store.
"In 1957, Lou and Royal Glazer from Revell let me do some things," Barris recalls. "Then AMT got on the bandwagon with their 3-in-1 kits. We were able to reach everyone."
When the recharged Barris hit full stride again, there was nothing stopping his ideas or what he would accomplish. A new wave of cars was used in television on such hit shows as "The Munsters" (The Munster Koach and Grandpa's Drag-U-La). There also was TV's "Batmobile," the "AMX 400" in "Banacek," and even Jethro's hot rod that appeared late in the "Beverly Hillbillies" series. The latter followed work on that TV family's famed truck that was based on an Oldsmobile, according to Barris.
The Barris touch also was found on record album covers for popular artists like the Beach Boys.
Cars of the Rich and Famous
With his shop in Los Angeles, the proximity to stars meant numerous big names came calling for Barris customs of their own. He has done work for celebrities from Elvis Presley to John Travolta and John Wayne to Farrah Fawcett. His and hers 1966 Mustang convertibles were customized by Barris for singing duo Sonny and Cher when they were on top of the entertainment world. The cars, seen on the next page, recently sold for $198,000 at the RM Auctions Ft. Lauderdale, Florida, sale.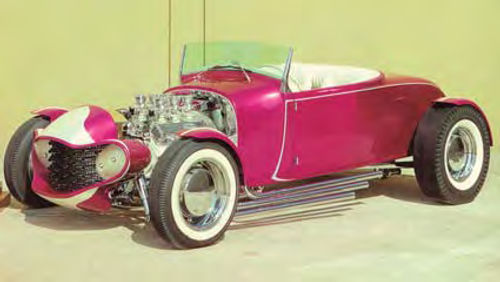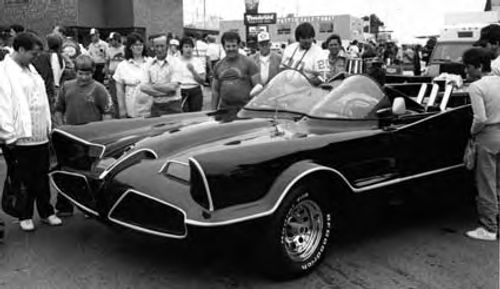 Barris also recalls trying to meet the needs of Frank Sinatra, then a Dual Ghia owner. Sinatra demanded blacked-out windows so people wouldn't stare at him when he was driving. But Barris turned out to be a bit too proficient on that one because after finishing the job, "Old Blue Eyes" had a problem. "He walked into the shop and put his arm around me and said 'George, those windows were so dark when I tried to drive last night I couldn't see a thing!'"
As early as 1952, when the famed Hirohata Merc overshadowed Detroit creations at that year's Motorama Auto Show, the big name car companies knew there was something special about the talents of the Barris Brothers.
It wasn't long before contacts were made. The first was Ford Motor Co. and stylist Gene Bordinat. He was followed later by GM's Chuck Jordan. They looked for help with show cars and painting techniques as well.
Taking a Modern Approach
Today Barris—who carried the hobby from its dry lakes racing-inspired, teardrop-shaped cars through years of change—now works with a new generation of vehicles.
"I did a Mustang pickup and we do hybrids. I took a Toyota Prius—it looks like a turtle—and put 18-inch wheels on it. I've made the top looked chopped. We're rolling the corners of the hybrid like the '50 Mercury windows," he says. "There is no end to it.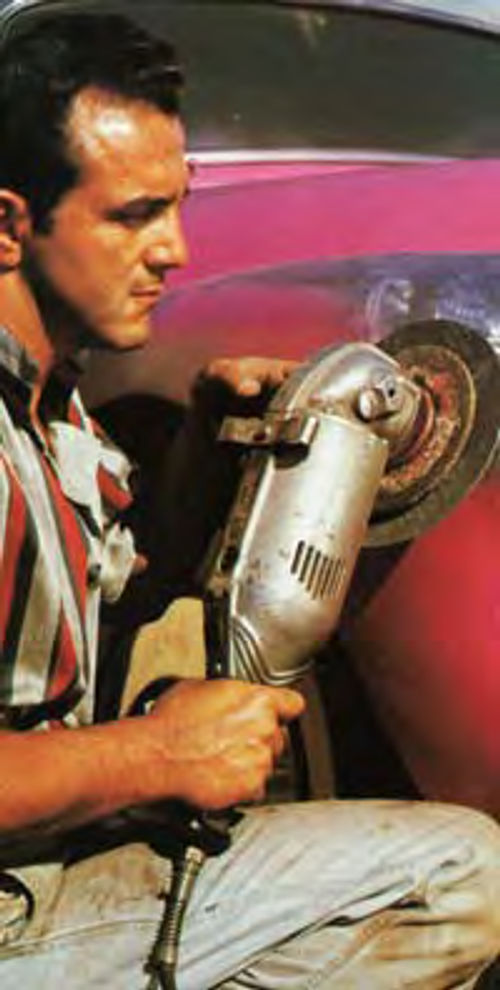 "I'm doing a new Challenger called the Red Demon with Steve Sanderson of Dallas, Texas. It's a limited production car— all the customizing is carbon fiber. We were able to use 3M double tape and I used oval Cibie headlights, 22-inch wheels and Michelin tires. It's really a tricked out car."
Barris says he enjoys all the airbrushing techniques and paints that are available today. He also likes the work that can be done with a computer. "I'll photograph the car, enlarge it and then cut up the photo with a scissors," said Barris. "My son puts it on the computer."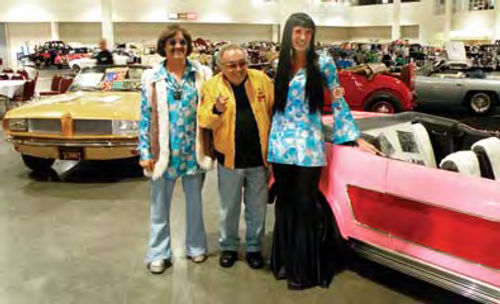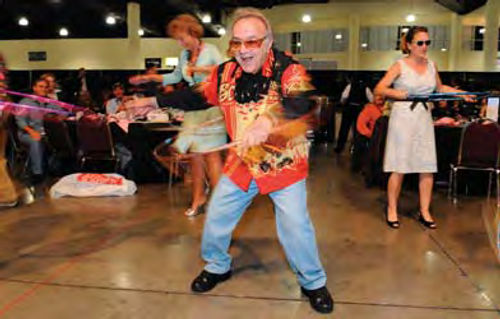 Barris says that even with the changes in the field, he still enjoys each aspect of the work—engines, bodies, sound systems and the paint tones. "I work with people who enjoy things like I do," he says about his various partnerships that include Chip Foose in California, the Chop-It Shop in Florida and Jerry Klein in the New York area. Each works on something that can be associated with the Barris name—customs, movie cars, show cars and more.
Other projects on the horizon for Barris include deals in the works with toymakers Jada and Johnny Lightning and plans for an electronic car design game.
"Customizing is like a wheel," says Barris. "It just continues to roll."
Furthermore, the cars he enjoys today might surprise some people. "What I really get a kick out of is the Toyota Hybrid," he said. "There is no noise! That was a new thrill that I had to get used to!"
Along those lines, Barris continues to try to interest a new generation in the evolving hobby. "Get out and go do it!" is Barris' advice to young customizers with dreams. "You can do so much in this world if you have the craftsmanship and talent!"
Asked to look into the future, Barris said he sees no decline in the future of the car hobby. "Home and cars are important to all people," says Barris. "Even today at the World of Wheels and Autorama, there's no decline in people looking at cars."
They're More Important Than the Metal
Although he's invested decades becoming known around the world as the "King of the Kustomizers," when his time comes Barris says he hopes he'll be remembered more for his people skills than his automotive creations.
"Not what I did to cars…but how I met and treated people," he said.