A Tale of Two Centennials
Two things happened a century ago that had a profound effect on the overall direction of the domestic auto industry.
First, on Sept. 16, 1908, a man named William C. Durant, owner of the Buick Motor Co. in Flint, Michigan, founded General Motors with a vision of consolidating numerous automotive companies into one entity, just as he had done in the carriage business. He moved forward aggressively, and in a little more than a year he had acquired Oldsmobile, Cadillac, the Oakland Motor Car Co. (which later became Pontiac), the Rapid Motor Vehicle Co. (now GMC), and AC Spark Plug.
The second major event (or events) of a century ago took place just a few weeks after the founding of GM and things tend to get a little fuzzy here, as they often do when you're talking about the early days of the auto industry. According to various reports, the first Model T was completed on Sept. 27, 1908, at Ford's Piquette Ave. plant in Detroit. However, Ford Motor says the first T "built for sale" came out of the Piquette plant on Oct. 1. So, pick whichever date you want to observe, but in any event, the car that "put the world on wheels," built as a 1909 model, went on sale on Oct. 8, and by December production was up to 200 Ts a month.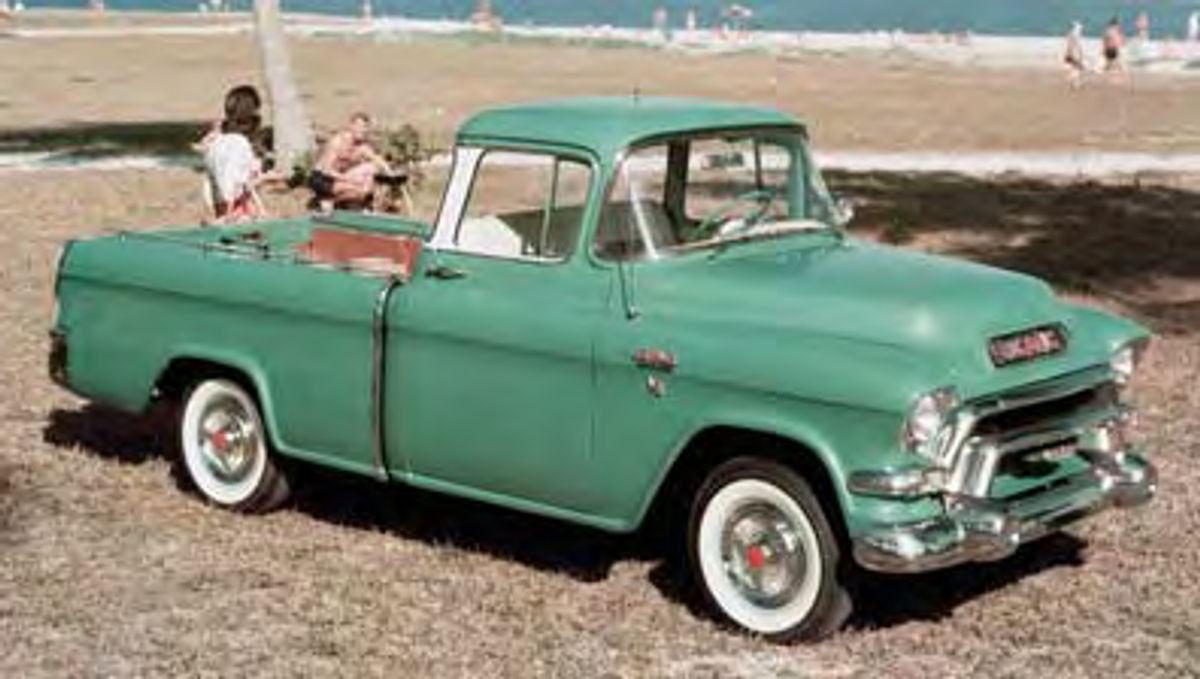 The GM Way of Doing Business
While Ford's Model T may have put the world on wheels, Durant's GM served as the model of how automotive companies would sell their products by presenting a range of brands and models at various price levels.
But Durant's initial juggernaut was moving perhaps a bit too fast, and the company faced bankruptcy within two years of its founding. A group of bankers bailed out the company, took control and tossed Durant. (Sounds like one of today's headlines regarding investment houses and mortgage companies, doesn't it?)
As you might expect, a person like Durant wasn't one to give up easily, and he teamed up with race driver Louis Chevrolet to build—what else?—Chevrolets and compete with the Model T. With the money from his new endeavor, Durant started buying up GM shares. By 1915 he'd gathered a controlling interest in the company and became president once again.
But, once again, Durant pushed the company to the edge of financial ruin, and he left GM for good in November 1920.
Although Durant was gone, one of the men brought on during his second tenure with GM became president in 1923. His name was Alfred P. Sloan, and Sloan was credited with establishing the corporate structure that more or less has survived to this day.
Under Sloan, the GM divisions operated autonomously and competed against each other for corporate funding while forming a stair-step organization that allowed buyers to work their way up from a Chevy to a Pontiac, to an Oldsmobile to a Buick and then a Cadillac. As Sloan noted, the company offered "a car for every purse and purpose."
Although he was an electrical engineer by training, Sloan fostered a strict financial system to analyze costs and profits, and, at the same time, a system of rule by committee was established.
Interestingly, Ford's unbending decision to stick by the Model T for roughly two decades helped GM, with its product diversity, to grow during the 1920s, and by the early '30s the General became the global industry sales leader, a role that the company still trumpets today.
But while strict financial controls, rule by corporate committee and market success can build an industry giant, they also can lead to a feeling of superiority that may cause executives to downplay the significance of emerging competitors.
Anyone who was watching the domestic auto market in the '70s will vividly recall how the products of all the domestic automakers, including GM, were not among the most bulletproof ever made, and badge engineering meant that many of the products at the various GM divisions were the same cars with slight differences in trim and styling.
Concurrently, the Japanese automakers came upon the scene and grew rapidly. And whereas GM had roughly 50 percent of the domestic market in the '70s, that share has dropped to around 27 percent today. Moreover, it seems to be just a matter of time before Toyota surpasses the General as the global sales leader.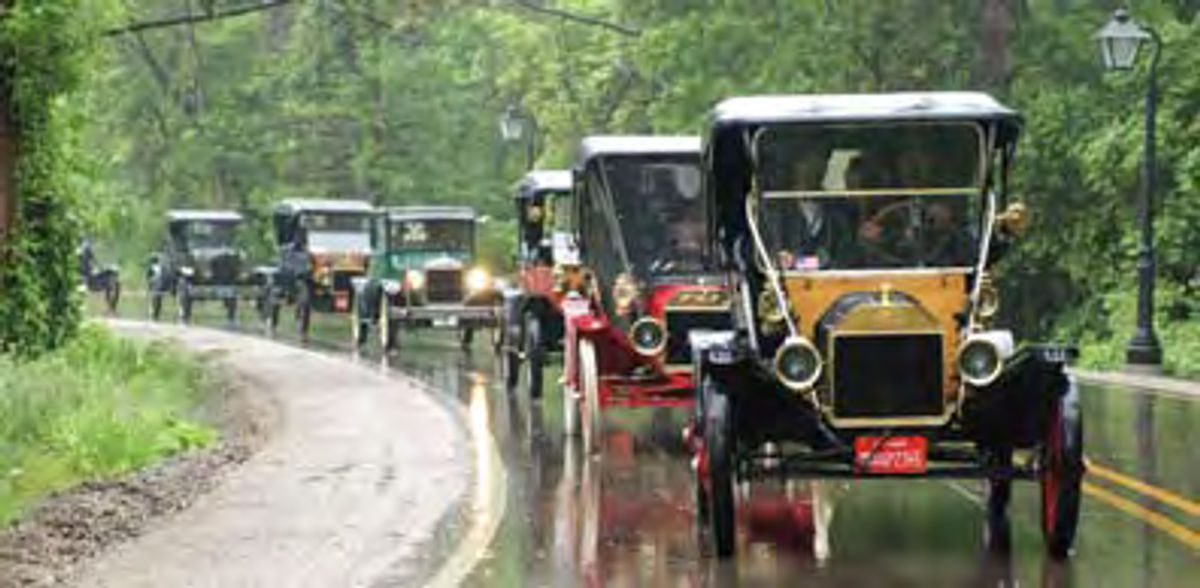 Mr. Ford's "Universal Car"
Henry Ford reportedly called his Model T "the universal car" because of its relative low cost and the fact that it was a reliable vehicle that could be easily maintained and was able to traverse the poor roads of the early 20th century. Furthermore, it was the first low-priced, mass-produced automobile with standardized, interchangeable parts.
That standardization played a major role in the Ts remarkable production and sales growth in its early years.
It's said that even before production of the Model T began at the Piquette Ave. plant, Henry Ford knew that he needed much more production capacity for the vehicle, and the company settled on a location several miles north in suburban Highland Park.
The Highland Park plant, which started building Ts in January 1910, was the site of the first moving automotive production line, and it allowed workers to perform a small number of tasks on a vehicle as it moved along rather than doing numerous tasks on a stationary vehicle as part of an assembly team.
The changes that came about with the moving assembly line were literally amazing. Consider this: Some 12,000 Ts were built in 1908-09, and the car initially sold for $850. In 1915, Ford sold some 1 million cars, and a T could be purchased for $290.
And by the time the T went out of production on May 26, 1927, more than 15 million had been built, a record that stood until 1972, when the T was surpassed by another basic mode of transportation—the Volkswagen Beetle.
But while the T may have lost the production record to an import, on Dec. 18, 1999, Ford's "universal car" was named "Car of the Century" by a panel of 133 automotive journalists and industry experts who began with a list of 700 candidates and narrowed it down through three years of balloting.
Celebrating the T
Maybe the Model T was named Car of the Century because of its important role in the history of the automotive industry, or maybe it was due to the car's enduring popularity with auto enthusiasts. Or maybe both factors played a role in its selection.
In any event, the Model T has enough of a following—more than 80 years after it went out of production—to ensure that there will be plenty of celebrations of the car's 100th birthday.
After all, who's never heard of the Tin Lizzie and repeated tales of the car's ability to go on seemingly forever with little more than basic maintenance and the occasional replacement of an easily replaced, worn-out part? (The word is that "Lizzie" was current slang in the '20s to describe a reliable servant. I wasn't there at the time, so I can't say for sure.)
We can't list all of the parties that will be held in the T's honor, but here are a few of the major ones planned to date:
The T Party 2008 runs July 21-26 at the Wayne County Fairgrounds in Richmond, Indiana. Some 1500 Model Ts are expected, which would make this the biggest gathering of the cars since they left the factory. (It's believed that some 500,000 Ts are still in existence.)
The week-long event, sponsored by Ford Motor Co. and hosted by the Model T Ford Club of America (MTFCA), will include a car show and judging, driving events, a swap meet, road tours, a visit to the newly opened Model T Museum in Centerville, Indiana, a period fashion show, a vintage baseball game and even a display of unusual Ts, such as campers, ambulances and delivery wagons. In addition, Auto Restorer contributor Milt Webb will make four Model T tech presentations.
For more, visit www.mtfca.com. And for those unfamiliar with the Wayne County Fairgrounds, they're at 861 Salisbury Road North, about 60 miles east of Indianapolis and 35 miles west of Dayton, Ohio, off of I-70.
On Sept. 6-7, during the Old Car Festival at Greenfield Village in Dearborn, Michigan, there will be several Model Tthemed events.
In addition to some 100 Model Ts on display from the Model T Ford Club International on Sept. 6, both days will feature a dramatic presentation with "a young Henry Ford" explaining how he was inspired to build the T and a "lively medley of Model T and early automobiling songs" performed by the Greenfield Quartet and the Village Trio.
Greenfield Village is a 90-acre collection of historic buildings and building reproductions that was started by Henry Ford and is located at 20900 Oakwood Blvd. For more, visit www.thehenryford.org.
And if you'd like to visit the spot where it all began, the Ford Piquette Ave. plant has been preserved and is largely unchanged from its 1904 appearance. You can visit the Experimental Room where Ford developed the T and see an exhibit showing the Model T in various stages of assembly. There also are other Ts and Piquette-era Fords on display.
The plant is at 411 Piquette Ave. For more, contact the Model T Automotive Heritage Complex at www.tplex.org.
The General's Web Site
General Motors is planning "a weeklong global celebration" of its centennial in September with the main event to be held at its world headquarters in downtown Detroit. Details are not yet available. However, GM has made it clear that it wants to look forward rather than concentrate on its history, and it also wants to take this opportunity to reach out to younger consumers. Accordingly, GM has set up a special Web site, to encourage public dialogue regarding next-generation vehicles and technologies such as plug-in electrics and advanced hybrids.
The company said that "in addition to GM news, positions and commentary," the site "will feature opinions and insights from the general public, from industry observers outside GM and from the global media...."
"We're starting our second century at a time of fundamental change in the auto industry," said GM chairman and CEO Rich Wagoner. "We'll use GMnext to introduce some of our ideas for addressing critical issues concerning energy, the environment and globalization. In the process, we also hope to spark a broader, global discussion on these important topics."
The company also has footage from auto shows on GMnext, and is sponsoring performances by entertainers such as Kid Rock, Maroon 5 and Mary J. Blige and posting music videos on the site.
As for the company's history, there's a section on the Web site where people can "share their personal experiences from the company's first 100 years— everything from a story about a summer job in an assembly plant to pictures of a first car to favorite experiences with GM products. GM thinks its best authors are those who experienced the company firsthand—its employees, retirees, dealers, customers and the generations of people who have shaped GM," the company said in a statement.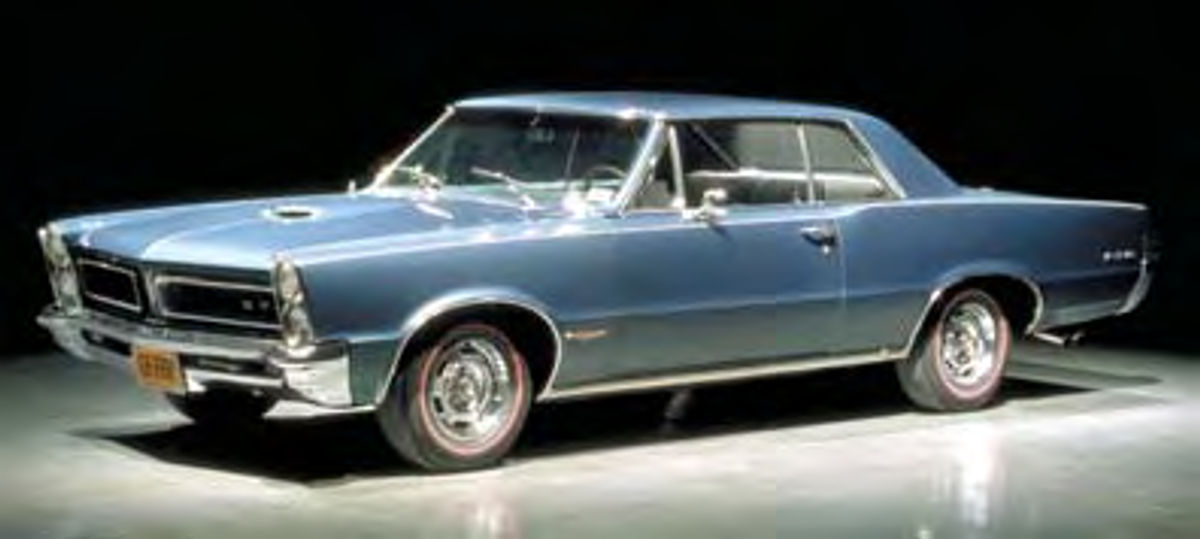 Centennial Memorabilia
As you might expect, there will be mementos for the two centennials and among those currently available are a GM 100th Anniversary Sound Clock and a 1:16 scale version of the Model T.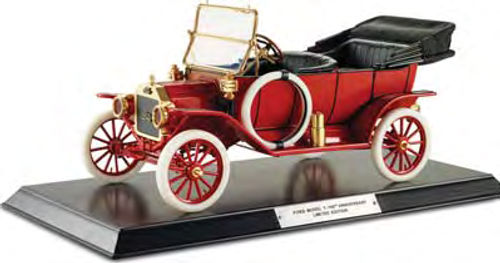 The 13-inch wall clock from Mark Feldstein & Associates features images and sounds from a dozen GM vehicles. They range from the 1908 Buick Model 10 and 1913 Chevrolet, through the 1967 Corvette and 1969 GTO Judge, to the 1987 Buick Grand National and the new Camaro concept car. At the center of the clock is a 1917 photo of Louis Chevrolet.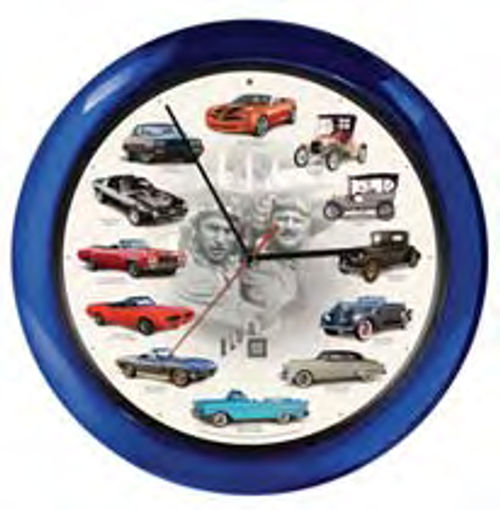 The clock has been licensed by GM, and a Feldstein representative said their company recorded the engine sounds from cars owned by the General. (One car sounds on the hour, each hour, but a light sensor deactivates the sound when the room is dark so you won't be awakened by the exhaust notes of a '70 Chevelle SS LS-6.)
It's available through two Web sites, www.lighterside.com and www.currentcatalog.com.
The Model T die-cast car is from the Franklin Mint and is a limited edition of
2500. The red T is hand assembled from some 100 parts "with an authentically detailed engine" and "a fully appointed interior." The Mint says this version commemorates "the first, pre-assembly line years of the Tin Lizzy."
The model's price is $195. For more information, visit www.franklinmint.com.
The Jury's Still Out
In speaking of Henry Ford and his famous automobiles, humorist Will Rogers once said: "It will take a hundred years to tell whether he (Ford) helped us or hurt us, but he certainly didn't leave us where he found us."
The same certainly could be said of William Durant and General Motors.
Well, a century has passed since the T and GM came upon the scene, but it's doubtful that you could find a consensus on the relative merits of the companies and their products. In fact, bringing up the subject could easily start a rather spirited debate.
Maybe it's going to take another hundred years to truly figure out the answer...