A 1948 Buick sedanet on the Peking to Paris Rally
Our hobby embraces car owners of diverse levels of bravery and wisdom. Some trailer to keep the tires clean or because their nerves are sensitive to noises in the transmission. Others drive but have the wife follow in a van, with several thousand dollars of spare parts. Some enter long-distance rallys in the United States, where a cellular phone call will bring help within hours. And, there are brave souls who whack their valuables around vintage race tracks, but the tow hook is always near.
As an example of unconditional faith in a restored vehicle, any of these activities pale when compared with the Peking to Paris Motor Challenge to begin in Peking, China.
This 12,000-mile 1997 Motor Challenge is the first rerunning of the 1907 inaugural rally allowed by the Chinese government and is a "drive what-you-brung" party. While "official doctors" and "official mechanics" are provided to succor and aid the 86 entrants, if you break it in the middle of Tibet and didn't bring that particular spare, you have a very serious problem. "Organized service assistance" for individual vehicles is firmly banned.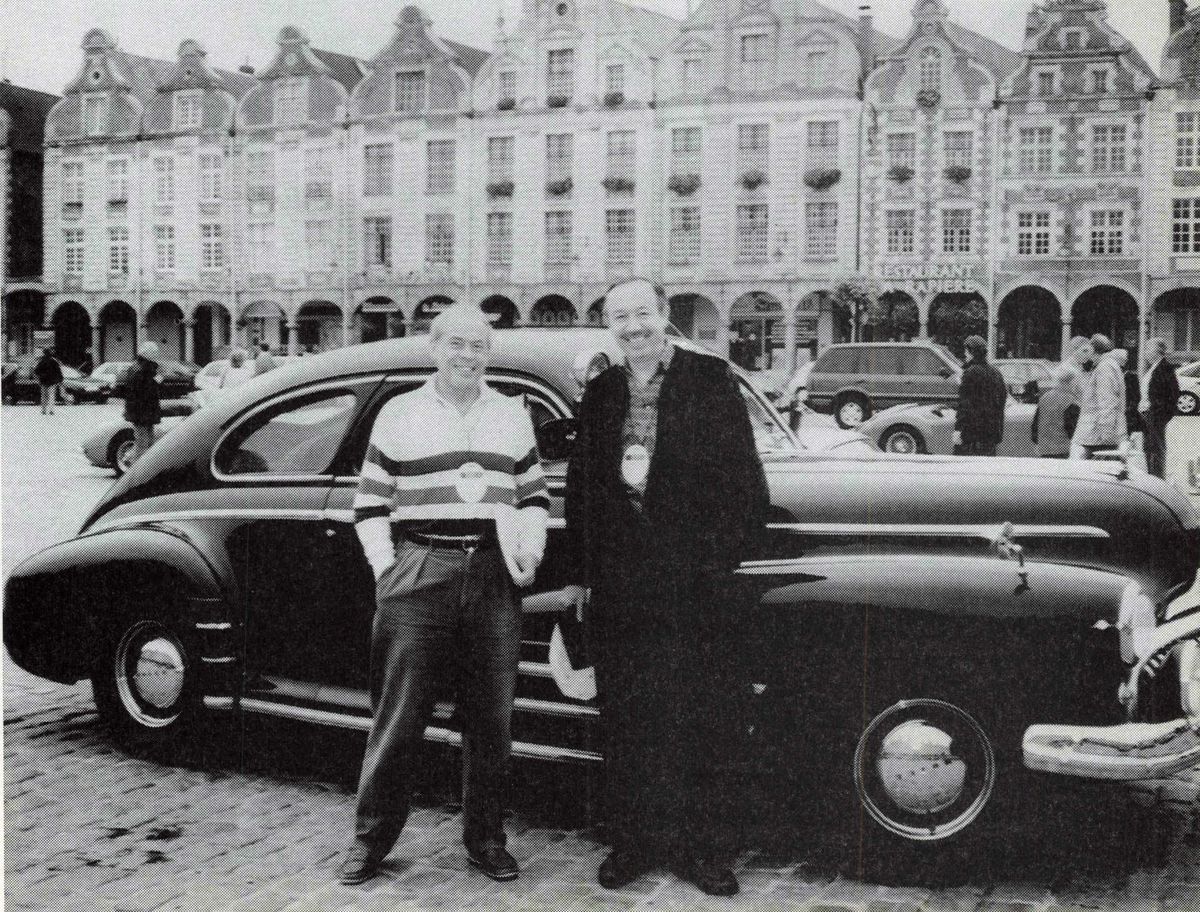 A pair of British-born automotive enthusiasts — genuine car nuts in American parlance — owner/driver Richard Clark of Singapore and co-driver Kenneth Hughes of Hong Kong are well prepared, with combined biographies including navigational training, survival skills, fluency in German, French and Swahili plus a passing acquaintance with Arabic and Chinese languages. Included in Clark's resume is one skill hopefully not required — specialized Royal Artillery training in winter warfare. Richard Clark and Kenneth Hughes are seriously prepared, as is their 1948 Buick Special Sedanet, already a veteran of less-stressful European rallys.
The Buick, chosen partially for sentimental reasons ("Liked them when I was young," said Clark.) and partially for its "strength and ruggedness," is being inspected, mechanically rebuilt and double checked.
This 1948 Buick, serial number 14842738, was one of 82 manufactured with right-hand-drive. It has served overseas during its entire lifetime. The earliest known registration of the car was on Aug. 1, 1954, in the United Kingdom, where its current owner found the vehicle some four decades later.
A restoration of the car was completed in 1994 including a rewiring, re-chroming of the bumpers, the installation of an off-white leather interior to replace the gray cloth upholstery and new paint. The car originally came with a two-tone paint treatment of nickel gray over cumulus gray and currently is black.
Power comes from the original 248-cubic-inch, 110-horsepower, straight-eight Buick Fireball overhead-valve engine, number 50360624. It has been rebuilt and is capable of operating on the low-octane fuels encountered along the route. Torque is sent to the road through the traditional 40s Buick three-speed manual and live rear axle.
In preparation for the rally, road manners have been improved with beefier springs and shocks to compensate for the often rough, unimproved roads that will be encountered. Fuel capacity has been enlarged to 40 gallons through the addition of an extra fuel tank in the "boot," the same compartment we would call a trunk.
External add-ons include a roof-mounted spotlight, both roof- and cowl-mounted "windscreen" wipers and additional and higher-powered lights. The fender-mount mirrors seen in the photos are simply the way the British mounted mirrors at the time the car was first put into service. The interior has been modified with the spare "tyre" and wheel replacing the rear seats, and the addition of driver and navigator rally-type front seats, restraining harnesses and navigator's equipment.
Current mechanical work and the touching up of odds and ends is taking place at Wisborough Green, North Billingshurst, Sussex, England, in care of Peter Leary, owner and chief mechanic of the Pimpernel Service Station. Leary has considerable background and experience in restoring vintage and classic vehicles and obviously undertakes unusual projects.
Orient Express
The Peking to Paris Motor Challenges' 12,000-mile route traverses 11 countries including India, Pakistan, Iran, Turkey, Greece, Italy and Germany. This is a timed event, moving through stages, beginning on September 6 in Peking and ending at the Eiffel Tower in Paris on October 18.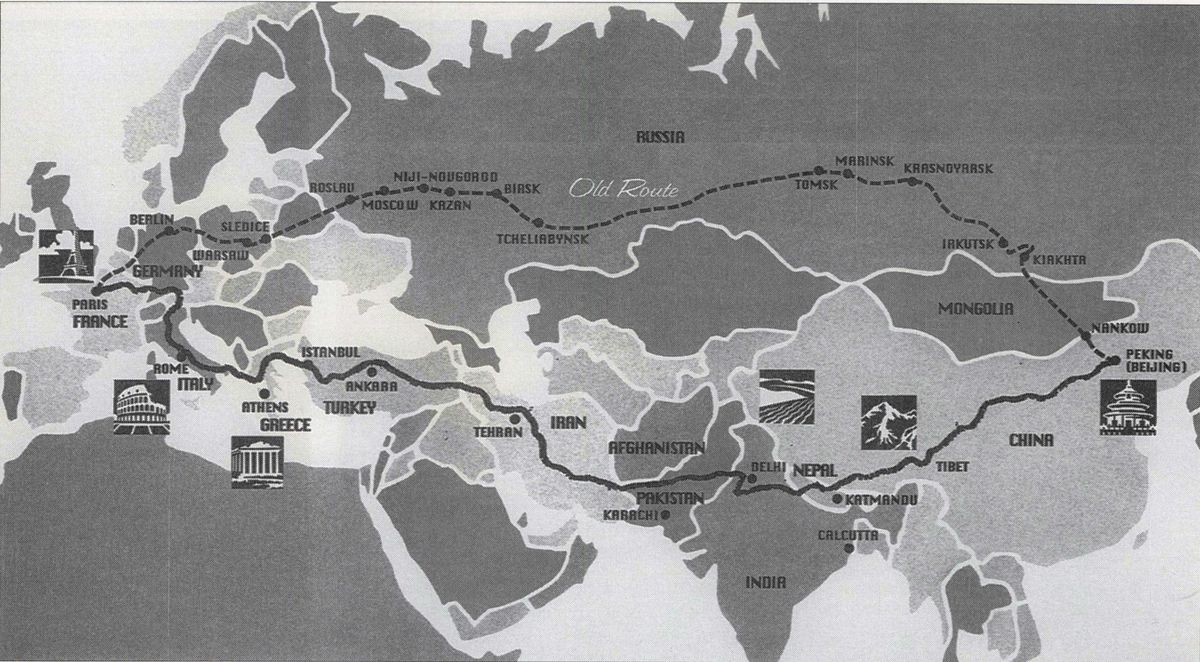 The challenges of the daily stages range from mild to very difficult. The first day's run is from Peking to Zhang Jlakouma, a 143-mile trip that includes low mountains, rolling countryside and the Great Wall of China. On the other hand, the itinerary for Sept. 14 states that "a steady climb takes us up to the highest road in the world, the Tanggu La at nearly 17,000 ft., from where we drop to Amdo at the junction of the main highway to western Tibet." The area is described as "remote, empty and windswept." Later, as the rallyists approach the Nepalese border, they are warned that "the road is almost entirely dirt or gravel and is often in poor condition." Instructions for the following day advise that the road is "under construction" and there "will be offroad excursions requiring good ground clearance and careful handling." Then, as the rally participants cross from Nepal to India, they will find a road of "poor-quality broken tar" and "plenty of river crossings." In all, they are told to expect a "safari-type day."
Fortunately, when they enjoy a rest day in Esfahan, Iran, the participants can look forward to tours of "beautiful temples" and a stay in a "fantastic hotel." And as they cross from Greece to Italy by ferry, they can relax during a day and night at sea.
All who finish the rally will receive a gold, silver or bronze medal based on performance and the overall top finishers in the daily time/distance events will get trophies as well. The cars will compete in two classes, '40s and earlier, and newer cars.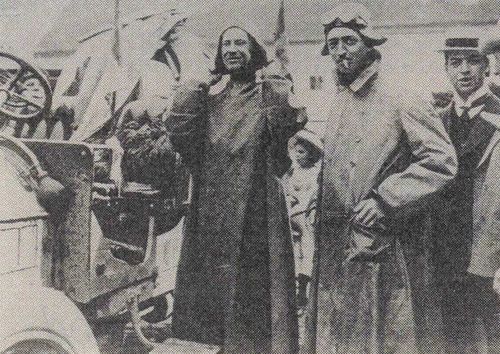 Of the 86 currently listed entries, the great majority are European makes covering that fractionalized continent's many brand names from Aston Martin and Bentley to Rolls Royce and Volvo. They range in age from a 1914 Prince Henry Vauxhall to '70s vehicles such as a '72 Rover. American manufacturers are represented by 12 vehicles ranging in age from a 1919 Marmon to a 1954 Studebaker. There are three Buicks, two Cadillacs and a mixed group including a '28 Ford Model A, a '41 Lincoln Continental, a '49 Cadillac, a 56 Chevy pickup and a '42 Willys Jeep. Apparently faith, courage and inventiveness know no bounds of brand or nationality.
In the last rally, nine decades ago, the field included only five competitors and the route was quite different, heading north from Peking through then-czarist Russia and westward through Europe to Paris. The event was won by an Italian prince named Borghese driving a two-seater Italia. That car, powered by a 7-liter engine and built on a truck chassis, is on display in a Turin museum.
Only one of the intrepid crews of early motorists failed to make that long-ago trek to Paris. A Contal cyclecar became stuck in the Gobi desert and the crew was found near death by tribesmen. The car is still out there, buried in the shifting sands.