1965 Pontiac 2+2 Convertible
There Was a Time When Muscle Came In a Full-Size Package. Such as This Car, Which Came to Be Known as the GTO's "Big Brother."
Jack Meketa knows that some will see his 1965 Pontiac convertible as a 2+2 and others will see it at a more basic level because of what's under the hood.
"That's the biggy right there," he explained, pointing to the massive engine, "the 421. 'Wow, is that a 421?' people ask. 'Is that the original motor?' 'Yeah, it's the original motor. And yeah, it has a four-speed.'"
Those who do notice that it's a 2+2 are the ones who take cars seriously enough to know that GTOs weren't the only highperformance Pontiacs of the mid-1960s.
This "Companion" Won Out
The Pontiac was introduced in January of 1926 as the "companion" to the already-established Oakland and it went on to occupy an odd position in General Motors' history. Under The General's plan, the companion cars would fill gaps between current brands and with that the steps up from Chevrolet to Cadillac would be smaller.
At the companion-car scale's upper end, La Salle fit under Cadillac and in 1927, Viking went above Oldsmobile. Three years later, Marquette completed the scheme when it was set below Buick. It all might have worked if the economy hadn't collapsed in the Great Depression. Marquette had the shortest life as it didn't even continue into 1931 while Viking at two years didn't do much better. La Salle withstood the financial nightmare and survived into 1940. But compared to Pontiac's experience, that was nothing.
Pontiac customers faced one major decision in that the car was sold only as a coach or a coupe and since either one cost $825, price didn't help in making a choice. Price did help, however, in switching people to a Pontiac instead of an Oakland as the least expensive Oakland was the $975 roadster and for those who demand precise comparisons, Oakland's two-door sedan or coach was $1095 and its coupe was $1125. Considering that, no one should have been surprised that Pontiac's first year sales topped 76,000 while Oakland's reached only 56,000. For Oakland, the end was in sight.
By 1931, Oakland sales were down to about 13,400 while Pontiac's were up to about 84,700. The Great Depression bore some of the responsibility for Oakland's troubles, but Pontiac went through it and lost sales, too, the difference being that Pontiac recovered. Oakland died at the end of the 1931 model year, leaving Pontiac as the most successful General Motors companion car. It was the lone survivor, getting there at its senior partner's expense.
That First V-8 Was Only the Beginning...
Pontiac had offered only flathead sixes at first but with the departure of Oakland it inherited the upscale car's V-8, an important step toward Pontiac's future.
Move forward to 1960 when Pontiac built nothing but V-8s and its famous 389 was generating up to 345 horsepower. Furthermore, the focus on automotive high-performance was rapidly building momentum. Increasingly powerful engines, a flirtation with fuel-injection and the introduction of new models that didn't even try to disguise their performance purpose appeared in showrooms.
At Pontiac, the result was the 1961 Super Duty package that moved the 389 up to 348 horsepower thanks to additions such as Tri-Power and higher compression. Before the year was out, Pontiac added the Super Duty 421 and despite its having a mere two carburetors, the new engine delivered 405 horsepower.
In 1962, the Grand Prix arrived as an upscale coupe based on the Catalina. Its 389 in Tri-Power form produced 348 horsepower and a four-speed was available even though the new model was thought of as a personal luxury car. A big step ahead provided the Catalina with a Super Duty 385-horsepower 389 or a 405-horsepower 421.
The 1963 models brought the Super Duty 421 back with as much as 410 horsepower when equipped with two four-barrels and 13:1 compression. The Super Duty option didn't return in 1964 but something new arrived for the Catalina…the 2+2.
Doing "Wild Things" In the Showroom
Buckets were part of the new 2+2's model-specific interior and, naturally, there was special badging. But while the standard 283-horsepower 389 undoubtedly struck some as rather tame in a 3800-pound car, the fine print told a much more promising story. The 2+2 could be either a coupe or a convertible and no three-speed stick was available, but the critical point was that company literature said "there's nothing to stop you from huddling with a Pontiac salesman and a list of performance options and doing wild things with an order form."
Pontiac that year had also introduced the GTO, but since it wasn't ready to give up on full-size performance, the 2+2 returned on the restyled 1965 Catalina. The stacked headlights and split grille that by now had become signature features were back on the completely restyled body. A general softening of the previous body's lines made the 1965 model seem longer even though the difference was just one inch in wheelbase and less than two inches overall. The quarter panels' bulges went from subtle to unmistakable while coupes' rooflines took on a fastback slope.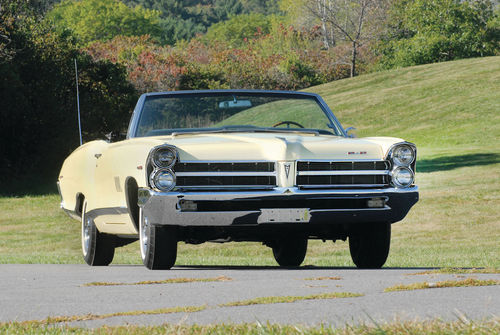 Brochure copy for 1965 observed that "if sports cars came big and beautiful and comfortable and capable, they'd be Pontiac 2+2s. There are two models--the Sports Coupe and the Convertible. The moving force is a whacking great 421-cubic-inch four-barrel engine of 338 horsepower, topped by chromed rocker covers and air cleaner." After listing standard equipment running from bucket seats and carpeting to a three-speed with a Hurst shifter to heavy-duty suspension, it suggested that "if this sounds like your kind of car, ask the salesman for our special combined 2+2/GTO performance catalog and start browsing."
Trucking It Home Took a Toll...On the Truck
A Long Island, New York, buyer took Pontiac up on its attractive offer and by about 2010 the feature car was in northeastern Pennsylvania where Jack Meketa was keeping an eye on its for-sale ad in a local shopper.
"Month after month, the car would still be in the (shopper)," he recalled. "It had to be six months that it was in there and the price kept coming down incrementally, a little bit at a time. Then it got down to where I thought it was worth a look."
The Pontiac ran when Meketa bought it, but not well enough to drive it several hours home to West Wyoming, Pennsylvania. Since he owns Golden Idol Customs & Restorations there, that wasn't a big problem. Or at least it shouldn't have been a big problem, but that was before a long, steep climb on Interstate 81.
"I burned up the trans in my truck bringing that car home," Meketa explained. "It was on the back of my ramp truck and I got about halfway up and it was just laboring to get up there. I look and there's all this smoke out of the back. It started pushing fluid out of the vent in the trans. I burned the torque converter."
Eventually, he made it home, although reaching the top of the driveway did require a running start.
A Donor Car Came In Handy
Once the Pontiac was safely inside, the work began. While it's a four-speed car, the 2+2 is loaded with power accessories including windows, vent windows, trunk and antenna as well as air conditioning, tilt wheel, am/fm radio with reverb and cruise control, none of which needed major help, but it was to receive a full restoration and that required the body to come off of the frame.
"It needed the complete floor structure," Meketa said, "and I bought a '66 Star Chief from Ocean City, Maryland. A friend of mine even drove it back...then I drove the car and I said 'boy, do I hate to take this apart.' But I needed it. I needed the whole floor system, not just the pan. I needed all of that and the trunk floor. (New) trunk floors are non-existent, so I cut the trunk floor out of the Star Chief and fixed it where it had to be fixed."
Since the Star Chief rides a wheelbase longer than the Catalina's, using the floor and trunk floor involved more than simply removing them from one car and installing them in the other and Meketa had to modify them to fit. However, a greater challenge lay in the trough that had rusted badly after years of carrying water away from the convertible top's well.
"I fabricated (the components) and they came out perfect," Meketa said, "but I spent a lot of time on it. That was probably the hardest thing I did on that car, rebuilding that trough. There's no room for error. It has to be perfect or else your molding won't fit and then you have all of your bolt holes for it, so everything has to be in there for your top to fit. And it's all welded nuts. All of that needed to be redone."
He also fabricated pieces to repair the rusted quarter panels and found himself undoing old repairs.
"It was hit on the right door and quarter panel," he explained. "There was a deep gash and someone had done the old drill-the-holes-and-use-the-dent-puller. Everything I do, I hammer weld. That's an old school technique. I straightened it out the right way and welded up all the holes. That was the only thing on the car that was actually damaged and it wasn't murdered, but it was a fairly significant gash on the side."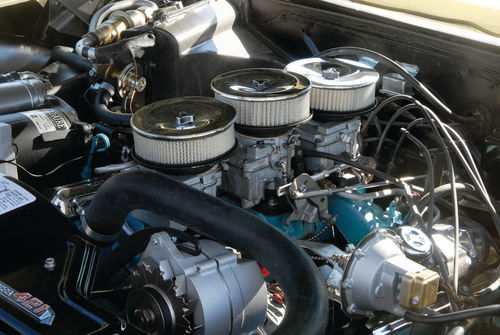 The Star Chief provided the panel to replace a rotted area at the 2+2's rear and more, but the story becomes somewhat complicated there as the feature car's previous owner had accumulated some of the necessary parts and Meketa hunted down others. The 2+2 came with an excellent set of fenders, but he put them aside and repaired those that were on the car. The diecast trim between the taillights was perfect for a driver, he said, although not quite up to the restoration he was planning and that led him to New Hampshire, where a "Pontiac fanatic" had been gathering parts for decades. The trim he had was removed in the early 1980s from a 25,000-mile car, he said, and that one was of restoration-quality. With the Star Chief's panel, it's on the car today.
The rear bumper is one of the extra parts that came with the 2+2 when Meketa bought it, but the front bumper turned into a low-level nightmare. He said that it was damaged fairly seriously, a problem not uncommon on Pontiacs and other contemporary GM cars that have suffered when jacked incorrectly, and he bought a replacement from a West Coast vendor whose price was reasonable even with shipping to Pennsylvania.
"The bumper was beautiful," Meketa recalled. "It was so straight and the chrome was perfect. It was beautiful…until I went to put it on the car. As soon as I tried to tighten the bolts, it just kept blowing the chrome off around the bolt holes.
"I called them up and said 'the chrome is just blowing off at all the bolt holes.' He said 'send it back to us and if it's our fault, we'll do it over.' So I'm thinking yeah, I'm going to spend another $200 to ship it back there and have him say 'oh, this isn't anything we did.' So now I'm out $200 and I have to spend another $200?"
His decision was easy.
"I took it to Frankford (Plating) and that's the bumper that's on the car," he said. "They did a beautiful job on it." (Editor's note: Frankford Plating, Inc. is located in Philadelphia. Visit frankfordplatinginc.com.)
But what about the Star Chief? Not everything on it was useful for the 2+2, of course, but buying it was undoubtedly a smart move.
"That car was just a gold mine of odds and ends," Meketa said, "and the car had all brand-new suspension in it, so I used everything on the convertible. It had the oversize sway bar and it was the exact same stuff they used on the 2+2, so I had all of that. The suspension was tired on (the 2+2). The car sat really low when I got it, but this car had all brand-new springs in it. It was just amazing. It was a gift, there's no doubt about it."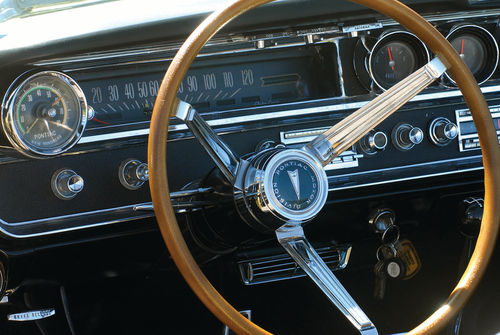 Driving a Muncie Four-Speed
The engine problems included some bent pushrods and he rebuilt the 356-horsepower 421, upgrading it in the process with the cam for the 376-horsepower version and re-jetting the Tri-Power's carbs. He also rebuilt the Muncie four-speed just to be safe even though he's had good service from Muncies.
"What happens with Muncie transmissions," Meketa explained, "is the bearings go bad because maybe you don't check the fluid level. When the bearings go bad in it, then you have problems and that's when they blow. As long as there are good bearings in it, it takes a lot to blow one.
"I've had quite a few of them. I had a GTO and I blew the trans in that, but that was because the bearings were bad and instead of staying off it like I should have- -you know, you can't help yourself at that age--away goes the trans."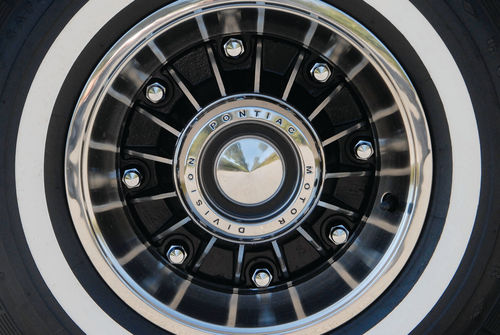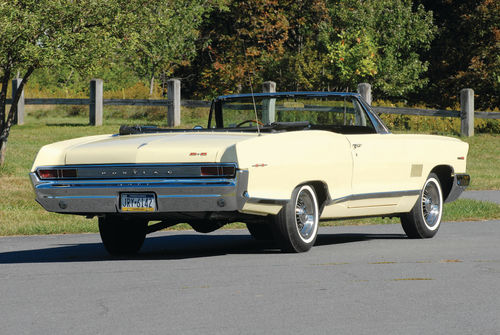 The accessories received similar treatment; the power steering system was rebuilt, for example, while the entire cooling system was replaced.
"What a lot of guys neglect doing is replacing the heater core," Meketa noted, "and let me tell you, without fail--I guarantee it--your brand-new carpeting is going to be all antifreeze."
The Top Presented a...Challenge
Meketa also installed a new top and a complete interior, work done recently enough that the top's boot was not yet in place when the top went down for the first time post-restoration to make the photographs here. Working with the top was time-consuming, but an Oldsmobile Cutlass that Meketa had in his shop somewhat offset that with an odd bit of luck.
"The top was a real pain the neck," Meketa admitted. "If I didn't have that unbolted 20 times…
"The interior didn't really look that bad. It was pretty dry, of course, the foam and everything. Being a convertible, all of the seat frames were just rusted so badly. They're not the original buckets in there now; they happened to be in that Cutlass.
"The original buckets that were in the car were rusted, so I just used the power mechanisms. I sandblasted everything and painted it and then I bought all new foam and did the front and back seats. It just so happened that somebody put those buckets in that Cutlass, so I had perfect frames, the trim, all of that."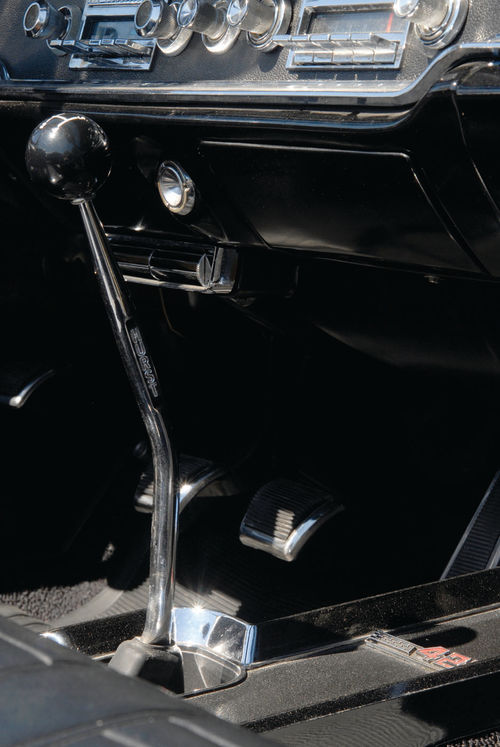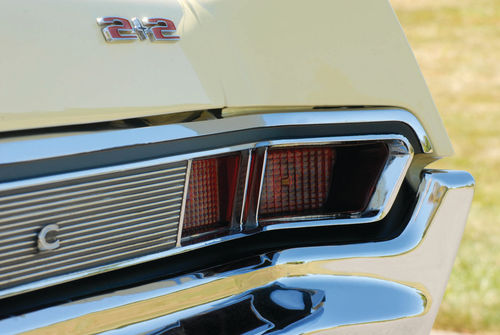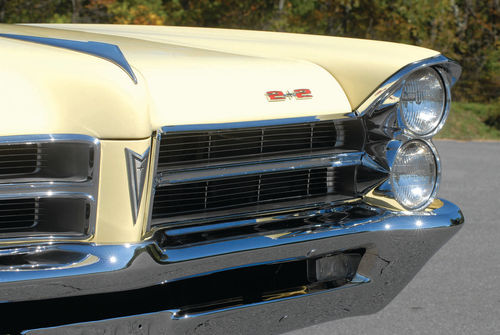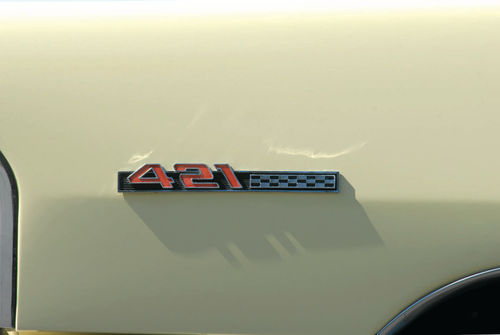 Maybe It Was Too Nicely Done...
The Pontiac was ready for its first testdrive in mid-2015 and those few miles on back roads revealed only minor details to be addressed. Just as satisfying was the fact that those who saw the car at its first few shows appreciated it.
"It was a constant flood of people asking me about it and looking at it," Meketa said. "It seems like they see something in that car that I don't. I know it's a beautiful car, but I'll be at a show with all of these other beautiful cars and yet everybody's attracted to that one."
He's had some of the same people look it over at different shows and others have told him that they'd heard about the car.
Not many realize initially that it's a 2+2, he said, but the 421-four-speed combination catches plenty of eyes at shows, as does the Mayfair Maize paint with the black top. It would be about the same on the highway, where most would notice it and probably not see that it's more than an everyday Catalina. The 2+2 would fit the highway well, of course, and not just because of the drivetrain.
"I find the car very comfortable," Meketa said. "The seating arrangement, everything is comfortable, everything about it is just right. The clutch isn't too hard, it stops well and you don't have to stand on the brake pedal. It's very responsive."
An experienced driver could adjust to it in a few miles, he said, although it would probably be a poor choice if his experience didn't include a manual transmission behind a big engine. The 2+2 could—obviously—go much too fast on the open road, but that's not going to happen.
"I'd have a hard time getting myself to hammer on it," Meketa said. "I don't mind kicking it in once in a while—it pulls like a freight train. I'm not afraid to power-shift, but I don't want to leave anything on the road. When you've got that kind of torque and horsepower, it's easy to knock out a universal or something else and I just don't want that to happen."
Caring that much about the Pontiac is understandable and he's not complaining. There is, however, another side to being so protective of it.
"The biggest problem, if you want to call it a problem, that I have with the car, is that I can't relax when I'm driving it because I'm thinking about the car too much," Meketa said. "If I could just hop in that car and treat it like a car, I wouldn't have any problem. At (a show), I got caught in the rain and for a whole day, I was cleaning the undercarriage. I'm not going to do that kind of work to the undercarriage and not (clean it). When I think of all the hours I spent on the frame and everything else, I'm not just going to leave it all muddy.
"When I did the car, I did all of the fender wells with bedliner because I wanted to drive it. I still want to drive it, but I'm very selective about when and where."
Every cloud, though, apparently does have a silver lining.
"Getting caught in the rain is not the end of the world for the car," Meketa explained. "I was surprised because it was a good test and nothing leaked. There was no water coming into the car, so I was happy about that."