That Car Didn't Come With a V-8 Eight Decades Ago, Did It? It Did. But If You Buy One, Stock Up on Parts.
PONTIAC OFFERED STRAIGHT eights from 1933 through 1954, a fact that probably explains some of the comments Bernie and Rhoda Sheret have heard about their 1932 Pontiac V-8.
"We were getting a lot of 'that car never came with that engine in it,'" Rhoda recalled of their early shows with the sedan, "(and) 'you don't know what you're talking about.'"
Actually, that car did come with that engine in it and they do know what they're talking about, but the skepticism is fairly easy to explain. The original Pontiac V-8 had a short production life and it's often overlooked, something equally true of the badge's early history from its arrival at General Motors in 1926 as a companion car to Oakland.
Ups and Downs for the Oakland
William Durant, who had made his name in manufacturing horse-drawn vehicles, incorporated General Motors in September of 1908 and quickly began developing it as a major force in the automobile business. He soon added Buick and Oldsmobile to the corporation's holdings and followed in 1909 with Cadillac and Oakland, the latter resulting from an attempt by the Pontiac Buggy Company to transform itself into a business with a more promising future. Oakland got off to its shaky start in 1907 and sold 278 cars in 1908, which made it a realistic target for Durant's acquisitive nature.
By 1910 — its first full year as a component of General Motors — Oakland advertised that its cars were "high grade in every respect" and proclaimed that its $1700 model "in power, dimensions, appearance and performance is in the class with any of the Three Thousand Dollar cars."
For 1916, Oakland introduced what was then a relatively unusual feature, a V-8, certainly not the first engine of its type, but nevertheless part of a fairly small piece of the market. Displacing 346 cubic inches and generating 71 horsepower, it worked out to 0.205 horsepower per cubic inch and while that doesn't sound like much today, it wasn't a bad measure compared to some of the V-8s offered at the time. Cadillac's engine, for example, produced 0.245 horsepower per cubic inch, and Oldsmobile's produced 0.162. Oakland must have gotten it right, as calendar-year sales jumped from 11,952 in 1915 to 25,675 in 1916, but it dropped the V-8 after just two model years as World War I intervened.
Teamed With a Threatening Companion
With the loss of the V-8, Oakland became a builder of sixes exclusively — 1918 brought the Sensible Six — and it was not until 1930 that it introduced another V-8 model. Unfortunately for Oakland, engine designs by then were not the division's major concern. In 1926 General Motors had launched a new line called Pontiac as one piece of a grand plan. Writing in "My Years with General Motors," Alfred P. Sloan, Jr., a key executive in the building of GM, explained that the company needed a product policy that would price cars from low to high; the "price steps should not be such as to leave wide gaps in the line" and duplication should be avoided.
Included in this strategy was the development of what have long since been referred to as "companion cars." Their presence, it was reasoned, would enable GM to compete in every segment of the volume market and allow customers to move gradually upward while remaining with their favorite GM line. But for various reasons, it didn't work out quite as it had been envisioned. Marquette was slotted below Buick and was built only in 1930 while Viking was above Oldsmobile and lasted from 1929 into 1930, with both almost certainly being casualties of the sunken economy. Bridging the gap between Buick and Cadillac was La Salle and given its run from 1927 through 1940, it's probably the companion car that's best remembered as a companion car. None of those lines have stories even close to that of Pontiac, however, which was so successful that it effectively killed Oakland, the car it was meant to accompany.
Pontiac Makes Its Move
Pontiac was launched at the New York Auto Show in January of 1926 and at $825 for either a coach or a coupe, it undercut the least expensive Oakland, a roadster, by $150. The difference was more dramatic in a direct comparison, as the Oakland coach cost $1095 and the coupe $1125.
The market responded well, with Pontiac producing more than 76,000 cars during the calendar year to almost 57,000 Oaklands. The trend continued and in 1928 Pontiac outsold Oakland almost five to one and advertised "a new order of performance in General Motors' lowest priced six." The ad noted the 1926 Pontiac's "record-breaking success." The fine print attributed the Pontiac to the Oakland Motor Car Company, but a 1929 ad called it "a product of General Motors."
That year also brought the Big Six with its 60-horsepower, 200-cubic-inch flathead. It provided "a combination of big car features unmatched for less than $1000" and that seemed to be the secret of success. By 1931, prices from $675 to $785 gave Pontiac almost 85,000 sales for the model year while Oakland at $895 to $1055 sold 13,408 of its V-8s. The 1931 model years for the two don't correspond exactly, but no matter how the numbers were interpreted, it was the end of Oakland.
Pontiac advertising in 1932 spoke of "sixes and V-eights" since the division had been given an engine based on — but not identical to — the former Oakland unit. The 90-degree V-8 with its horizontal valves within the vee uses motor mounts designed to keep its vibration from being transmitted to the chassis, but it also employs a lever connecting a bracket on the chassis to a mount that's inside of the engine and capable of very slight movement. Its complexity and its sales of just 6281 examples are probably the reasons that the Pontiac V-8 was replaced by a straight eight in 1933 and they explain why the Sherets have a parts V-8 on hand for the feature car.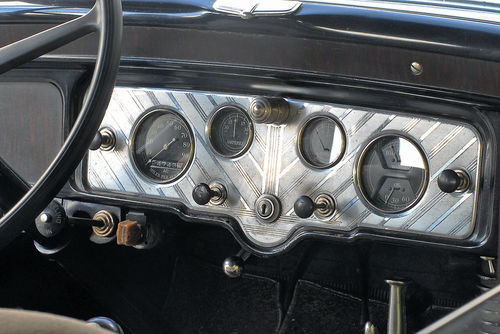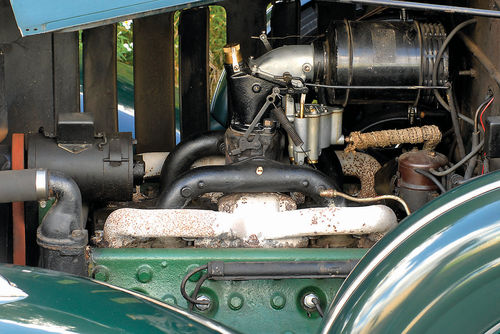 Being Prepared
"As far as engine work," Bernie said of the original, "I don't think it's ever had anything done. It's got roller tappets and the tappets stick on them… They stick, they don't roll and they wear the cam. I could show you the (parts engine's) cam. That engine's all apart and that cam is quite worn because of the rollers. I've got all of them, but you can see that they're really stuck. That engine probably had an awful lot of miles on it. We bought it just because where do you get parts for one of these? I paid dearly for it."
But is the extra engine a Pontiac or an Oakland?
"I think it's an Oakland," Bernie said."To tell you the truth, there's a way to tell because the vibration dampener on the '32 Pontiac is on the opposite side from the Oakland."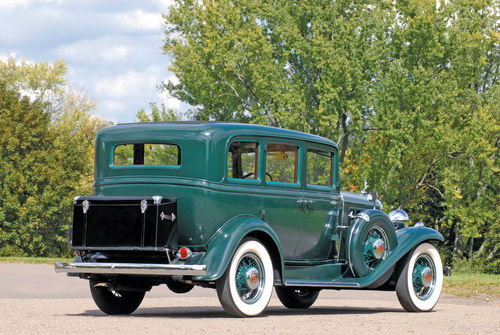 If it's an Oakland, that lever is on the right, but he said there are slight differences in the heads, as well. The big fact to keep in mind, though, is that the Sherets' car hasn't needed it. In fact, thanks to its having covered less than 25,000 miles in its life, it's needed surprisingly little since they bought it in 1999 from a friend who'd owned it since 1965. They learned at Hershey that it was for sale not because the car was there but because they were in the flea market with its owner, Keith Wadin, who lived not far from their Vestal, New York, home. Although they knew the Pontiac, they hadn't seen it in years because Wadin drove his other collector cars more often.
"It was love at first sight, I think, because it's unique," Rhoda observed. "It isn't the everyday car."
The decision came quickly, she said, with no pros-versus-cons deliberations.
"It was 'we're going to kick ourselves if we don't buy this,'" she explained. "When we were talking about it and I made the comment that 'we're going to be sorry if we don't buy it,' he said 'so buy it,' I said 'OK, I will' and I did."
"We wanted an old car," Bernie said. "We typically like Fords, so we bought a GM car instead. I guess we bought it because it was such a neat car and so original, in such nice condition."
The idea of something as unusual as an early Pontiac was appealing, he agreed, and the engine turned out to be a bonus.
"Up until Keith started talking to us about it and about a V-8 in it," Bernie said, "I'd never heard of it before, no. He mentioned that 'I've got a '32 Pontiac with a V-8 in it and most people don't even know that they made one.' I said 'I didn't either.' Then, I think, when it started to get serious about buying it, we started researching it and found out a few things."
1932 Pontiac V-8
GENERAL
Front-engine, rear-drive four-door sedan
ENGINE
Type 90-degree V-8, horizontal valves
Displacement 251 cu. in.
Bore x stroke 3.4375 in. x 3.375 in.
Compression ratio (:1) 5.2
Power 85 hp @ 3400 rpm
DRIVETRAIN
Transmission 3-speed manual, synchro on 2nd & 3rd
BRAKES
Brakes Drum/drum, mechanical
MEASUREMENTS
Wheelbase 117 in.
Weight 3259 lb.
Tire size 11R x 24.5
They understood what they were getting into because of their Fords and at least some of the mysteries are specific to the car rather than to 1932 Pontiacs. While they know it was sold new in Cooperstown, New York, it's not clear how its mileage remained so low or how it ended up with the owner of a dealership in Brewerton, New York, in 1958.
"My guess," Bernie said, "is that somebody died and it sat in the garage for years and then finally, the widow sold it or the family sold it or something like that, more than likely."
It was from the estate of the dealer, Charles Denman, that Wadin purchased it in 1965 and Bernie said that he met Denman's grandson at a show about 10 years ago.
"He said 'my father would get all of these cars out in the summertime,'" he recalled. "'He'd service them; we'd take them out, put them in parades or whatever and then put them back in the barns.' It was kind of neat to be able to talk to him and he was pleased that we had this car. He hadn't seen it since he was young. He was younger than me and I think he was a teenager when his grandfather died. They liquidated everything."
A Key Job and a Difficult Carb Rebuild
Whatever the details of the car's history, it was obviously treated well by those who owned it, as so much of it remains original. Bernie said that Wadin didn't need to do anything to the interior and left the non-safety glass and original running boards in place, but re-plated the brightwork and painted the car not long after buying it. He said that some small dents hint that no bodywork was done before the car was painted.
"There are a few little cracks in it in a few places," he said, "but it's holding up pretty well."
It would have held up better if not for vandalism at a meet. Bernie said they'd parked it in the lot at the headquarters hotel, registered and had dinner before he went back outside and began wiping it down. That was when he saw what had happened to the passenger side.
"It was scratched on the fender and both doors," he said. "Somebody took a key to it."
Fortunately, the damage was minor enough that it was possible to feather in repairs, making a complete repaint unnecessary. The body's only significant problem is a slight sag in one door and the story with the drivetrain isn't very different from that of the body. Bernie said that Wadin had worked on the transmission not long after buying the car and that its only mechanical headache since 1999 has been the carburetor. He had several spares, he explained, so he sent the best one to a rebuilder who spent a year trying unsuccessfully to find the parts and returned it after just cleaning it.
"I started looking on the Internet," he said, "and I did find kits — this was a couple of years later and they were very, very expensive. I talked to Wayne Koffel about it and I told him 'I want to get this carburetor rebuilt. Can you do it?' 'Yes, I can do it. I just did one last week.' I said 'I've got four carburetors and I'll take the one off of the car and get it down to you. The one on the car is probably the best one to rebuild.'"
Koffel is well-known in Oakland circles for his extensive knowledge of the Oakland and Pontiac V-8s and he rebuilt two of the carbs in about a week.
"He said 'go home, put it on and call me in a day or so to let me know how it's working,'" Bernie said. "I did and it worked fine. It's still on there. The other one is still all wrapped up in the box.
"But he told me he made the parts for it, all the gaskets, all the stuff…I thought he did a great job."
Rare Has Its Drawbacks
The first carb rebuilder's inability to find the parts illustrates the challenge that faces a restorer considering a 1932 Pontiac V-8 or its Oakland relative. Bernie said that he rarely sees ads for parts and admitted to being shocked when he ran across the carburetor parts, so his buying that Oakland V-8 made good sense.
"It was with leftover parts from a restoration they did a long time ago," he recalled. "He wanted to sell everything and I ended up buying everything he had. There was a lot of stuff that, frankly, I should've thrown out. He had some six-cylinder stuff there, too, which I still have. I have some of the steering for a six-cylinder, a couple of those hubcaps — and a complete engine, apart."
He had no reason to suspect problems with his car's engine, so he was simply taking the safe course.
"An insurance policy," he explained. "It's not bad. You never know, though, and if you blow a piston, where are you going to get one? Are you going to have somebody make one for you? I'm going to go out into the storage barn, pull out the box of pistons and get a piston. They're standard pistons and these are standard pistons. If I burn a valve, I've got a full set of valves out there."
That does lead to a valid question as whether there's really much of a chance of finding a car like the Sherets' in the first place. Bernie said that any 1932 Pontiac with a six or a V-8 is unusual, but noted that he's seen a listing for a non-running V-8 and that others occasionally show up in the Pontiac-Oakland Club's newsletter. Add that to his experience in finding rebuild parts for the carburetor and the importance of a restoration candidate's completeness is clear.
"Absolutely," he said, "because where are you going to find parts? And that's the engine, probably the radiator, trim. The car's longer than the six-cylinder, too, by a couple of inches, so the V-8 has a longer wheelbase and you've got some differences there. You wouldn't think that the six-cylinder would be any different than the V-8; they're probably not much different in length, but for some reason, it's a longer chassis."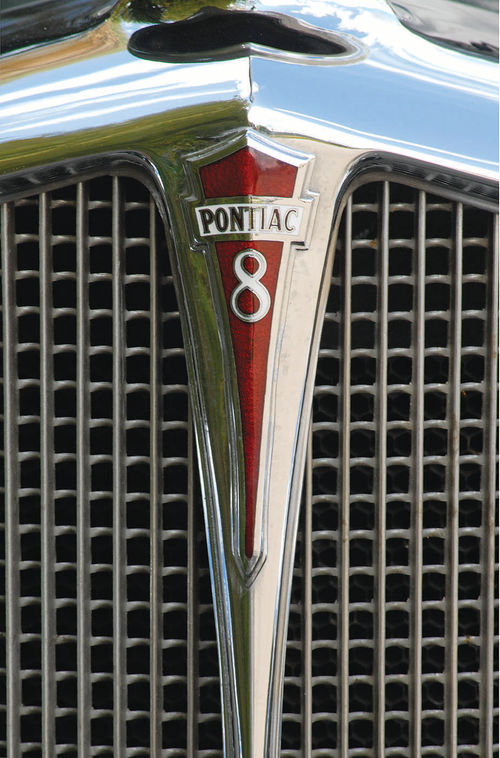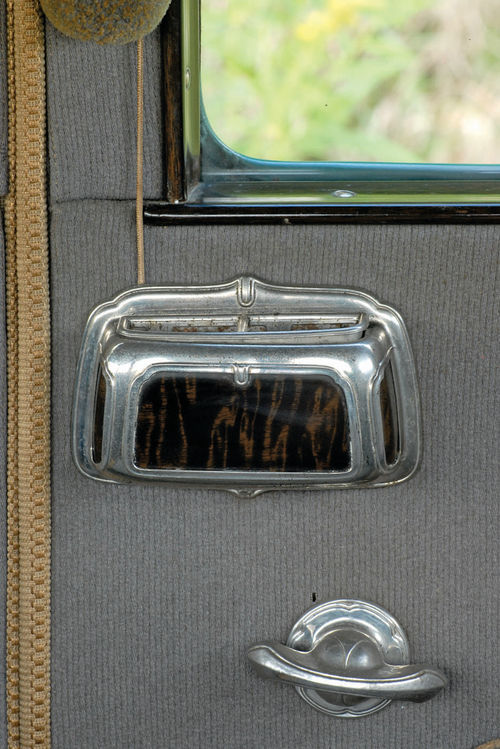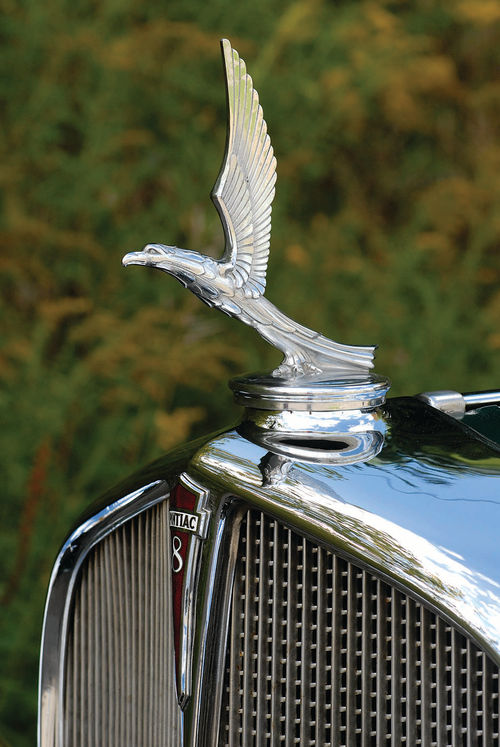 Planning to Keep It In the Family
A few miles in the feature car, though, is about all it takes to explain why seeking out its twin might not be a bad choice. The three-speed is synchronized on the top two gears, the mechanical brakes do their job if pressed hard and there's not a single strange noise in the entire car. The quiet means that it's easy to hear the exhaust, which sounds very different from other early V-8s whether riding in the car or watching it drive by. Better yet, even though it doesn't go on many trips these days, Bernie said it's ready and he gave examples of the reactions it would generate.
"'What kind of car is that?'" would be one of them. "'Is that a Rolls Royce?'"
It's not as far-fetched as it seems — while photographing the Pontiac for this feature, a passerby asked whether it was a Pierce-Arrow. Bernie said few could identify it without looking at its badges and Rhoda added that some might recognize it from the Indian head emblems on its hubcaps.
Anyone experienced with older cars in general could probably grow accustomed to it in short order, Bernie said, although a driver familiar only with modern standard transmissions might be baffled by the unsynchronized first gear and the fact that it has only three gears in all. He doesn't think any of that would stop his daughter, Lori, who's interested in the car. "She was 16 when I bought a '55 Ford," Bernie said, "and I've always told her it's hers. She's a little bit of a motorhead and her husband is, too. He bought a Mustang, a 5.0-liter, and she used to drag race it at the strip."
She's serious about wanting the Pontiac, he said, although she hasn't driven it. She has driven the 1955 Ford already and he knows she'd drive the Pontiac, even if doing so demanded practice from someone used to four-, five- and six-speed transmissions.
"It's an 'H' pattern," he said, "but she would have trouble figuring out the first second-third, probably."
But as someone who's "a little bit of a motorhead," she'd find learning to drive it well to be almost its own reward and at some point, she'd probably realize what her parents have realized and accept that she's unlikely to see many like it.
"There were a pretty good number of them," Bernie said, "but there aren't many left. I can probably count maybe 10 that I'm aware of. Every now and then I'll see pictures of one in a magazine or through the Pontiac-Oakland Club."
Still, while they may be unusual, they're not unknown.
"I know there's one up in western New York," Bernie recalled. "I remember that we told somebody that we'd bought one, a '32 Pontiac with a V-8, and he said 'oh, yeah, what's-his-name over here in the next flea market spot has one.' I said 'nah' and I went over and talked to him. Sure enough, he did have one."