WHEN YOUR TRI-FIVE CHEVY NEEDS A NEW FRONT SEAT…
There was a time when you could fix up a 1955-57 TriFive Chevy with parts you found in a salvage yard. Back in those days, if the salvage car had tight-fitting windows and no broken glass, you might even find a seat that was in useable condition.
The seat would probably cost you all of $75 and for that small amount you'd get a pretty nice front seat that would bolt right into a '55 or '56 Chevy twodoor model. In fact, a 1955-'68 front seat would bolt right into a '57 Chevy, too, but you couldn't use the '57 upholstery.
But that also was a time when the car itself was probably worth all of $500 (assuming that the rest of it was in very good original condition).
Now fast forward to 2017. A car like that in relatively good condition could probably be purchased for around $5000 today. Since the car is worth 10 times as much now, we're going to guess that a good front seat in a salvage yard also would be worth at least 10 times as much or $750.
The problem is, you can't find a good used '55-56 Chevy seat in a salvage yard today no matter how much money you have to spend. So how about a brand-new, stock-style seat for $800 or so? That's what Real Deal Steel is offering its customers. This Florida-based reproduction parts company has come up with a complete reproduction of the original front seat assembly (SKU CFS-56) that fits all 1955 and 1956 Chevy two-door models including the two-door sedan, Bel Air convertible, two-door hardtop, two-door post-type station wagon and even the Nomad station wagon with hardtop styling.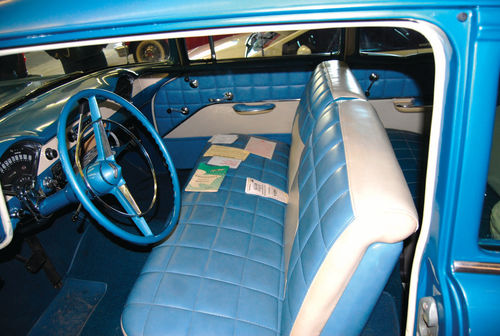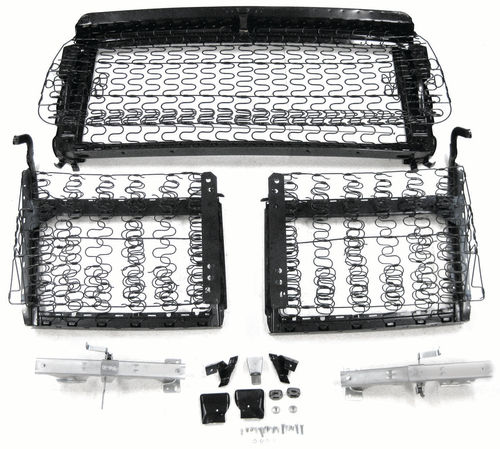 The seat package includes the complete seat bottom frame and springs, both folding seat back frames and springs, both seat tracks, both lower side shell brackets, the center pivot cover, four seat back stops and hardware. The kit does not include seat side shells (SKU SSS-56) or upholstery. However, new upholstery for these cars is available from other Chevy parts suppliers.
Note, this front seat kit will fit in 1957 models but stock 1957 upholstery will not work with it.
As for those bench seat side shells, Real Deal Steel has them as well. You can get right and left, upper and lower shells for $85 each or the set of four shells for $300.
They carry parts for 1949-72 full-size Chevys, Camaros and the Chevy II/Nova. They also have reproduction bodies for the '55-57 Chevy, '67-69 Camaro, the Chevy II/Nova and the 1940 Ford Coupe.
The company describes itself this way: "At Real Deal Steel, we are proud to offer bodies and parts built for enthusiasts, by enthusiasts! We are car people just like you. After we close the shop doors in the evening, you will often find us hammering on our own car projects."
You can contact them at:
1220 East 30th St. Sanford, FL 32773 realdealsteel.com