A HIGH SCHOOL Muscle Car Class
Instead of Opening Their Books and Laptops When They Arrive for the Day's Lessons, These Automotive Students Reach for Tools and Components.
I magine going from your high school civics, English or algebra classroom to a shop where the subject matter is the hands-on restoration of a 1967 Camaro. That's what a number of students are now doing at Waupaca High School in Waupaca, Wisconsin. And interestingly enough, it all began when a separate class was developed that focused on building a house.
"We figured if they could do a house, we could do a car," said auto shop instructor Bill Kroseberg. "So, that's how it kind of took roots."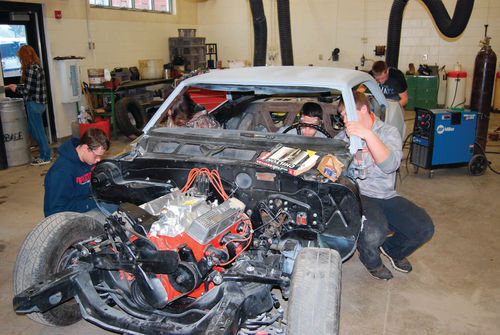 Kroseberg went to Tim Neuville, a local General Motors car dealer, and asked if he would be interested in taking part in such a project. "Tim said he would and away we went," Kroseberg recalled.
"We purchased the car and initially thought we were looking at a two-year deadline. We're going to bring it in close to that, but the car turned out to be a little more of a project than we thought it would. The students who take the course are going to get a chance to do everything."
The third semester of work on the Camaro started in January, Kroseberg said.
He estimated that a total of about 40 students have taken the course over the three semesters.
"We purposely wanted to keep the class small because, frankly, when you're working on a car, it's different than working on a house," Kroseberg said. "One student will be grinding metal while another will be working with plastic body filler, so we want to keep the class count to about 12 students so they can all learn."
They Made an Unpleasant Discovery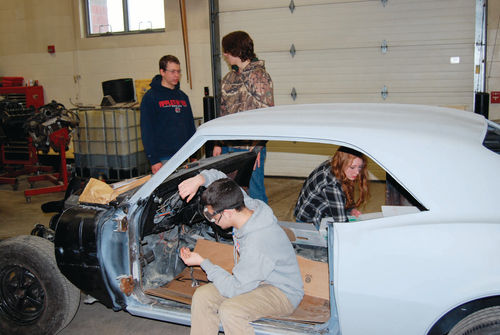 When the car was purchased it was painted white with blue stripes and had been restored to a degree. But underneath the paint was a lot of very rusty sheet metal that had been covered with fiberglass filler.
"Taking the car apart was like peeling the layers
off an onion," Kroseberg explained. "Every layer we peeled off made us feel like restoring the car was going to be more and more of a challenge."
Ultimately, every single panel on the car had to be replaced.
The Community Has Pitched In
Parts used in the restoration came from companies including NPD or National Parts Depot(nationalparts. com), The Right stuff Detailing (getdiscbrakes.com), Classic Industries (classicindustries.com) andCoker Tire (coker.com).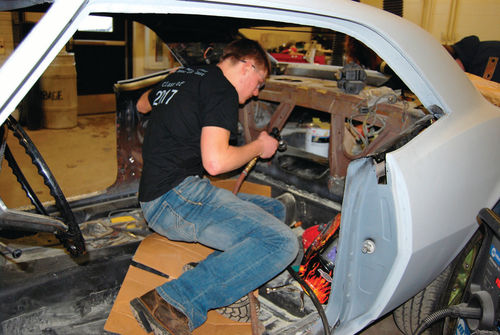 "I know there's more catalog companies," Kroseberg said. "And Automotive Supply here in Waupaca has been a big help with local parts. The counter men there—George and Dale—have been a big help."
According to Kroseberg, the Camaro Goal Based Education project hasn't had any straight up donations like a previous "Beat the Heat" drag racing program the school was involved in, but a lot of people have donated their time and expertise. A local body man named Dave Stencil talked to the students about auto body repair. Keith Riehl, the parts man at a local Chevrolet dealership and a car collector shared his knowledge. Larry Fechter of the Iola Car Show (iolacarshow. com) donated a car rotisserie.
"I could go on and on and I'm sure I'm forgetting some people who helped," the teacher said. "Coker gave us discounts on a set of tires, some center caps and a set of trim rings. We had met a lot of people in the industry when we did Beat the Heat and it always seemed like these programs draw a pretty good following. They dig it a lot."
The Superintendent Is Watching the Progress
The class is a two-hour block session, which gives the students about 90 minutes on the project each time the shop runs. "We opened it up so the students can take it as many times as they want to," Kroseberg explained. "And we encourage them to do that. We tell them 'If you've got a study hall, you might as well be taking the class."'
Kroseberg noted that Greg Nyen, the school's new superintendent, is a big supporter of the Camaro restoration project. "Greg is a car guy and grew up on a farm," he said. "He's all in on this program and he's been down to my shop a number of times to look in on things. He's excited about doing the car, so we'll just keep the project rolling."
You Can Learn a Lot From a Car
The students working on the car this semester have a variety of skills and are getting the chance to hone them with this project.
To an extent, we match up the skills they came in with to the needs of the project," Kroseberg said. "The neat thing about doing a car like this one is that it's a meld of lots of things. To restore a 1967 Camaro you have to be a good plumber, a good welder, an electrician at some point, a body person at another and a mechanic, too. At other times you have to be a hydraulic specialist.
"In my opinion—and this is just me talking," said the teacher, "some parts of the education system got it all wrong, like getting rid of automotive classes. When you look at a car there's just no better forum for being a jack of all trades. With a car you learn so many things. That's how I see it. There's a lot to be learned from simple mechanics, all the way up to advanced concepts."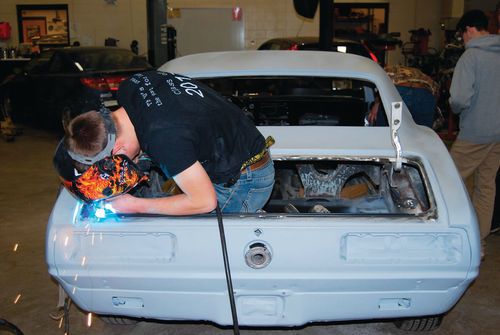 The Best Is Yet To Come
When asked to point out the most rewarding part of the course, Kroseberg said that it hasn't come yet. "That will probably be when it turns color," he surmised.
"But up to this point, the most rewarding part of the Camaro project was also the most discouraging part at the same time."
Kroseberg said that bad news/good news revelation came when they actually got the car in the shop and discovered its underlying problems.
"I had done a couple of restorations personally, but I had never run into anything of this magnitude," he said. "However, once the car was all apart, we got excited and started saying, 'We can do this—we can do that.'"
Furthermore, once the class found out that the Camaro wasn't a numbersmatching, perfect car, it meant the students could do anything they wanted to make it a bit more refined than a '60s car.
"We realized that we could make it what we wanted," Kroseberg said. "And now, after three semesters, we're on the upswing and every day is exciting because every day it's more and more of a car."
When the Camaro is done, car dealer Tim Neuville will keep it locally and use it for a Fourth of July Parade and other events, Kroseberg said
"He talked about putting it in the showroom at his dealership next to the new cars," the teacher said.
"So the kids will have opportunities to see it and tell their families and friends what they did on it."