Teaming Up With a New Generation
These Club Members Wanted to Show Young People the Hobby. So They Worked With Them On a Project Car.
TO AUTO RESTORER and Ted Kade: Regarding the "Gearheads Under Thirty" stories you have printed, as our club's Youth Project ManagerI am remiss in not having put what we have done into the written word. When I contacted you, you told me to narrate this as if we were all sitting around in the garage discussing and/or telling our story, so here goes:
This started when our Model A club held an autumn Model A rendezvous, inviting Model As from the New England area to attend and one of our friends, a Model A owner himself and local philanthropist, offered to cover the cost of the hospitality room. He did ask, however, that if we made any profit from our meet that we would consider donating part of it to the SAM's Garage program at the Saratoga Auto Museum.
(Editor's note: Hank's club is the Adirondack Model A Ford Club of New York, located in Clifton Park. Hank said Clifton Park is about halfway between New York City and Montreal, and as a teenager he was told that the area has "seven months of winter and five months of bad skiing."
The Saratoga Automobile Museum (SAM) in Saratoga Springs, New York, hosts the SAM's Garage program at its facility and says its goal is "to help students increase their understanding and proficiency in math, science and history, while helping them to improve their desire to stay in school, develop strong leadership skills and healthy community relationships.")
Hey, Let's Do a Team Restoration
After looking into the SAM's Garage program, we decided to do more than donate money. We would start another program, within the parameters of the Sam's Garage theme, and expand upon it by reaching out to a wider age group of youngsters. We decided to build/restore a Model A Ford with a group of young people aged 12 through 16.
The museum had the space available and has an established rapport with all the local schools. We later found out that this type of program is especially important because most local schools have dropped any type of industrial arts programs due to budget cuts.
We recruited a dozen young people who were interested in the program from local high schools. One of the twelve was a young lady.
An Uncommon Project Vehicle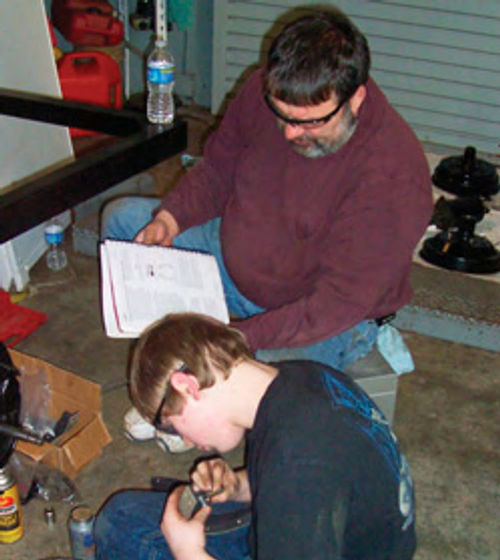 We decided to limit the build period to six months with one weekend a month as a build weekend. Our first build was a test bed of sorts. We knew that some of the work would have to be done behind the scenes, so to speak, as we couldn't paint or varnish in the museum, and some portions of the build had to be done by professionals with their special tools. To compensate for the portions where we didn't do the work ourselves, we took the students to the machine shops, body shops, etc. where the work was done to see for themselves those specialized functions.
Everything else we performed ourselves with the students having a very hands-on role in the work. They stripped the Model A apart and separated all the components. Each item was cleaned, bagged and tagged. We split into two groups, running gear and body.
When it came to the project vehicle, we found ourselves in a rather interesting position. We had a rolling chassis but no body, so we decided to build a wooden huckster body (peddler's truck) forthisfirst teamproject. Actually, one of our members had built a huckster and still had the plans, so it was a pretty logical choice.
Showing Enthusiasm for Their Work
The first weekend was an eye opener. Our young people listened, watched out for each other, started to bond with their peers and our club members, and set goals for themselves.
We worked to apply their newly acquired knowledge in a practical application and they quickly established a link between that knowledge and their hands.
During the course of the project I overheard more than one student talking to their parents at the end of a build day explaining what they had learned and what they had accomplished. Sometimes the statements were in the form of questions to their parents such as, "Do you know why we measure twice and cut once? Do you know how to start the first cut using a crosscut saw? Do you know how to use tape to stop wood from splintering when we cut it?" And then there were answers to parents' questions, such as, "I learned the rule of righty tighty and lefty loosey. I learned how to use a square, how to measure, what the inside of an engine and transmission looks like, and why mathematics is so important."
We had classroom sessions regarding carburetors, starters, generators, distributors and other automotive parts. During that classroom training the students had the opportunity to understand the principles behind each component. Then they got to disassemble, inspect and reassemble those components as well.
With time, the questions to the parents increased and the students delighted in having info that they thought their parents lacked. "Do you know about changing mechanical into electrical energy? How about the Venturi effect, positive grounds, brushes and timing?"
By that time, they were freely interacting with themselves, our group of mentors (aged 40 through 80) and their parents. Then one night, just before the end of a build session, they asked me if we would allow them to stay a little longer so they could meet their goals for the day. They understood what they were requesting from us: it meant that everyone, including their parents and the museum staff would have to stay. It was a unanimous decision to let them attain their goals for the day so they wouldn't fall behind. More importantly, we now knew we definitely had young gearheads in our midst.
Successand a Growing Program
Needless to say, the build was completed in six months and we all came away with a great sense of accomplishment. Each student was allowed to have the huckster truck brought to his/her school for a presentation and an explanation of the project.
Then we quickly moved on to our next project, a '28/29 Model A Ford boat tail speedster. We decided to keep the wood element alive as many vintage cars and trucks utilized wood to stiffen their metal bodies and then, of course, there were the popular woodies.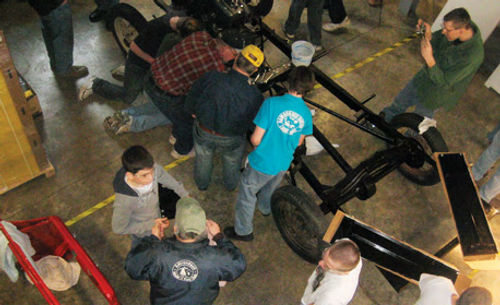 As a side note, the reason behind the initial six-month build decision was that our philanthropist friend had been diagnosed with ALS and we wanted to get the program initiated, under way and completed before he became bed bound. (ALS or amyotrophic lateral sclerosis, also known as Lou Gehrig's disease, is a disease involving the nerve cells in the brain and spinal cord that control voluntary muscle movement.)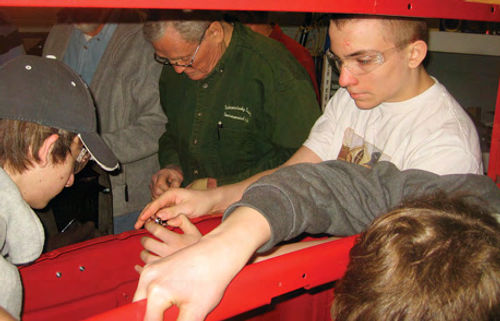 Unfortunately, our friend passed one month before the huckster was finished. However, we had forwarded many photos of the build to him and I personally talked with him during the project and he was very happy with our progress. In fact, during one conversation he told me to "keep their minds clean and their hands dirty, and they will be fine."
As we enter our new projects, we do so with some important new "partners" in our mentoring team. They include local professional schools that teach welding, painting and upholstery.
We also have some repeat "gearheads" involved in our second build.
Resource
Saratoga Automobile Museum
110 Ave. of the Pines
Saratoga Springs, NY 12866